In this article, we have reviewed the best electric razor for elderly man. If you are in a hurry, the table below gives a quick snapshot. Or you can scroll down for detailed product reviews.
Nano particle strengthened blades
Double Track Stainless Steel Blades
Cleaning and charging station
Your body produces two proteins known as collagen and elastin which are responsible for the elasticity and tautness of the skin. With age, the production of these essential proteins diminishes[1], thereby causing loose skin.
While the problem of aging skin in women is the area of focus for a whole industry of anti-aging products ranging from lotions, creams, gels, and even body washes, loose skin also affects aging men – and very little has been said or done about the problems that THEY face every day.
The biggest problem that aging men face is that they can't shave properly without cutting themselves if they have hanging skin. Loose skin needs a more precise razor that can contour the face softly and gently, without leaving any injury. 
A second problem that aging men face is that their hands are not as steady as they used to be, and this means the razor needs to be able to stabilize itself for jerky and shaking hand motion.
The internet is replete with anti-aging products – they are just not aligned with the needs of men. If you are looking for a specialized electric razor that works well with loose skin, then you have come to the right place. 
We are taking this opportunity to reclaim the internet, albeit for a brief moment, to focus on the elderly men folk – and the products that make them look sharp every day!
Features to look for in the electric razors for elderly men
While we are sure that you know what you need, it's probably been some time since you bought your last razor – and it doesn't hurt to have a look at the new features that are out there in the market before we get to the products themselves.
Flexibility
Flexibility is the essential feature that you must look for before buying a razor for loose skin. A flexible razor head closely follows facial contours and gives much closer contact with less irritation for a smoother finish.
Head movement
For higher flexibility, look for a razor whose head can slide, twist, move up and down, left and right, and backward. This ensures proper movement of the razor through the loose skin.
You may also like Best No Rinse Shampoos for the Elderly
Blade and safety
For close shaves without any cuts, look for high-quality blades. High-quality blades with polished body offer cushioned contact, which makes it ideal for loose skin.
Sensor technology
This is also a great feature that you must not miss. A razor with sensor technology recognizes differences in the density of your beard as you shave. It senses beard density and adjusts power, and ensures smooth and even results.
Motor
Look for a high-performance motor for a faster and powerful shave. The motor that rotates at high-speed makes every shave quicker with no power losses or missed whiskers. This feature is ideal for elders since they cannot spend hours standing in front of the mirror.
Design
Select a razor that has an ergonomic design and is easy to hold and use. Also, ensure that it does not numb the finger after use. Our elders have a shaky hand, thus ensure that the razor cannot harm while in operation.
Material
A powerful razor with a high-performance motor and blade must be made of high-quality material, and it shall not serve the purpose. Hence go for a sturdy material that can last for a long.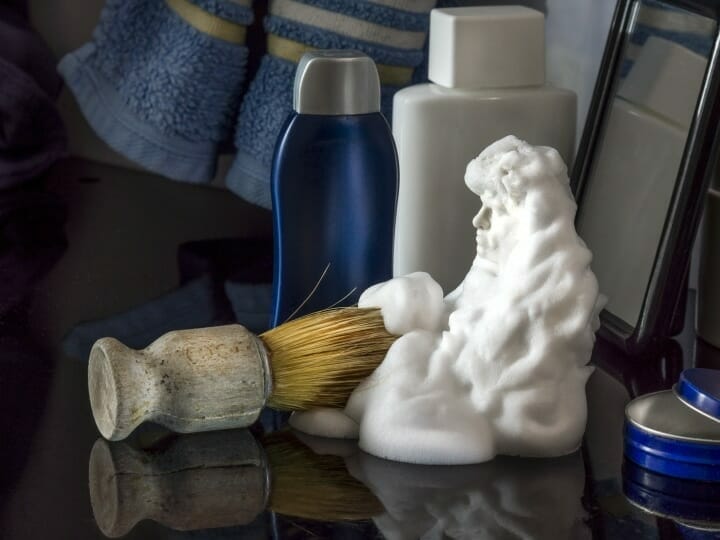 Battery
Buy an electric shave that takes less time to get fully charged and which lasts for long. Also, look for cordless provision.
Easy to use
Last but not least, the razor should be easy to use. It must not have complex operating features, which our loved ones find challenging to understand.
You may also like How To Cut A Bedridden Person's Hair
Best Electric Razor for an Elderly Man
#1 Philips Norelco SP9820/87 razor
This Philip Norelco electric razor is an ideal razor for you. This razor is our choice for the best electric razor for elderly man.
This razor is made of advanced blades. These precision blades are strengthened with thousands of nanoparticles that glide smoothly over your skin. There is an 8-directional contouring action for better and more closely following the shape of your face.
The razor features a BeardAdapt sensor, which checks your hair density at least 15 times per second and then automatically adapts itself to the density of the beard and gives you a perfect shave every time, and you can shave in minutes.
The NanoTech blades are constructed with sharp edges to give a better shaving experience. The razor can be used with foam and gel, or you can also shave dry if you are more comfortable that way.
This razor also features a skin-friendly smart click precision trimmer. The trimmer gives great performance on your sideburns or mustache.
The Philip razor has a rechargeable lithium-ion battery. This battery helps to deliver the power of a corded razor. This trimmer also comes with a premium travel case as an additional feature.
Pros
Advanced blades with nanoparticles to give a smoother shave

8 directional contouring action for more closely following your skin

Can be used both for wet as well as a dry shave

Rechargeable, battery operated

BeardAdapt sensor to measure the thickness of your beard and adapt the shave accordingly

Smart click precision trimmer for the better shape of sideburns and mustaches
Cons
The changing heads sometimes cause discomfort to your skin.

Users can feel a little bit of irritation after the use.
You may also like Best Cologne For 50-Year-Old Man
#2 Panasonic Electric Razor For Men
The Panasonic Electric Razor gives an ultimate shaving experience to people, especially ones with the loose skin. The premium razor makes shaving quicker, smoother, and closer. 
This razor is made with a CPM linear motor. Its five-blade system delivers up to 70,000 cross-cut per minute for a really quick and effortless shave.
This razor comes with a premium automatic cleaning and charging station, which ensures that your razor remains charged and free of stubble at all times, ready for your use. 
The razor's head is so flexible that it can move in 16 different directions, following the skin's natural contours while also giving easy cushion contact to your face, neck, jawline and chin.
Like the Norelco that we reviewed earlier, this razor also has intelligent sensors that can sense your beard density 220 times/sec, and can adjust its shaving power 14 times per second, to adapt effortlessly and give you a perfectly smooth shave. 
This premium razor can be used for both wet and dry shaves. Its nano polished inner blades are finely honed and can lift and cut thick beards easily.
The razor features an ergonomic handle and a bright LED display to show battery power and charging status. The overall razor design ensures precision and optimal performance for people.
Pros
CPM linear motor delivers 70,000 cross-cuts per minutes using the 5 blade system

Premium automatic cleaning and charging station

16-D flexible head for closely following the contours of your skin

Intelligent sensors to sense the thickness of beard and adjust shave accordingly

Can be used both wet and dry

Finely honed inner blades, cut through the thickest of beards with ease

Ergonomically designed, broad handle. Easy to hold.
Cons
The motor often can make a bit of noise at times

This razor keeps getting slow after each week of use as per some customers.
#3 Braun Electric Razor For Men
The Braun Electric Razor For Men is one razor that caters to the skincare of people with loose skin. 
The razor uses intelligent sonic technology which increases power while shaving in areas that have a thicker beard. It also has an ActiveLine trimmer that can trim flat hair in difficult areas.
The razor gives excellent results as its innovative technology captures more hair in large strokes and less time.
The razor features an eight directional flexible head and floating shaving element, it cuts your beard in a smooth and even manner in the more challenging areas of your face.
There are 4 shaving elements (3 cutting elements and a skin guard) in the razor head. The 4 elements are able to capture hair in one stroke that other razors take two strokes to achieve.
You can choose between 5 shaving modes at the push of a button, based on the power level that you need. The Series 7 precision head allows you to reach all areas of your face. 
The OptiFoil technology in the razor head can cut the hair shorter than even 0.05mm and let you feel perfect smoothness and comfort.
The razor has a unique 4-action clean and charges alcohol-based station and a 50 min cordless shaving time.
Pros
Sonic technology for sensing thicker beard and giving more power automatically

Eight directional flexible razor head for smooth shaving on surfaces with higher contouring, such as loose skin

Faster shave with 4 shaving elements that can perform twice as effectively as other razors

5 preset shaving modes for different power zones

ActiveLine trimmer for trimming in difficult areas

It gives a gentler and more efficient shave.

Unique alcohol based cleaning and charging station
Cons
Cannot be used for both wet and dry shaving

The lock may break with regular usage.

The trimmer or battery will dull over time.
You may also like Best Eyeliner For Seniors
#4 Panasonic ES – LV9Q Wet Dry razor
Panasonic Wet and dry razor is a versatile skin razor, which includes next-generation technology for a smooth, clean shave every day.  The razor features a Multiflex 5D head, five-blade technology, and CPM Linear Motor drive.
Its five-blade system provides a smooth and fast shave. Its Multiflex 5d head enables in a better facial contour mapping and closer shave. It gives smoothness without any irritation, especially to people with loose skin. 
The shaving sensors are designed with technology that distinguishes between the density of your beard. It helps to capture even the most challenging part of your beard.
The inner blades feature technology that touches each part of your skin. The head is flexible to move left, right, up, down, and twisting position. 
This Panasonic razor is equipped in a way to provide supreme closeness and unbeatable results to men. The razor blades are acute-angled at 30 degrees to give a closer shave every time
Pros
The razor uses a Multiflex 5D head for better contour mapping

Shaving sensors are able to distinguish between heavy and normal beard and change power output accordingly

30 degree angled razor blades give a smooth and close shave

It gives ease and comfort to older adults to use it on their sensitive skin.

The razor is an ideal choice for both wet and dry shaves.

The blade cutting system gives full security to your skin.
Cons
It takes time to pick the hair that laps on the face.
#5 3D Rotary Electric Shaver by Max-T
You can now relax and shave your beard using this Electric Shaver by Max-T, even with your shaky hands, and stop worrying about making cuts on the skin. It comes with 4-direction flex shaving heads that help you with a close and smooth shaving experience. 
The most convenient thing about this Electric shaver is that it does not have multiple buttons to confuse you. Just a single button can help you with the essential functions of the shaver. Another ideal thing for elderly use is that it comes with an LCD screen for the battery countdown. It lets you know the remaining percentage of the charge.
You can long-press the power button to add the safety lock to your shaver while traveling and avoid it from starting up automatically. Its versatile use allows you to go on with dry shave as well as wet or foam shaving. Each time it gives a close shave. You can shape and trim your beard and facial hair as you like with this amazingly designed electric shaver. You can charge it for just 1 hour and use it continuously for 120 minutes. 
Pros
The 3D floating flex heads come in close contact with your skin and help to get a clean shave.

The powerful motor and the dual-track cutter ensure a quick and close shave by increasing the surface contact.

The self-sharpening blades make sure that you are not too harsh on yourself and cut yourself while shaving.

It has a whole body washable design, making it an easy-to-clean product,

You can operate it both with a cord and as cordless.
Cons
The battery life of the shaver is not good enough.

This shaver is a little high on the budget compared to the features it comes with.
You may also like How to Get Dementia Patients to Bathe
#6 WXJHA Electric Reciprocating razor
WXJHA electric razor is an ideal men face care razor for daily use. This razor is made with an ultra-quiet design, despite having a high-speed motor. It has low vibration and prevents hands' numbness. 
The razor was originally designed to keep hairdressers in mind, who need to shave continuously the entire day. It is extremely comfortable for people with weaker hands
It has a comfortable and ergonomically designed handle, which makes it easy to use the razor. Using Titanium alloy blades, which can maintain long term sharpness, and extremely quick blade speed, this razor gives a comfortable shave to even sensitive skin that is easily bruised or cut.
The Cordless razor is a perfect shaving machine that gives excellent results to your skin. The head of the razor is adjustable using gears. There are 4 length combinations in the razor, you can get any kind of a shave you want, from full shaven look to stubble to simply trimming.
The electric razor comes in modern design and is filled with classic colors. This reciprocating razor is an ideal everyday device for hairdressers. They rely on it for their daily needs. This rechargeable razor is a perfect choice for better and smooth shaving.
Pros
The electric razor provides an athletic cut and gives you a fuller clean face aftershave.

It is intelligently designed to achieve maximum performance with the comfort and safety of the skin.

The razor was originally designed for professional hairdressers and is very soft on the hands with no vibrations or numbness despite long term use

The razor has 4 shaving lengths for different types of beards

The razor is fast and easy to clean.

It's portable and easy to carry while traveling.
Cons
The body of the razor heats up after several minutes of operation.

It takes more than the recommended time to fully charge.
#7 Philips SP9860 / 14 razor
The Philips electric razor is a wet and dry electric razor. The razor gives a convenient dry shave and a comfortable wet shave with gel or foam. It glides smoothly over the skin while cutting every hair with smoothness. It provides better skin comfort to your loose and sensitive skin.
It features blades with an extra firm, sharp edges to give ultimate closeness as the blades are made of nanoparticles, which offers long-lasting smoothness. These blades cut hair with perfect precision. The contour heads ideally follow every corner of your face and catch even tricky hair.
The beard adaptor sensors check the density of your hair very quickly. Moreover, it adapts automatically with your hair. The personalized design catch hair from the more challenging parts. Also, it gives the benefit to choose the shaving mode as per your convenience. Thus making it an ideal razor for your everyday use.
Pros
The razor reduces the chances of skin cuts.

This electric razor gives better and close contour experience to people.

This razor gives personal comfort settings where you can choose the mode as per your comfort.

The blades provide a better smoothing experience to your sensitive skin.
Cons
Users can feel numbness in their fingers after using it.

It has short battery life.
You may also like Best Nail Clippers for the Elderly
Conclusion
Aging skin that is loosening up can be a major source of knicks and cuts while shaving, and a soft and comfortable razor that protects the skin while following the contours of the face perfectly can eliminate this risk.
In this article, we have selected the best electric razor for elderly man based on the features mentioned in our buyer's guide and the ratings and comments mentioned by actual users on Amazon. 
In our opinion, the Philips Norelco Shaver 9000 Prestige, Rechargeable Wet or Dry Electric Shaver with Trimmer Attachment and Premium Case, SP9820/87  is the best choice among the various options that we have considered, because it is safe for soft and loose skin, rich in features, and serves the purpose.
If you are looking for a value for money option, you can also consider the Braun Series 7 790cc, which offers great value and features at a very reasonable price point. 
Research: