Sitting for long periods of time can hurt. It can cause damage to the tailbone, to the extent of bruising it or worse – causing severe pain that can be attributed to an underlying cause due to sitting.
Notice after a long drive or spending 8 hours at your office desk how your tailbone feels. If it hurts, your seat may be too firm.
Or for those in a wheelchair, and live in it during their waking hours, the pain can worsen.
Fortunately, there is a solution to ending buttock or spine-related pain due to sitting.
So, what is a coccyx cushion? A coccyx cushion is an ergonomically shaped cushion to shape your body and provide comfort to relieve pain. It's even used as a sole treatment for coccyx conditions.
In this article, the results of the research will look at the benefits of a coccyx cushion and describe how it works to relieve pain.
Also, it will outline certain ways on how to properly sit on the cushion to reap the benefits.
Keep reading to decide whether or not a coccyx cushion is helpful in the treatment of tailbone pain and if it's worth investing in.
What is a Coccyx?
The coccyx is another word for tailbone. It is comprised of 3 or more small bones grouped together at the bottom of the spine.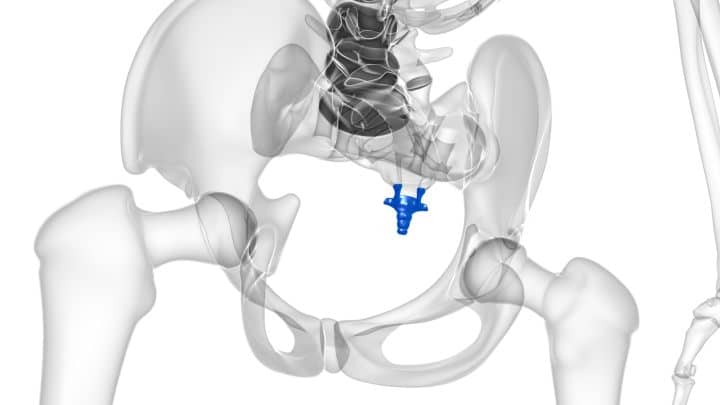 A painful coccyx is typically from infection (tuberculosis or osteomyelitis) or from trauma (such as fracture, dislocation, and bruise of ligament tear). The coccydynia or coccygodynia is the term to describe the pain region of the coccyx.  
Its treatment can vary depending on intensity, and sometimes debatable from its nature of coccygeal pain. In most cases of coccyx resolve within weeks or months without intensive treatment such as surgery.
The majority of people only require conservative treatment such as a coccyx cushion. Studies show that conservative treatment is successful in 90% of cases, without medication.
How to Use a Coccyx Cushion
Place the coccyx cushion on the seat, such as an office chair or kitchen chair. Don't place extra pillows underneath as the uneven angle may harm your back posture.
It's best to use this cushion with a seat that has back support if you can. Slouching while sitting on this cushion can hurt your lower back.
A study showed that spine stability requires support of the lower limbs, especially the hip. The alignment of your hips is a large factor in determining your back position when sitting.
Poor posture can contribute to tailbone pain. Therefore, using a coccyx cushion to relieve tailbone pain can also reduce back pain and improve posture.
A coccyx pillow is thick, so it will automatically raise you above the floor higher than ordinary. Ensure you have a footrest to maximize your comfortability when used.
Here is a video showing you how to correctly use a coccyx cushion to relieve tailbone pain.
Which Way Do You Sit on a Coccyx Cushion?
As stated above, you may want to sit on the cushion with proper back support. Sitting directly on the cushion can mold to your bottom, designed for those who are sitting for the majority of the day.
This cushion can be placed in an office chair with optimal support for sitting for long periods of time.
Here is a video showing you what way to sit on the OFFICEGYM coccyx cushion to provide treatment for a painful coccyx.
if you are sitting in a wheelchair, adjust the feet resting position as the cushion will elevate your body a couple of inches. Lower the leg height as much as possible, as the coccyx cushion lifts up the pelvis.
A study showed that any type of coccyx cushion can reduce pain and blood flow in the buttock area by relieving pressure of the tailbone with a facilitated wheelchair position.
What is the Best Cushion for Coccyx Pain?
A Wedge-shaped cut-out in your pillow will mean that your coccyx is not directly bearing weight, which will lead to less coccyx pain
 Circular cushions (shaped like a donut) and U-shaped cushions are also effective in coccyx pain.[1]
Cushions made out of memory foam are helpful to distributing your weight evenly and molding to your lower body. Thus, it will reduce the pressure on your tailbone.
A study showed that sitting balance was increased with a foam coccyx cushion and a newly developed air cushion.
The results of this research showed that an air coccyx cushion may be better than memory foam in terms of increased symmetrical sitting posture.
Amazon carries an Air Seat Cushion perfect for a wheelchair, or a home office chair. The air technology helps ease pain, discomfort and increases back support. It guarantees constant comfort after hundreds of uses.
How a Coccyx Cushion Reduces Tailbone Pain
A study showed the success of a cushion's treatment to relieve symptoms of tailbone pain within weeks or months, with and without medical treatment. The results were a 90% success rate as follows:
Cushions on the patient's chair significantly increased comfort while sitting.
Correct sitting posture can be improved when using on a coccyx cushion, as mentioned above, bad posture can contribute to worsening tailbone pain. See our review Best Coccyx Cushions for Tailbone Pain.
For additional treatment, sit on the coccyx cushion with a thin gel iced pack or heating pad. You don't want the pack or pad to make your weight uneven, so ensure it's thin enough to sit on.
A study showed that a 30-minute compress of either a heating pad or cool compression resulted in mild improvement of the pain intensity. Using both treatments can aid tailbone pain to feel more bearable.
You may also like Best Coccyx Cushion For Heavy Person
What are the Benefits of a Coccyx Cushion?
The following list includes the top bodily benefits of using a coccyx cushion, including:
Supporting lower back to stabilize spine and posture
Relieving painful coccyx area
Gentle support – elevates hips and pelvis (for posture)
Are Coccyx Cushions Worth it?
Coccyx cushions are worth it if you struggle with tailbone pain. They are designed to relieve tailbone pain.
They also pose extra benefits, such as providing comfort for a hard office chair, and posture bearing support.
Most people spend their days working at their office desk for 8 or more hours a day. This can be bad for people who tend to hunch their backs or lack built-in cushioning support to sit on.
If you or someone you know spends their waking hours in a wheelchair, this ergonomic padding can be made for much more comfortable living.
It also can sustain good posture and more importantly minimize the severity of the coccyx pain no matter how long you're sitting in it.
The prices of coccyx cushions can vary, depending on the quality and brand. So, choose one that you'll use a lot. Any investment of money is worth it if it helps your physical health to improve.
Thus, it can improve your mental health when you're in less physical pain. Research shows that the environment can harm or promote effective adaptation to chronic pain through changes in pain perception, coping, and emotional states.
By coping with pain while working a stressful job, or sitting in a wheelchair, it can change the way you feel physically and emotionally as they are tied.
When you're more comfortable physically, you'll be able to adapt to difficult circumstances more effectively mentally. 
Know that you can make a coccyx cushion at home, read how.
You may also like Coccyx Cushions Vs Donut Cushions
Coccyx Cushions Search Tips
Each person is different when it comes to the type of cushion they prefer for painful coccyx treatment.
Some people don't like too hard of a cushion, while others don't like too soft of a cushion. Others prefer a medium thickness to give them just enough support in helping their tailbone feel better.
Sitting in too hard of a surface can cause bruising of the tailbone, cause lower back pain, and put too much pressure on the pelvis and hips.
Coccyx cushions are equipped with enough buttocks weight support, so it comes down to a personal preference on the type of material it's made with.
A study showed that conventional foam cushion was found to increase surface pressures when compared to other cushions.
Foam cushions had the highest mean and average surface pressures and the lowest PAI (pressure index area) The nonadjustable air and air and foam cushions performed the most similar to one another.
The bottom line is to read product descriptions and test out each material to predict what one will fit best and work to treat a painful coccyx.
Most are made out of 100% memory foam to elevate and provide comfortable cushioning. Foam made out of different wheat starch is proven to provide shock absorption and has a lower peak pressure than expandable polyethylene foams.
Foam cushions mold to your body to provide enough ergonomic support and are an ideal coccyx cushion to relieve coccyx pain.
Longevity of a Coccyx Cushion
Since coccyx conditions usually go away within weeks or months on their own, a cushion is equipped with high-quality material to last years from daily use.
However, if you're worried about it wearing out, you can look for one that has a lifetime replacement warranty.
A great company will send you one for free if something happens to the cushion you purchased.
You can read product descriptions to see what quality material it's designed with for your ideal support.
This coccyx cushion from Amazon has a lifetime replacement warranty. You can sit comfortably knowing this brand has you covered in case anything happens. It's made out of 100% memory foam for optimal comfort.
You may also like Best Pillow For Rheumatoid Arthritis
Conclusion
A coccyx cushion can relieve tailbone pain symptoms for those struggling sitting for extended periods of time.
The posture of your back can affect how your tailbone feels when you sit down.
Sitting on this cushion will support your hips, thus increasing spine stability and reducing pressure on your tailbone.
Comment below if you struggle with coccyx pain (although it can be hard to admit – you're not alone!) and if you have thought about buying a coccyx cushion to help relieve pain. Better yet, if you have tried any of these suggested cushions. 
Share with your friends who are working 9-5 jobs or are spending their waking hours in a wheelchair who experience coccyx pain.