In this article, we explore the debate on coccyx cushions vs donut cushions
The spinal cord in the vertebral column of your body is the most sensitive organ and needs to be treated with utmost care. Spinal cords consist of delicate nerves, which control our movement, reflexes, and reactions to external stimuli. The spinal cord is protected by the backbone made of several vertebrae. The backbone of our body ends at the tailbone in the pelvic region.
Due to our sedentary lifestyle and many other factors like external trauma, accident, or fracture, the tailbone may get bruised and precipitate a condition known as Coccydynia. It can be extremely painful while walking, moving, or sometimes even without any movement. Hence, your loved ones can put you to even bed rest till the time this situation heals. A very successfully manageable option for Coccydynia or Tailbone pain is Coccyx and Donut Cushions.
We will be covering the comparison of the two types of cushions based on certain factors to give you the best option for maximum comfort.
Coccyx Cushions
Coccyx cushions are designed while using ultra-soft materials providing desirable strength and firmness to the tailbone while you sit on them comfortably. They help maintain proper posture and decrease the chances of worsening of the pain and provide relief.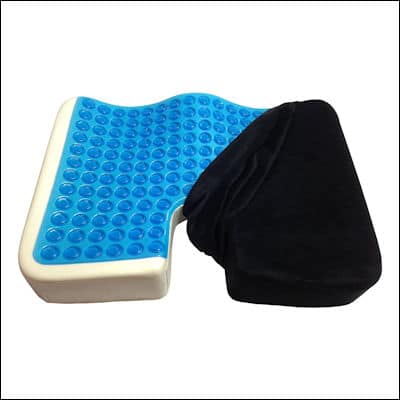 The tailbone pain can be very difficult to handle, and it is advised by the doctors to be careful of the strain you put on your tailbone while being under treatment for Coccydynia. It is a condition that takes time to get better and heal. In that time of diagnosis and treatment, you can use these coccyx cushions to prevent any sores and avoid any trauma which may occur while sitting for prolonged hours.
Coccyx cushions are available in many brands and are used in various conditions. It can be used as a car seat, supporter, or for spinal postural deformities.
Shape
The design of the Coccyx cushion is made to support the coccyx portion, also known as the tailbone. The tailbone is formed by the fusion of Sacral and Coccygeal vertebrae and plays an important role in supporting the hip region of your body. One such coccyx cushion matching all the requisites of a support lending cushion is ComfiLife Gel Seat Cushion. With its gel memory foam, the said cushion can offer maximum support to your tailbone. 
The coccyx cushions are generally rectangular in shape, having an oven cavity 2 to support the tailbone, which might be inflamed, or bruised, or fractured in many cases. The ardent support from the comfortable material and foam lining above the cushion can prove beneficial in the healing and treatment of Coccydynia.
The cavity's shape is important as it is the primary area of tailbone coverage. It should be firm enough to provide support and soft enough to make you feel comfortable.
Material
The desirable material for the Coccyx cushion is Memory foam which is made of polyurethane. It has an excellent ratio of firmness to being ultra-soft on the skin. Many times, it is also called viscoelastic.
Memory foam is used in various seats and mattresses to provide comfort while healing. They are also used to support cervical pain, bed-ridden patients, and thoracic vertebral pain. Memory foam consists of multiple minute foam cells or bubbles, which create a less dense and breathy material through which air can pass easily.
Hence, they are easy to carry around as they are lightweight. 
Provides Support
The elastic nature and comfortable foaming of the cushion provide maximum support to the tailbone area and helps in effectively managing postural problems. The fractured tailbone needs complete bed rest. These cushions can come in handy for such situations as well.
If you're a working individual, having long sitting working hours can easily lead to stress build-up in the tailbone, making your backbone prone to disorders like fractures, Coccydynia, and spinal stenosis.
Hence, in all these conditions, the Coccyx Cushion is helpful and easily supportive in such cases. For example, the Everlasting Coccyx cushion can be a perfect choice. The reason being that it is designed especially to provide support for your tailbone, hips, thighs, etc. 
You may also like Pillow Between Legs for Back Pain
Easy Availability
These cushions are easily available and can be readily purchased from any online e-commerce website. You can also buy the trusted brands from Pharmaceutical shops. It is important to use these cushions well and long enough to support and heal the tailbone.
Usage
As mentioned, coccyx cushions are made of a comfortable material, which adds to its supportive nature, stimulating healing and relieving pain. You can choose the best size, shape, and fit according to your body type and comfortability.
With these features, the coccyx cushions are also available in various sizes and materials – the best one being Memory foam. Many other types of coccyx cushions also have an additional layer of breathable foam and foam bubbles to aid in comfort and convenience. It just makes the product more patient-compliant. 
One such perfect coccyx cushion is the 5 Stars United Seat Cushion. The best aspect of this cushion is that you can easily adjust it with any kind of chair type. Thus, you can make use of it in your office, home, or carry it around with you.
You may also like Best Hemorrhoid Pillows
Donut Cushions
The Donut cushions are one of the premium Orthopedic supportive devices recommended by doctors for various medical disorders and compliance therapies. Doughnut cushions are named based on their shape and have a cavity in the center, just like a doughnut. The main USP of the product lies in its shape and the comfort which is provided by it.
Physicians and Orthopaedic surgeons highly recommend using the donut cushions for overall hip support, sciatica pain, hemorrhoids, tailbone pain, or Coccydynia.
Shape
These cushions have a donut shape having a circular cavity in the middle providing support to the tailbone and also helping to comfort the aching hip bone and pelvic region of the body.
The doughnut cushion can be customized based on the requirements and has many other benefits apart from supporting the tailbone. 
It is highly recommended by physiotherapists and physicians, which are dealing with patients with hemorrhoids, tailbone pain, or Coccydynia. The soft and firm pillow can also provide relief from the backpressure, which may come from a fracture or bruise.
Ergonomic Innovations Donut cushions are a perfect match for this category. The shape of the said cushion offers support for people who have hemorrhoids.
Adjustability
you can adjust donut cushions as they provide a safe balance between comfort and support to the patients. It is also recommended in conditions like post-operative care in Prostate surgery, coccyx pain, post-natal surgeries, pregnancy, and hip replacement.
This cushion is ideal for support and can be used in various ways, like a car seat or sitting pillow on chairs or supporting the lower back. Patients with kyphosis can also use this as remedial therapy. For example, 5 Stars United Donut Pillow is a good option for users who want to use it in a car.
You may also like Best BBL Pillow to Help You Sit After a Brazillian Butt Lift
Material
The constituent material of donut cushions are memory foams and are lightweight for usage in various pains. 
Prevents Pressure Points
Due to pain and fracture in the tailbone or lower back, the body's hip and pelvic areas may be under distress and pressure. This pressure is built due to the obstruction of blood flow to the bone capillaries.
Using donut cushions can also relieve the pressure caused by pain. The shape of this cushion aids this. It has a non-slip base, which helps the cushion to stick to various surfaces.
Material
Physicians recommend the maximum comfortability quotient with the use of material memory foam. Memory foam takes the shape of the person sitting and thereby helps reduce pressure points.
Along with Memory foam usage, this cushion supports the lower back and alleviates the pressure built in the vertebral column.
Usage
With the ideal shape and fit to support the hip muscles and tailbone, donut cushions are one of the desirable products for managing lower back pains of hemorrhoids, Coccydynia, tailbone fractures, bruises, or more. It can be comfortable for various individuals, whereas some may find it not supportive enough to handle the weight.
The comfort level has to be premium, and this also depends on the preference of the individual. In terms of therapeutic results, Donut cushions seem to be giving good results based on their overall stature and usage, making them a great product choice.
You may also like Best Pillow for Spinal Stenosis
Coccyx Cushions vs Donut Cushions: Head to Head
Both Coccyx and Donut cushions are efficient in their design and development. The products vary based on customer preferences and requirements. 
Use
The Coccyx cushions are mainly recommended for tailbone pain-relieving action based on its ocular cavity. The cavity gives the right support and comfort to the tailbone, whereas the Donut cushions effectively prevent hemorrhoid pain.
Placement
The utility of both products is good, but the areas of maximum efficiency vary with the place it has been used in. 
The peculiar shape of the Donut cushion makes it appropriate for supporting your back and hip muscles on the chair in the upright position. It is beneficial to be used for longer hours for professionals having a 9 to 5 job. 
On the other hand, the coccyx cushions are used as a supportive car seat, protective covering for yoga exercises, and help improve posture.
The Coccyx cushion is multi-faceted, rightly usable in medical conditions of tailbone bone, sciatica pain, leg pain, lower back pain, and more. Donut Cushions provide the best relief in areas of hemorrhoid pains, piles, hernia, hysterectomy, and more.
Availability
Many other major factors for comparison are the availability and affordability of the product. Out of the Coccyx and Donut cushions, the former is recommended more by physicians. 
It is easily available in many trusted brands at affordable prices. The availability and usage of donut cushions are slightly lower than the coccyx cushion.
User Experience
The preference for a certain type of cushions is also because of user experience. Many patients prefer Coccyx cushions over Donut cushions based on the coverage and support it provides. 
The two differ greatly in terms of shape and size hence also varying considerably in the therapeutic model of working.
Due to the long sitting and working hours, immense pressure is built up in the lower back and tailbone region, which may become very problematic to handle. 
Coccyx cushions provide just the right support and a little push to the tailbone to stay in the desired position. The usage of coccyx cushions having an elevated back is important in maintaining postural balance and reducing preformed stressors.
Women also prefer coccyx cushions for lower back pain, cramps, and menstrual pain relief. But coccyx cushions are preferred by certain individuals based on the coverage it provides. The cushion structure makes it more plausible for bedridden patients, postural deformities, pain, and discomfort.
You may also like Best Foot Elevation Pillow
Conclusion
Through the use of both these types of cushions, you can get pain relief. But the preference can depend on personal experience, the quality and brand of purchase, and obviously the discomfort for which the cushion has been bought.
Coccyx cushions have been preferred for postural elevation, reduced pressure, easing out sciatica, and various other ailments. In contrast, Donut cushions are generally preferred to help in reducing hemorrhoid pain and discomfort.
Hence, it is important to consult the attending physician, your Orthopedic specialist, or physiotherapist before sticking to a particular product. These therapeutic aids work very efficiently if properly used with regular exercise and proper diet. Along with medical benefits, these products, if bought for sheer comfort, are also very efficient in terms of results. With proper guidance and support, you can choose the best product for utmost comfort and convenience.