A robot vacuum changes its direction when it gets stuck to some object or hits something. So you cannot trip on a robot vacuum. Let us look in detail at the benefits of using a robot vacuum.
As people grow old, their muscles and joints weaken, and gradually their stamina declines over time. Many people may find it challenging to keep their house clean and safe from any obstacles, especially when they are busy with their work or find it challenging to do their housework.
And it is hard to accept things that they can't do anymore, and asking for help may make them feel dependent. A simple task like cleaning and vacuuming requires a longer period to stand, push and pull the vacuum, and this gets more difficult to do in old age.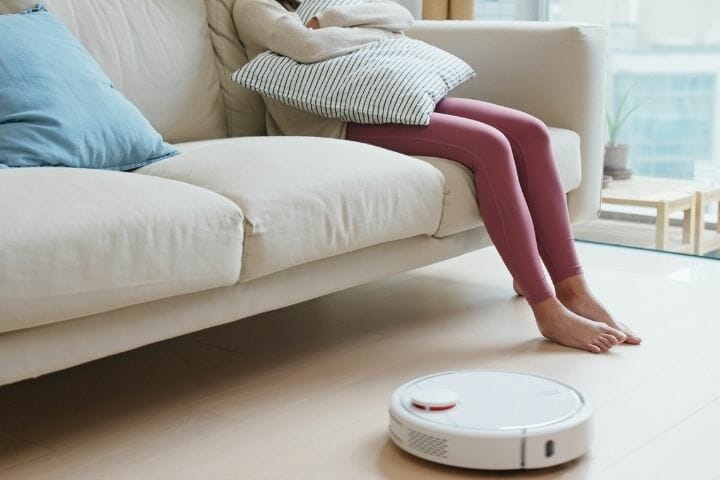 Robot vacuums or Roomba are of great help when it comes to cleaning the house. Roomba is an automatic vacuum cleaner, and it has become popular among people as it makes cleaning the floor easy. But older adults are sometimes afraid of buying a Roomba due to a silly reason – they think they might trip and fall over one!
You might like to read: 7 Tips to Update Your Parents House to a Smart Home
Can you Trip on a Robot Vacuum?
The answer is No!! Robot vacuums automatically change their direction when it hits something or get stuck to some object. They have inbuilt sensors, which will detect a nearby object and make them change direction. So unless you do it intentionally, it is very difficult to trip and fall over a robot vacuum. In this article, let us look at the benefits of robot vacuums for seniors, in which we will cover:
Why Is Roomba the Best Tool for seniors?
Benefits of using robot vacuum for seniors.
Safety tips for using robot vacuums.
Why Is Roomba The Best Tool For Seniors
Cleaning the house is one of the things people hate to do. But it is an essential thing, and it cannot be avoided. This is because clean floors will prevent the risk of disease in older adults, and it will also keep them safe from falls. 
In today's scenario, people find cleaning the house time-consuming. You may have heard people saying that growing old makes it hard to do any work. Although it is hard to accept such things, people find it difficult to even ask for help.
It is all about the little things in life. Doing things on your own and being independent in old age makes people feel happy and are little victories like just taking a walk or cleaning the house.
With the advancement in technology, there are various tools and devices that make life easier. A robot vacuum is one such device that helps clean the house with ease. Robotic vacuums are usually small, round-shaped machines designed to clean the carpet, tiles, and floors.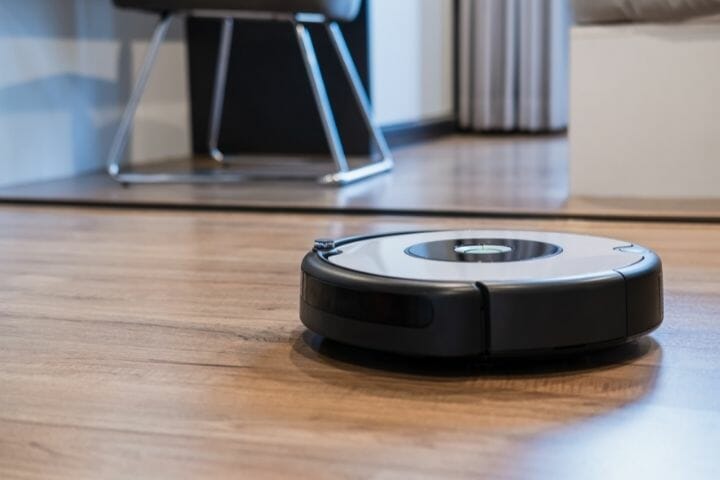 You might like to read: Gifts for Grandparents Who Have Everything
How Much Does a Robot Vacuum Weigh?
When you buy a vacuum for seniors, it is essential to look at the weight of the vacuum. Seniors may find it difficult to use heavy vacuum cleaners. And it may even be not easy to carry them up the stairs. 
It is better to look for lightweight vacuum cleaners as they will be convenient for them to use. Rugged vacuums may not be ideal to use everywhere. So having a robot vacuum is the ideal choice. Older people do not have to carry it around, and it can clean the entire floor independently.
Benefits Of Using Robot Vacuum For Seniors
The automatic robot vacuum has made it convenient and easy to clean the house and keep it tidy. Let us look at some benefits of robot vacuums for seniors.
Easy To Use
One of the best things about using a robot vacuum is extremely easy to use. You need to program the machine for the given space and set the timer, and the devices will run automatically. It would help if you placed the vacuum in a suitable place and you are done.
With the new models coming up with advancement and upgradation, there are fewer chances of any mishap. This means you don't have to worry about the vacuum not working or getting stuck on the floor.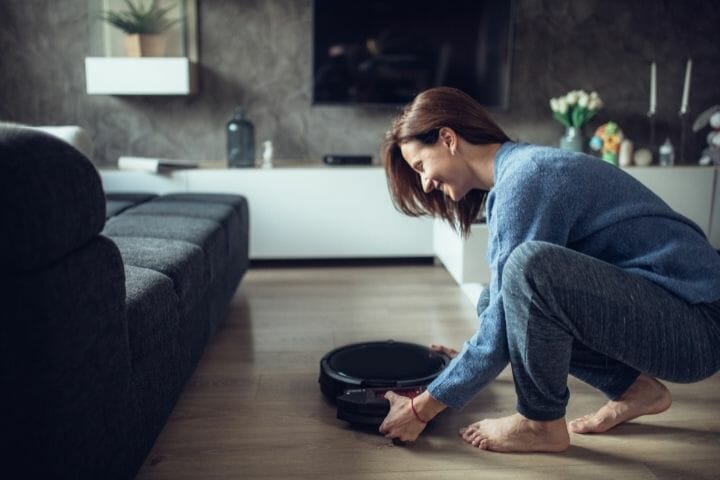 You might like to read: Simple Tips for Managing Change of Season Allergies
It Does Not Require Manual Operation
Robot vacuums are best to use for older adults with any mobility issues or physical ailments. You don't need to operate robot vacuums manually, you need to just turn it on and let it clean the house. 
These devices have sensors to clean the house without getting stuck anywhere. You don't need to stand, walk or bend for a long period to clean the house. These vacuums are great for older adults who have arthritis or joint pain. 
They Are Incredibly Efficient
Most of the robot vacuums can do multiple tasks. These vacuums do not just clean the house but also know the space layout, dump the dirt collected, and find their way back to the charging point.
Some models have sensors and can change their transition from bare floor cleaning to carpet areas. You don't need to change the settings manually. Or you can control the settings from the smartphone app as well.
Saves Time
Over the years, everyone's lives have become busy, and Multi-tasking has become a part of modern-day existence. One great benefit of using a robot vacuum is that you don't have to be there when the vacuum is operating.
Just turn on the vacuum, and it will start operating independently. So when you don't have to clean the house manually, you can spend your time with the kids, relax and do what you like.
Can Work On Any Surface
One benefit of using robot vacuums is they can work on multiple surfaces. This includes carpets, wooden floors, to concrete surfaces. This depends on the model you choose. Usually, advanced models can transit between different surfaces while cleaning. And in some models, you may need to change the settings manually.
Can Remove Dirt From Tight Spaces
Many people find it difficult to clean hard-to-reach surfaces. But using a robot vacuum, they won't find any issue. This is because of its compact size, and it can clean small spaces, which otherwise is not possible. These areas include the corners, crannies, and nooks. 
Can Detect All Types Of Dirt
As vacuum cleaners can work on all types of surfaces, they can clean any type of dirt. Many robot vacuums have the excellent suction capability to remove all the dirt from dirt to deeply-embedded dust in the carpet. Also, with built-in sensors, the vacuum can detect the time required to clean the space and clean the particular space until it is clean.
You might like to read: Managing Back Pain For Seniors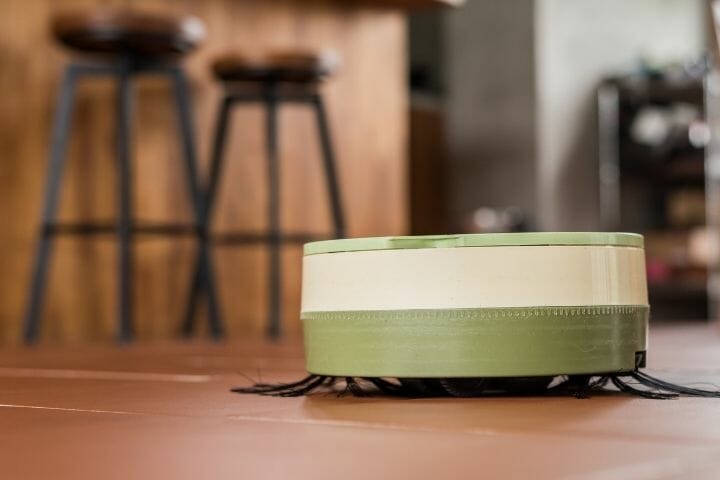 Easy To Store
Due to their compact size, robot vacuums are extremely easy to store in closed, under the sofa, or wherever you want. So it is an ideal option for people with limited space in their house, and you can even transport them to another place due to its size.
Low Maintenance
Robot vacuums don't require a lot of maintenance than other manual cleaners. Usually, robot vacuums are built with high-quality materials and a long lifespan. You need to empty the container and make sure the floor is free from the clutter that may get damaged.
Ideal Device For The Elderly
Older people with mobility issues or any disability can benefit from using robot vacuum cleaners. Hands-free operation and its ease of use make it a liberating device in today's time. No one would like to hire a house cleaner at a high expense. 
Robot Vacuums Are Economical And Cost-Efficient
Robot vacuum cleaners have been there for years and have improved significantly. One good thing about these vacuums is that you don't have to spend a lot of money buying them for your specific needs. It ranges from $150 to $1500 for high-end models with advanced features. So you will find one on every budget as per your need.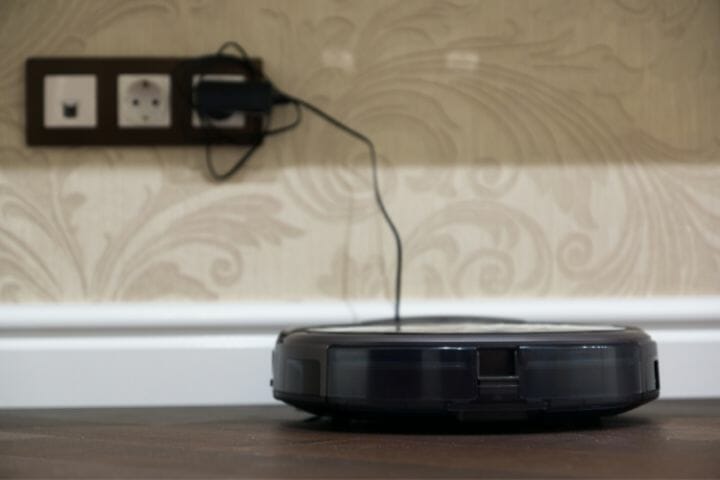 You might like to read: Guide to Helping Seniors with Technology
Safety Tips For Using Robot Vacuums
Generally, if you follow the manufacturer's instructions in the manual, the robot vacuums are safe to use. Let us look at a few safety tips and precautions before using it.
Make sure to follow the instructions given in the manual and ensure that you buy from a reputable retailer.
You must register your vacuum with the manufacturer. This makes it easy to complain about any damage or faults in your vacuum and get it resolved or exchanged.
You should always use the charger that comes with the vacuum. If it gets damaged, ensure you buy the charger from the same manufacturer and ensure it is compatible with your device.
When getting any maintenance work done, make sure the robot vacuum is disconnected.
Ensure that the vacuum cleaner does not suck any hot ashes or cigarette butts.
Make sure to keep the vacuum away from any sources of heat.
You might like to read: Downsizing Tips For Seniors
So Can You Trip On A Robot Vacuum?
No, you cannot!! It comes with sensors and can change the direction when touched by some object or hits something. No doubt, the more money you spend, the more features you get in vacuums. But no matter which vacuum you buy, almost all the robot vacuums are of great convenience and are flexible to use.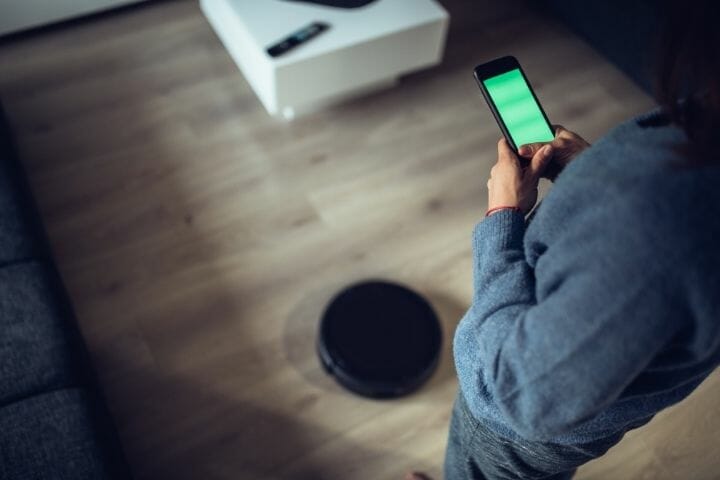 Robot Vacuums are an excellent choice for people who find it difficult to clean the house daily. It is a perfect tool for seniors as it gives them independence and makes their lives more enjoyable. Just make sure to buy robot vacuums for seniors that are easy to use and not too overwhelming. 
We hope you liked the content in this article! If you are looking to buy a robot vacuum for your home, or have already bought one, do please share your experience so that other readers can also benefit from it.