We present a guide on how to use a TENS machine for back pain. We will explain the concept behind a TENS machine, gives pad placement tips and tricks for back pain, and suggests some good TENS machines that you can buy.
Is back pain disturbing your whole life? If yes, why not choose a TENS machine to live a pain-free life. Are you aware of the fact that you are not alone who suffer from back pain? There are almost 65 million Americans who suffer from this problem. With the changing times, gadgets have also evolved. TENS machines are one of them. You can use these innovative gears for upper and lower back pain.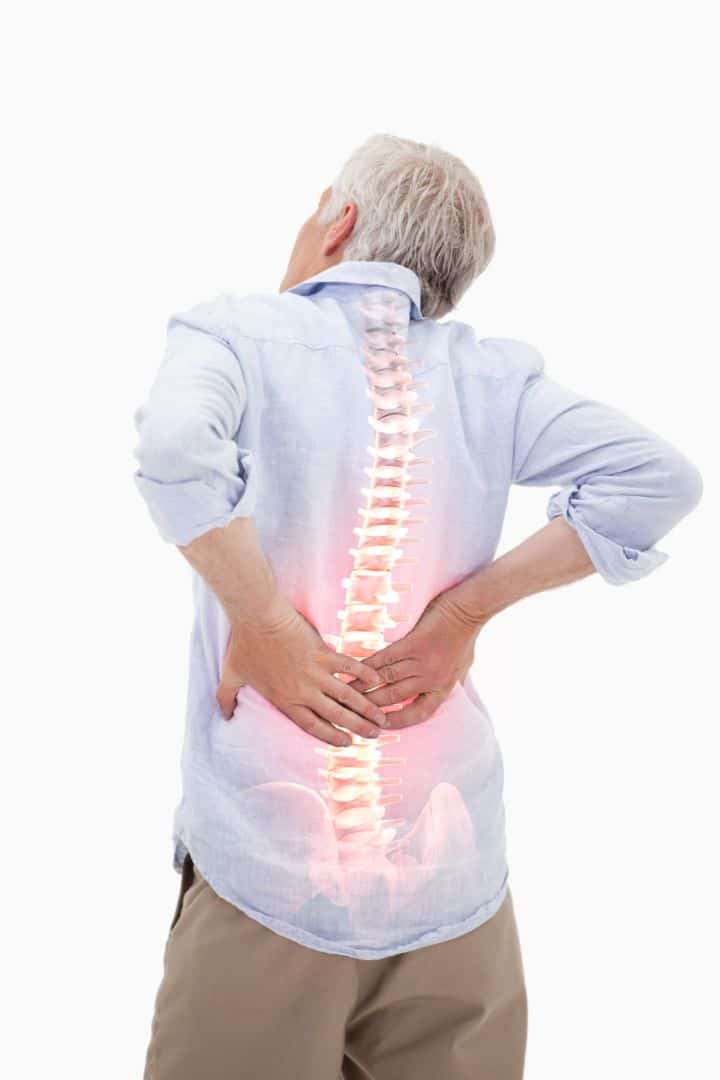 The TENS machine is an effective device that can treat acute and chronic pain in any part of the body. It helps alleviate body aches, arthritis, joint pain, fibromyalgia, muscle pain, and much more. As you read the article, you will know how to use a TENS machine for back pain? 
What Is A TENS Machine?
Transcutaneous Electrical Nerve Stimulation is the most effective, chemical-free, non-invasive gear to relieve back pain. TENS machines send electrical impulses through the skin to the brain and block the pain pathway. This is done to confuse the brain, so it does not transmit pain signals through the nerves to the pain points.
Generally, a TENS machine has electrode pads attached to it. These pads are self-adhesive and stick to the skin firmly. The device has different modes and relaxing massages that help reduce the pain from a particular area where the pads are placed. 
One important thing to remember is that pads need to be appropriately set so that the machine works effectively. It is a battery-operated device that can be used from six hours to 20 hours continuously.  
Note: All those who have delicate skin or are allergic to adhesives cannot withstand any vibration massage as skin is sensitive must not use a TENS machine. Moreover, TENS machines will not work on the spinal cord if you have health issues with it.
Two Theories TENS Machine Works On
Using a TENS machine on a lower frequency is always better as it covers a greater pain area. It works on the gate control theory of pain. Gate theory does not let the pain travel from the painful place in the body, thus helping reduce pain then and there. 

When one uses a

TENS machine On higher frequency, the

electric impulses help release endorphins from the body. These act as natural pain killers for the body. The endorphins stop pain signals from the brain from traveling to the other parts of the body.
Thus, using a TENS machine in these settings helps reduce back and lower back pain.
You may also like Best Mattress for Seniors with Back Pain
Uses Of TENS Machine And Problems It Treats
One must use a TENS machine if suffering from pain and stress. The best feature of the device is you can use it according to your convenience. Take it along with you while traveling, while going to the office, park, gym, studying, and much more. Feel the relaxing massages that will not only destress your body but will also be relieving your body from back pain. It is a compact gear that anyone can use if dealing with back, lower back, sciatica, arthritis, labor pain, and more. 
Not everyone can spend money to go to the spa due to busy work schedules and Monterey issues. But you can afford this adequate cost gear that will help reduce muscle pain and help you live pain-free. 
Using the machine is very easy. It would be best if you correctly place the pads to take the maximum benefit of the device. Try buying dual output machines that help cure the pain of two different areas of the body simultaneously. 
Not all have the same kind of health and pain issues. Therefore, suggesting one single way of pad placement will be unfair. The simplest way is to apply the pads on and near the pain area and choose a setting (massage mode) that is comfortable.
How To Use A TENS Machine For Back Pain? Pad Placement
Please place the pads on the sides of the pain area. For example, if you are experiencing pain in the lower back, it is better to put the pads on either side of the spinal cord. 

Using the machine at a slower speed is the best you can do in the initial phase.

Choose the massage modes in which you feel comfortable and are most relaxing.

Set a timer and the frequency and let your body adjust to it.

You can start taking a

therapy session for fifteen minutes

, then increase it to thirty to forty-five minutes.
One crucial suggestion when buying a TENS machine for back pain is to make sure it has an EMS setting, too, so that you can tone your muscles and get rid of back pain. You can use a TENS machine three to four times a day.
How To Use A TENS Machine For Back Pain: Herniated Disc
Herniated discs are among the major causes of problems in the spinal cord, legs, and lower back. If you have numbness of nerves around the spinal cord, it might also be caused by spinal herniated discs. 
Such people have pain in the arms, legs, back, and more. They get tired as they have a muscular weakness. Some of them have tingling sensations in the leg, and their arms also have burning sensations; they are the ones who have spinal herniated discs. 
Using a TENS machine for spinal Herniated disc is a popular non-surgical way to treat this problem. For herniated discs, it is better to set the pads on each side of the pain area. Further, it is essential to set pads near the end of the spinal cord, the lower back. Place the electrode pads on each side, left and right, which will help reduce this problem within a few months. This pain-relieving tool will help reduce stress from the muscles. 
You may also like Best Back Brace for Spinal Stenosis
How To Use A TENS Machine For Back Pain: Top Products
Compex Wireless 2.0
Try this innovative TENS machine to get rid of stress and paining muscles. It ensures the highest level of pain relief in muscle recovery. 
Specialists designed ten programs for instant pain relief after workouts, run, cycling, and more. The gear has options to choose between pain recovery and muscle stimulation. 
Eight pads work well on muscle stress and pain. The machine helps give strength to the user to perform better.
Ohuhu TENS Machine
Ohuhu TENS machine is one of the cost-effective gadgets available for muscle pain and back pain. It also works on soreness, post-exercise recovery, and overall wellness. It is a pain-relieving tool that is compact and highly portable. 
The machine is FDA certified and is also recommended by doctors. A chemical-free and natural mechanism to get rid of pain from any part of the body. It has dual output channels that help to cover two different body parts simultaneously. 
There are 16 pads and 24 preset massages that help recover from muscle pain. 
TechCare Pro 24
No products found.
Tech Care is one of the best TENS machines for back and lower back pain. It can help deal with muscle stress, injury, some chronic and acute conditions of joint pains, and more. 
Tech Care is one of the most user-friendly gears as it has a large screen and backlight LCD. Twenty different levels of intensities and six different massage modes make this gear perfect for back pain. 
An automatic timer that makes the user use the equipment without worrying about the battery being discharged. It comes in a pouch that makes it convenient to store and carry everywhere as per convenience. 
Further, another attractive feature of the device is it comes with a lifetime warranty. This makes it unique when compared with its counterparts. 
No products found.
You may also like Which TENS Machine Is The Best
Limitations of Using TENS Machines
Anyone with Cancer or has had it in the past five years must not use a TENS machine.

Anyone who is under specific medication for pain in the spinal cord also must not use this device.

If a user has Epilepsia, then a TENS machine is not recommended for him/her.

People who have sensitive skin should avoid TENS.

People allergic to sticky adhesive pads must not use this machine.

Never put the pads on the neck or head. It can be dangerous.
For regular users, there is a recommendation that they must use the gear only three to four times and not more than 30 minutes.
Buyers Guide: How To Use A TENS Machine For Back Pain
Buying a pain TENS machine for the back and lower back can be confusing. But, you need not worry as the buyer's guide mentioned below will help you choose the best machine for your back pain.
Dual output channels
Buy a TENS machine with dual output channels as it will help you get rid of pain from two problem areas of the body. Dual output channels help two people use the gear at the same time. Without wasting time, you can use this pain-relieving tool for two different body parts. 
You may also like
Four or more electrode pads
Buying a machine that has four or more electrode pads is beneficial. With the help of a minimum of four pads, you can get rid of pain soon. Some of the TENS machines are so effective that they provide instant pain relief. A few TENS machines come with eight-ten and twelve pads. This helps the user cover a large painful area of the body with ease.
Self-adhesive and reusable pads
Changing the pads every time you use the machine can be very irritating. Thus, when buying a TENS machine, make sure that the pads are reusable. You can use some pads almost 50 times. If your pad does not stick appropriately after numerous uses, you need not worry. Take a damp cloth and wipe the pads, and it will stick again.
Easy to read gadgets
Buy TENS machines that have everything written on it. So that people of any age can read what is written on it. This will make the gear user-friendly. Gadgets with a large LCD and backlight make it convenient for the user to use the equipment.
Devices with at least six modes 
Buying TENS machines with different massage modes will help get a relaxing massage. Working on one single massage will be monotonous, and the user will lose interest. Gadgets with kneading, tapping, cupping, Tai-chi, and scrapping are standard massage modes available in a TENS machine specifically made for back pain.
You may also like Top Accessories For A TENS Machine
Frequently Asked Questions: How To Use A TENS Machine For Back Pain
What are electrotherapy and its uses?
Electrotherapy has been popular for years, but with the changing time, gadgets have evolved. One such gadget is a TENS machine. The process of electrotherapy helps relax stressed muscles, increase blood circulation and pain management. It uses EMS, which is electrical muscle stimulation. A few TENS machines use both TENS and EMS therapies to relieve body and muscle pain. 
What features are the most essential to consider when choosing a TENS machine?
Buying a TENS machine can be confusing, but you must look for features like
Dual-channel modes so that treating different body parts can be possible.

See to it that the device is not at all bulky as it must be compact and portable.

Different modes and intensities to get a relaxing and effective massage.

Before buying a

TENS machine for back pain

, see that the gear is easy to understand and deals with acute pain management.
Which pulse rate is the best to choose for acute pain and normal pain?
If you are dealing with acute pain, go for frequencies between 80 to 120 Hz. If you have less pain, setting between two to eight or ten will also work effectively. 
You may also like Can A TENS Machine Be Used For Neck Pain
Conclusion
There are tons of options present in the market. Some are expensive, some are in the budget, and a few are confusing to understand. We hope this article gave you the right guidance to buy a TENS machine for back pain.  If you have any further doubts and queries, please drop us your comments and suggestions.
While we make every effort to provide updated and correct information, the advice given in this article and website should not be construed as "medical advice." Please consult with your physician or medical practitioner before using any TENS machine. Each individual may have unique issues, and your medical practitioner is the best person to decide the best TENS machine for your case.