Working out at home is better with a coach to motivate you. Better yet, they can provide nutrition facts, personalize meal plans, and provide expert training guides in one on one training.
Each website is different and specializes in different fitness-related goals. So, what are the best websites for personal training services?
Here, we will dive into the best personal trainer websites to get you in the finest shape you deserve. As a bonus, these websites help personal trainers find more clients and increase their coaching skills with the software's help.
Best Personal Trainer Websites
Successfully Improve your fitness and diet with Kickoff. Includes 1 on 1 remote personal training through texting, live video calls, and on the app.
Price
Kickoff: $3/ day billed once a month for $95. Daily training and unlimited text with a fitness trainer, custom workouts, and nutrition meals
Kickoff live: $6/day billed once a month for $195. All kickoff standards, plus weekly 1 on 1 video strategy training sessions with a trainer
Features and Benefits
Personalized program. Coach designs a fitness program to tailor to your needs over time.
Custom workout and meal plan. Your fitness professional coach will customize a daily nutrition plan and personal training session.
Variety of workouts. Including yoga, strength training, muscle building, anything your coach feels your body needs to meet your goals.
Optional live 1 on 1 video. Can meet with your coach live for 1 on 1 video workouts or strategy-based chats.
Daily guidance. Count on your coach to be your best fitness friend to keep you accountable in your workouts.
Registered dietitians. You get the very best nutrition and training experts to sustain your trust and confidence.
Stand Out Features
Quiz matches you with the perfect coach to sustain your physical fitness needs, based on goals and personality
Daily encouragement. Receive helpful feedback and tips from your coach through texting.
Best workouts sent to you. No more fretting about what workout you should do that day. It will target your goal to a tee.
You may also like Are Treadmills Safe for Elderly?
True coach enables 1 on 1 coaching online to deliver a better experience for the trainee, and better yet, help coaches grow their training business. It's a win-win for both parties involved.
Price
Start with a 14-day free trial. Cancel anytime.
Starter: $19 per month for up to 5 clients.
Standard: $49 per month for up to 20 clients.
Pro: $99 per month for up to 50 clients.
Features and Benefits
Progress tracking. Track exercise history and numerical metrics to work with your fitness professional to meet a fitness goal.
Training videos. Contains a video exercise library with over 1,200 premium workout videos for clients to access anywhere at any time. Coaches may upload their own.
Nutrition measure. Sets high, yet tangible goals and measures each client's progress. Tracks macronutrient intake in graphs.
Online chat. Talk to others in groups or individually. Can comment on workouts or send a direct message within the site.
Unique features. You or the coach can save documents in your file (nutrition advice, ideal fitness calorie intake, etc.)
Stand Out Features
Assessments and tracking. Each client has a 90-day compliance rate (number of exercises completed versus the number of exercises to do)
Interactive and engaging. Clients can upload their own videos, photos, or notes after a workout to their file
Follow-up reminders. To keep you on track and not miss a workout.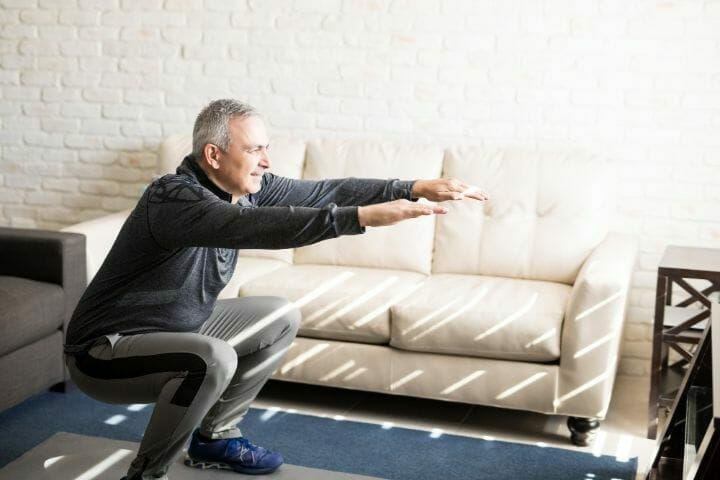 You may also like Best Resistance Bands for Seniors
Noom delivers effective fitness programs or weight loss programs online, or on the app. They take a holistic approach to fitness to change your relationship to both food and working out.
Price
Monthly plan: $59
Yearly membership: $199
Free version (limited features)
Discounted bundle: buy multiple months at the same time for less
Features and Benefits
Ideal plan. Sends you a basic estimation of how much weight you can lose based on your goals you input in the system.
Tracking. Calorie intake and nutrition mass for aiding a healthy lifestyle with the exercise program. Measures how many calories are in a food or drink aligned to its weight.
Weekly sessions and information. Your fitness coach will provide strategies on nutrition, stress management, and forming healthy behavioral habits.
Progress check-ins. Write down meals, workout goals, and body weight.
Virtual coaching team. Includes a goal expert, group fitness coach, and support group to sustain encouragement your progress.
Blood sugar/pressure tracking. Measures blood sugar and blood pressure to help you change your diet or exercise for lowering stress.
Stand Out Features
Habit and behavioral change. 78% of Noom users sustained a weight loss change in over 9 months in a 2016 study, through using tracking.
Creates a demographic profile. Select your weight, height, and your specific fitness-related goal.
Trustworthy. Asks for health-related issues before you start.
You may also like Best Yoga Mats With Alignment Lines
My pt hub is an all-in-one software for personal trainers and clients, with the addition of clubs and expert coaches. Helps trainers grow their business. Get it on an app, your watch, or on a computer.
Price
Start with a 30-day free trial. No credit card required, cancel anytime.
Standard: $34 a month per 5 clients (restricted physical activity, meal plans)
Premium: $84 a month (unlimited amount of clients and fitness or nutrition programs)
Or, $49 a month for unlocked unlimited features
Features and Benefits
Design and build workouts. Workout video library of over 7,500 HD video exercises
Create custom exercises. Deliver personalized workouts for clients using your own videos and expertise
Nutrition plans. Set realistic calorie targets with detailed nutrition plans of over 650,000 food options (to weigh calories aiding diet plan)
Custom meals. Create personal meal templates plus a bonus new perspective on fast food.
Packages. Purchase expert packages from a fitness instructor. Includes 1 on 1 session, and online training services.
Save time and increase efficiency. The athletic trainer can attach helpful notes to their client's folder. Update photos regularly.
Stand Out Features
Apple watch. Logging and tracking of your workouts on your wrist. See workout history, and receive feedback from coaches.
Offer live events. Clients can get live videos from personal trainers, coaches, wherever and whenever
Online chat. Instant chat with others individually or in fitness groups. Send files such as videos or photos and audio for an interactive experience.
PTdistinction offers personal training software for everything an aspiring successful personal trainer needs. Time saver and delivers top tier coaching.
Price
First month free trial. Cancel at any time with zero fees.
Novice: $19.90 a month for 3 client accounts
Pro: $60 a month (most popular) for 25 clients plus extras
Master $80 a month (best value) for 50 clients plus extras
Features and Benefits
1 on 1 virtual training. Training clients face to face through PT Distinction website.
Fastest program builder. Trainers can easily create workouts including circuits, drop-sets, AMRAP, ladders, and more.
Coaching tools. Including a tech guide to track the client's fitness progress while providing expert coaching.
Group training systems. Use group training systems to offer workout challenges in group training. Including the ability to send recipes, new habits, or updates in group chats
Huge workout library. Tons of assessment videos with coaching to guide the trainee. Upload your own videos for clients.
Meal plans. Over 100 meal plans for delivery. Time saver for trainers, as it's specified to people's goals already.
Stand Out Features
Automated notifications. Automatically sends notifications to make clients accountable of doing/ attending workouts and events.
Trainers text useful information. Send clients photos, videos, for tips, and daily motivation. Connect through SMS or email.
Photo food diary. View clients meal templates and coach them with proper nutrition facts and offer healthy food suggestions based on their diet.
You may also like Best Resistance Magnetic Exercise Bike
Trainerize takes clients online with demand workouts. Includes one on one training and group training with an in-app messaging feature for increased connection and motivation. For trainers looking to grow their business.
Price
30-day free trial with unlimited clients and add ons. No credit card required at this stage.
Free: 1 client
Grow: $5.00 per month (up to two clients)
Pro: $20 per month (up to 5 clients)
Studio: $250 per month (up to 500 clients)
Features and Benefits
Video coaching. Trainers can live stream videos to clients at their convenience to follow along.
Video workouts. Accessible to throw in during any fitness session. Including guided meditations, stretches or any fitness related activity desirable to the client.
1 on 1 personalized videos. Simply set up an appointment with a personal trainer. The coach delivers encouragement, and expert advice to keep clients motivated to workout with them.
Nutritious meal plans. Trainer offers premade meal plans according to the client's needs.
Track meals and macros. Track client nutrition through Fitbit or MyFitness Pal app. That way, weight metrics can be accessed to see if the meal plan is working.
Nutrition goals. The fitness professional can set nutrition goals in relation to the assigned meal plan.
Stand Out Features
Weekly summary. Automatic emails sent weekly to the fitness coach. Summarizes clients workout activity to help manage workout or nutrition plan.
Training templates. Build training templates to satisfy different customers needs.
Custom brand app. The fitness professional can offer training experience by customizing the app based on personality, video style that works on any device.
You may also like Cubii Jr. Seated Elliptical Review
Trainheroic helps all personal trainers, coaches, or athletes looking for professional fitness training to unlock the "hero" within. Specializes in human performance on top of the well-equipped software to navigate the site or app.
Price
Memberships include a 7-day free trial. No credit card required.
1 athlete $9.99 a month
Up to 5 athletes: $17.99 a month
Up to 15 athletes $34.99 a month
Up to 500 athletes: $199.99 a month
Features and Benefits
Coaching tools. 1 on 1 coaching or group fitness workouts, Trainheroic gives the best coaching tools for high performance
Easy to use interface.
Personalized training. Trainer can deliver personalized training experience with customizable video instruction, video sharing, and motivational online chats
Accessible. The app is IOS and is Android compatible for convenient usage.
Variety of training experts. Thousands of training options (workouts, videos, one on one sessions) from the world's best coaches
Training programs. One-time fee for a training program to meet any fitness goal. Programs tailored to the client's fitness needs and perfect for those that want to work out alone.
Stand Out Features
Webinars. Athletes receive expert instruction on a variety of workouts and advice on how to meet training goals. Bonus workout tips for a healthy mind and a healthy body.
Progress tracking accessibility. Athletes can access training metrics anywhere at any time to reflect on the progress of goal success.
Community feedback. Feeds of forums including notifications provide community to keep clients accountable for working out.
You may also like Strength Exercises For Seniors
Conclusion
In this article, we have dived into the best 7 personal training apps. Specifically, for athletes looking to up their fitness game, and for coaches wanting to grow their online business.
For a quick recap, the best online fitness website for weight loss is Noom. They specialize in nutrition-based meals to tailor to your diet needs to meet a certain weight loss goal.
For the best training, PT distinction is probably the most ideal, if you like group fitness and one on one coaching.
In our opinion, the best personal training website overall is Kickoff. They are the best because they specialize in both nutrition and fitness goals with 1 on 1 coaching. Also, they are the most affordable with valuable insights from experts that care about your fitness growth.
For more help in deciding if the website is for you, read more information by navigating the menu options for each desired section. You can also read reviews online by typing in the website name in Google, as forum posts usually come up with an inquiry.
No more fretting about not knowing where to start on a personal fitness journey to bettering your physical and mental health. For coaches, you can build client numbers and connect with them easier with these websites.