Can a TENS machine help in weight loss and your best options in the market to buy if you want one? We will answer these questions for you in our guide.
If you are in a hurry, the table below gives a quick snapshot of your best options.
What's good?
Combo TENS and EMS machine which helps in muscle contraction and pain relief. Four channels with eight pads, Large LCD screen, with three intensity levels and many pre-programmed pain relief options
TENS-EMS combo. Includes 24 massage modes across a variety of massage techniques. Includes a dust-free carry bag and 10 TENS pads.
What could be better?
Does not have a touchscreen
It only has a single pin for keeping the pads, even though there are 10 pads provided with the machine.
Top Choice
What's good?
Combo TENS and EMS machine which helps in muscle contraction and pain relief. Four channels with eight pads, Large LCD screen, with three intensity levels and many pre-programmed pain relief options
What could be better?
Does not have a touchscreen
Second Choice
What's good?
TENS-EMS combo. Includes 24 massage modes across a variety of massage techniques. Includes a dust-free carry bag and 10 TENS pads.
What could be better?
It only has a single pin for keeping the pads, even though there are 10 pads provided with the machine.
Is weight loss an arduous journey for you? You may not be surprised to know that nearly one in every two people in the US is trying to lose weight.
For most of us, taking out time from our busy schedule to workout is challenging.  Advice on losing weight is typically a miasma of what to eat, what to drink, how to work out, and what not to do that confuses the heck out of most people. 
But I recently heard somewhere about these easy-to-use machines called TENS machines, which someone said can also tone my body.
So in this article, I will share my research with you, and try to answer the question: "Can A TENS machine help in weight loss, and your best options to buy one".
Can A TENS Machine Help In Weight Loss And Your Best Options?
The simple answer here is no; a TENS machine in itself will not help you lose weight or trim your body. What you need is a combination of two machines, known as TENS and EMS. Moreover, high-frequency TENS are more suitable for weight loss. 
Let us explain below what the combination of these two machines does.
TENS – EMS Combo
Transcutaneous electrical nerve stimulation (TENS) machine, when operated, generates short electrical impulses. This helps to reduce pain by closing the gates of pain in the nervous system. One can reduce muscle pain treatment through the TENS machine without paying for any physiotherapy or doing any physical activity.
An EMS machine, on the other hand, uses electrical impulses to stimulate your muscles. This process makes the muscles contract, helping to tone them and making one look slimmer.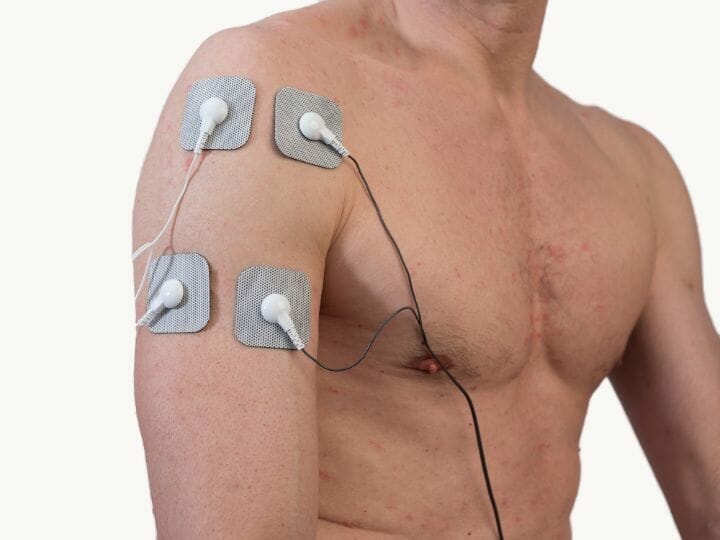 The objective of using TENS and EMS as a combination is to support your external efforts to reduce weight. For example, suppose you are into regular jogging or gymming. In that case, a TENS EMS combo will do two things: after your workout session, it will help to dissolve fat in the body using the EMS therapy, while at the same time TENS will reduce the pain that you might feel due to a heavy workout.
Selection Criteria 
There are various TENS machines available in the market, but not all are ideal for losing weight. We have critically evaluated the products and have selected a combination of TENS and EMS machines which will help you in reducing your weight without much effort. These products are chosen based on their frequency, channels, and pad quality. 
Primarily for weight reduction, a high-frequency muscle stimulator is preferred. Suppose we talk about the channels, the more the channels, the more different modes, and intensities you can choose for other areas. Whereas while choosing one also must look at the pad's availability and quality, it should easily stick to the skin.
You may also like Can a TENS Machine Be Used For Sciatica and Your Best Options
Frequently Asked Questions 
Which EMS and TENS settings are most effective for weight reduction?
Choosing a Pulse Rate (Frequency) Acute pain is quite successful when it is around 80 and 120 Hz. Lower frequencies of 2 through 10Hz, which induce endorphin production, may indeed help with severe pain. Muscular stimulation at quite a frequency of 35 to 50 Hz is sometimes used to reinforce or relieve muscle.
How many times can you use a TENS machine per day?
You can use a TENS machine at your convenience. Use it any moment while you feel distressed. However, within the first week, we recommend starting with three 1-hour periods. While using the patches, look for some redness on the surface beneath them. If your body tolerates the TENS, steadily increase every other injection duration while the time passes.
How can I make my TENS gel pads sticky again?
There's much less binding to cling to both the body as these take up this same slippery contact area. You can wipe TENS unit patches with even a moist wet cloth to render them smooth once until they've been dusty. Only use fabric, not a sheet replacement, since this would result in many more residue being left around.
Where should TENS pads not be placed?
If your skin is broken or harmed, don't use TENS pads. TENS pads must not be worn on both the front and side of the body, eyelids, or even in the lips. Use caution when applying to places where there is a lack of feeling. Swollen, red, contaminated, or inflamed skin does not undergo TENS medication. TENS pads should also not be used near cancerous lesions.
You may also like Is A TENS Machine Useful For Labor And Your Best Options
Best TENS And EMS Machines For Weight Loss
#1 AUVON TENS & EMS Unit Muscle Stimulator
Two Weight-reduction Therapies in Single Device:

AUVON TENS and EMS devices offer you two types of therapies in the same machine. TENS and EMS stimulate your nerves and ensure proper blood flow in your muscles and blood vessels. To provide an appropriate movement, this device helps you with removing your inactive and fatty deposits. 

Four channels to cover more area:

These four channels make this product more efficient for weight reduction by increasing the output. In this TENS machine, channel A and channel B are independent of each other so that you can choose two different modes and intensity levels simultaneously. Because of this facility, weight reduction will take place in the right proportion. 

10 Upgraded TENS pads to provide you longer life: AUVON TENS Machine works with best-in-class Latex-free pads. For providing you better self-sticky performance, manufacturers use premium quality for sickness. All these pads, electrodes, and connection wires are made as per medical standards.
You may also like How To Use A TENS Machine For Back Pain
#2 Belifu Dual Channels TENS And EMS machine
Adjustable timer:

Most EMS and TENS units have pre-defined runtime in their systems, after which it automatically stops. Belifu TENS and EMS units have adjustable runtime options by using which you can run it as per your required time.

Independent Dual Channels With 24 Massage modes and 20 intensities: Dual independent channels help you treat two muscle groups simultaneously. Moreover, its system provides you with 24 massage modes also.

Reusable Electrode Pads and Hard Cover:

Along with the TENS machine, you will get ten reusable electrode pads, a shockproof hardcover, and cable ties to get rid of the raveling of messed up cables.

EMS and TENS two in one:

help to contract the muscles through electric impulses. It enriches your health and helps you get a toned body. On the other hand, TENS therapy helps relieve pain from all the body parts, thus improving performance. The two-in-one

EMS and TENS machine helps in weight loss and helps maintain weight.
#3 TENS And EMS Touchscreen Machine
TENS units ideal for low current electrotherapy:

TENS (transcutaneous electrical nerve stimulation) is a

highly effective form of low current electrotherapy that stimulates

muscles,

nerves and improves joint mobility. This form of electronic pulse massage is perfect for pain and stress from the muscles.
Dual Output modes with adjustable timer:

now attach the pads on two different body parts and reduce fat from other areas of the body simultaneously. It has an auto power-off system after 20 minutes if in case you forget to set the time. The machine automatically turns off. You can set a timer at 60 minutes for a relaxing massage session using TENS and EMS both. 

Pre-set modes with large pads:

Twenty-four massage modes that two users can use simultaneously. Choose the modes that feel relaxing and comfortable to the body. The eight large pads help tone the body better as it covers different areas of the body.

Full body massager:

the touchscreen massager is user-friendly and convenient to use on the whole body. Get a toned and stress-free body with this

TENS and EMS weight loss machine.
You may also like Does A TENS Machine Help In Plantar Fasciitis And Your Best Options
#4 NURSAL TENS and EMS machine
Fourteen reusable pads

: the device has reusable pads. There are three different sizes of pads for other areas of the body. There are two smalls and two large pads and ten medium pads that cover the whole body really well. The pads are self-adhesive and do not fall from the body while being used. 

Automatic timer:

the device has an automatic timer that helps set the time between ten to sixty minutes. NURSAL sets different modes according to the body part and effectively helps tone the body through EMS. It also keeps the body pain-free.

Ideal pain relief machine:<span style="font-weight: 400;"> through TENS massages, you can get a relaxing massage. Twenty-four pre-set modes help to remove the stiffness from the body. Use the pads on the neck, back, arms, shoulders, lower back and alleviate joint pain and muscle tension.
#5 Ohuhu AS8012 TENS & EMS Unit
No products found.
12 Electrode Pad Pairs:

The package contains 12 pairs of electrode pads. Each of them can work for 30 uses. For elbows, ankles, etc., you should have to use small pads of 2 inches by 2 inches size, and for large and rigid body parts, you have to use large pads.

20 Types Of Pulse Functions In EMS:

20 different EMS working modes stimulate your blood vessels. The cholesterol deposits in them get cleaned, and what you get is an uninterrupted blood flow. This finally results in a good physique with proper weight.

Touch Screen

: Ohuhu AS8012 is one of the perfect-sized pads for different muscle groups resulting in better and quick weight loss. This product has an easily usable touch screen pad in TENS and EMS instruments makes it user-friendly. Moreover, it is more for a longer period of time as its battery is durable enough.
No products found.
You may also like Is A TENS Machine Helpful For Migraine And Your Best Options
Conclusion
Your weight loss journey can be more fruitful if you pair your everyday exercises with a TENS machine therapy. You will not only get quick results but will also get a well-toned body.
In this article, we have selected the best TENS machine for weight loss based on their frequency, modes, and pad quality.
In our opinion, the AUVON 4 Outputs TENS Unit EMS Muscle Stimulator Machine for Pain Relief Therapy with 24 Modes Electric Pulse Massager, 2" and 2"x4" Electrodes Pads (Black) is the best choice for weight loss because the high-quality of TENS pads makes this product stand out among the others. It increases the self-stickiness of these pads so that they may grip tightly around the targeted body part to give you better results.
The Belifu Dual Channel TENS EMS Unit 24 Modes Muscle Stimulator for Pain Relief Therapy, Electronic Pulse Massager Muscle Massager with 10 Pads, Dust-Proof Drawstring Storage Bag,Fastening Cable Ties… is another great choice because The main feature of choosing Belifu TENS machine for weight loss is its adjustable runtime. It helps you burn more calories in one session so that you may get slimmer and toned in less time.
If you are looking for a value for money option, you can also consider the No products found., which offers great value and features at a very reasonable price point.