In a recent study, it was found that sciatica is a common condition in people aged 45 and above[1], and the risk increases with increasing age, lifestyle and mental stress. Severe sciatica cases can occur as a result of a herniated disc or severe injury, and may require reliance on medications and surgical intervention.
Thankfully, there are a number of easy and effective ways to treat sciatica and control its pain, which may prevent the condition from progressing further. The method we will look at in this article is wearing a knee brace.
Knee braces are easy to put on, can be comfortable to wear all day long, and are inexpensive. They apply pressure just behind the knee, offering relief from the sciatic nerve's tension. Compression on the area increases the blood flow and provides warmth that can help promote healing.
In this article, we look at some of the best knee braces for sciatica, and discuss features to keep in mind for finding a good brace for yourself. The table below provides a quick look at our best selections, and we go into more details and discussions below.
Unique feature
Instant pain relief with Patella support
Leg brace works on the sciatic never and reduces muscle tension
Uses
Arthritis, Meniscus support
Unique feature
Instant pain relief with Patella support
Uses
Arthritis, Meniscus support
Unique feature
Leg brace works on the sciatic never and reduces muscle tension
Best Knee Braces For Sciatica
#1 – Be Active Knee Brace For Sciatica Pain
The BeActive knee brace is a fast and effective pain relief medical device that is FDA approved. it reduces discomfort in the back, buttocks, and legs with regular use.
It is recommended to wear it for 2 hours in the beginning and then increase length of use over time. Its straps are strong enough to hold the brace in place.
People with a calf circumference from 12.5 inches to 18 inches can wear this knee brace comfortably. Wear it under any clothing to help stay active all day. Patented pressure pads apply a good amount of pressure for support and comfort.
Here is a video that shows important features of the Be Active Knee Brace and information for how to wear it:
Pros
Fits calf circumferences of 12.5 inches to 18 inches.

This knee brace is FDA approved.

The polyester fabric makes it skin-friendly and comfortable.

It is easy to wear via slip-on.

Pressure pads exert pressure on the pain points.

Cost-effective solution to treat sciatica pain.

The wrap is effective when worn on a single leg on the side of the pain.

Discreet design that can be easily hidden under clothing.
Cons
Does not fit very slim or heavy people (one size fits most, but not all).

Only black color, with no other color options to choose from.
Why It's Our Top Choice
The is our top choice for the best knee brace for sciatica, because the brace applies pressure to the specific point that provides back pain relief.
It helps relieve lower back pain associated with Sciatica and applies pressure on the buttocks and legs. It also stays comfortable so that you can wear it for long periods. It fits calf circumferences of 12.5 inches to 18 inches. Below are a few more points on why we think this is a great choice:
Easy slip-on brace that are comfortable and help to reduce the pain with regular use.

Exerts pressure on the pain points.

Polyester fabric is highly durable and skin-friendly.

Reduces both short and long term pain.

Available in an adjustable size to fit a maximum calf circumference up to 18 inches on either leg.

FDA approved medical device that can be worn for a minimum of 2 hours of initial use.
#2 – BeActive Therapeutic Brace
This is a highly adjustable knee brace that fits according to calf size. The advantage of this brace is its acupressure padding that triggers pain points to provide instant pain relief.
The brace promises to reduce pain by 60% after a few uses. Braces works on lower back pain, sciatica, piriformis syndrome, and even during pregnancy.
It is quick and easy to apply and works on both legs. You can wear it over or under your clothes.
Pros
The brace comes in one size that is adjustable.

Good for chronic pain and sciatica and even pregnancy-related pains.

It is a lightweight brace that fits both legs.

Budget-friendly medical device.

Snug enough to work on the pressure points.

It can be worn over and under clothes.

Does not need much maintenance.
Cons
May not be very comfortable for those who have sensitive skin.

With regular wear, the Velcro becomes loose.

The edges might create some discomfort.
You may also like to read about Best Car Seat Cushion for Sciatica
#3 – Be Active Acupressure Point Sciatic Nerve Brace
Considering the price of this brace, it is one of the most budget-friendly devices to buy to eliminate sciatica pain.
This knee sleeve works on the acupressure points and reduces sciatic nerve tension. It further helps to provide point specific pain relief from lower back pain.
It gives freedom to play, exercise, and live life to the fullest that is also pain-free. It is a medically-approved device that is convenient to wear.
Pros
It eases the pain in the lower back.

Invisible gear as it can be worn under any clothing.

Easy to slide on.

Works on the sciatic nerve and relieves muscle tension.

One size fits everyone.

It is a Unisex knee brace.

Works on both the legs.
Cons
Users who have sensitive skin must wear it over a garment.

The band can be small for some people who have heavy legs.
#4 – Remedy Health Lower Back Sciatic Knee Brace
This knee brace works on specific points below the knee and lessens the pain. The braces hide perfectly under the clothes and can be worn while exercising. Does not come out or shifts from its place as it holds firmly.
This knee brace fits up knee sizes ranging in circumference from 12 inches to 16.5 inches. It has a stretchable fabric that is easy to use and is wearable.
It has patented pressure pads that apply pressure on the targeted areas to provide maximum pain relief.
This compression sleeve is suitable for both legs. It is a chemical-free brace that is a very affordable solution to reduce lumbar pain.
Pros
Instant reduction in lower back pain.

Uses sciatic nerve pressure technology to work on the pressure points.

Affordable solution to reduce lumbar pain.

The leg brace holds a pressure pad that targets the exact point.

It hides easily inside the clothes and stays for a long in the same place.

It fits the circumference of the upper calf/knee of 12 inches to 16.5 inches.

It will help to relieve muscle tension and lower back pain when pressure is applied sciatica nerve.
Cons
Not suitable for calf size more than 16.5 inches.

No instruction manual included.
You may also like to read about Best Gaming Chair For Sciatica
#5 – NEO brace ACL/MCL Knee Brace
The NEO brace work on Sciatica as well as arthritic knee pain. It works on the ligaments around the knee and protects the knee cap from further damage.
It also absorbs stress while doing any activity such as hiking, playing, walking, jogging, and more.
Its open patella design relieves pressure and helps knee joint fatigue. Braces also provide warmth to the pain areas and relief from muscle tension.
This lightweight brace fits almost anyone with any calf size. Velcro closure makes the knee brace strong and easy to fasten up.
Straps are highly adjustable to the desired level of tightness. It is easy to maintain it as it can be washed by mild detergent and cold water.
Pros
Makes daily activity pain free.

Works on the pain areas by providing comfort and warmth.

Easy to maintain.

One size fits all adults as well as children.

The therapeutic neoprene material is strong.

Open patella design relieves pressure.

Two-color options are available to choose from.

Designed to provide maximum comfort without restricting your movement.
Cons
Not suitable for those who are allergic to neoprene material.

The straps can be short for some people.
What Should You Look for When Buying a Knee Brace for Sciatica?
Proper fit
A knee brace will provide proper support and relief from the sciatica pain if it fits properly. To ensure that you get proper relief from pain, measure your knee circumference, and then choose a knee brace that is designed to fit your knee. Measure 6 inches above and below your knee.
Quick and Easy to Apply
Braces with too many straps can be inconvenient and confusing to wear. Generally, Velcro does a good job of holding the straps in position and is easy to seal. The easier it is to apply the brace, the more you will want to wear it day by day.
Flexibility
Flexibility to move around is something you should look for when buying a knee brace. A good brace should be supportive but should hinder your movement as little as possible. This may be an issue with braces made of thicker materials, though thicker materials may be more durable, so you will want to find a good compromise of durability and flexibility.
Maximum Comfort
Knee braces will often be worn over long periods of time, so like flexibility and ease of movement, comfort is important here. Note that the elastic material that some braces come with may feel rough on the skin when they are stretched, so this is something to be wary of. Some braces come with extra padding that may improve comfort.
You may also like to read about How to Sleep With Lower Back Pain and Sciatica?
Pressure pads
Compression pads or pressure pads will help to get relief from sciatica pain. As the pads apply pressure on the targeted area, it will reduce both short and long term sciatica pain.
Material
Polyester and neoprene are the most common materials for knee braces. Both are strong, reliable, and skin-friendly. Wearing knee braces under the clothes can be possible if the braces are made of comfortable material.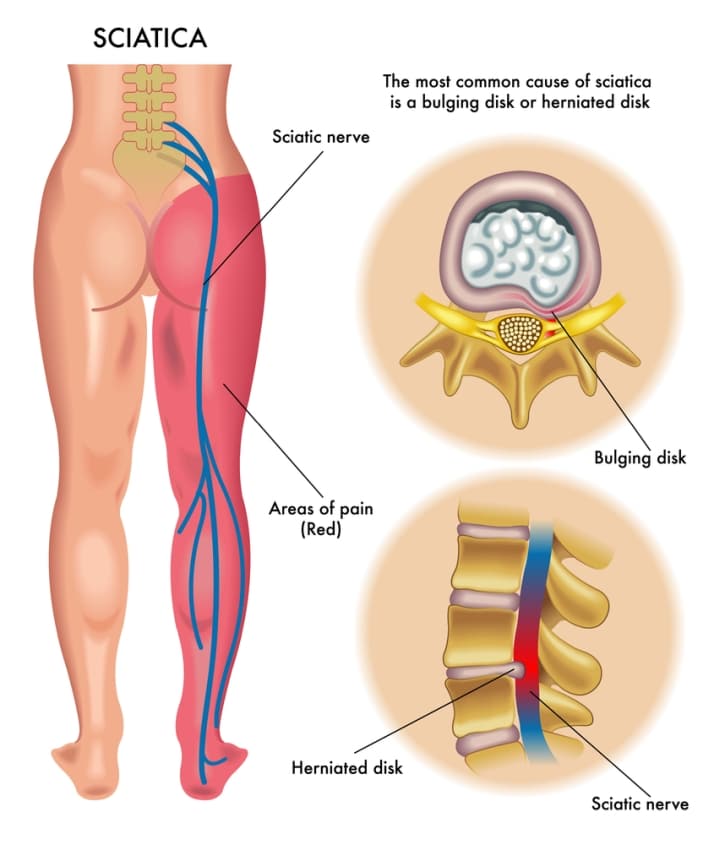 You may also like Best Knee Warmers for Arthritis
Frequently Asked Questions
Q. How does sciatica manifest?
The sciatic nerve runs from the lower back to the hip and down each leg. Sciatica is pain that occurs down the sciatic nerve, and is most often caused either by a herniated disc or bone overgrowth in the spine.
Typically, sciatica occurs only along one leg. A person with sciatica would feel pain or discomfort almost anywhere along where the sciatic nerve radiates, though it is most often felt on the back side of the body on the lower back, buttocks, and leg.
Sciatica symptoms can range from mild, dull aching that can include moderate knee pain, to more severe shooting pains. The pain may feel worse when jolting the body during a heavy cough or sneeze, or after sitting for long periods of time. Along with pain, some individuals may also have a tingling sensation, numbness, or muscle weakness in the leg.
Although mild sciatica can go away over time, it is recommended to seek medical care if you feel sharp, shooting pain, numbness, or weakness, if your pain occurs after a severe accident, or if you have trouble controlling your bladder or bowels and it is accompanied by sciatica. A doctor will also be able to differentiate sciatic nerve pain from conditions that can cause similar symptoms like ligament injuries, runner's knee, or knee arthritis.
Q. How can a knee brace help to reduce sciatica pain?
Knee braces work by providing compression, thereby reducing and preventing swelling, and lessening pain this way. This further helps to increase the blood flow and oxygen to the affected region, aiding in recovery.
Q. How do I find a knee brace that fits my knee?
The best way to find your perfect braces' perfect size is by measuring 6 inches above and below the knee. This will help you find your exact knee-size brace. If you are looking for larger size, read our discussion about the best bariatric knee braces.
Q. How do I wear a sciatica knee brace?
Wearing a knee brace for sciatica pain is simple. Slide on the brace under the knee and adjust the straps according to your fit. Do not tighten the straps too tight as it can restrict blood flow. Do not leave it too loose either, as this can allow it to slide down when doing certain activities.
Q. Should I wear a knee brace regularly?
Not necessarily. Consult your doctor for recommendations before wearing the knee braces for a longer period. Knee braces help to support the knee and stop pain but wearing it all the time may not be the best solution for your case. Initially, start wearing it for two hours and gradually increase your length of use per your physician's recommendations.
Q. What are some other ways to treat sciatica pain?
Treatment for sciatica is multi-faceted. Mild sciatica pain can be cared for and monitored at home, and may go away on its own over time.
Home treatment and basic care for sciatica can include applying cold and hot packs in alternation, stretching the muscles along the sciatic nerve on the side with pain, and over-the-counter pain medications.
Your doctor may recommend medications like anti-inflammatories and muscle relaxants to help ease the muscles and other tissue in the region to dissipate pain.
A physical therapist can help you design a rehab program centered on physical therapy that can include targeted exercises, better posture, and improved flexibility to help avoid future incidents of sciatica.
For severe cases of sciatica where the compressed nerve can cause weakness in the muscle or severe, loss of bladder or bowel control, or uncontrollable pain, your doctor may pose the option of surgery to reduce the excess bone or herniated disk that is causing your sciatica.
Consult your doctor to discuss your best course of treatment.
You may also like Best Knee Brace for Meniscus Tear
Parting Words – An Inexpensive and Simple Gear for Reducing Pain
Pain from sciatica can be very comfortable for many and proper care can help to alleviate the pain and prevent worsening symptoms. Of the several home care options available to you, wearing a knee brace is one of the most inexpensive and convenient for quick pain relief and knee support.
In this article, we compiled a selection of some of the best knee braces for sciatica based on the features mentioned in our buyer's guide and the ratings and comments mentioned by real users on Amazon.
In our opinion, the is the best choice among the various options that we considered because it has well designed pressure pads, is skin-friendly and comfortable to wear, and fits a wide range of knee circumferences.
If you are looking for a value for money option, you can also consider the , which offers great value and features at a very reasonable price point.
While we make every effort to provide updated and correct information, the advice given in this article and website should not be construed as "medical advice". Please consult with your physician or medical practitioner before using any knee brace. Each individual may have his or her unique issues and your medical practitioner is the best person to decide the best knee brace for your case.
If you are looking for other ways to reduce sciatic pain, we suggest reading: Best Heating Pads for Sciatica
If you feel more comfortable with massage as a way to deal with pain, you might want to have a look at: Best Massager for Sciatica
References: