Most every time we move our legs, we put some sort of stress on our knees. Our knees are designed to be quite durable, but excessive pressure and strain has the potential to cause injuries to them.
Physical activities like running, cycling, lifting heavy objects, and even walking all have the potential to cause knee injuries as they integrate knee bending in some sort of way.
Hence, it is no wonder that research suggests that one in four people above the age of 55 experience major knee pain at least once a year. Though, compared to me, the people in that research study may be considered luckier. My knees started giving me trouble in my late 20s! So I can safely say that I exactly know what it feels like to live with knee pain.
How irritating and uncomfortable it can be when you want to go for a walk in beautiful weather, and your knees can't keep up with you.
So what can we do about our knee pain?
In my personal experience, I spoke with my physical therapist, and she recommended that I wear knee braces to support the knee and reduce pain.
She also told me that if I am doing activities that are more physically-demanding on the knee such as certain sports, it is recommended to wear knee braces to prevent common injuries, even if I am not experiencing pain. Knee support is recommended especially if we have a family history of knee injuries. I sure wish I had known this before my knee pain started!
Now, I always wear a knee brace when I go out for a walk or a run; other times, if the pain flares up, I use it just to be around the house.
Having used several different knee braces over the years, I've learned which one are better.
So, let's talk about the best knee supports for the elderly, and these will include braces and sleeves. I hope these products will help you with your knee problems. The table below gives a quick snapshot of the top selections, and I go into deeper explanations of each product below.
Whats good?
3-strp customizable closure, reinforced stabilizer ring, breathable material
Double grip. Lightweight and breathable
What could be better?
Be careful to order the right size, they are smaller than expected
Second Choice
Best Knee Support For Elderly
Whats good?
3-strp customizable closure, reinforced stabilizer ring, breathable material
Best Value
Whats good?
Double grip. Lightweight and breathable
What could be better?
Be careful to order the right size, they are smaller than expected
How does a knee brace or sleeve support the knee and relieve pain?
Our knees have a fairly large range of motion, and yet we require them to carry a large amount of weight. If our knees sustain an blow or strain during a physical activity, or we have some sort of underlying or congenital condition that affects the knees, the knees can become damaged or dislocated.
This is where a knee support comes in. Knee supports are structured to supply compression and stability, helping to reduce the pressure that the upper leg places on the damaged meniscus or torn ligament in the knee.
The compressive pressure of a knee support will enhance blood flow to the region by encouraging your circulatory system to increase its contribution to the area. An increased blood flow brings more oxygen to the injured knee, which can accelerate healing over time.
What is the difference between a knee brace and a sleeve?
A knee brace typically has a hinge that rotates with the knee, and it can stabilize an injured knee by limiting movement, preventing hyperextension while the knee is repaired repairs itself. The hinge elements also offer protection to ligament injuries. A hinged knee brace may also lessen pain and pressure on the knee if you have arthritis there. Knee braces that are hinged are especially recommended for those individuals who either have greater injuries or weaker ability to move about and may need the extra support.
A knee sleeve contrasts with a hinged brace mainly because it lacks a hinge and is made of a slimmer, often mostly elastic material. It offers less support than a brace, but it also much less dense and thick and are very flexible, making it great for sports or other physical activities that require more agility. They also fit underneath clothing very well, so that you can wear them in any setting every day! Sleeves can be used for conditions such as arthritis, patellar tendonitis, and bursitis, but are also used by people doing sports with not injuries.
Best Recommended Knee Supports for Elderly
#1 – POWERLIX Knee Compression Sleeve
If you are a senior with frequent knee pain and faces trouble walking or doing everyday chores, this product is designed for you. This knee support is great for any activity that puts stress on the joints, like going to the gym, playing sports, or household chores.
No products found.
In my case, I started using it for my running days, and I've got to tell you it works. Over the years, I've owned a few from other brands, but this one is superior.
With its breathable fabric, silicone gel grip, and overall length, this one does the job. I should also mention that the fit is great.
Features and Benefits
Remarkable Protection:

The

PowerLix knee brace offers optimal muscle support and applies stable pressure across the knee joint, making it perfect for injury prevention.

Premium Quality: 

The product is manufactured in such a way that it is very comfortable to use. It has a 4-way compression ergonomically designed to provide a full range of motion and protection. The specially knitted technical design is suitable for different joints.

Special Fabric: 

The sleeve is made of 80% nylon and 20% spandex, providing a smooth and soft touch all day long. The breathable fabric maintains joint stability and prevents itchiness by absorbing sweat quickly, keeping the legs dry and odor-free. This high-performance fabric also maintains an optimal joint temperature.

Anti-slip System: 

The design technique with double silicone anti-slip wave gel strips provides the best grip and keeps the sleeve stay put, no matter what you do. 
Pros
It is a recommended product for elders who have constant knee pains. Whether for men, women, athletes, or hikers, this product is for everyone. And with the variety of colors and sizes it offers, the product is suitable for everyone for any activity.
Cons
Some users don't feel comfortable with the product's fabric, and have experienced that it no longer holds its shape and does not stay in place as time goes on.
Why It's Our Top Choice
The No products found. is my top choice for the Best Knee Support For the Elderly because of the following reasons:
It provides optimal muscle support and applies stable pressure.

It is suitable for different joints and is comfortable to use.

The nylon fabric used gives a smooth and soft feel that provides comfort all day long.

The design provides for excellent grip and keeps the sleeve in place.
No products found.
You may also like Best Running Shoes For Bad Knees
#2 – Bracoo Adjustable Compression Knee Support Brace
Elders who have knee problems or pain and want their body to effectively heal naturally should consider this product. This brace by Bracoo eases knee pain associated with arthritis, strains, sprains, and fatigue.
It is flexible in its usage, as it's excellent for post-surgery rehabilitation, as well as anything from demanding sports to simpler physical activities like household chores or grocery shopping.
I like that this brace doesn't occupy the whole leg and is quite breathable.
Features and Benefits
Customizable: 

The product comes with three straps that allow it to be attached to almost any point around the support for a tailored fit. It also prevents slippage during any activity.

Stabilizer Ring: 

The unique open patella design relieves stress in the knee area and ensures the knee cap remains in the proper position during flexion and extension. Also, it increases stability, which leads to improved leg alignment.

Superior Quality: 

The neoprene fabric and  the hook and loop closure help retain warmth that aids the patellar tendon and articular cartilage during different activities.

Effective Relief and Support: 

The special fabric wearable on either the left or right knee is excellent for easing chronic and acute knee pain.
Pros
It helps in stimulating and boosting blood circulation around the knee joints and helps the body heal naturally. The adjustable strapping and design can brace knees of almost any shape and size. It supports minor ligament tears. It is ideal for sprains and strains, improves muscle oxygenation, and increases proprioception.
Cons
There have been reports that it loses its grip, causing discomfort. But most of the issues seem to have happened with the old version. With this new version, most users are pleased.
#3 – Bodyprox Knee Brace along with Side Stabilizers & Patella Gel Pads for Knee Support
Whether you are already suffering from a knee injury or want to prevent one, this product is well suited for you. It is designed to fit and relieve pressure for all body builds, and is great for manual work or intense exercise.
Relative to the previous knee braces mentioned, this one is considered a heavy-duty brace, and would be a good one to go for if your doctor recommends a stronger brace. Even better is that it comes at an affordable price.
Features and Benefits
Flexible Stabilizers: 

Provides a perfect hold to relieve pressure and reduce stress. It incorporates strings on two sides with one silicone pad at the kneecap joint.

Velcro Designed Strap: 

The two Velcro straps allow you to wrap it around any exterior part of the knee brace to put it firmly in place. It also allows you to choose the tightness that is best suited for you, making it more stable. 

Patella Gel Pads: 

The patella gel pads relieve pressure on the knee caps so that you can move and bend the knee with less stress. 

Absorbent and Breathable: 

The high grade of neoprene material used and its inner sweat absorption feature provides comfort and prevents unpleasant skin conditions.
Pros
The open patella design helps lessen pressure on your sore area and promotes speedy recovery following any injury. It is designed to fit both men and women of all builds. It is flexible and perfectly designed to aid you in your regular activities while healing.
Cons
Although this product is designed to be breathable, it could cause the knees to get hot depending on the conditions that you use it in.
You may also like Best Knee Braces for Sciatica
#4 – Knee Brace Compression Sleeve
Elders suffering from knee arthritis, joint pain, or any other injury should opt for this product to get relief faster. It is excellent for physically demanding jobs such as walking, running, fitness, jogging, and much more.
So, if you're looking for comfort and something that works, this is the brace for you. It is breathable and extremely flexible so you may forget that you're even wearing them. A bonus is that you would be getting two in the package.
Features and Benefits
Instant Support and Stability: 

The power support technology improves blood circulation and provides instant relief from pain, soreness, stiffness, and swelling. It maintains warmth and oxygen in the muscle and prevents lactic acid build-up so you can perform better and recover quicker.

No-Slip Double Grip: 

With the double silicone grip, your sleeve stays put without sliding no matter what you do, and you can get to enjoy your activities freely without having to worry about pulling it up every time.

Performance: 

Top-quality double stitching and long-lasting construction won't lose compression over time.

Lightweight and Breathable: 

The premium comfort flex design provides a comfortable fit without restricting your movement or cutting off circulation. Also, the nylon material makes it feel soft and comfortable.
Pros
This compression knee sleeve provides comfortable support where it is needed. It is flexible and breathable, suitable for any body build type. It is suitable for any physical exercise or activity.
Cons
Some people have experienced issues in getting the right size, mentioning that it runs small.
#5 – Vive Knee Ice Pack Wrap
This cold and hot gel compression brace is suitable for adults suffering from joint pains, meniscus injury, or knee osteoarthritis. Made of a lightweight neoprene blend, this product has the convenience of being machine washable.
You can wrap it around your knees, and it will fit well while at the same time keeping your knees front and back cold.
If you want hot or cold gel therapy, this product should stand above the other options for you. If you like your gel to be cold, you can even freeze it overnight. If you like your gel hot, you can put it in the microwave, and in just a few minutes, it will be ready to go.
Features and Benefits
Soothing Pain Relief: 

It targets both the front and the back of the knee with adjustable compression and hot and cold therapy. It effectively lessens swelling, pain, and inflammation.

Hot or Cold Physical Therapy:

The three removable gel packs easily slip into two front pockets and one back for easy relief. They can provide both hot and cold therapy, and are reusable, leak-proof, and latex-free.

Flexible: 

The four adjustable straps secured with a strong fastener system fit a knee circumference of up to 21″. Suitable for both men and women, you can wear it on either knee.

Breathable: 

The neoprene blend fabric is soft and breathable for exceptional comfort.
Pros
The Vive knee brace provides pleasant relief for sprains, ACL, arthritis, and other sports injuries. The wrap design is great because you can use the straps to control the cooling packs' placement.
Cons
The gel pack that it comes with doesn't stay frozen for very long periods.
You may also like Knee Scooter Accessories to Make Your Ride Comfortable
#6 – Pure Support Knee Brace, Compression Sleeve
The Pure Support knee brace is suitable for elders who have arthritis and other sources of joint pain. It helps with physical activities and allows for renewed performance. The knee brace comes with a new compression technology that provides much-needed support for meniscus tears, arthritis, and patella.
If you are experiencing lots of pain when you walk, this will help alleviate your pain.
It adapts to your knee and provides compressive support; with time, as you use it, you will notice that it will become more comfortable.
If the previous options didn't fit the bill for you, this an excellent option to try; it is great for running and any other type of physical activity.
Features and Benefits
Double Strap Support: 

It comes with a double knee strap system that provides better knee support and optimal muscle endurance support. It also provides 360-degree protection around the knees.

Premium Quality: 

The knee brace support is made using an advanced knitting technology and highly breathable material. It allows construction workers or nurses to use them while they stand for long hours or professional athletes who need to undergo a lot of physical exertion.

Perfect Fit: 

The specially knitted technical design comes in different sizes that match different joints. The cross-side strap behind the knees provides better stability and support. It looks equally great on both men and women and fits comfortably too.
Pros
The knee compression sleeve provides much-needed support for various injuries. Its compression technology prevents joint injuries, promotes faster recovery, and improves blood circulation.
Cons
With time, the sleeve can lose its tension and stability due to its elastic nature.
#7 – NEENCA Professional Knee Brace, Knee Compression Sleeve Support 
This medical-grade knee pad is best suited for professional runners or people suffering from meniscus tears, joint pains, knee osteoarthritis, or runner's knee.
No products found.
This is a really conformable and comfortable knee brace and can be used after knee surgery.
It can help you move around your house, go up and down stairs, get up from chairs, and generally avoid pain and discomfort.
Features and Benefits
Innovative Technology: 

Different from similar products, the rear of the kneecap has a breathable design. The fabric will not congest, nor will sweat accumulate, helping you to stay comfortable and relaxed during exercise.

Dual Anti-Slip Technology:

The elastic webbing sewed inside, and medical-grade non-slip silicone strip prevents you from slipping, sliding, or even tumbling during exercises. It is made with allergy-free materials and does not cause itchiness.

Breathable and lightweight:

It is manufactured with air knit fabric, which keeps the skin feeling cool all the time. It will provide compression to your knee problem.
Pros
This knee brace pads strengthens joint support and reduces knee load.
Cons
As with many knee braces, with time, this one could roll down on the back of the leg as it loses tension.
No products found.
You may also like Best Knee Braces for Meniscus Tear
#8 – Modvel 2 Pack Knee Compression Sleeve 
Compression and heat are the two best ways to address the root causes of knee pain. This Modvel high compression sleeve helps you support an injured knee and relieve arthritic pain and improve blood circulation to the joint, which can help restore the knee.
This knee brace has a silicone band inside the sleeve that will prevent it from falling, which solves one of the typical issues with knee braces.
Comparing this with the other sleeves on this list, this one will not roll down with time, potentially giving it a longer life span.
Features and Benefits
Compression: 

These knee sleeves are designed to give proper compression from all sides to the joint, which helps increase the flow of blood to the knee. Enhanced blood flow repairs the joints, muscles, and ligaments in the knee.

Professional Design: 

The sleeves are ergonomically designed so that putting it on and taking it off is easy. This is a common problem in compression sleeves, and this product ensures that wearing it is a hassle-free process. 

Non-slip:

Another common problem with many knee sleeves is that they start running down after some time. With the dual silicone band provided in this sleeve, rolling down will not happen with this one.
Pros
The product is designed to ensure that it is easy to put on and does not roll down after wearing. If you or your loved ones have weak hands, then this knee sleeve will be easier to use as it is ergonomically-designed for easy wearing.
Cons
It is not the best out there if you intend to use it for athletic purposes.
You may also like Preparing for Knee Replacement Surgery
Buyer's Guide: Best Knee Support for Elderly
Knee sleeves and braces are suitable for elders and youngsters playing sports or engaging in any physical activities. It does not restrict the body's physical movement and can prevent any injury in the knees. So, don't hesitate to get one if you want to help prevent knee injuries or are recovering from one. In this buyer's guide, we will describe some features to look out for when shopping for a good knee support.
Support
The knee braces should provide a stable grip and optimal support so that the knee region is compressed yet able to move well. It should apply stable pressure across the knee joint to prevent excessive physical movements and help in injury protection.
Adjustability
The product you are choosing should be adjustable. Many knee supports are adjustable to suit your build. Knee braces come in different sizes and are suitable for both men and women. Knee sleeves are made of elastic material and will stretch to accommodate most users.
Build Quality
The knee support you are choosing should be of a solid build quality. The fabric should be soft to ensure that there is no irritation and itchiness in the skin. The material should ideally absorb sweat and feel soft and comfortable.
A good knee brace should have hinges that are quiet, turn well, and are durable.
The best knee sleeves are ones made of a sturdy enough elastic that, while flexible and not too tight, will not lose its tension too much over time.
Frequently Asked Questions
Q. Is knee support necessary for the elderly?
Many elderly people face problems with knee pain, knee instability, and arthritis. Wearing knee support provides good stability and support at the knee joints. It helps them reduce pain and allows them to walk freely.
Many people who wear knee support feel that it helps a lot. Knee braces help in preventing knee injuries and generally do not cause any discomfort, especially if it is a quality product.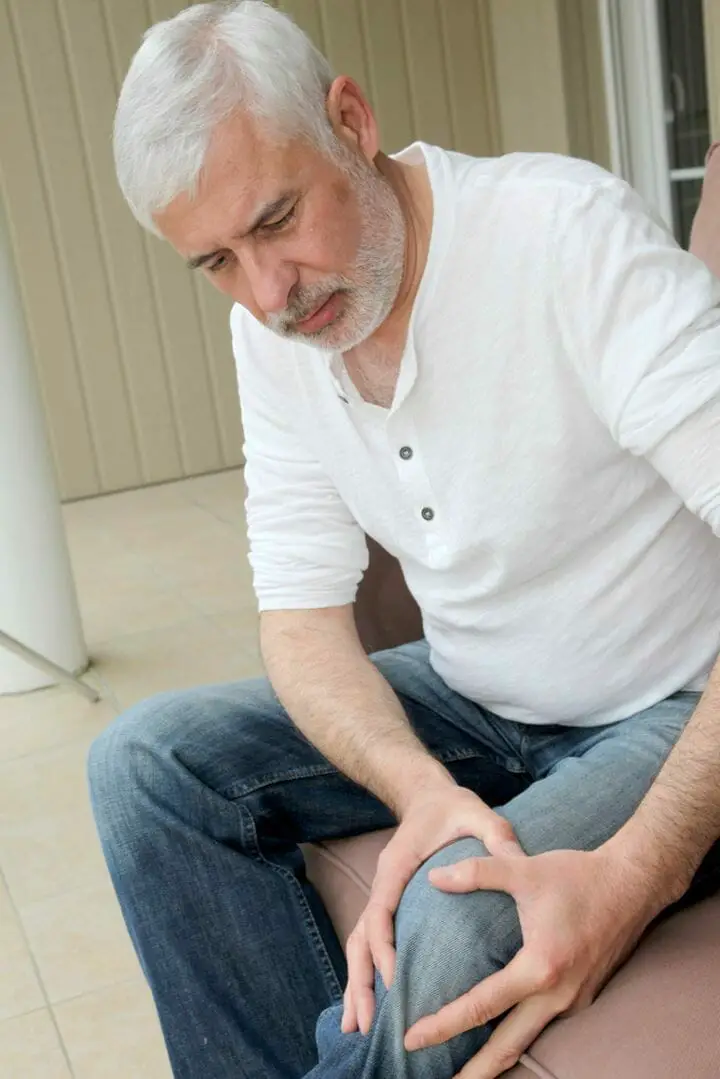 You may also like Best Age for Knee Replacement Surgery
Q. Does knee support reduce knee pains?
Knee braces take the pressure off the joint most affected by osteoarthritis and help in reducing pain. If it feels like your knee can buckle up while putting weight on it, a knee brace can help you stand and move around freely and confidently.
Q. How often should I wear a knee support? Can it be worn all day long?
Knee braces are usually very comfortable and provide an excellent grip to be worn all day long. If you suffer any particular injury or participate in any sport, you should consider wearing a knee support for your injury or sport.
It is recommended that you wear a knee brace for at least one week when you first get one. Unless your doctor requires you to, you may consider taking off your brace when you sleep to give you more comfort lying down. However, your doctor may need you to wear your knee brace in bed, because your natural movements during sleep can cause post-surgery issues. It is important to consult your doctor and follow his or her recommendations regarding a knee support.
Q. Should I see a rheumatologist or orthopedist if I am concerned about my knee pain?
If you have osteoarthritis or rheumatoid arthritis or a related disease in your knee, a rheumatologist would be the specialist to help you with this.
Generally, your primary care physician would be able to help you treat your knee condition, but he or she may suggest seeing a specialist if you experience the following situations:
Your knee pain doesn't give up, or it is flaring up more frequently.
Despite treatment, your knee symptoms seem to be worsening.
Your primary care physician is unable to fully diagnose the reason for your knee pain.
It is increasingly affecting your daily life, to the point that you are less able to do daily tasks or need to stay at home.
You may also like Best Knee Warmers for Arthritis

Parting Words – Reliable Support for Both Prevention and Recovery
Knee pain can really come in the way of our daily living if it's not treated. It can become really uncomfortable, and we feel it with every step we take! Knee supports are a great part of a comprehensive solution to treat the knees, as they can provide immediately relief and stability. They are useful not just for arthritis patients with arthritis pain – most anyone who engages in physical activities can benefit from them.
In this article, I provided a list of some of the best knee supports that I have found from my personal experiences shopping around for my own knee pain. They consist of both braces and sleeves, and you may want one or the other depending on your use case or knee condition.
In my opinion, the No products found. is the best choice among the various options that we have considered. The double silicone anti-slip wave gel strips provide great grip no matter what you do.
The Bracoo Adjustable Compression Knee Patellar Pad Tendon Support Sleeve Brace for Men Women - Arthritis Pain, Injury Recovery, Running, Workout, KS10 (Black) is our next best choice because the adjustable strapping and design can brace knees of almost any shape and size.
If you are looking for a value for money option, you can also consider the Crucial Compression Knee Sleeve (1 Pair) - Best Knee Braces for Knee Pain for Men & Women - Non-Slip Knee Support for Running, Weightlifting, Basketball, Gym, Workout, Sports, which offers excellent value and features at a very reasonable price point.
References:
[1] Knee pain and osteoarthritis in older adults: a review of community burden and current use of primary health care | Annals of the Rheumatic Diseases (bmj.com)
[2] 2018 Home and Community Preferences: A National Survey of Adults Ages 18-Plus (aarp.org)