Have you ever struggled to reach that jar of cookies on the top shelf of the kitchen cupboard? Or that pesky car key that fell behind the table, and you had to twist yourself to pick it up?
Now imagine how hard it would be for an elderly person, who wouldn't want to climb up a ladder (because a fall can be catastrophic for a senior) or can't bend down or twist because of arthritis and joint pain?
A reacher grabber tool can be a lifesaver in a situation like this. It acts as an extension of the hand to help you reach out for and grab hold of things out of your reach.
In this article, we tell you about the best reacher grabber tools for the elderly. We also talk about the factors that you should consider before buying a grabber tool for seniors.
A reacher grabber has a long shaft connected to a gripping device. It is activated by pushing a button present on the other end of the shaft.
It is particularly useful for the elderly, especially when they have medical issues such as arthritis, back pain, restricted mobility, or any other disability.
Grabber tools are also useful when you do not want to touch the object you are picking up. They can be used for retrieving dropped items, reaching high cabinets, gardening, collecting trash, taking care of mouse traps with mice, and several other uses.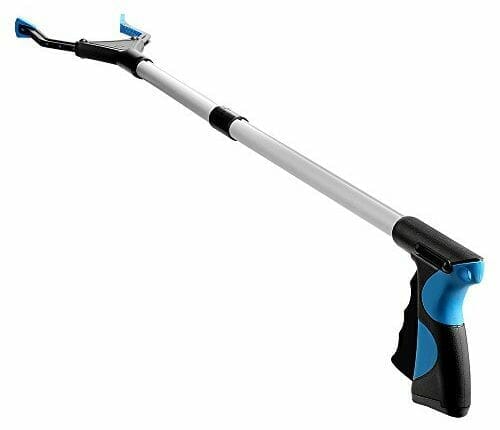 Types Of Reacher Grabbers
There are 3 main types of Reacher Grabbers:
Suction Cup based Grabber
The gripping mechanism of a suction cup-based grabber works on the two suction cups attached to the tip of the jaw, one at each end.
These are ideal for picking up round objects such as golf balls, and delicate items that can break if they are dropped. They are also very useful for changing light bulbs.
Claw based Grabber
Claw-based grabbers are ideal for small objects such as keys, keyrings, and jewelry. They have a non-slip gripping surface attached to the tips of the claws, which allows them to hold on to the object more tightly without damaging it.
Rotators 
Rotators, as the name suggests, have a head that can be swiveled. Some rotators can move around up to 360 degrees.
Rotators are especially useful for grasping items that have a vertical or horizontal orientation and require the person to twist their wrist to pick them up. Rotators can have either suction-based or claw-based grabbers attached to them.
You may also like Best Nail Clippers for the Elderly
How to Select the Right Reacher Grabber for the Elderly?
There are several parameters on which you can evaluate a reacher grabber. The most useful parameters, of course, depend on the need of the person and the reason for usage. Consider the following points when selecting the correct reacher grabber for the elderly:
Weight Capacity

: Grabbers come in various weight capacities, usually ranging from 2 to 5 pounds. Depending on the component materials, these differ in the maximum weight they can hold. If you intend on using the grabber for lifting heavy items, make sure you select a heavy-duty grabber tool. 

Grabber Jaw

: The grabbing jaw of the tool should easily reach and attach to the object you are picking up. For better efficiency, use a grabber reacher that has rubberized jaws and can rotate. The rotation can vary from 90 degrees to a complete 360-degree movable head.

Shaft Length

: Most products available in the market come with a maximum of 32 inches, 36 inches, or 48 inches. A short Adjustable shafts are great to both short as well as long distances.

Durability

: Elderly people usually have lower arm strength. Hence, they prefer a lightweight device that is also very strong. Grabbers made of aluminum are best suited since they are sturdy and light in weight. Opt for grabber tools with jaws made from textured rubber or any high-quality material.

Jaw Locking

: Some grabbers open the jaw as soon you release the grabbing trigger button. It might make things difficult for someone with arthritis. Grabbers, where the claw is locked until you press the button to release it, are a better choice to address this.

Portability and Storage

: Some grabber devices are foldable or have hooks attached. Foldable grabbers are easy to carry around. They also take less space for storage.

Grabbers with hooks can be hung on walls or attached to wheelchairs, canes, or walkers.

Magnet Tipped Grabbers

: Some devices have magnets on the tips. These are useful for picking up small metallic objects like iron nails.

Contoured Triggers

: Contoured triggers are anti-slip. They have rubber tips or have a contoured texture. Your fingers do not slip off while using the device.

Ergonomic Handles

: Ergonomic handles are essential for ease of operating the grabber reacher.

Price

: Most of us have a budget in mind. Consider your need, and choose the option that fulfills the critical requirements within your budget.
Depending on your intended usage and needs, some of the above features would be must-haves and others nice-to-haves. It is important to make that distinction for yourself before going out to search for the perfect device.
7 Best Reacher Grabber Tools for the Elderly
There are many reacher grabber tools available in the market for the elderly. Out of those, we have reviewed the 7 best reacher grabber tools.
Our top recommended tool is the RMS Extra Long Grabber because of being lightweight, well priced, and versatile. The best value for money reacher grabber tool is the Unger Professional Nabber. 
#1. RMS Extra Long Reacher Grabber – Best Reacher Grabber Tool for the Elderly
The RMS extra-long reacher grabber consists of 3 designs – 19, 26, and the extra-long 32-inch design.
The grabbing claws are anti-slip and have soft rubberized tips. One of the best features of this tool is its 90-degree rotatable jaw that can be locked in place to pick items both vertically and horizontally.
The RMS grabber also has a soft-grip trigger and ergonomically designed handle. Both these features meant that we found the RMS grabber the easiest to use among all the grabbers that we evaluated.
If you are looking for a quick purchase, you can go for this tool without much hesitation. It is robust and capable to handle most household items that may fall out of range that you will need a hand in picking up.
Pros
90 degree rotatable and lockable jaw

Anti-slip and soft rubber tipped jaws

Soft-grip trigger and ergonomic handle

Available in 2 colors: Yellow and Blue
Cons
Cannot pick up items more than 4 inches wide.
You may also like Best Lightweight Cookware for the Elderly
#2. Ettore Grip'n Grab
The Ettore Grip'n'Grab is available in two variants – 32 inches and the extra-long 50 inches. For most daily uses, the 32-inch variety is sufficient.
You will need the extra-long 50-inch reacher grabber if you have a bed set against a corner and things roll under it. Or if you have really out-of-reach shelves. Although, in our trials, we felt that the handling of the 32-inch model was better.
The Ettore Grip'n Grabhas a 90-degree rotatable articulation head. At only 4.2 ounces, it is quite lightweight and perfect for elderly to handle.
This product has a comfortable grip that helps to reduce repetitive motion fatigue in patients with arthritis.
Its jaws have a rubberized grip that can easily pick up heavy objects. The product is strong enough to lift objects weighing up to 5 pounds.
Pros
Available in 32-inch and extra-long 50-inch variants

Comfortable grip and rubber-tipped jaws

90-degree rotatable head

Lightweight and sturdy
Cons
Users of previous models have reported overall decreased quality 
#3. Homecraft Handi Reacher
The Homecraft handi reacher has 3 variants – 24 inches, 30 inches, and 36 inches. The extra-long handle on the 30 and 36 inches is useful for grabbing items from a high up shelf or for short people.
Unlike the previous product, we found all three lengths fairly easy to use. So take your pick, but we'd recommend going for the longer handles – you never know where that pesky coin might roll away to!
Homecraft Handi Reacher has a 360-degree rotatable jaw with a non-latex pickup tool that gives higher traction for holding on to objects.
It has a small yellow tip against a black rubber jaw for better visibility. It is particularly helpful for elders suffering from weak eyesight.
The grabber weighs 5.3 ounces and can pick up objects of about 2 pounds. The product is built from high-quality, durable, and lightweight aluminum.
Pros
Comes in extra-long variants

– you can choose from three different lengths

Yellow tip against a black jaw, best suited to users with poor eyesight

360-degree rotatable jaw

Inexpensive
Cons
Does not pick up objects heavier than 2 pounds
You may also like Best Car Door Latch Grab Bars
#4 Unger Professional Nifty Nabber – Best Value for Money
The Unger professional is available in 36 inches and the extra-long version for 48 inches. It has an ergonomic grip and heavy-duty claw design.
The product weighs only 2 ounces, making it one of the lightest on this list. It is made from aluminum which gives it the characteristic low weight and better strength than traditional steel-based grippers.
Pros
Available in extra-long version (48 inches)

Weighs only 2 ounces

Ergonomically designed grip and heavy-duty claw design
Cons
Hard handles make it difficult to use by arthritic patients
#5. Vive Reacher Grabber
The Vive reacher grabber is built of sautered steel wiring making it extra strong. It can carry a weight of up to 5 pounds at a time.
The jaw can rotate a full 360 degrees and is coated with anti-slip material to ensure that you can lift items easily.
This grabber also features a contoured handle and trigger to reduce pain in arthritic hands.
Pros
360-degree rotatable head
Anti-slip coating on the grip
Contoured trigger and handle
Cons
Here is a video featuring a Reacher Grabber by Vive.
You may also like Best Pens For Arthritis
#6. Duro-Med Reacher Grabber
It is a lightweight grabber with an ergonomically designed handle made from durable plastic. It also has a magnetic pickup tip for metallic objects.
The jaw opens between 2 and 2.5 inches wide, having a broad reach, with interlocking tips. It also has rubber-tipped grips. The gadget is 32 inches long and weighs 7.2 ounces.
Pros
Magnetic tip
Lightweight
Wide jaw
Cons
#7. Luxet Grabber Reacher Tool
The Luxet grabber is one of the few grabbers with a steel-based shaft. It gives more strength to the tool, although it also adds a bit to the weight (11.2 ounces on shipping).
The Luxet grabber also has a magnetic piece on the jaw for picking up metallic objects.
The device is compact and foldable and has an ergonomically designed handle. The shaft length is 32 inches.
Pros
Sturdy, steel-based shaft
Magnet tipped for picking up metallic items
Compact and Foldable
Cons
Jaws are not rotatable
The grip is weak (made of plastic)
You may also like Best Scissors For Arthritis
Frequently Asked Questions on Reacher Grabber for the Elderly
What is a reacher grabber?
A reacher grabber is a tool that acts as a reach extender and grabs an object. It has a handle with a trigger or a button at one end and gripping claws at the other. It helps to pick things from places that are otherwise difficult to access.
How does a reacher grabber tool help the elderly?
A grabber tool helps the elderly to pick up items without needing to bend down, climb up a step stool or a ladder. 
It is a very useful reaching aid for seniors who have limited mobility or suffer from joint pains. An elderly person can use a reacher grabber for the following:
As a dressing aid to pick up clothes from the closet

As a reach extender for reaching things kept on a high shelf

As a collector to retrieve items that have fallen

For picking up trash

For yard work and gardening
What features should be considered for selecting the right grabber tool for the elderly?
The grabber tool for the elderly should be lightweight and durable. The shaft length should not be unwieldy. One should be able to extend and grab the needed items without exerting a lot of force. 
The reacher grabber should be able to pick up objects that weigh at least up to 2-3 pounds. Rubberized grip, soft trigger button, and jaw locking are other useful features that a good grabber tool should have.
What are the best grabber tools for seniors?
Some of the best grabber tools for seniors include RMS Reacher Grabber, Ettore Grip'n Grab, Homecraft Handi Reacher, Unger Professional Nifty Nabber, Vive Reacher Grabber, Duro-Med Reacher Grabber, and Luxet Grabber Reacher.
Conclusion and Other Useful Resources for the Elderly
A reacher grabber tool can improve the quality of life for the elderly. It can help them reach for out-of-reach things and prevent injuries. It aids them in living life without being dependent on others for carrying out simple errands of day-to-day life.
Read here to know more about other devices that make the lives of seniors simpler and more independent.
We have also covered the best posture correctors for the elderly. They help seniors maintain the correct posture to prevent problems like hunchback and stiff muscles.
A recliner chair can be a great place for seniors to relax. Lift chair recliners also help you get up easily from a comfortable seated position. You can read our article about lift chair recliners to help you know more about this excellent product.
Finally, refer to this article if you are looking at some thoughtful gifts for the elderly. Here, we talk about the most practical and thoughtful gifts that you can give to an elderly person. It features gifts starting from a few dollars to hundreds of dollars to suit your budget.