As we age, we gradually lose our body's strength and our ability to lift heavier weights. Moreover, if one is suffering from conditions like arthritis, it further reduces one's ability to complete household chores like cooking. That is where lightweight cookware can be a blessing for seniors.
Over the years, most cookware has generally become lighter with the advancement in metal technology and the invention of lighter but better heat conducting metal alloys.
However, for the elderly, especially for users suffering from arthritis or muscle degenerative diseases, lifting a pan with food in it is not the easiest task to accomplish.
In this article, we discuss the need for lightweight cookware for the elderly and review some of the widely available senior-friendly cookware available out there. If you are in a hurry, the table below gives a quick snapshot, while we go into more details below.
Need for Lightweight Kitchen Tools for the Elderly
It is estimated that one in every two people aged over 65 years is inflicted with arthritis. While your lifestyle significantly affects your chances of having arthritis in later life, once you have it, putting more pressure on bones and joints can aggravate your condition.
Moreover, neurological disorders are also increasingly becoming common in the elderly. Such disorders can cause hand tremors, loss of limb stability and grip weakness. In such situations, handling heavier kitchen utensils is quite difficult for the elderly.
For these reasons, using lightweight cooking pots and pans in the kitchen can be significantly beneficial. In this article, when we talk about lightweight cookware for the elderly, we will assume that you are mostly cooking for one or at most two people. Therefore, smaller cookware would be sufficient, which automatically will reduce some strain on your hands.
While we are at it, the video below shows four types of toxic cookware to avoid and four healthier alternatives!
Different Types of Cookware for Different Cooktops
People have different kinds of cooktops at home. The most common ones are a gas stove, an electric cooktop, or an induction cooktop. Your choice of cookware will be heavily influenced by the kind of cooktop that you have.
A gas stove or an electric cook-top (with coils that are exposed and in direct contact with cookware) simply heats up (by gas or electricity) and then transfers the heat to the cookware. For gas stoves, you may work with curved-bottom pots and pans. However, for an electric coil cooktop, you would need flat-bottomed cookware.
An induction cooktop uses a copper coil to create a magnetic field that will only heat a material that is compatible with it – that is, ones that are made of ferromagnetic material.
Standard cookware that has an aluminum base can be used on a gas stove or on an electric coil, and is not suitable for an induction cook-top.
However, induction-compatible cookware can also be used for gas stoves or for electric coil cook-tops, though you may run the risk of damaging the bottom layer of the cookware by directly exposing it to a heated coil or fire.
You may also like Best Scissors For Arthritis
Advantages of Induction Cook-Tops
Less power consumption: There is minimum heat loss on an induction cook-top as it heats by 'induction' through a magnetic material. Therefore, cooking on an induction plate uses much less electricity compared to traditional gas stoves of electric coils. Also, you save on time, as the food cooks faster on an induction plate
Safer: After cooking is completed, once you remove the cookware from the top of the induction cook-top, the induction plate, often made of glass, cools off quickly (compared to a naked flame gas stove or electricity coil) and is safer for children who may accidentally touch the cook-top.
However, you may already have a gas or electric cook-top installed at your home, and replacing a cook-top with an induction one is a costly affair. Therefore, we will be covering some of the best cookware available for both types of cook-tops – induction and non-induction.
Considerations While Buying Cookware for the Elderly
Apart from the cost of the product, which is often a significant consideration in arriving at a final buying decision, you should also be considering the points below when buying cookware for the elderly.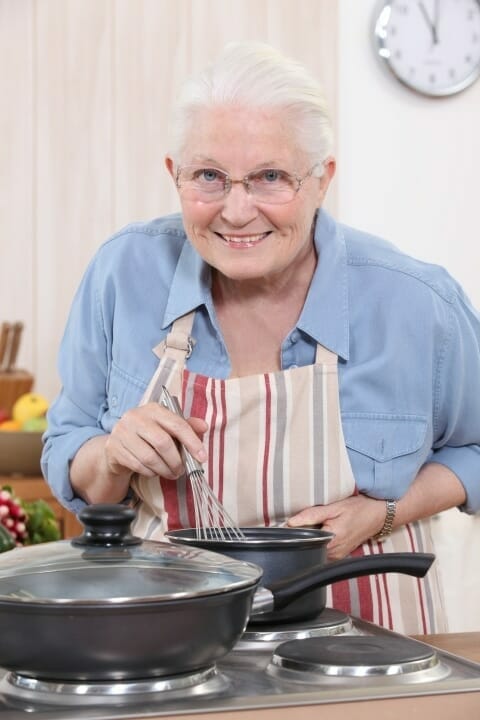 Weight: The main consideration for the elderly should be the weight of the cookware. Heavy and fancy cookware are not optimal for use by seniors. Most quality nonstick cookware in the market are lightweight, although a bit expensive.
Go for minimal: Pots and pans are often available in sets, and we often get attracted to them by discounted offers, even when we do not have use for a part of that set. We recommend that you should buy only the ones that you need in order to save some cost.
Size: Go for small sized cookware if you are cooking for a maximum of two people. This will further bring down the weight of the cookware
Handle configuration: It is important that you pick cookware with the right handles. The handles themselves must be lightweight and should be designed to put as little strain on your wrists and arms as possible.
Material and Appliance Compatibility: Finally, as explained above, the material that your cookware is made of varies widely between gas stove compatible and induction top compatible ones. You should spend a few minutes researching on the material, how durable is it likely to be and whether it is compatible with your kitchen cooktop, as well as other appliances like the dishwasher.
Also, keep an eye on some of the product disclosures regarding whether your cookware is free of bisphenol A (or BPA), polytetrafluoroethylene or Teflon (PTFE), or perfluorooctanoic acid (PFOA), which may break down at higher temperatures and are not safe for cooking.
Best Lightweight Nonstick Cookware for Gas Stove or Electric Coil
#1 – Gotham Steel Pro Hard Anodized Cookware Set
This product is a premium gas stove/electric coil cookware set with a hard-anodized aluminum exterior for extended durability. The base material of the cookware can absorb most of the heat and distribute it evenly across the entire cooking surface.
Pros
Very lightweight (13 piece set weighs 12 lbs); suitable for elderly who have lost considerable strength or grip
Better heating/energy efficiency among non-induction cookware
Easy to clean and dishwasher safe
Oven safe
Durable with strongly welded handles that do not loosen due to wear and tear
Handles are slightly curved to reduce stress on wrists and arms of the elderly
Best quality compliance – products are PTFE and PFOA free
Cons
The handles of the lids of the pots can get hot after some heavy-duty cooking. You should exercise caution while lifting the lids and preferably use a cloth or gloves.
You may also like Drinking Cups for Parkinson's Patients
#2 – Neoflam Eela 7 Piece Ceramic Nonstick Cookware Set
The product is made of lightweight cast aluminum with ceramic nonstick coating that is free from PTFE and PFOA. The cookware uses the trademarked ecolon coating which comprises of a thick aluminum coating between 2 layers of ceramic coating on the inside and outside.
Pros
Use of cast aluminum makes the product lightweight with good ability to conduct heat
Oven and dishwasher safe
Available in six vibrant colors
The products are free of PTFE and PFOA
Cons
Handles are straight and may cause strain on wrists to lift
May not be suitable for heavy duty cooking; overheating may cause damage to the bottom of the pots & pans
#3 – Rachael Ray Brights Hard Anodized Non-stick Cookware Pots and Pans Set
This is a lightweight hard anodized cooking set, available in sets of 10 pieces to 15 pieces. The product is available in multiple vibrant colors. The sizes of the pots are perfect for cooking a meal for up to two people.
Pros
Lightweight and durable
Safe for other appliances in your kitchen – oven (up to 350 degrees Fahrenheit) and dishwasher
Orange heat-resistant hardened rubber grips on handles and lids for comfortable handling while cooking
Cons
durability will depend on the utensil material that you are using

Heavy usage on high flames may result in non-washable stains on the bottom of the cookware
You may also like Silver Cuisine by BistroMD Reviews
#4 – AmazonBasics Non-Stick Cookware Set, Pots and Pans – 8 Piece Set
This is basic non-stick cookware set from Amazon Basics which allows for low oil and low-fat cooking. The set has aluminum body with non stick coating (inside and outside) and is BPA free. The cooking set is compatible with all gas and electric cook-tops, but not induction tops.
Pros
Durable non-stick layer
Handles are easy to grip and a slightly curved design reduces strain on the wrists
Easy to clean and hand wash
Vented glass lids allow steam to escape
Cost-effective solution for non-stick food preparation
Cons
The pots and pans are not oven safe
Not dishwasher safe, so you will have to hand wash them
#5 – GreenPan Rio 12 pc Ceramic Non-Stick Cookware
The product is on the premium side of non-induction lightweight ceramic cookware with durable non-stick coating. The outer body and the base are made of aluminum with welded handles for greater durability.
Pros
Ceramic non-stick coating is durable and scratch-resistant
Oven safe up to 350 degrees Fahrenheit
Dishwasher friendly
Thick bake-lite handles for easy grip
Quality conscious manufacturing – products are free of PFOA, lead, and cadmium
Available in vibrant colors
Cons
Not the most energy efficiency cookware due to the thick aluminum base of the pots & pans
After using for some time, it is difficult to get back the white color of the non-stick; you may have to use baking soda to remove the coloration
The plastic on the handles (bake-lite) may give off a burnt smell during cooking
You may also like The Lightest Weight Rollator Walker
Best Cookware to Use With Induction Cook-Top
Induction cookware, in general, is more expensive than the normal gas stove compatible ones. Also, you should keep in mind that they may be a bit heavier as well. Below, we have reviewed some of the best ones available in the market.
#1 – T-fal E765SC Ultimate Hard Anodized Non-stick 12 Piece Cookware
This is a lightweight induction capable cookware set from T-Fal with the patented thermo-spot technology. The technology uses an indicator that lets you know when your pan is properly pre-heated and is ready for you to start cooking. The sizes of the cookware components are perfect for food that two people would require.
Pros
All handles are riveted to the body of the cookware for strength and have silicone layers for comfortable handling
Thermo-spot indicator helps to make cooking easier
Oven safe up to 350-degree Fahrenheit
Easy to clean as the product is dishwasher safe
Compatible with all types of cooktops including induction cooktops (with the exception of the 'one-egg-wonder' small pan)
High quality control with products being PFOA, cadmium, lead and PTFE free
Cons
Non-stick coating may start bubbling and peeling off after heavy use.
Not the best induction compatible cooking set, in terms of energy efficiency and time taken to cook meals
#2 – Ozeri ZP18-30 12 inches Stone Earth Frying Pan
The pan has a magnetized base for induction heating and is made of aluminum body with a stone based non-stick coating. For best results, use with induction cook-tops.
Pros
Scratch-resistant coating for durability
The handle is strongly riveted to the pan for durability
Curved silicone handle to relieve strain on the wrists and avoid accidental hot grips & burns
Oven safe up to 400 degrees Fahrenheit and safe to be cleaned in a dishwasher
Cons
Not PTFE or Teflon free
The non-stick coating may start bubbling or peeling if used on gas stoves or electric coil
You may also like Lightweight Garden Hose for Elderly
#3 – Cuisinart MCP-7N MultiClad Pro Stainless-Steel Cookware
This is an induction-ready cooking set made of stainless steel which employs the trademarked heat surround technology. The technology allows consistent distribution of heat along the sides and the bottom leading to more energy-efficient and uniform cooking.
Pros
Handles are strongly riveted to the body for greater durability
Dishwasher safe and therefore easy to clean
Oven safe up to 550 degrees Fahrenheit
Tapered rims allow easy pouring of cooked food or sauces like gravy
Cons
Solid stainless-steel handles may be too thin for a comfortable hold
Lid handles may become hot while cooking
#4 – Kutime Induction Compatible Cookware Set
This 6-piece (available in 10 and 12 pieces as well) cookware set is one of the basic and budget-friendly products available. The set is made up of aluminum body and copper coating at the bottom and works on all kinds of cook-top including induction and gas stoves.
No products found.
We recommend that you use wooden or soft plastic utensils to prevent damage to non-stick coating. Also, high flames and overheating on gas stoves may not give you the maximum life out of this cookware set.
Pros
The product is free of PFOA, cadmium, and lead
Small and lightweight and easy to hand wash; perfect to prepare a meal for two
Curved handles for better hold; relieves strain on wrists of the elderly
Helps in low oil and low-fat cooking, which is good for the elderly diet
Handles are fixed to the body of the pots and pans via two rivets for better strength and durability
Cons
Not compatible with other kitchen appliances – not oven and dishwasher safe; may destroy the non-stick coating
Not Teflon or PTFE free
No products found.
You may also like Best Lightweight Portable Chair for Seniors
#5 – Anolon Nouvelle Stainless Steel Cookware
This is a premium quality stainless steel body cookware set that can be used on all kinds of cook-tops. The base of the cooking set is made of 5 layers of metal with the last layer made of copper for better distribution of heat from the cook-top. We recommend not to use metal scrubbers on the pots and pans and soft cutlery for best results.
Pros
Oven safe up to 500 degree Fahrenheit
Dishwasher safe that makes it convenient to wash

Dual riveted strong and curved

for better hold

No Teflon, PFOA or cadmium used in the making of this product
Cons
Some components of this steel and

may be bigger and suitable for a mid-sized family; Accordingly, they may be heavier and bit difficult to handle for the elderly.

Handle lids may become hot towards the end of the cooking process
The smaller pot may tip over when empty, due to the weight of the handle
#6 – Nutrichef Excilon Cookware Set
This product is an induction-ready cost-effective 11 piece lightweight cookware set made of ceramic with a hard anodized copper finish. The cooking set can be used on all forms of cook-tops, however, we would recommend using it on induction cook-tops for best longevity.
Pros
Available in three vibrant colors
Long silicone covered handles for pots and lids to avoid accidental heat burns
Chemical-free manufacturing: PTFE and PFOA free
Good value for money
Comes with utensils made of durable and heat resistant plastic
Cons
Handles are not curved enough for a convenient and strain-free hold
Size of pots and pans are suitable for cooking meals for a larger family size of 4-5 people
You may also like Adaptive Utensils for Cerebral Palsy
Frequently Asked Questions
Q. Does lightweight cookware need to break my bank?
Certainly not! As we've demonstrated through our reviews of several cookware selections above, well-constructed yet light weight cookware can be affordable. While professional cookware can become very expensive, some of the choices we have listed here can be had for within a couple hundred dollars, and that's for a full cookware set with several pieces.
Just be wary when you are searching for a cookware set that it is a reliably-reviewed product. Note that some lightweight aluminum cookware choices out there are not dishwasher or oven safe, may have poorer non-stick material, or may be constructed of aluminum that is a bit too thin.
Also note that induction-compatible cookware is best used with an induction stove to avoid damage to the cookware's coatings. Induction stoves are generally more expensive than gas or electric coil stoves, so do keep that in consideration when planning your kitchen.
Q. What other considerations could I make to improve well-being and safety in the kitchen for elderly?
Like these cookware sets that we have discussed in this article, the lightweight factor can be applied to almost all other kitchen equipment. Generally, any metal equipment that is available in steel, cast iron, or other heavier metals can also be found in lighter metals like aluminum or titanium. Though aluminum is generally less durable than its heavier metal counterparts, it can be exceptionally light in weight and often makes for inexpensive products.
If searching for aluminum constructed kitchen tools, opt for ones that are reinforced with anodization, made by reputable brands, and with solid construction. Products made of aluminum can be available in varying thicknesses, so opt for a thicker aluminum as long as it is still light enough for you or your senior loved one to handle.
Aside from weight of kitchen equipment, you would also want to consider the location of items in the kitchen. It would be ideal to have most objects like kitchen equipment, food items, and dishes and utensils to be as close to torso level as possible in order to minimize to need to bend down or reach up.
For instance, pantry foods and dishes can be placed on the lower shelves in the cupboards, and food items can be placed on higher shelves in the fridge. Minimization of need to bend down or reach can help to reduce chances of injury from over-exertion for elderly folks.
Parting Words – Lightweight Equipment Wins Again
Like for a lot of equipment and products we discuss on this site, the lighter the product, the easier and more comfortable it will be to handle for a senior individual whose strength may be diminished relative to a younger person, and who may have certain health complications.
Induction cookware is mostly lightweight and elderly-friendly. They generally provide a safer and faster cooking experience. However, if your kitchen is not equipped with an induction cook-top, you should spend a little more time researching your potential buy.
Cooking, especially for the elderly, can be a recreational activity or it can be a get-it-done-with kind of activity. Whatever it is make it a far less stressful experience for the elderly by selecting the right kitchen tools such as microwaves, can opener, electric kettle, blender, and toaster.
Of the gas stove/electric coil cookware we reviewed in this article, we like the Gotham Steel Pro Hard Anodized Cookware Set the most, due to its exceptionally light weight, dishwasher safety, and overall reliability of the brand.
Among induction based sets, we like the T-fal E765SC Ultimate Hard Anodized Non-stick 12 Piece Cookware for its neat thermospot technology, oven and dishwasher safety, and wide availability of the brand's products.