Living an active life is critical for any human being. It is even more crucial for our adults in a wheelchair because their bodies remain static most of the time. There are many activities that a senior in a wheelchair can do to maintain his physical and psychological well-being and social relationships. These activities also allow them to meet people outside their familiar environment. In this article, let us go through a few of such activities.
—————————————————————————————————
There is no doubt that any disability comes with enormous challenges that people without disabilities rarely face. However, gone are the days when being constrained to a wheelchair can stop somebody's life completely. Thanks to scientific research and newer adaptive equipment, many traditional activities have been adapted for wheelchair users, including our seniors.
Even if done in low intensity, these activities help a senior accelerate metabolism, improve blood circulation, and get better sleep. These physical or mental activities increase one's ability to concentrate and reduce stress.
In this article, we present you with several activities adapted for adults in wheelchairs. We have broadly classified all activities into five types:
Indoor activities,
Outdoor activities
Recreational activities
Team and individual sports
Adventure sport
Let us drills down each of these further.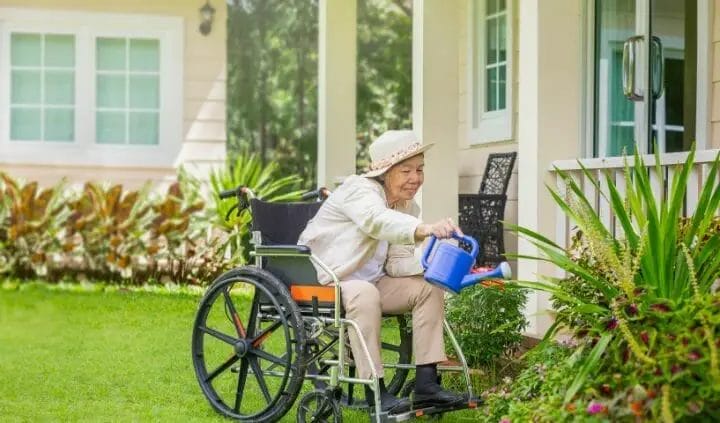 Indoor Activities
These are a few of the most apparent activities seniors in wheelchairs are expected to do because these can be one indoors.
Also, because legislation passed in most parts of the developed world, almost all indoor public venues have been made wheelchair accessible. Let's look at a few of the examples of indoor activities a wheelchair constrained senior may like:
Museums and Art Galleries
Many of us, including seniors, love history and art. Walking around an art gallery can be stimulating for our brains. The best part of visiting museums and art galleries is that most museums and art galleries worldwide are wheelchair-friendly.
Moreover, these venues make a great way to get out of the house, even in unfavorable weather conditions like cold, rain, or winter.
Pool and Billiards
Regardless of one's physical ability, the pool is among a very few sports that most of us can play without any specially designed adaptive equipment. Sometimes, a senior in a wheelchair may have an advantage over others because while sitting in the chair, their eyes are at the same level as their cues.
However, it doesn't mean there is no adaptive equipment for your needs. For example, specially designed cues and other equipment are available to aid you if you require them.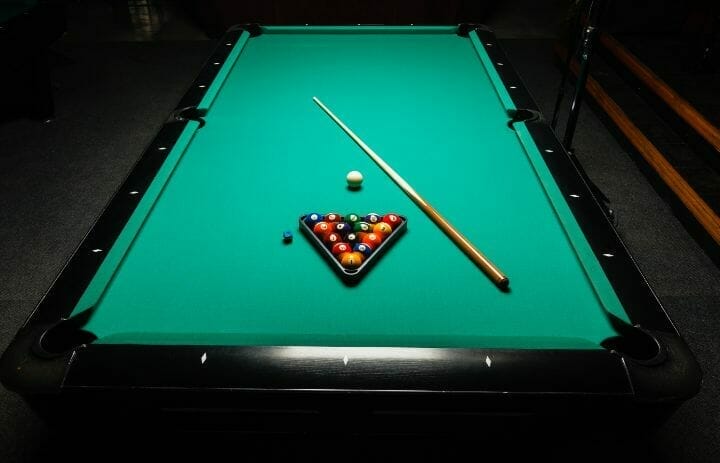 Bowling
Taking to the lane and knocking down those pins can be an incredibly enjoyable experience. You can play it solo or with a few of your best friends. The fact that the American Wheelchair Bowling Association (AWBA) has more than 500 members across the United States proves that it is growing in its popularity.
Also, wheelchair users can avail of adaptive equipment like ramps and snap handle bowling balls.

Gymming
Gymming and working out in a fitness studio is a great physical activity for those in a wheelchair. With gear like handcycles and FES bikes, gyms are now a great place to work out for those with exceptional physical needs.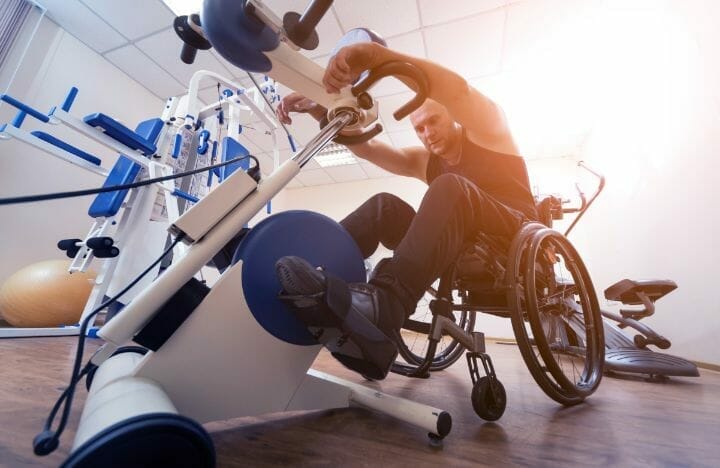 Outdoor Activities
Few of us may not realize that there are many outdoor activities for people with a wheelchair. Let us explore a few of these outdoor activities below:
Fruit Picking
Many farmers around us facilitate these visits in summers and fall, such as cherry-picking or apple picking. It's great to go outdoors and get something valuable done. The best thing is that it can be a family outing and a lot of fun.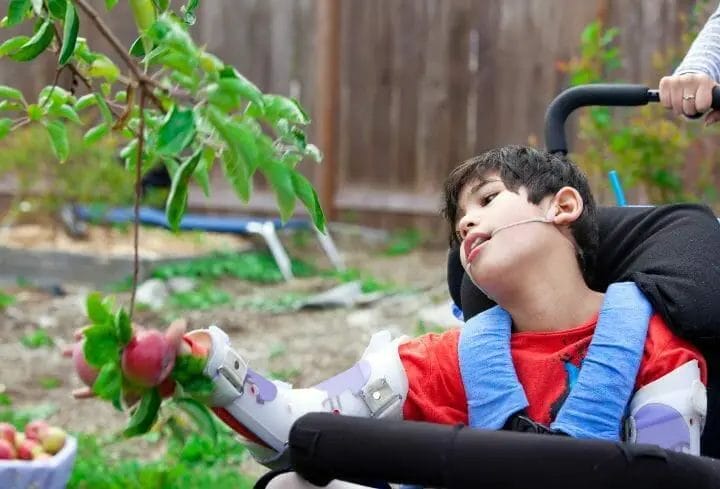 Mazes
Another exciting activity for seniors who use wheelchairs is traversing mazes. Very few people consider mazes as an option for outdoor activities. Besides being easy to navigate in a wheelchair, cracking mazes is a great exercise. Not only that, but you may also end up meeting with many new people.
You may also like to read about: Best Outdoor Chair for Elderly
Nature trails
Having public parks and open spaces in the vicinity opens one more option – nature trails. For example, during summers, many people in and around Toronto visit High Park for this fun activity. Few of these trails are also accessible by wheelchairs. So, don't forget to explore.
Hiking and a wheelchair may not sound like the right combination. However, because of many wheelchair accessible trails, it is very safe.
Visit a Beach
Feeling the breeze on your face and sand under your feet can be a wonderful and soothing experience. Having a lightweight chair with beach tires can be helpful if you plan to go to a beach. These chairs can take you through the bumpy terrain.
Nowadays, many beaches offer wheelchair rentals. So you may want to explore that option as well in case you don't have a wheelchair with beach tires.

Recreational Activities
Picnics
When you are out there in a park having a good time with your family and friends, the sky is the limit. What will enhance the experience for all is amalgamating the whole picnic time with active games that seniors in wheelchairs can also play.
Listening to Music
Music is a cure for many diseases. Its soothing and rhythmic nature has a positive impact on our brains. So a senior in a wheelchair can listen to music anytime without any restrictions.
Having an excellent music player with a remote control attached to the wheelchair can be of great help. Also, having family members singing or playing an instrument can give seniors unforgettable moments of their lives.
Video Games
Gone are those days when you only had a keyboard or a joystick to play Mario or Contra. Now X-box or Wii have upped the game multiple notches. Whether tennis or boxing, these video games promote upper body movement, making them excellent fitness routines.
Moreover, many of these games encourage seniors with other disabilities to participate – making them accessible and inclusive for all.
Gardening
Gardening has amazing benefits for seniors. Although gardening requires the lower body's physical movements most of the time, family members can try to make it accessible to seniors with a wheelchair.
Bringing a senior with limited mobility near the plants and trees makes them happier and gives them a sense of accomplishment if they could participate in the garden and plants' upkeep.
You may also like to read about: Best Gardening Tools For Seniors
Wine Tasting
Who doesn't like wine? Even if you don't, try wine tasting. Well, I am just kidding.
However, if you like wines, your wheelchair can't stop you from going for wine tasting because almost all the wineries around us are wheelchair accessible now. Also, these wineries not only limit themselves wine-tasting, but they also offer overnight accommodations for you to explore the place at your leisure.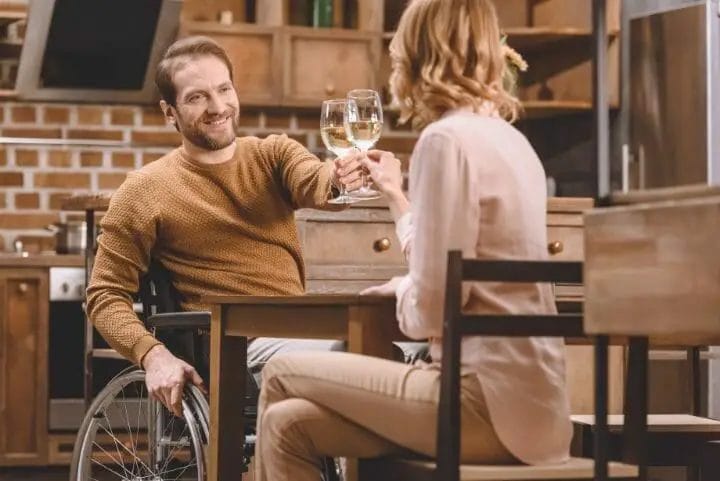 Fishing
You don't need to go to the middle of the water to enjoy fishing. Your wheelchair can take you from your car to most of the fishing points in your vicinity. However, If your budget allows, you may hire a fishing boat to accommodate you and your wheelchair. A fishing boat may not only enhances the experience but also makes it safer.

You may also like to read about: Best Power Wheelchairs for Outdoor Use
Boating
If you love water, boating is one activity that can cheer you up even if you are constrained to a wheelchair. Nowadays, pontoon boats can accommodate a wheelchair, and many adaptive tools are available to make things easier.
However, if you haven't been in the water for a long time, keep some Dramamine (Dimenhydrinate) with you, which can help you in case you feel motion sickness.
Dance
Another activity that gets you and your wheelchair moving is Dance. There are dance schools like Wheelchair Dancers even offer classes in a specific form of dances.
Whether it is a ballroom or a Latin dance, you can find a course. In case you can't find a class in your vicinity, try to explore online options. Anyway, in the post-pandemic world, everything, from school courses to church services, is being delivered only are online.

You may also like to read about: Best Mobility Scooters for Outdoors
Team or Individual Sports
Whether you play it with a team or solo, sport can be an excellent way for seniors in wheelchairs to keep themselves engaged and active.
Many sporting organizations cater to the needs of a wheelchair user. When it comes to the sports a senior with constrained mobility can play, the list is not short. It includes but not limited to :
Baseball
Basketball
Hockey
Archery
Sailing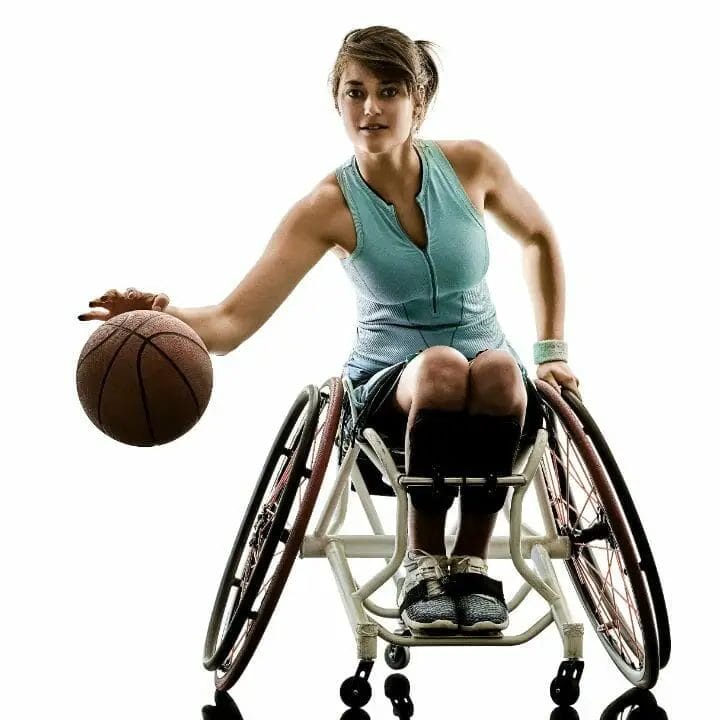 However, to play any of these sports, you may have to use specific adaptive equipment required for that sport to improve your overall experience.
For example, if you want to play golf, you can buy adaptive golf clubs such as a swing free golf club for wheelchair users. Similarly, you can find a teeing device that you can set up without bending down.
Similarly, there is adaptive equipment for other sports like tennis, baseball, archery, or sailing.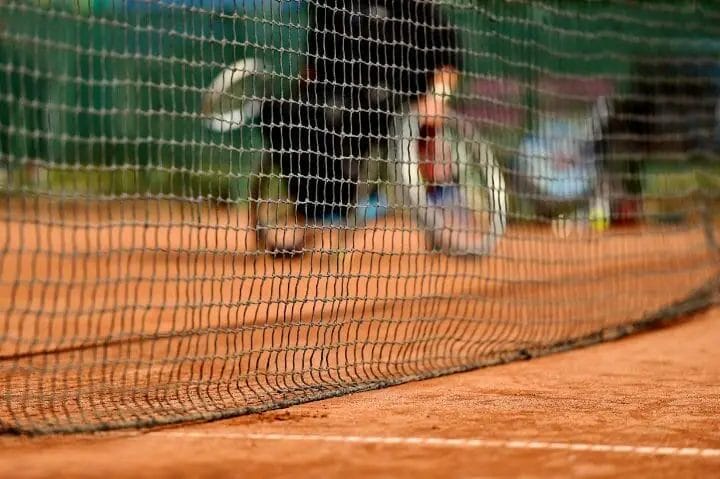 Adventures Sports
These activities are not for the faint-hearted. However, I wouldn't underestimate seniors as many seniors can beat younger ones on our two feet in any of these sports. So if you are one of those few seniors who were active in their hay days, and loved participating in adventure sports, then you must explore how you can resume a few of these activities safely.
However, there is a reason I classify these in the adventure sports category, and that is because there is physical risk involved here because of your mobility constraints. You must ensure you have somebody to watch when you are indulging in any of the below-mentioned sports.
You may also like to read about: Best Rollator Walkers for Rough Surfaces
Swimming
Among many therapeutic tools out there, aqua is considered one of the most prevalent ones. Aquatic activities have a strong association with health and fitness. That's why many people love water sports. With modern tools and equipment, it has become even safer for people with physical disabilities to try aqua sports than it was ever before.
Moreover, fitness classes like aqua yoga, swimming, and hydrotherapy are just a few examples of lessons most of the gym around us offer. Also, you can find specially designed bathing suits such as SlipOn swimsuits for seniors who use wheelchairs. To help them enjoy more the quality of aqua therapy have them use a swimming pool lift.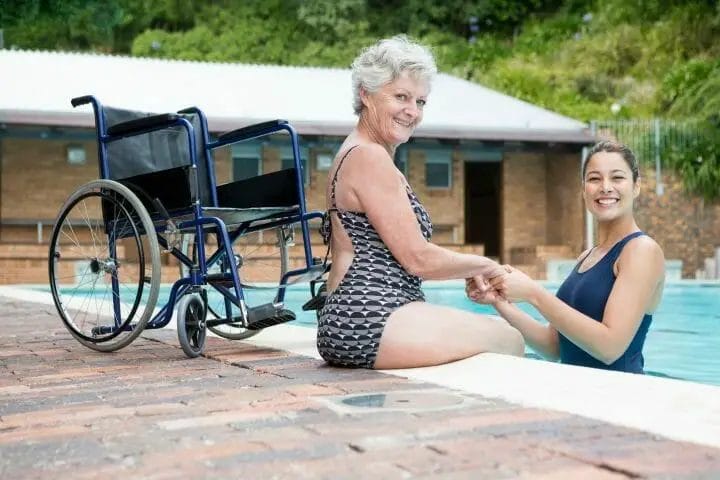 Paddle-boarding
Paddle-boarding is one of those few activities, which are not very well known and are not generally considered an option for wheelchair-constrained seniors. So, if you have not heard of it, then consider it a bigger surfboard.
Because of their width, one can mount a wheelchair on the board. If done with adequate safety measures, it can be great fun.
Sky diving
If you are still active and want to do skydiving, but your wheelchair makes your nervous trying this sport, then you may want to explore the option again. Although only a few companies accommodate wheelchairs users, you may get lucky to find one near your city.

Skiing
Similar to skydiving, contemporary adaptive technologies make skiing possible for wheelchair constrained seniors. There are specific modifications to the conventional skis, enabling a senior in a wheelchair to ride them and ski on beginner slopes.
You may also like to read about: Best Lightweight Kayaks for Seniors
Ziplining
Like any other adventure sport, ziplining can satiate your adrenaline flow. However, not every ziplining company can accommodate wheelchair-constrained seniors, so you may have to a bit of research to find a place that can accommodate you.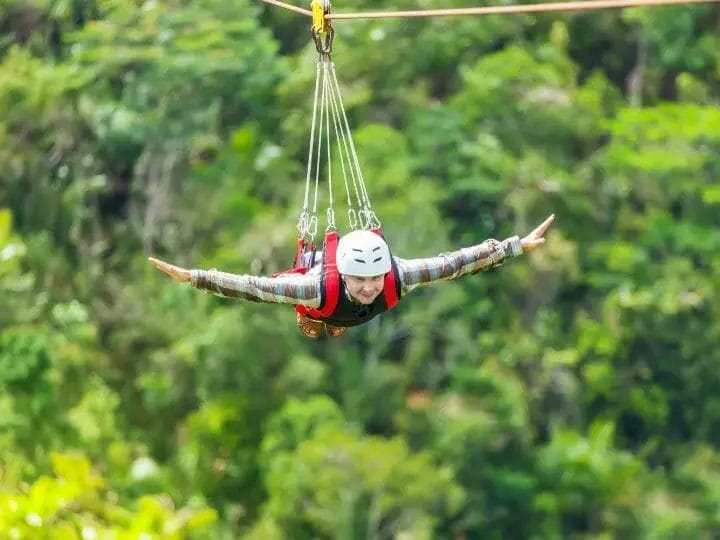 Activities in a Wheelchair – Final Thoughts
When you started reading this article, I am sure you may not have thought of many activities that an adult in a wheelchair can indulge. Although we talked about more than 20 activities, these are not even close to what any wheelchair user can do.
So, if none of the activities listed above are of your taste or liking, you can still choose from plenty of excellent wheelchair activities available out there. Keep living!
You may also like to read about: Outdoor Activities for Mentally Disabled Adults