We all know that listening to music is good for the mind and soul. Moreover, there is research to suggest that music therapy can help seniors and dementia patients.
In this article, we have compiled a list of the best music players for the elderly. These music players have been expressly designed with features that make music listening an easier and more comfortable experience for seniors and people with potential neurological conditions like dementia.
The table below provides a quick snapshot of our selection, and we go into further detailed reviews of individual music players for seniors.
Regular music listening has been found to promote a host of positive neurological and physical changes. As of now, extensive research is being conducted on the therapeutic effects of music on seniors and people with dementia.
Research findings have shown that music therapy can promote memory and slow cognitive decline, reduce schizophrenic symptoms, reduce depressive symptoms, lower anxiety, and help in the management of physical pain.[1]
This video below describes a few more ways in which listening to music can benefit health:
With the range of potential therapeutic benefits that regular music listening can have on elderly folks, making music listening more accessible and attractive would help to promote music listening in our older friends and families.
The Best Recommended Music Players for the Elderly
#1 – iGeurburn Upgraded Simple Music MP3 Player
Music is considered a great healer, and for seniors, it is a great way to feel soothed and relaxed. The iGeurburn Simple Music MP3 Player is uniquely designed for this purpose. It is an excellent MP3 player for people suffering from dementia with its simple, intuitive controls.
This player is easy to operate as it features a big ON/OFF button. It is also built with a power port, headphone port, and USB port connection. Apart from that, there is only one other large button being the volume control knob which allows you to change the volume to suit your listening.
It features a standard headphone jack, and has a capacity to load nearly 3000 songs or audiobooks of your choice.
The design of this player resembles that of a classic tabletop radio, and comes in more modern and visible orange and light blue colors.
Pros
Simple design – single large ON/OFF button. Delicate buttons are easy to press.

Accessible volume knob.

Excellent clarity in sound.

Large capacity carries 16GB of songs (~3000 songs in MP3 format).

USB plug and play device, so that you don't have to muck around with wires.

Durable and resilient construction.

This system can be carried anywhere with ease – easily portable.

Tabletop

aesthetic, in attractive colors with nice contrast so that the player is clearly visible to weaker eyes.
Cons
It is not Bluetooth compatible.

There is no shuffle feature in it.
Why It Is Our Top Choice
The iGuerburn Upgraded 16GB Simple Music MP3 Player Dementia Products Gifts for People with Dementia Patients Alzheimers Easy Music Box for Elderly Seniors 9.4 x 4.9 x 4.7 inches (Orange) a wonderfully designed music player that is built with elderly users in mind, especially those with dementia. It makes the top of our list of best music player for elderly for the following reasons:
Simple, attractive design, resembling a classic tabletop radio.
Brilliant, visible colors suitable for weaker eyes.
Easy plug and play usage with intuitive buttons.
Large 3000 song or audiobook capacity.

Clear sound quality.

Durable and resilient construction.
You may also like Best Music for Sensory Deprivation
#2 – The Simple Music Player
The Simple Music Player is another excellent music player for older folks. Designed for those with forms of dementia like Alzheimer's, this player comes with three control features: a lid that is lifted to start the music player, a huge button to change songs, and a closing of the same lid to stop the music player.
It includes a transfer USB cable and a headphone jack. Volume controls are underneath the device so that users cannot accidentally change the volume to a quiet or loud and disruptive level.
Pros
Only three controls: play, next, stop – all controlled by a lid and a single button underneath the lid.

Bright and attractive color for elderly folks.

Hidden volume controls.

Can hold between 1500-2000 songs.

Includes USB connectivity for transferring songs.

Good sound quality.

Comes in red and green colors.
Cons
If you unplug it, the playlist starts from the beginning.

This player may be slow to connect to Windows for file transfers.
The most expensive in our selection.
You may also like Hearing Aid vs. Hearing Amplifier
#3 –
Sangean WR-11 AM/FM Table Top Radio
The Sangean WR-11 Tabletop Radio is encased in an elegant and classy design and is sure to take you back on memory lane. Featuring acoustically tuned wooden cabinets, it resembles an original AM and FM tabletop radio.
The WR–11 features a tuning LED indicator that informs you if you have good reception from the antenna. With the controls, it offers soft and precise tuning. As it comes in 3-inch 7-watt speakers and an AUX-in jack, you are free to play your favorite songs through the speakers via easy connectivity with your iPod or other media player. The device also features a private 3.5mm headphone jack. It gives good connections for external AM and FM antennas.
It is designed with modern features to give a whole new look to your bedroom and living room. Moreover, this sensitive radio is easy to control and manage.
Pros
3-inch 7-watt speakers for great sound quality.

LED indicator for its tuner.
3.5mm aux-in and 3.5 headphone jack for easy input and output.

Its simplicity is combined with its state of the art performance.

Elegant wooden cabinet and classic design.
Cons
The radio can sound noisy at times and the tuner can drift.

It cannot pick up distant FM stations and may pose signal problems.

The heaviest device on our list at 2.36 kg.
You may also like Best Headphones for Seniors
#4 – GeriGuard Solutions Radio
This GeriGuard solution radio is a one-button radio. This large retro style Analog/FM radio is fully controlled by one button. This radio serves as a blissful musical device for people with dementia, general memory loss, or poor dexterity as it is designed to fulfill their music needs and make them feel relaxed.
This radio works well with stations with stronger signals. One just needs to remove the front panel, select the preferred station, and select the volume based on desired amplification. After that, the control knobs can be removed to avoid tampering.
You can also play music through the speakers via USB. For that, you just need to remove the front panel and insert your USB stick.
There is no complexity with the buttons as the device is easy to turn ON and OFF. Uses a two-prong US adapter.
Pros
This device is large enough, so that it is unlikely to be stolen, yet is the most lightweight larger form-factor device in our selection at just 1.35 kg.

Built-in speakers.

Radio or USB audio output.
Wooden cabinet, elegant classic design.

An ideal gift for seniors or those who are visually-impaired.
Cons
You cannot close the front panel with a USB key inserted.

Some users have mentioned issues with the front cover snapping into place properly.
Some users have noted poor reception via the radio.
You may also like Best TV Speakers for Elderly and Hard of Hearing
#5 – AGPTEK G02 8GB Clip MP3 Player with FM Shuffle
The great thing about the AGPTEK G02 portable music player is its simplicity. It eliminates everything complicated with respect to music and just leaves you with a single button – kind of like the original iPod, which is to date still considered one of the best examples of simplistic design for an electronic device.
This device is a clip-on MP3 player, which can be worn anywhere on your clothing. It has a single play/pause button, surrounded by a volume up and down button, and on the other axis a forward and rewind button.
In this very small packet comes the power of large capacity – this device can hold up to 8GB of songs on it. It also has a built-in FM radio which supports 87 MHz – 108 MHz frequencies. It is also a powerhouse when it comes to battery life – it has 10 hours of audio playback at medium volume and can be charged in 2.5 hours.
This device is portable and your loved ones need not be confined to a spot when wearing it, unlike many of the other players on this list. It is 1.97 x 1.43 x 0.61 inches in size and weighs only 0.49 ounces or 14 grams!
Finally, the player comes with an included waterproof silicone case that your elders would love (due to the shaky hands and weakened eyesight, spills are a common occurrence for an elderly person).
Pros
Portable, lightweight, clip-on, easy to carry around.

Single-button interface for play and pause.

8GB of memory, FM tuner included.

10 hours of battery life.

Silicone case for protection from spills and water.

Comes with earphones
Least expensive music player on our list.
By far the lightest option at only 14 grams.
Cons
Does not have the capability to shuffle songs. Plays songs in a straight list.

Earphones may not be the best of quality – fairly affordable alternative earphones can be purchased separately.
A few users have seen their player malfunction after a few months of use.
You may also like Best At-Home Earwax Removal Kit
What should you consider when buying a great music player for elderly?
A music player for an older person should take into consideration that elderly folks are more likely to suffer from neurological disorders, and so should be designed to be easy to use and as accessible and hassle-free as possible:
Simple Buttons
The music player should have an uncomplicated operating method. Choose a music player with a single, large ON/OFF button – the power switch should be effortlessly accessible and easily visible. The volume control should be available but preferably not too easily accessed and some older folks may accidentally adjust it and turn the volume too high. The overall button layout should not consist of a huge variety of selections that could confuse seniors.
Wireless
Battery operated music players are easy to use and don't need to be plugged in. They avoid the hassle of hanging wires which can be a potential source of injury and fall for a senior with failing vision.
You may also like Best Clock Radio for Elderly
Song Capacity
Since a music player's purpose is to soothe and entertain, it should have enough storage to hold a large capacity of songs. At least 8GB of storage is recommended. There are some music players in this category with 16GB of memory and room for over 3000 songs and audiobooks.
Songs should be easily transferrable to the device from a computer via a USB connection or USB drive. Music file or audio books transfer should be simple and intuitive.
In-Built FM Radio
Some players can also connect to FM radio, and this is another great source for music. It should have a strong receptor to tune in to your favorite radio station. Note however, that poorer FM radios can introduce a lot of noise when switching stations, and this may not be pleasant to the ears.
Sound Clarity
Seniors are often hard of hearing, and many also use special hearing aids and other devices for listening to the TV or the radio. A player's speakers should have strong sound clarity even at lower volumes so that older adults don't have to crank up the volume to a point where it disturbs others.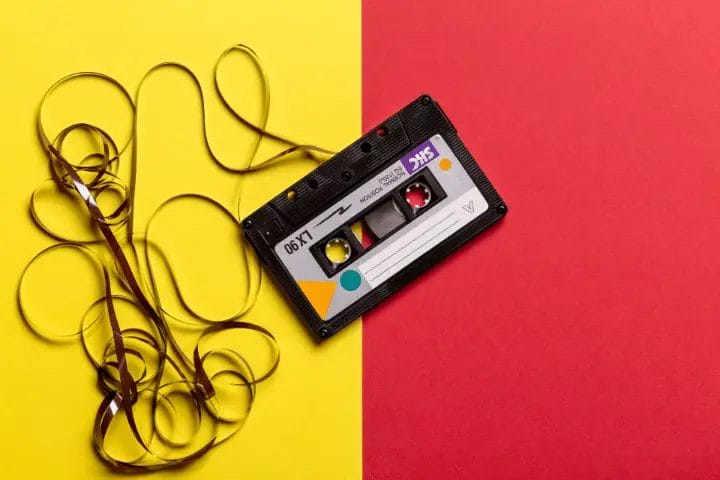 You may also like Best Medical Alert System for Hearing Impaired
Frequently Asked Questions
Q. How can listening to music and music therapy help the elderly?
Recent research in the US and Japan shows that hearing music activates areas of the brain that are connected with memory, logical thinking, speech, reward, and emotions. It has also shown that not only does music help us recall our memories better, but it also helps in consolidation of new memories[2].
Q. Can an elderly use a more mainstream digital device for listening to music?
While some elders may have no trouble at all operating a mainstream digital device such as a touchscreen phone or MP3 player, Apple product (iPhone, iPod touch, iPad), or portable CD player, these devices can be complicated to use for an individual who has developed neurological deficits. As such, for individuals with dementia or other cognitive or memory impairments, we recommend a specialized music player the carry the features we outlined in the previous section.
Q. Are there any disadvantages of music therapy?
While this is a bit of a stretch, one possible disadvantage of listening to music can be hearing impairment. If the volume of a digital audio player is turned too high, and if the listener already has significant damage to their hearing, this can cause further damage. However, music players meant for the elderly typically take care of this by ensuring that the maximum volume levels are capped at a safe sound level, while ensuring that the clarity of the music remains strong. Some of these music players also make the volume controls more difficult to access to avoid accidental touches.
Q. Aside from music therapy, what are other therapies for individuals with dementia?
While medication cannot cure dementia, there are medicines known as "Cholinesterase inhibitors" that help slow down the breakdown of brain cells, and therefore slow down the process of cognitive decline.
Apart from this, other therapies may be worth a try for individuals with dementia, including reminiscence therapy, cognitive stimulation therapy, and reality orientation training.
Lifestyle changes and development of good routines including enough sleep and healthy eating habits, while staying physically and mentally active, are important aspects for slowing down the onset of dementia[3].
Q. What are some beneficial activities for dementia patients to do?
A variety of activities that can help keep physical and mental faculties engaged can be therapeutically beneficial for dementia patients. Simple household activities such as baking or cooking, cleaning, arts and crafts, knitting, painting, reading, organizing household items, gardening, watching family videos, and doing simple puzzles can all be good exercises that not only stimulate the brain to slow down the progression of dementia, but also give a sense of purpose and accomplishment to promote fulfillment for patients.
You may also like Are Used Hearing Aids Right for You?
Parting Words – Reap the Benefits of Music Therapy with a Well-Designed Music Player
Once people reach a particularly age, cognitive and physical decline becomes very likely and occurs gradually. While in most cases this just translates to a bit of memory loss and is difficult in performing activities of daily life, for some seniors it may degenerate into more serious disorders such as dementia.
Music has been shown to promote regeneration and longevity of higher brain functions, particularly in individuals with higher brain deficits like dementia patients. Studies have demonstrated its positive effects on physical health as well. Listening to music that one enjoys can also soothe the mind and bring satisfaction and fulfillment. This all creates a strong argument that listening to music is one of the most beneficial and simplest activities the elderly can engage in.
In this article, we have selected the best music players for elderly based on the features mentioned in our buyer's guide and the ratings and comments mentioned by real users on Amazon.
In our opinion, the iGuerburn Upgraded 16GB Simple Music MP3 Player Dementia Products Gifts for People with Dementia Patients Alzheimers Easy Music Box for Elderly Seniors 9.4 x 4.9 x 4.7 inches (Orange) is the best choice among the different available options that we have considered as it is not only a versatile music player but comes with top features such as 30 hours playtime when compared with other models.
If you are looking for a value for money option, you can also consider the Sangean WR-11 Wood Cabinet AM/FM Table Top Analog Radio Wooden, which has FM radio capability but also has access to MP3 music through an auxiliary input and comes at a very reasonable price.
The AGPtEK G02 MP3 Player 8GB Portable Clip Player Music with FM Radio Supporting MP3, WMA WAV, Blue comes in as a very affordable option as well for those looking for lightweight and portable device.
You may also like Best Hearing Aids for Watching Television
References:
[1] https://www.ncbi.nlm.nih.gov/pmc/articles/PMC4197792/
[2] https://www.health.harvard.edu/mind-and-mood/music-can-boost-memory-and-mood
[3] https://www.webmd.com/alzheimers/dementia-treatments-overview#1
[4] https://www.ncbi.nlm.nih.gov/pmc/articles/PMC5267457/
[5] https://www.ncbi.nlm.nih.gov/pmc/articles/PMC5500733/
[6] https://pubmed.ncbi.nlm.nih.gov/28553702/
[7] https://www.ncbi.nlm.nih.gov/pmc/articles/PMC3734071/
[8] https://pubmed.ncbi.nlm.nih.gov/27760797/
[9] https://www.ncbi.nlm.nih.gov/pmc/articles/PMC3734071/