The CDC estimates that over 100 million (1 in 3) Americans live with either prediabetes or diabetes. Alarmingly, the rate of new cases is growing annually, with approximately 1.5 million new cases detected every year.
Diabetes has been linked with neuropathies. Neuropathy is damage to the nerves that results in numbness, muscle weakness, and pain. It usually starts in your hands and feet but can affect other parts of your body as well.
If you or your loved one has neuropathy, one of the most useful items you could get for you or them are socks that are suitable for neuropathy.
In this article, we discuss what makes these socks suitable, and we look at some of the best socks for neuropathy on the market, which can help you choose the most suitable ones for you to manage your pain. The table below provides a quick snapshot of our top selections, and we go into more discussions below.
Special features
Antimicrobial fibers keep feet dry Antimicrobial fibers keep feet dry, Aloe infusion therapy fibers
Built in vents manage moisture
Fully cushioned sole, Reduces slippage
Airflow aiding and drier feet, Antimicrobial and abrasion resistant
Light gradient compression for feet health, Moisture wicking fabric
Fully cushioned sole, non binding cuff
Material
Polyester, lycra, spandex
Top Rated and Best Socks for Neuropathy for Women
#1 – Doctors Choice Women's Neuropathy Socks
Doctors Choice Neuropathy Socks are designed to reduce abrasion, minimize bunching inside your shoes, and move moisture away from the skin. These are the best diabetic socks that cover your special needs for diabetic feet.
These socks for neuropathy feature uniquely vented channels that improve airflow and also keep your feet dry. A seamless toe and fully cushioned foot remove the main cause of abrasion and discomfort of other normal socks.
These diabetic socks are loose fitting and non-binding, which reduces leg discomfort and minimizes bunching.
These neuropathy socks are also useful in reducing blisters and infections through their ultra-breathable dual mesh and channel ventilation.
The antimicrobial fibers keep your feet dry and limit dangerous friction inside your shoes. Moreover, they help your skin to retain its natural moisture.
Pros
Help to reduce cracks, ulcers, and sores in a diabetic foot.
Cushioned foot and seamless toe reduces the chances of abrasion and damage.
Antimicrobial fibers keep your feet dry.
Fits perfectly with its smooth, soft materials
The free fit gives whole day comfort.
Cons
These are not a compression sock. Therefore, they do not help enhance blood supply which improves healing of neuropathic disorders
These socks may not be the right choice if you have swollen ankles.
Why It's Our Top Choice
The Diabetic and Neuropathy Non-Binding Wellness Socks BBY OrthoSleeve WC4 Improves Circulation and Helps with Edema is our top choice for "Top rated and best neuropathy socks". These are the best socks that improve your overall foot health and provide moderate compression, which helps relieve pain due to neuropathy.
Some of its best features are:
Four zones of light and moderate compression – light compression on the toes and the top of the sock (the part above the ankle), and mild compression on the midsole and heel.
Compression therapy improves blood circulation and also provides relief from the tingling sensation of peripheral neuropathy.
Extra padding in toes and heel for enhanced comfort, reduced pain, and friction.
The sock is designed with contoured padding for additional comfort and a Y-gore heels for improved heel protection.
Perfect for patients with diabetes – no seams and ultra-soft. No chance of skin damage. This pair is designed using nano-bamboo charcoal to give a durable and cosy sock, perfect for diabetics and those with sensitive feet.
The midfoot arch support structure of the sock gives additional stability to your feet.
Breathable and moisture-wicking materials, without odor and bacteria-free feet!
You may also like Best Cold Massage Roller Balls
#2 – Debra Weitzner Women's Diabetic Socks
Debra Weitzner Diabetic Socks are made from strong fabric while retaining softness, flexibility, and enhanced air permeability, making them highly suitable for frequent travelers, athletes, or corporate workers who are diabetic.
These diabetic socks are customized to be non-restrictive and boost blood circulation, making them perfect for people with diabetes and peripheral neuropathy caused by circulatory problems.
These non-binding socks feature a loose knit design. They have extra padding, which provides proper cushioning without squeezing your feet and legs.
Moreover, these socks are crafted with ventilation technology, which aids in increased airflow within soft stitching channels.
The ultra-soft and breathable material is ideal for wearing for the whole day and provides optimal performance on long journeys and hard workdays. The socks are great for the comfort and health of diabetic patients.
Pros
Excellent

socks

that are ideal for

.

These socks are soft, breathable, and well-fitting.
The anti-microbial fabric reduces bacteria growth.
The socks can manage moisture to keep feet dry and cool.
Big stretch fabric for better blood circulation.
Non-slip grip of the socks.
Cons
May shrink after washing.
People with wide feet may face sizing problems.
Top Rated and Best Neuropathy Socks for Men
#3 – MediPeds Men's Diabetic Socks
MediPeds Diabetic Socks are tailor-made to address diabetes-related symptoms, leg fatigue, swelling, and dry skin. The main benefit of these socks is they keep your feet compressed without causing any nerve damage.
These are some of the best socks designed with comfort features to help reduce foot irritation and pressure on the legs.
These compression socks can be worn even when your legs and feet are numb and swollen. The socks keep your feet warm to improve blood flow to the feet. Moreover, the fitted styles offer a proper and supportive fit.
These neuropathy socks have a cushioned sole to protect your feet. The Lycra spandex material of the socks offers the ultimate fit and hugs the feet. You can walk freely without any fear of the sock slipping down.
Pros
Non-binding top for more flexibility.
The cushioned sole protects your feet.
Comfort features aids in reducing foot irritation.
These socks are ideal for foot swelling, leg fatigue, and dryness.
Lycra spandex offers the ultimate fit.
These socks offer good compression, improve blood flow to the feet and keep them warm.
Cons
Some users mention that the socks are not wide enough for people with broader feet
The top of the sock tends to turn over and is hemmed.
You may also like Can A TENS Machine Help With Poor Blood Circulation
#4 – Doctor's Choice Men's Neuropathy Socks
The Doctor's Choice Neuropathy Socks are designed to reduce abrasion, minimize bunching inside the shoes, and control moisture thereby giving a better feel to the feet.
These neuropathy socks are tailored with special diabetic-friendly features. A non-binding quarter length and no show top with extra stretch gently expand to accommodate leg and ankle swelling without digging into your legs.
These socks are free fit socks that give more comfort to the feet. Moreover, a cushioned sole and seamless toes eliminate the primary causes of abrasion and hence reduce itchiness and discomfort.
The product has unique fibers infused with aloe along with metals such as copper, silver, and zinc. This makes the fibers antimicrobial, which helps to keep your feet dry and eliminate the possibility of infection and odor in the foot, even if you tend to sweat a lot.
Pros
Loose fit, non-binding, comfortable socks.
Incredible airflow comes with moisture management fabric.
Soothe cracks, ulcers, and sores.
No show top with extra stretch gently expands to accommodate swelling.
Better for those who have sensitive feet.
Cons
Some users mention that the socks tend to start falling apart after a few washes
A few users also note that the sock tends to roll down your legs after using it for a few days.
Top Rated and Best Neuropathy Socks: Unisex
#5 – OrthoSleeve WC4 Wellness Socks (Unisex)
OrthoSleeve WC4 Wellness Socks are one of the best neuropathy socks on the market. These socks are designed using small bamboo charcoal that is durable and cosy.
The lightweight design of these socks gives a better fit and support to your feet to stay healthy so that you can wear them the whole day.
The WC4 socks are ergonomically designed and can fit both left or right feet. The sock has a specially shaped toe and knitted heel pocket that ensures proper placement of the foot.
The moisture-wicking material helps to keep your feet dry, thereby minimizing the risk of infection and skin irritation, which overall promotes healthier feet.
The light gradient compression in the socks helps in providing the right support your feet need.
It increases blood circulation and helps keep the feet warm. Therefore, these socks are perfect for people suffering from diabetes, sensitive feet, extra swelling, and neuropathy.
Pros
Ideal socks for full care and support of the feet. It has a special shaped toe and heel patches knitted into the sock to confirm proper fitting, and the seamless construction creates comfortable support.
Midfoot and arch support structure.
Contoured padding and Y-gore heels.
Light gradient compression for improved blood circulation and warmth, which helps reduce neuropathic pain.
Non-binding comfort to your feet. The bamboo charcoal fibers over a healthy environment where your feet experience the greatest pressure.
Design to fit both the left and right foot.
Cons
Some users mention that these socks often roll down around your ankles.
These socks may become tight after washing in cold water.
You may also like Best Foot Elevation Pillow

#6 – Facool Crew Socks (Unisex)
These are a cotton sock with a full cushion. These socks have several important features that are optimized with diabetics in mind.
These socks are designed to ensure proper blood flow through compression technology. The unique design is non-restrictive and yet promotes blood circulation.
The cotton blend material of socks keeps your feet warm. Moreover, loose-fitting allows for maximum circulation.
These socks are specifically designed for those suffering from diabetes, extra swelling, sensitive feet, or circulation problems. If you are looking for comfortable and high-performance socks, then they are a very good choice.
The seamless toe helps to reduce the risk of any blistering and, therefore, infections. Moreover, the cushioned sole not only enhances durability but also gives strong protection to your feet while walking.
Pros
Non-binding top reduces the risk of infection.
A free-fit top allows for better blood circulation.
The socks do not cause compression marks on your skin due to their loose-fitting elastic material.
Seamless toe for avoiding blisters and infections.
Soft material allows people to wear it for the whole day.
Cons
Some users felt that the sole padding was not comfortable enough, and more padding was required
A few users complained that the socks did not last very long
#7 – Pembrook Diabetic Socks (Unisex)
These are wide, non-binding neuropathy sock. This pair of socks are designed keeping in mind the comfort of swollen feet or ankles, which are a common problem among diabetics.
These are circulatory socks that are easy to pull on over your swollen feet and ankles, thus ensuring whole-day comfort and relief from pain as well as discomfort.
These socks are durable and sturdy enough to last for a long time. The knee-high socks make you feel comfortable and warm while walking.
There is the padding on the bottom and high-quality material on the top. The non-binding top gives better movement to your feet.
They are ideal for wearing while walking or running. Pembrook also has a strong reputation in this market.
Pros
It helps to prevent irritation and redness.
They are easy to stay up and do not bunch around the ankles.
These socks provide maximum comfort to your feet.
The socks are very durable due to the use of high-quality material.
Breathable mesh top to keep feet dry.
Ideal for men and women, are lightweight, non-binding with a loose top around the ankles to promote better blood flow. These circulatory socks are easy to pull on over swollen feet and ankles and feel soft and comfortable on the foot. The absolute best pair of crew socks for people who suffer from edema, diabetes, or neuropathy.
Cons
Some users mention that the socks tend to shrink after a few washes, thereby making the fitting imperfect.
The size chart provided with the socks is incorrect, as per a few users. They felt that the socks did not fit them even though they ordered sizes, as instructed in the chart.
You may also like Best Plantar Fasciitis Flip Flops

What Should You Look For Before Buying Neuropathy Socks?
Blood Flow
Ideally, look for neuropathy diabetic socks that are comfortable. A compression sock or compression stockings may provide too much compression, potentially limiting the flow of blood in your feet and legs.
However, a neuropathy sock does not restrict the flow of blood as it is loose fitting and comfortable. They might provide light compression instead, which is enough to promote return of blood upwards.
Breathable
Neuropathy socks are generally made of breathable and lightweight material, since it is very important for people with diabetes to protect themselves from infections.
Generally, these socks should also have moisture-wicking or absorbing properties, so that the feet are dry all day. This ensures that the feet are not exposed to microbes, germs, and bacteria.
Breathable and moisture-wicking material also prevents numbness, irritation, pressure ulcers, and a burning sensation in the skin.
Material
The socks should be designed with durable and antimicrobial as well as moisture-absorbing material. A blend of cotton, polyester, and spandex material keeps your feet dry and comfortable. The anti-microbial properties of these neuropathy socks help to fight bacteria. A comfortable fabric allows reducing less irritation with a seamless toe area.
Cushioning
Neuropathy socks must have good cushioning. The base of the socks should be cushioned for underfoot protection. Moreover, the toe must be seamless so that there are no chances of abrasions or pressure sores.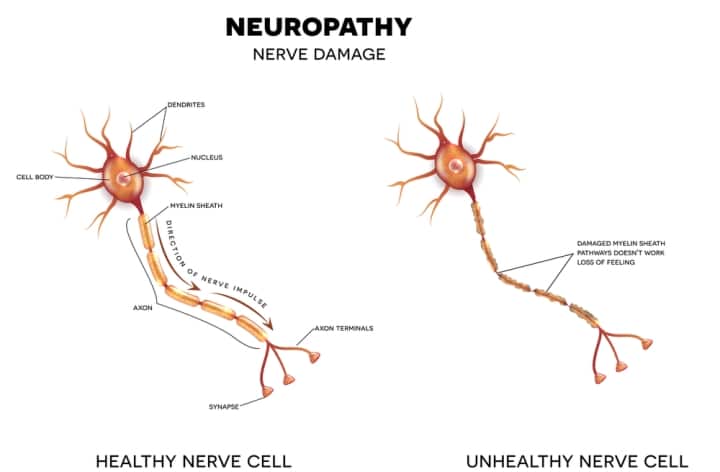 You may also like Best Shoes for Aging Feet

Frequently Asked Questions
Q. What Are the Signs and Symptoms of Neuropathy?
Neuropathy is damage to peripheral nerves (outside of the brain and spinal cord) that results in weakness, numbness, and pain often most noticeable in the hands and feet. It can also affect organ functions like digestion, urination and circulation if autonomic nerves are damaged.
Signs and symptoms of peripheral neuropathy might include:
Numbness, prickling, or tingling in the hands or feet, which can spread proximally up the arms or legs.
Sharp, jabbing, throbbing, or burning pain in the same regions
Extra sensitivity to touch on the skin
Muscle weakness
Feeling as though you wearing gloves or socks to cover your hands and feet, even when you're not wearing any
Signs and symptoms that autonomic nerves are affect might include:
Intolerance to heat
Excessive sweating or inability to sweat
Digestive problems
Dizziness or lightheadedness due to drops in blood pressure
Lastly, paralysis is possible if motor nerves are also affected.
Q. How is Neuropathy Diagnosed?
Physical exam: Can include blood tests for vitamin deficiencies, diabetes, abnormal immune function, and other indications of conditions that can cause peripheral neuropathy.
Full medical history: Review of medical history, including symptoms, lifestyle, and family history of neurological diseases.
Neurological examination: Check your tendon reflexes, muscle strength and tone, ability to feel sensations, and posture and coordination.
Imaging tests: CT and MRI scans can look for herniated disks, pinched (compressed) nerves, tumors, or other abnormalities affecting blood vessels and bones.
Nerve function tests: Electromyography records electrical activity in the muscles to detect damage to nerves. A needle (electrode) is inserted into the muscle to measure electrical activity as muscles are contracted.
Nerve biopsy: Removal of a small portion of a nerve, usually a sensory nerve, to inspect for any abnormalities.
Skin biopsy: Removal of a small portion of skin to inspect for reduction in nerve endings.
Q. What Treatments Are Available for Neuropathy?
Current treatment for neuropathy aims to manage the condition and reduce symptoms. Your doctor may prescribe medications like pain relievers, anti-seizure medications, and topical treatments for the skin.
Therapies can include transcutaneous electrical nerve stimulation (TENS), plasma exchange and intravenous immune globulin, physical therapy, or surgery. A number of promising new treatments and tests are currently in clinical trials.
Outside of medications and therapies, lifestyle changes can be made such as more and careful exercise, healthy diet, and foot care with a comfortable shoe and suitable diabetes socks to prevent foot pain and other compounding sources of neuropathy pain.
Q. Do Diabetic Socks Help With Neuropathy?
Unfortunately, neuropathy cannot be cured. What a diabetic sock can do is reduce pain through gentle compression. Secondly, they can provide the right comfort and support to your feet so that you are protected from sores and cuts.
Diabetics tend to develop skin problems such as ulcers and pressure sores, so light and comfortable yet protective socks can prevent a small cut or abrasion from becoming a major problem later on.
Diabetic compression socks are made from very soft material with no seams. They are gentle on your feet, cushion the underfoot, protect the toes and skin from small cuts and abrasions, and in general, make sure that your skin remains healthy.
Q. What Kind of Socks is Ideal for Neuropathy?
Firstly, ensure that whatever socks you buy are the right size. An ill-fitting sock can cause more problems than what it can fix.
Do not wear stretch socks or compression socks. These are great for people with varicose veins and other problems, but due to their hard compressive nature, they can cause skin damage in diabetic patients.
Finally, make sure that the diabetic neuropathy socks you wear are well-padded and a cotton sock. Avoid socks with an inside seam or an elastic band at the top.
Q. What Is the Difference Between Diabetic or Compression Socks?
Both the socks incorporate almost the same features. However, compression socks have bands that begin at the ankle and go all the way up to the knee or higher.
Diabetic socks, however, have two bands – one at the knee, and a separate one for the ankle and foot. The foot has mid-level compression, whereas the knee to ankle portion has light compression.
Diabetic neuropathy socks, moreover, have extra padding at the bottom and seamless toes to prevent ulcers. Of course, always consult with your doctor, who can provide you with medical advice and determine what types of socks are best for you.
You may also like Best Foot Massager For Peripheral Neuropathy

Parting Words – The Right Balance of Compression and Gentle Coverage
A diabetic sock provides mild compression and protects your feet from cuts, abrasions, ulcers, and pressure sores, which can be very harmful to diabetic feet. They also provide light comfort for neuropathic pain.
In this article, we have selected the top-rated and best neuropathy socks based on the features mentioned in our buyer's guide and the ratings and comments by real users on Amazon.
In our opinion, the Diabetic and Neuropathy Non-Binding Wellness Socks BBY OrthoSleeve WC4 Improves Circulation and Helps with Edema are the best choice for neuropathy overall among the various options that we have considered because of their four zones of graduated compression and soft and comfortable nano-bamboo fabric. Nano-bamboo charcoal provides durability and makes it soft to wear.
The MediPeds mens 8 Pack Diabetic Extra Wide Crew Socks, White, Shoe Size 10-12 US are best among the men's choices, and the Doctor's Choice Diabetic Socks for Women, Neuropathy Socks for Women, Non-Binding, Aloe Infused Diabetic Ankle Socks for Arthritis & Swollen Feet, No Show, 1 Pair, Pink, Medium, Women Size 9-11 is the best among the women's choices.
While we make every effort to provide updated and correct information, the advice given in this article and website should not be construed as "medical advice". Please consult with your physician or medical practitioner before using any neuropathy socks. Each individual may have his or her unique issues, and your medical practitioner is the best person to decide the best neuropathy socks for your case.
References:
[1] https://www.cdc.gov/media/releases/2017/p0718-diabetes-report.html
[2] https://www.healthline.com/health/diabetes/facts-statistics-infographic