Having to think about your parent's health in their old age is bound to worry you. It is more of a concern if they are staying in a nursing home away from you.
You are troubled if proper care is being provided to them and if they are safe and healthy. Add to the complexity of shifting them to a new nursing home, and the situation becomes untenable. 
This article provides details on how to transfer your parents between nursing homes. The procedure is different depending on whether it is an intra-state or inter-state.
Intra-state Transfer
You can request for a transfer from one nursing to another during one of the below scenarios –
The nursing home is not providing proper quality care 

If you are not satisfied with the conditions in which the nursing home is being maintained or 
If the level of care they are providing is not meeting your expectations

If your parent's health condition has changed while staying in the nursing home 

In case any new health conditions cannot be effectively managed by the current nursing home or
If your parent's situation has become worse after staying there
If your parents need unique or extensive care, nursing homes might not be able to provide them. So, it cannot be the reason for the transfer. The nursing home's staffing levels cannot be the reason for the transfer. Nursing homes' responsibility is to adjust the staffing level (nurses, therapists, and aides) vis-à-vis the number of residents.
Process Of Transfer
In case you feel that proper attention is not being provided to your parents, you have every right to raise it with the nursing home staff/ supervisor. Before initiating the transfer process, it would be wise to increase your nursing home's team points.
Speak with your parent's care team about your concerns
Speak with your doctor or the nursing home's supervisor, or a social worker
In case your issues are still there, you can submit an official grievance with your respective State Survey Agency. (Contact information for all states can be accessed through the Medicare website – Click here). All nursing homes will have a formal process to raise complaints. The residents have every right to go through it, as necessary, without fearing any repercussions.
If you cross a county line within the same state, you will have to coordinate with two different social service agencies. There must be an available bed in the new nursing home. If not, they will add you to the waiting list.
You may also like How Often Should Nursing Homes Change Diapers
Financial Implications
As these transfers are not considered "medically necessary," the transfer costs must be borne by you.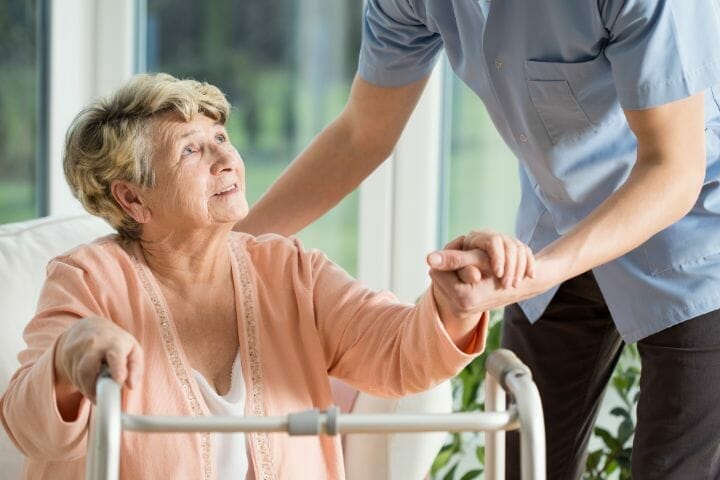 Inter-state Transfer
The process for inter-state transfer is not a straightforward one. The Medicaid coverage in any two states is not the same, and it complicates the process. Medicaid is a federal-state policy, and each state has different regulations on the prerequisites, eligibility, and level of care required for residents.
A person will not be eligible for Medicaid in two different states at the same time. To start Medicaid help in the new state, you must close the previous coverage. Getting Medicaid help in the new place will take time.
It can range anywhere between 15 to 90 days. Most of the states have retroactive coverage (at most three months before the application). The resident should bear this coverage gap after moving to the new state.
Another point of difference between states is the "level of care" requirements. An applicant deemed medically-eligible in one state might be ineligible in another state.
You may also like Best Way to Transport Elderly Long Distance
Process of transfer
Research
You need to perform comprehensive research on the two state's Medicaid "level of care" requirements. You can opt for having your parent assessed in the new state to be sure that they will be eligible before closing out the old coverage.
In case they are qualified, further your research on the financial eligibility requirements – this is for both regular costs incurred and the retroactive coverage needs.
Checklist
Once you confirm the new state's eligibility, you can contact the Medicaid support in the old state and ask them for closure. Usually, it takes around 30 days for the closing process. Make sure to confirm the duration with the support team so that you can time the move accordingly.
You can start working with a Medicaid planning professional to ensure that the new state's application is complete and you have all the paperwork required for submission in the new state.
Timing of the move must be planned such that there is no overlap between the two state's Medicaid. Regardless of when the application is submitted for closure, usually, Medicaid coverage will be valid until the end of that month.
Depending on the new state's average processing and approval durations, you or your parents will have to bear the costs from your pocket. Therefore, you must research an affordable care provider. Medicaid might not cover the costs of all nursing homes in the new state.
After moving to the new state, please apply as soon as possible. There is no "length of stay" rule for receiving Medicaid coverage.
The new state will verify that the old state's coverage is complete to initiate their process.
They will verify the new state's eligibility – the medical assessment you would have completed before will help eliminate any untoward surprises.
To establish your parent's identity in the new state, you might find it helpful to open a bank account. If the same bank has branches in the two states, try to transfer the account (even while still in the other state) with the help of a friend's or family member's address.
In case your parent has an asset (real estate or vehicle) in the old state under their name that was exempt under Medicaid rules, it would be wise to consult the Medicaid planning attorney to confirm that the new state rules do not deem it as non-exempt
You may also like Best Country For Elderly Care
Financial Implications
There are two significant financial aspects associated with the inter-state transfer –
After closing out the old state's coverage, your parents will have to apply in the new state after moving. During this approval process, your parents will have to bear the cost till it gets approved. If the new state has retroactive coverage, some of these costs might get reimbursed after approval.
Transport costs have to be borne by you like the transfer is not deemed "medically necessary."
Medicaid Waivers
Medicaid waivers that allow home care services instead of nursing home services also have different sets of rules from state to state. Some states might not have assisted living waivers at all, while some of them might not have adult foster care. Even if they exist, please expect long waitlists. As these are not entitlements, there will be limited spaces available for anyone to waiver.
You have to determine if the new state has a similar program compared to what your parent is associated with right now. In case a similar program is indeed available, you will want to add your parent's name to the waitlist as soon as possible. 
Medicaid planners can help get the relevant information about Waiver programs in the new state, waitlist requirements, and how the prioritization works.
You may also like Elderly Living at Home vs Nursing Home
How To Decide On A New Nursing Home
Medicare's website has provided a detailed checklist to evaluate the safety and quality of care at any nursing facility. Some of the points mentioned in the list are as below –
Basic information –

Medicare/ Medicaid certified?
Provides the skilled care required? Special services, if needed?
Proximity to friends or family
Residents are clean and well-groomed

Living spaces

Appearance, cleanliness, no foul odors, the temperature is comfortable, good lighting, noise levels, furnishings

Staff

Relationship with residents, persona, cleanliness, communication, shifts, and availability

Residents rooms

Personal storage space, window, lighting, cleanliness, private phone and TV, choice of roommates, water pitchers, protection of personal belongings

Food availability
Activities
Safety & care
Common areas
Relevant Links