Are you afflicted with essential tremors? Let us show you how to do eyeliner with shaky hands.
People blessed with steady hands have the privilege to draw a perfect line along with their eyes. They may not feel the problems faced by people with shaky hands[1]. People suffering from neurological problems, restless arms syndrome[2], and in some cases, specific medications may experience hand tremors. Essential tremors occur in as many as 5.6% of individuals[3].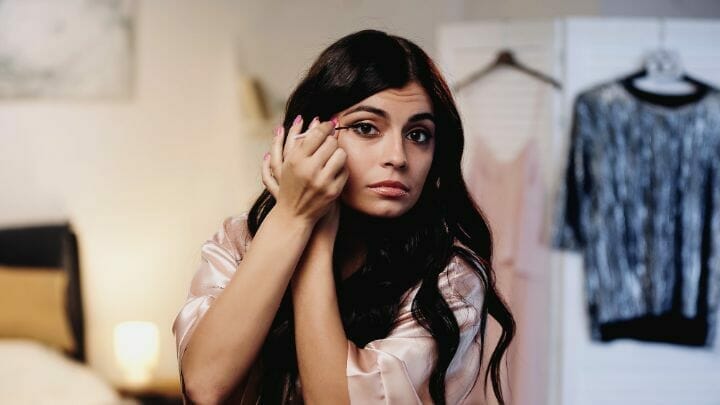 It is challenging for a person with shaky hands to draw a perfectly even line and the entire eyelash without making a single mess. Even professional make-up artists suffering from Parkinson's disease[4] may fail to maintain asymmetry between the two eyes.
This question often comes up in our comments box: how to do eyeliner with shaky hands? In this article, I have shared some tips and tricks that will help you make the perfect straight line with your best eyeliner, even with essential tremors.
Tips for Applying Eyeliner With Shaky Hands
Adjust Make-Up Station
Owing a good make-up space is very important. Therefore, you need to set a perfect make-up station along with a comfortable seat near your mirror set-up. Always use a hands-free mirror and if possible, try to put your elbow on a flat surface to get much stability and firmness.
You can also use a folding cover on your bathroom sink counter space to put all your make-up kits and tools.
Choose a Perfect Product Design.
People suffering from shaky hands may find it difficult to hold the product for an extended period. They should try products that come with a grip-friendly design. For example, Naked EyeShadow pallets will be ideal for persons suffering from Perkinson's disease.
This product is so heavy that you can put it on your countertop and can also open it using one hand only. Try to avoid slim-designed small pallets as they require much effort to make them open.
On the other hand, Fenty Beauty's Liquid Eyeliner is another good choice that also comes with an easy gripping option.
According to the beauty experts, products that come with long handles will be much helpful as you can hold them using your entire palm along with your thumb and other fingers. This specific design will not only help to reduce the stress but also the accidental misapplication issues.
You may also like Best Lotion for Elderly Skin
Make Your Things Grip-Friendly
Those who do not want to purchase a new set of products can make their existing ones grip-friendly. For instance, you can add a rubber gripper or foam gripper with your make-up kits to get more comfortable and firm gripping than before.
Sale
Grip Foam Tubing
works best with cylindrical objects to offer a comfortable and firm grip
You can also stick mobile phone rings with some of your make-up kits to get an easy grip with your fingers.
Apply Eyeliner Before Everything
Eye make-up itself is a very time-consuming job. You need to spare little time to use the challenging application techniques. Try to apply the eyeliner before putting on any complexion product.
It will give you the option to wipe the eyeliner if any misapplication happens. Keep the cotton swabs by your side when you are doing the sharp edges. Even some of the professional make-up artists keep cleansing balm with them to remove the unwanted fine lines.
You may also like Best Cream for Old Stretch Marks
Plan Your Looks
First, you need to decide which look you want to get, whether it is a cat-eye or a traditional look. Practice the specific watch a few times to know your challenging genres. Then you can use some particular tools and techniques to cope up with the situation.
Do Not Lose Hope
If you suddenly develop tremor hands, do not become too complex, ashamed, or angry with yourself. These sorts of expressions will lessen your self-confidence. Applying an even eyeliner is an art that you need to practice patience.
Even you can wash off eyeliner very easily. So, you need to keep patience and start applying a perfect liner. Do not rush, as it will also make your hands shake. Try to draw the lines calmly to get perfection.
Do Not Feel Shy To Follow the Trends
People with shaky hands often feel shy to try variant and bright colored eyeliners. Thus, they develop mental health issues. Make-up is the only way that will help to show your creativity to the universe. These bright and vibrant colors can not only upgrade your look but also refreshes your mood.
Some Eyeliner Hacks
Clench Toes To Get Accuracy
Those who have shaky hands and feel difficulty putting eyeliners can clinch their toes. Even some of the professional make-up artists follow this simple trick to reduce trembling hands issues.
Keep Cotton Swabs by the Side
Pointed cotton swabs are beneficial to precisely clean the eyeliners. They are so efficient that they can immediately remove the unwanted lines without leaving any residue.
Try Eyeliner Formula
Does your eyeliner get smudged? You can use eye pencils rather than liquid liners. Inglot comes with such a long-lasting Kohl liner that gets sealed in the waterline.
First, Draw a Flick
First, hold your eyeliner outside the corner of your eyes and draw a 45-degree angle line. After that, trace the line along with the eyelid to get your eyes done.
Tips for Downturned Eyes
Those who have down-turned eyes do not draw the line up to the end of your upper lid. Stop the line a millimeter away to make it look natural.
Start With Dashes
People with shaky hands may feel difficulty drawing a continuous line along with your eyelid. For this, you can remove a few dashes to make your job easy. Finally, join the lives to get a flawless line.
You may also like Can You Use A TENS Machine For The Face And Skin
Final words
It is not that make-up always comes with perfection. Even make-up artists may make mistakes sometimes. So, why will you remain behind just because of having shaky hands! Go through the above techniques and tips to reduce your eyeliner hacks.
Enjoy having beautiful eyes!
For more grip-friendly products, you should read the best camera for shaky hands, and the best golf rangefinder for shaky hands.
And for treatment and ways to stop hand tremors, read how to stop shaky hands when gaming, and how to treat shaky hands at home.
References:
[1] What Causes Shaky Hands and How Is It Treated?
[2] Restless arms syndrome: prevalence, impact, and management strategies
[3] Drug-induced Tremors and Corresponding Neurologic Signs.
[4] Parkinson's disease – Symptoms and causes