When it comes to electric wheelchairs, we all do our best to take care of the equipment given to us. These assistive devices are expensive to purchase and they can be custom-made chairs, unique to the person who needs one.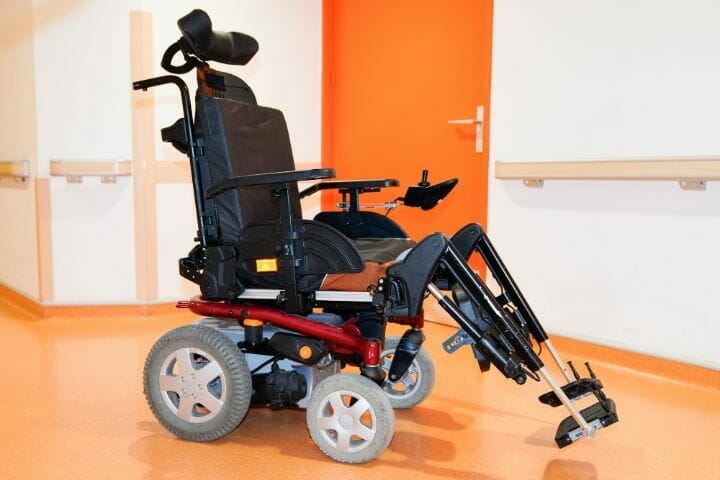 Eventually, though, no matter how well the electric wheelchairs are taken care of they will need to be disposed of because they just stop working or the repairs needed on them are too expensive when compared to purchasing a new one.
In another case, you may have had a family member living with you who needed the electric wheelchair to get around and they have since passed away. Now the chair is sitting in your garage, basement, or spare room and collecting dust because no one else in your family needs it. If no one needs to use it then you may be considering getting rid of it to free up space in your home.
If you think it's time to completely dispose of your electric wheelchair, it's not as simple as throwing it out like you would with regular household garbage. There are a few things to consider before you get rid of it completely.
How Do You Know It's Time to Get Rid Of an Electric Wheelchair?
A well-cared-for wheelchair may only last about 5-7 years. As the tires start to wear down (which will happen with regular use), there will be more weight put onto the wheelchair in specific areas which the chair is not really designed to withstand long term.
It's important to get regular maintenance checks for your wheelchair so that you are aware of any issues when they're small before they become bigger and maybe result in your wheelchair being unreliable. It is also imperative to know how to clean your electric wheelchair especially when they get wet.
If the suggested repairs become too expensive for your budget or perhaps exceed the cost of purchasing a new electric wheelchair, it may be time to consider disposing of it and getting a new one. If you opt to look for a new power wheelchair, you may want to check out our other articles on narrow electric wheelchair, bariatric power wheelchairs, and wheelchair for stroke patients.
Additionally, if there are issues in the reliability of the chair powering up or maybe the battery doesn't hold a good amount of charge anymore check into disposing of your current one and purchasing a new one.
You may also like Things to Take Care Of When Flying With an Electric Wheelchair
Can It Be Donated?
If you're getting rid of the wheelchair but it still works (or might work with a few simple repairs), then you may be able to donate it. There are many organizations across the country that will arrange to pick up the wheelchair and even give you a write-off.
These organizations will often donate the used wheelchairs to those people who can't afford them. This will help give those who need a wheelchair more independence and freedom to live on their own when they previously had to rely on others for basic daily tasks.
Even if the wheelchair just needs a new battery or maybe a new seat cover (or to have it reupholstered), then it might be a great idea to look into the option of donating it. By the way, we have a separate article on how to charge a dead wheelchair battery.
There are many people across the country who have been denied getting a wheelchair through their insurance, through Medicare or Medicaid, and bringing them a wheelchair will make their lives so much easier.
While you may not be selling the wheelchair, so you won't really get anything out of this – donating the wheelchair (if you can) will make a huge difference to those who are struggling to afford one of these assistive devices.
Hire Someone to Take It
There are services across the country that you can hire to come into your home and remove the chair. They often offer the option to pick up the chair curbside (if you can get it to the curb) or they will usually come into your home and remove it if you can't get it to power up and move it yourself easily.
The right company will make sure they properly dispose of the parts of the wheelchair, like the battery, and it doesn't just get thrown in a landfill. There are many components and accessories for an electric wheelchair, and many of them can be recycled so getting a company to come in can help with the environmental impacts of getting rid of an old electric wheelchair.
Additionally, removing an electric wheelchair that doesn't power up can be very difficult. They are often heavy and awkward to move, so if there isn't any assistance in moving it (IE – the battery) then getting it downstairs or out of a basement can be impossible.
Most companies will not charge you a fee to come to get the wheelchair, and if they do then it will be very small and just to cover their labor costs. The company may have connections with organizations that can take the wheelchair and give it to someone in need, or they may just recycle it if it wasn't working properly anymore. Either way, they make it so much easier to just get rid of it and it won't be in your way or taking up space in your home anymore.
You may also like Best Area Rugs for Wheelchairs
Contact the Manufacturer
If you don't want to hire a company to come in and take out the wheelchair, or maybe you want to see what your options are to make sure it's done properly.
The original manufacturer of the wheelchair will have the information and resources to contact for your options to remove the old wheelchair from your home. They may also have programs for recycling and reusing some of the parts when they're building new chairs to help with the environmental impact they are making.
If you aren't quite sure who the original equipment manufacturer is, take a look to see if you can find the area where the serial number is located on the wheelchair. Oftentimes, the equipment manufacturer's information will be located there.
Sell It
If you wish to go down this road, you may want to make sure that the wheelchair is in working order (at least enough for someone to use it who may be in need without major repairs).
If the chair is working, and maybe just needs a battery charge or even to replace the battery, you can probably post it online on a classifies website.
Selling it probably isn't going to get you the amount of money originally paid for it, but you might be able to make a little cash off of it and you'll definitely free up some space in your home.
You may also like Best Power Wheelchair for Outdoor Use
What Happens After You Get Rid Of the Wheelchair?
You may be curious exactly what happens when you donate or get rid of an electric wheelchair as they are valuable and expensive pieces of equipment to just get rid of. There are a couple of things that could happen to your wheelchair after it's donated.
Used for Parts
While your electric wheelchair may not power up or work as a whole as it needs to, but that doesn't mean all the parts on it aren't working.
Within an electric wheelchair, there are many computerized parts and they may still be valuable. Many organizations can use these parts on the wheelchairs they have and put them to good use to make those wheelchairs useable for the people they work with.
Oftentimes, these organizations will fix up or repair wheelchairs for people in need at very little or no cost so that those who are in need don't have to worry about trying to pay for them.
Recycled
The battery in an electric wheelchair will be rechargeable, likely lithium-ion or similar. Knowing that the materials in the battery can't just be thrown in a landfill or garbage dump and it has to be recycled properly.
Additionally, there are metals in the wheelchair itself that may not be safe for disposal or be dangerous to humans if they come into contact with it. It's important to note that the components, while you're using the chair, are perfectly safe and won't harm you.
Wrap Up
Disposing of medical equipment when it's no longer need can be a little overwhelming – especially if you aren't exactly sure where to start or who to call. Electric wheelchairs can be difficult and awkward to move on your own, especially if they don't work. By taking the time to do some research you can make sure you choose the right option that you're comfortable with.
Whether you decide to donate it, sell it or have a company come and pick it up to just get it out of your home it's important to know that you have options. Of course, if the wheelchair is useable, a donation may be the first route you want to try and take so that someone else can get use out of the chair – someone who really needs it and is struggling financially to buy one.
If you have questions about how to go about getting an electric wheelchair out of your house so it will stop collecting dust and taking up space, you can start by looking for local organizations that help with used wheelchairs. They will be able to tell you what your options are, based on the wheelchair you have and the local need for them.