In this article, we have reviewed the best laser hair growth devices. If you are in a hurry, the table below gives a quick snapshot. Or you can scroll down for detailed product reviews.
Everyone loses around 50 to 100 strands of hair per day which are replenished by new hair growth. However, if your ability for new hair growth is compromised, you may want to use a laser hair growth device.
There are many reasons for losing hair. They can range from aging, hereditary reasons called alopecia, medical conditions, and side-effects of medical treatment like cancer treatment as well as lifestyle elements like stress and improper diet.
In most of these conditions, the low-level laser may be useful in reinvigorating your scalp and reinstate new hair growth or at least stem the loss of hair.
When compared to other means of treatment, cosmetic or otherwise, laser hair treatment is beneficial in the sense it permanently increases your hair growth, reduces hair fall, leading to better hair density.
It does not lead to irritation or scratching or pain in the scalp, does not require any invasive procedures and you can complete it from the comfort of your home.
How Does a Laser Hair Growth Device Work?
Low-Level Laser (Light) Therapy (LLLT) is effective against hair loss for both men and women1. LLLT uses a medical-grade laser to increase circulation in your hair follicles.
In this technology, basically, the hair follicles absorb the light energy, which in turn energizes the microcapillaries under the follicles, leading to the enhanced blood supply to the follicles and the scalp.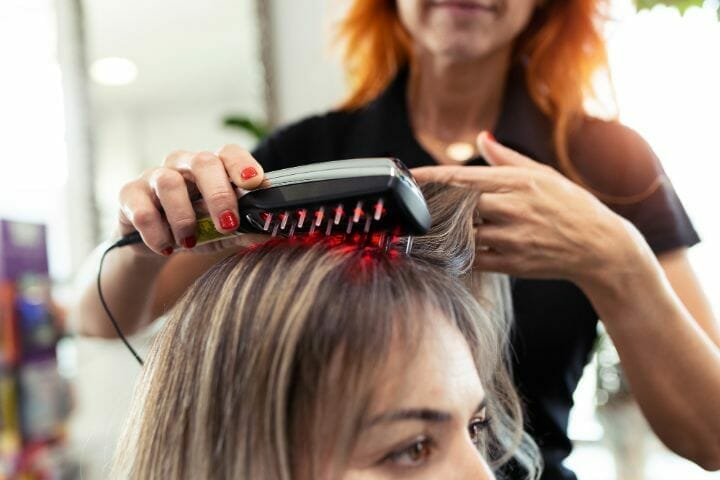 This allows the increased supply of nutrients to the hair root, strengthening the base of the hair, which subsequently leads to stronger and healthier hair strands.
What to Look for in a Laser Hair Growth Device?
Ease of Use: As this device is to be used daily or at least 3 times a week for an extended period of time, if it is not convenient to use, it will be difficult for you to continue to use it as a ritual. Some laser hair growth devices are just to be worn as a cap or a helmet and they are more convenient and hands-free than laser bands or laser combs
FDA Clearance: The safety clearance is important to note as too strong a laser will not be good for your health. FDA clearance can lead you to use the product with peace of mind.
You may also like to read about EMF Protection Clothing
#1 Kiierr Laser Cap for Hair Growth
The Kiierr Laser Cap is our top choice when it comes to laser hair growth devices.
It is FDA cleared and comes in two models – Premier and Pro. The Premier has 272 light-emitting diodes for comprehensive scalp coverage. The Pro has 148 light-emitting diodes. For about a third more, you get almost two times the number of LEDs that cover the scalp fully.
The lasers are calibrated to 650 nanometres for optimal penetration on scalp and hair follicles. The device works on a rechargeable battery for which it comes with an extension cord. It will let you use the device while standing and rest the battery on nearby support.
The laser cap fits inside any standard baseball cap – one cap accompanies the product, though you can use your own favorite cap as well for privacy. The hands-free design is very convenient and comfortable to use.
The company offers an aggressive 7-month money-back hair growth guarantee. They also offer a two-year product warranty – anything goes wrong with your product and you can get a replacement product for free.
Kiierr recommends using it their laser hair growth device 3 times a week for about 30 minutes. The device auto shuts off after 30 minutes. In the interim the device also beeps to let you know you how much time is left for the treatment.
Pros
Auto shuts off after 30 minutes of recommended use
Hands free design for convenience and comfort
7-month hair growth guarantee which is one of the most aggressive in the industry
2-year warranty
Beeps to let you know how much time is left
Cons
Some users with a small body type have complained that the laser cap can be a bit big for them to fit cozily
Check Latest Price on Kiierr's Website
#2 iRestore Laser Hair Growth System
The iRestore Laser Hair Growth System is a suitable device to stimulate hair growth in the case of receding hairline and baldness in both men and women. The device is US FDA cleared and comes as a helmet. It is very easy to use, convenient, and a hands-free system that can also be used as a supplementary treatment to other hair treatments and medications.
The handheld control is super easy to use with an LED display which indicates time remaining for the laser treatment. The device works on a battery and is also possible to be directly plugged onto power sources – which, however, will restrict your movements during the treatment.
While the device is priced upwards of five hundred dollars, it is still a lot less expensive than hair transplant programs, even if you ignore the pain and inconvenience of a hair transplant treatment. It is recommended to be used once a day or once every 2 days, depending upon the severity of your hair loss.
Unlike laser combs and bands, you do not need to continuously move around the object on your scalp to cover the entire scalp which may be tiring for you.
Pros
Very convenient to use – hands-free
Can be used on batteries or directly with a power outlet – the latter will, however, restrict your movements
US FDA cleared device
Display indicates time remaining for the treatment
Effective for increasing hair strength, thickness, and volume
Cons
If you have a large scalp, it may not correctly fit your head and may not be effective
Initial use may see you lose out on your weaker hair, which may seem like increasing hair fall
You may also like to read our article about cold laser therapy machines
#3 HairMax Ultima 12 Classic Laser Comb
The laser comb from HairMax is a US FDA certified device with 12 medical grade lasers and a patented hair parting teeth pattern which helps to deploy the laser more effectively. The laser diode density on the comb is high, which ensures uniform and consistent delivery of low-level laser light to your hair roots.
The device works on dual follicle stimulation method – laser stimulation as well as combing. The device manufacturer recommends using it once every 2 days for about 10 – 20 minutes. However, you should consult your hair physician to understand the severity of your hair fall condition and the time-period for which you should use the device. The laser comb is lightweight, works on a rechargeable battery and can be carried along with you for use during your travels and vacations.
It also comes with a convenient charging station and a 2-year laser device warranty. Apart from hair growth, the device also fights hair thinning, repairs damaged or split hair and increases hair strength.
While it may be difficult for you to hold and move the comb to cover all parts of your scalp, the benefit of the comb is that you can lay more focus on parts of your head which are seeing more hair fall or more thinning.
Pros
Ergonomically designed handle for better grip on the comb
Cost effective option for laser hair growth device
Indicator showing time left for treatment on the back of the comb
High density of laser light emitting diodes
Comb allows targeted treatment in areas of higher hair loss or thinning
2-year laser device warranty
Cons
Requires continuous hand movements on scalp, which may be tiring for you
The video below shows how to use HairMax Ultima 12 Classic Laser Comb.
You may also like our article on lotion for elderly skin
#4 CapillusUltra Mobile Laser Therapy Cap
The laser therapy cap from Capillus Ultra has 82 5mW laser diodes for extensive and comprehensive coverage of your scalp and comfortably covers the most common hair loss areas on the scalp. The device is effective in reversing hair loss and thinning hair and balding conditions, as well as revitalizing damaged hair.
The device is super easy to use – you just need to wear the cap like a traditional cap. It is cleared for safe use by the US FDA and works best for hair loss due to hereditary issues. The device runs on a rechargeable battery and the company recommends using it for about 6 minutes daily for hereditary hair loss (the device will automatically shut off after 6 minutes of use – if you want to use it for longer, you will have to start it again).
If the reason for your hair loss is some other condition, it is best that you consult your hair specialist or physician for a more customized treatment using the device. It can also be used along with medication and other forms of treatment. It has a flexible fit and can be worn as cap by users with a wide range of head sizes. The device and the battery are both covered by a 1-year limited warranty.
Pros
Unless worn, the cap will not emit laser light, which is a good safety feature to have
Auto shut off after 6 minutes of use
FDA cleared class 2 medical device
The inner laser light layer can be removed from the cap and can be put inside any fitting cap
Cons
On the expensive side
Device cannot be used directly from a power outlet and must be charged before use – therefore, if your battery dies, you will have to invest in new batteries to keep using the product
You may also like to read our article on bras after mastectomy
#5 Theradome PRO LH80 Laser Hair Growth Helmet
The Theradome helmet has 80 laser diodes on the inside of the dome-shaped helmet and provides comprehensive laser therapy to your scalp. Using only medical grade 680 nanometer lasers, the products has US FDA clearance and is safe to use on your scalp.
It is very convenient to use with hands-free access – you can put it on and switch it on with a single button and the device will automatically shut off after 20 minutes of laser therapy. The battery is rechargeable and robust with a total life of over 18000 treatment hours. The soft rubber pegs and lining of foam pads provide a comfortable and cozy fit on your scalp.
Pros
Fits your scalp/head easily with comfortable foam pads
Easy one-touch activation
Auto shut off after 20 minutes
Proximity sensors enable the device to conduct laser therapy in a more user-customized way
Good customer service
Cons
Cannot be used directly from power outlet – you will have to wait for the battery to charge up
You may also like to read our article on eyeliner for seniors
Conclusion
Hair loss may often become a reason for social anxiety and low self-esteem, particularly in women. LLLT can effectively fight against most reasons for hair fall and should be your first level of defense against hair fall.
If interested, we wrote a separate article on how to cut a woman's hair to look just as elegant and strong as they feel
The devices are effective in increasing hair growth permanently and you can achieve good results by using them daily from the comfort of your home. Although expensive, if effective, they are one of the most cost-effective and safer ways of getting your hair cover back.
References