In this article, we review some of the best stationary bikes for the elderly. If you are in a hurry, the table below provides a quick snapshot. Or you can scroll down for detailed reviews of the top rated stationary bikes.
Programs
22 program workout with different resistance levels
Stationary bikes have recently gained a lot of popularity. They are a great indoor alternative to biking for people who find it inconvenient to spend a long time outdoors. Stationary bikes are a great option for those who need a slightly less strenuous workout or are looking for either safety or else protection from the weather.
Stationary bikes make for excellent cardio exercise while putting a lot less stress on your joints and making your heart, lungs, and muscles stronger.
We would like to remind you that every individual is unique. What we present below is general advice. Please consult a doctor for specific advice tailored for your individual needs.
What Are the Benefits of Using a Stationary Bike?
There are many health benefits of using a stationary bike. It is a great piece of cardio workout equipment that can help you reduce fat and body weight. Unlike running, stationary bikes provide low-impact exercise focussed on the legs and lower body. Using a stationary bike, you are immune from weather fluctuations or safety considerations about heading outdoors.
Cardio exercise
Cardio exercises focus on making the heart pump faster by any means – cycling, swimming, running, jogging and many other exercises fall under this category. Stationary bikes are also a type of cardio exercise.
There are several benefits of cardio exercises, especially for the elderly:
It helps improve the functioning of the brain and enhance memory
Reduces blood pressure, and brings down blood sugar levels
Improves immunity and reduces stress levels
Improves sleep patterns, makes the body more energetic
Delays onset of dementia and Alzheimer's
Reduce body weight and fat
A 2010 study1 by the national center for biotechnology information found that indoor cycling (when combined with a low-calorie diet) helps reduce weight and control the number of serum lipids in the body.
Another research2 from Healthline concluded that stationary biking can burn between 210 to 311 calories in one 30 minute session.
By burning your calories and regulating their intake, you can easily lose weight quickly.
With stationary biking, you can also do interval training – a session where there are short bursts of vigorous exercise followed by longer bursts of relatively lower intensity. This kind of exercise helps reduce calorie count much faster. As the stationary bike's resistance levels can be set according to the user's needs, it is a perfect candidate for this kind of training.
Low impact exercise
Stationary biking (especially recumbent bikes) does not exert as much pressure on the joints in your ankles, hips and knees as much as regular biking or other cardio exercises. Therefore stationary biking is a good workout option for the elderly, who are prone to joint injuries, arthritis, and joint pains.
You may also like Best Electric Tricycles for Seniors
Focuses on legs and lower body
One of the few non-outdoor exercises that are more focused on the lower body, stationary biking strengthens your calf, hamstring and quadricep muscles.
Safety and immunity from weather fluctuations
Safety is an important concern, especially for seniors. While outdoor exercises are great for people who want to be in touch with nature, they do expose your body to the vagaries of weather.
Secondly, biking or similar exercises at night time can be very unsafe if you are doing them in remote areas like trails or forest paths. Stationary bikes provide for a slightly lower impact, but you can control your environment as you please.
Using a stationary bike makes your exercise regime immune from weather fluctuations. Now you can work out, however hot, cold, rainy, or windy it is outside.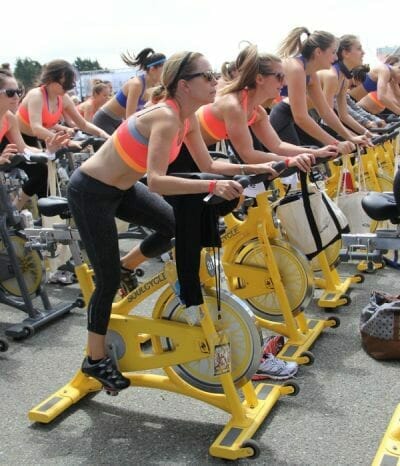 Is a Stationary Bike Good for the Elderly?
Stationary bikes, like bike trainers, are a good source of cardiovascular exercise for seniors. It is low impact and puts a lot less stress on your joints as compared to some other forms of exercising like jogging.
Although, do remember the age-old adage – excess of everything is bad. Doing the same set of exercises day in and day out uses the same muscles. So when choosing your workout, mix it up so that different muscles and joints of your body get exercised.
You may also like Best Bike For A 60 Year Old Woman
What Are the Different Types of Exercise Bikes?
There are 3 types of exercise bikes – upright bikes, recumbent bikes and dual-action bikes. Each varies slightly in usage and benefits.
Upright bikes
Almost similar to a regular bike, with the pedals below your feet, the upright bike is great for cardio workouts and strengthening your leg muscles. Upright bikes can be used both standing and sitting, and it feels almost like riding a regular bike.
The downside of an upright bike is that the position makes it such that it puts pressure on the hands and wrists. This is usually a deal-breaker for patients with arthritis and senior citizens who haven't got as much strength in their hands anymore.
Another problem with the upright bikes is that they typically have small and uncomfortable seats, which means a longer exercise is that much difficult to do on an upright bike.
Recumbent Bikes
Recumbent bikes typically have large, comfortable, reclined seats, which support your bodies' muscles and joints in a much better way.
Recumbent bikes put a lot less pressure on the upper body lower back and joints, thus making them a good option with elderly people and those with arthritis, MS or injuries and back pain.
For most seniors, recumbent bikes are seen as one of the best options for exercising while not straining the body too much.
Dual-action bikes
Dual-action bikes are meant for a complete body workout. While there are paddles to exercise your legs, the bike also has handlebars that can work-out the upper body.
You may also like Best Mountain Bike For Older Riders
What Is the Best Stationary Bike for an Elderly Person?
The elderly usually find recumbent bikes more comfortable. They are more comfortable and put lesser pressure on the upper body. Although, if you are looking for an intense workout, a spinning bike will be a good choice. Our top choice for recumbent bikes is Marcy Recumbent Exercise Bike and among spinning bikes is PYHIGH Indoor Cycling Bike.
Below are some factors that one needs to consider when deciding on the best recumbent bike:
Seat: Larger and more padded seats provide comfort and stability and are preferable over more ergonomic designs for elders
Size: Larger bikes are more stable, whereas smaller bikes are space savers. As stability might be an important concern for the elderly, larger bikes may be preferred.
Display: The display for exercise details should have large, easy to read letters
Folding bikes: Easier to transport and store
Technological options: Many bikes come with options like Bluetooth based apps for storing and displaying information, wifi connectivity, USB charging ports, inbuilt speakers etc.
Easy to put together: The bike should not require much tool work to put together
In the next section, we discuss our top picks for exercise bikes for the elderly.
#1 Marcy Recumbent Exercise Bike ME-709
The Marcy recumbent bike ME-709 is our top pick for senior-friendly exercise bikes among recumbent bikes. Apart from the large, comfortable and padded seat, several other features are senior-friendly about this bike
The display screen is not only sharp in contrast but also has extra large-sized fonts and number displays that are senior-friendly and brimming with useful data
The bike has a step-through design which makes it easy to step on and off of the bike. The process is a lot simpler for people who have troubled knees and lower backs.
There are 8 resistance levels on the bike, which makes it easy for anyone to adjust the machine as per their level.
The bike has an adjustable height (for ensuring that even tall people can exercise easily). There are transport wheels on the bike, which make it easier to move the machine. The maximum weight capacity of the bike is 300 pounds.
Lastly, the pedals are especially counterbalanced and have straps on them to provide maximum support to the foot.
Pros
Extra padded and comfortable seats
Large fonts on screen
Step-through design for easier mobility
Adjustable height and pedal straps for maximum comfort
Compact, easily portable
Cons
Product Assembly is difficult
Does not work well with shorter people
You may also like Cubii Pro Seated Compact Elliptical Reviews
#2 Schwinn Recumbent Bike A20
The A20 is the most senior-friendly of the 3 Schwinn Recumbent bikes. It has a large screen display, with 7 major parameters monitored, which are easy to read. It also has padded, contoured and comfortable seats for exercising over longer periods.
There are 8 resistance levels which allow the user to set their own goals and pace. Ergonomically placed heart monitors help track your heart activity.
There are 7 preset workout programs which help you decide the right set of moves for your requirement and level of expertise. The bike is easily transportable, with easy to use transportation wheels.
The bike supports weights of up to 325 pounds. There is a supported app to which you can download all your data for analysis
Pros
Comfortable padded seats
Large display with only 7 key parameters.
Supports weights of up to 325 pounds. Good for heavier users
Easy preset exercise options
8 resistance levels
Cons
Inbuilt heart monitor does not work very well
It is known to make a knocking noise after 10-15 minutes of continuous exercise
#3 DMASUN Indoor Spinning Bike
For those who want a more intense workout, DMASUN Indoor Spinning Bike is a great option. Spinning bikes more closely mimic the action of actual biking since their handlebars are lower, however, there is lesser risk of injury since the flywheel is usually a lot easier, which keeps the bike in constant motion thus reducing the impact on the joints.
The DMASUN indoor bike is made from high-quality heavy steel, which makes it much more stable than others. It has a large digital monitor for real-time tracking of key parameters.
The bike has multi-grip handlebars, which provide a solid grip for every kind of user preference. It also has a continuous spectrum of resistance settings, thus allowing you to set the resistance to the exact degree that you need.
The bike supports weights of up to 330 pounds with a comfortable and is easy to move around the house with transportation wheels on its front.
Pros
Easy to assemble, durable
Less risk of injury to joints
Heavy frame leads to better balance and makes it sturdier
Multiple grip handlebars
Continuous spectrum of resistance settings
Comfortable seats
Cons
Handlebars cannot be adjusted for shorter people
The seat may not hold in place as per some customers.
You may also like Cubii Vs. Cubii Jr – User Reviews, Experience, And Costs
#4 PYHIGH Indoor Spinning Bike
PYHIGH Indoor Spinning Bike is our favorite among spinning bikes for the elderly. It is one of the few bikes on this list that are SGS certified for safety aspects, thus making it one of the safest and most durable bikes.
The belt-driven system of the bike makes it very quiet. There is a continuous spectrum resistance control on the bike, which makes it customizable for every individual.
The bike has a comfortable and wider saddle, with non-slip handlebars which give the user a smooth experience every time.
It has a 4-way seat adjustment and 2-way adjustable handlebar which makes it easily customizable for users of any height.
Another great feature of the bike is that it has a 12-month warranty, with a 15 hour TAT for a response to complaints.
Pros
Adjustable seat heights
Strong service and warranty
Quieter than other bikes
SGS certified, sturdy make
Large lettered digital monitor
Caged foot pedals for a comfortable grip
Cons
Some users have complained of a clicking noise while pedaling
Prone to damages during shipping
#5 Sunny Health & Fitness Recumbent Bike
One of the few exercise bikes in a zesty pink color, this recumbent bike packs a lot of good features
It has a fast and reliable resistance system that provides for 8 levels of adjustment. There are heart rate sensor located in a way that allows for natural hand positioning, without creating discomfort for the user
The pedal straps are fully adjustable and the frame allows you to control the height of the pedals. It has a nice LCD monitor display with important parameters displayed prominently.
The bike allows for weights up to 220 pounds only.
Pros
Conveniently located heart rate sensors
Adjustable pedal height and straps
Prominent LCD
Cons
Allows for weights up to 220 pounds only
You may also like Best Treadmills for Elderly
Conclusion
Stationary bikes are an easy and safe way to exercise for the elderly. However, choosing one out of several options is never easy. One should have a clear idea of what their needs and expectations are out of the bike. Our list provides a few good options that are suited for most seniors' needs; however, you are the best judge for what your needs are, and what will fit your particular requirements perfectly.
References