In this article, we have reviewed the best snow blowers for the elderly. If you are in a hurry, the table below gives a quick snapshot of the best ones.
Technology
Brushless motor technology
Clearing path/depth
20 inch path , 10 inch deep
18inch wide and 11inch deep
20inch wide and 10inch deep
The cold season can be stressful for seniors. The cold hurts their bones and joints. Going out becomes a major chore with layers of clothes to be worn. And lastly, shoveling snow off their driveway is a strenuous activity that most of them would rather avoid. 
We can't do much about how the cold affects the body, but a good snowblower will make that last job a lot easier for them. Let's have a look at the best snow blower for elderly below.
The video below shows how to operate a snowblower properly.
Our top Choice- Greenworks Cordless Snow Thrower
The Greenworks 80V (75+ Compatible Tools) 20" Brushless Cordless Snow Blower, 2.0Ah Battery and Charger Included is our top choice for the best snow blower for elderly, because this 20-inch cordless snow blower is designed to cater to your needs.
Its efficiency and high-grade performance make it a top choice among snow blowers. The best part about this snow blower is that this cordless snow thrower works effectively and quickly for older adults.
Features include:
Powered with a 2.0 Ah battery life.

LED lights for better visibility at night.

The runtime of 45 minutes allows for easy cleaning of pathways.

A Digital controlled brushless monitor is specially designed for efficient operations.
Reviews of the Best Snow Blowers for the Elderly
#1 Greenworks Cordless Snow Thrower
Greenworks Cordless Snow Thrower is one snowblower that assures a high degree of performance. This snow thrower is equipped with 80V Li-ions systems. Therefore, it promises to deliver greater efficiency with up to 45 minutes of run time. Keeping in mind your needs, it is designed with a powerful 2.0 Ah battery.
This thrower features a powerful LED light. It is a handy feature since it is not always possible to clear snow during daylight hours. This device, however, works on quiet and maintenance-free brushless motor technology.
The cordless snow blower can quickly clear the path efficiently. This device quickly clears your driveways, sidewalks, patios with a 20 inch of clearing path. The superior battery is useful for better performance. But the battery should be used at room temperature.
Pros
Lightweight and easy to assemble snowblower.

Easily adjustable chute control.

Quickly clears sideways with the runtime of 45 minutes.

Digital controlled brushless motor for more torque efficient operation.

Headlights facilitate working in the dark.
Cons
After a few uses, the battery tends to start dying off pretty quickly

Due to its lightweight, this is not a great product for heavy snow
You may also like Gifts for Elderly Who are Always Cold
#2 Toro Store Power Curve Snow Blower
Toro snowblower is one of the most versatile electric snow throwers. It is an excellent option to clear snow in no time. As the blower moves up to 700 pounds of snow per minute. Therefore, aids in quick and efficient snow clearing.
No products found.
It features a power curve technology that cleans down to the pavements and also helps to prevent clogging. Seniors don't have to take much effort as it clears a driveway and a sidewalk quickly. In one pass, the blower can clear a path 18 inches wide and 12 inches deep. 
This snow blower is electrically powered and comes with an ergonomic handle that provides maximum coverage and leverage. The lift handle makes it easy to transport from the deck. Moreover, it also features a cord lock system, so you don't have to stop because of the power problem.
Pros
Features power curve technology to clean down the surface.

Zip deflector to effectively change the directions.

Quick chute lever to throw snow where you want it.

It comes with large 6-inch wheels.

This 1800 power curve blower weighs only 25 pounds.

Throws snow up to 30 feet.
Cons
It may sometimes make weird sounds when something is caught inside.

This blower does not work well with frozen snow. It is more suited for fresh powder snow
No products found.
#3 EGO Power Cordless Snow Blower
This cordless snow blower fits efficiently in your snow cleaning routine. This snow thrower works on peak power technology. As it combines the power of 2 EGO power + 56-volt batteries. This cordless snow blower is as powerful as gas. This peak power technology combines the power of two ARC lithium batteries. Therefore, making it a powerful device to clear heavy and wet snow.
The snowblower easily adjusts the changeable speed auger. This auger is efficient enough to check how far the snow is thrown. Moreover, it can make the snow removal process much more pleasant.
Built with a high-efficiency brushless motor, it has a 21-inch wide intake. Moreover, the snow thrower is designed for 35-foot blowing distance, remote chute adjustment, and robust steel construction. This snow blower works efficiently without producing much noise, fuss, and fumes.
Pros
The blower comes with 21-inch clearing width.

Lightweight and easy to assemble blower.

Lithium batteries are powered to clear heavy and wet snow.

This snow blower weight 55 pounds.

Up to 35 feet snow throwing distance.
Cons
On slippery conditions, the machine may start to slide, which may pose a problem.

You may also like Best Boots For Canadian Winter
#4 Snow Joe Single Stage Snowblower
This Snow Joe snow blower is a specialized tool designed for the comfort of older adults. This tool aims to simplify your snow cleaning procedure. This next-generation innovative tool is equipped with a single, powerful 100 Volt 5.0 Ah battery. This exclusively features eco sharp technology that provides up to 30 minutes of runtime on a single charge.
The blower is built with LED lights for better visibility for nighttime snow removal. The brushless motor aids in increasing battery efficiency and maximizes the performance of the motor. Moreover, this snow blower is specially constructed to reduce noise. 
The auger assisted drive helps to propel the unit forward through the snow. So older people need not put much effort into cleaning the snow. The integrated scraper bar at the base of the snowblower unit lets you conveniently clear the ground.
Pros
The maximum auger speed moves up to 16 tons per charge.

An influential 2800 W brushless motor increases battery efficiency.

It features dual 2.5 W LED headlights for more visibility.

The battery gives 60 minutes of maximum snow clearing power.

The integrated scraper bar at the base.
Cons
It does not have powered wheels.
#5 PowerSmart Cordless Snow Blower
PowerSmart Snowblower is cordless electric power as it can throw snow up to 30 feet. This unit is highly efficient for better snow removal. This snow blower is ideal to use during extremely cold conditions. Assembling of this tool is easy, and it is maneuverable even in deep snow and ice.
This tool comes with a powerful and efficient safety switch. This safety switch keeps you safe at all times. Moreover, it is simple and convenient to use. You need to press down the start button to start this device. 
The height of this outlet can be adjusted quickly, and it can be rotated around. The snowblower is versatile enough in clearing sideways and challenging pathways. It also features 180-degree chute rotation. The easily adjustable handle lets you feel comfortable while cleaning the snow. So elders need not put extra effort.
Pros
20-inch clearing width, 10-inch clearing depth.

No oil or gas is needed in this blower.

It comes with a 40 V 4.0 Ah rechargeable battery.

This device has up to 20 feet, throwing distance.

This machine is light in weight.
Cons
The battery is challenging to push fully into the holder.
You may also like Best Jackets For Canadian Winter
#6 Snapper Store Single Stage Snow Blower Tool
Snapper Store snowblower tool is a powerful tool equipped with the latest technology. This tool uniquely aids in making your snow clearing job quick and efficient. As it comes with 20 inches of clearing width and 10 inches of clearing depth.
Its push-button allows you to spend less time prepping. This blower is equipped with dual lights for better visibility and to clean show conveniently at night. Dual lights on the control panel, as well as auger housing, allow for maximum visibility. Thus makes your overall snow clearing task easy and quick.
You can quickly clear the snow in your path on up to 75 minutes of run time. Moreover, this snowblower also features a collapsible handle. This ergonomic handle is designed for better hold. This snow blower tool is, therefore, an ideal tool for older adults.
Pros
Clear snow in one goes with 75 minutes run time and 4.0 battery.

180-degree swivel chute.

The tool has 20 feet throwing distance.

Easy to assemble and lightweight tools.

Collapsible handle for single storage.
Cons
This tool may be caught on uneven surfaces quickly.

Not work well in heavy snows.
#7 WEN Electric Snow Thrower
One snow thrower that lets you clear the area in a single pass is WEN electric snow thrower. This device is designed specially to cater to the comfort needs of older adults while cleaning snow. This WEN snow thrower obliterates and cleans snow up to 18 inches wide and 7.8 inches deep.
No products found.
This uniquely designed thrower throws up to 490 pounds of snow per minute. The powerful 13.5 Amp engine helps blast the snow up to 20 feet away and 10 feet high. This tool is designed to easily adjust both the directions and the snow chute angle for full control of the blast.
Its six inches flat wheels mounted on the back of this unit. Moreover, the onboard carrying handles allow for easy transportation. Its flexible edges scoop snow from the ground and also prevent the damage to your driveway.
Pros
This snow blower comes with an adjust chute that rotates to 180 degrees.

It features a 2000 RPM auger.

Wheels are designed for easy mobility.

It clears up to 1150 cubic inches of snow per auger rotation.

The lightweight design allows for easy steering.
Cons
It is less potent than a gas blower.

The device may create problems in slush and wet snow.
No products found.
You may also like Best Hand Warmer For Arthritis
What Should You Look for Before Buying a Snowblower for Elderly
A snowblower can be an investment or a luxury. So before zeroing on the best snow blower, you must consider its features and your needs.
Snow Blower Stages
On a single-stage snowblower, the corkscrew-shaped auger is the only device moving the snow. Two-stage models use both auger and impeller. The impeller helps two-stage snow blowers to collect the snow faster. Three-stage blowers have an extra instrument called an accelerator. They clear away the snow faster than 2 stage blowers.
Wheels Of Blower
The majority of the snow blowers are wheeled. For single-stage blowers, the user pushes or pulls the blower. On two-stage and three-stage blowers, the wheels are powered by the engines. While some two-stage and three-stage blowers have tracks that are better for hills and steep driveways.
Single Stage Gas Snow Blowers
These are good for level, midsized, paved driveways. They are light and easy to handle. These only require straight gasoline and no oil. 
Two-Stage Gas Snow Blowers
These are best for long, wide driveways with snow levels up to 16 inches. They use the auger to pick and throw snow, but they also add a fanlike impeller behind the auger. These blowers are best for clearing snow on gravel as its auger does not touch the ground. 
Three Stage Gas Snow Blowers
These are good for heavy and wet snow. These blowers come up with the additional feature of an accelerator. This characteristic speeds up snow clearing by collecting the snow from the collection augers and forcing it into the discharge impeller. But these machines are quite heavy, and they take up a lot of your storage space.
You may also like Best Winter Jackets For Elderly Women
Frequently Asked Questions
Q: What to look for while buying a snow blower?
The common factors to consider are the average snowfall depth and the type of snow. The single-stage models have an auger that cut through gathered snow. While the two-stage models, the auger that sucks up the snow, does not contact the cleaning surface.
Also make sure that there is an electric start, the right clearing width, and height, single-hand operation, good traction tires, cleanout tool attachment, drift cutters. These are all good inclusions to have on your snowblower. 
Q: Do snow blowers come with heated handles?
Yes, some snow blowers come with heated handles. They are specially designed to keep your hands warm while working. You may feel a smooth touch if you are going out to clear snow for a long time in cold weather.
Q: How long do snowblowers last?
A snow blower is a productive investment. A good model may have life from 10 to 15 years if used ideally. However, different models have a different life span. 
You may also like Best Winter Boots For Bunions
Q: Does it make noise?
A snowblower that runs on electricity makes less noise. As they are smaller than fuel-powered machines, and they don't use gas engines.
Q. What's the difference between snow blower and snow thrower?
A snow blower is a 2 (or even 3) stage machine, whereas a snow thrower is a single-stage machine. The impeller in a snowblower will throw away snow upto 35 feet (depending upon the machine of course). A snow thrower just picks up snow and tosses it out. 
Snowblowers are a lot more powerful than snow throwers, and if you live in an area that receives heavy snow, be sure that you are buying a good quality snow blower for those big snowstorms.
Q. Are 3 stage snow blowers worth it?
Places that get wet and heavy snow or homes with a big back yard or front porch to cleanup should consider 3 stage blowers, which are much better for you.
When we say heavy snowfall, we are referring to the 12-24 inch range. If you don't get that kind of snow, a 2 stage snow blower is good enough in most cases.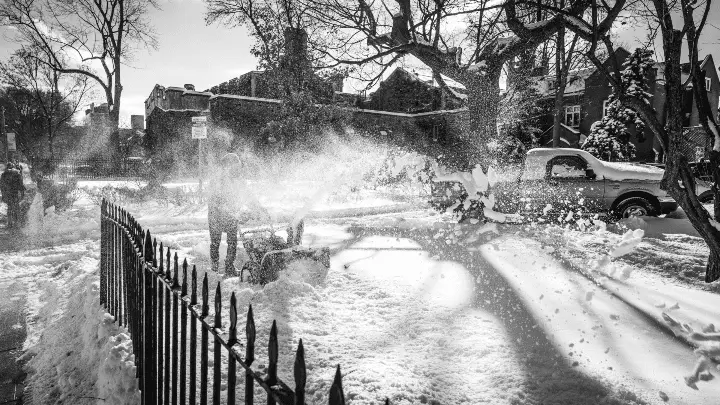 Q. When's the best time to buy a snowblower?
Most manufacturers are wary of overproduction, and therefore snow blowers are always in limited supply even during the winter season. Production starts in easily summer when the lawnmower season gets over. 
May/June are the best times to invest in a snowblower is May/June, when you can backorder a brand new snowblower without having to pay a big premium for it.
You may also like Best Space Heater For Elderly
Conclusion
A snowblower can be a great purchase if you smartly go through its features. If you are buying it for your aging parents or grandparents you must be extra attentive and look for the best amongst the lot. In this article, we have selected the best snowblower for elderly based on the features mentioned in our buyer's guide and the ratings and comments mentioned by actual users on Amazon. 
In our opinion, the Greenworks 80V (75+ Compatible Tools) 20" Brushless Cordless Snow Blower, 2.0Ah Battery and Charger Included  is the best choice among the various options that we have considered because it is perfect for our elders, rich in features and serves the purpose.
If you are looking for a value for money option, you can also consider the PowerSmart Snow Blower, 18-INCH Cordless Snow Blower, 40V 4.0 Ah Lithium-Ion Battery Powered Snow Blower, Electric Snow Thrower 180°Chute Rotation Up to 30-Feet, DB2401, which offers great value and features at a very reasonable price point. 
Most of all, while working outside in the winter make sure to equip yourself with the proper clothing such as a winter jacket, winter boots, and winter gloves.