We have reviewed the best mini trampolines and rebounders for seniors. If you are in a hurry, the table below gives a quick snapshot of the top 5.
Traditional exercise forms can be high-impact but demand physical strength and are therefore unsuitable for the elderly. 
Mini-trampoline workouts are an interesting and fun way to deal with age-related problems like arthritis, bad knees, obesity, cellulite, osteoporosis, and several others. 
Many health professionals have understood the essential benefits of regular rebounding for the elderly. At the same time, body supporting exercises are even recommended to the elderly post-surgery. 
For example, physiotherapy from light rebound exercise is recommended after a total knee replacement surgery. Studies show that 20 minutes each day of rebounding sessions on an adult mini trampoline is nearly as good as running[1]. 
Besides, a heavy-duty mini trampoline rebounder can offer both low-impact, gentle bounce exercises to high-intensity rebounding and rebounder balance exercises for the entire family. The best thing about taking a rebounder bounce exercise is that it places no stress on joints and muscles. 
Features of a Mini Trampoline or a Rebounder for Seniors
Quality and sturdiness
For seniors, reliability and safety are extremely important. Make sure that the legs of the mini-trampoline are made with heavy-duty steel and the bouncing mat is made of high-quality polypropylene material. The rebounder must also be waterproof and washable.
Safety
Safety features to look for in a mini-trampoline include safety pad covering the springs or bungee cords that attach the mat to the frame and a balancing handlebar. The rebounder should also have slip-free rubber feet legs, and a skid-resistant material for the bouncing mat.
Weight capacity
It is another crucial factor that decides what kind of mini trampoline you ought to purchase. A load handling capacity of 250 pounds may be considered as standard for healthy adults for good quality rebounder.
You may also like Best Pedometer for Seniors
Portability
Though mini trampolines are mostly used indoors, they can be used outdoors as well. If you plan to carry them around with you, then portability becomes an essential factor. 
The portability of a rebounder depends on two factors, its size, and its foldability. If the rebounder is of a smaller scale, it is often easily handled and stored.
Some models also are foldable and can be folded in half. Some can be folded further to 1 / 4 size, which will easily fit your car trunk or below the bed.
Noise
Though not as important as other factors for rebounders for seniors, noise too should be looked into. Usually, two sorts of mini-trampolines are available – spring type and bungee type.
With the former, the bouncing mat is fastened to the outer frame using stiff metal springs. Where as bungee cords are used in the other one. Some trampolines that are spring type may develop creaky noise after a period of use. However, the latter type of rebounders doesn't create as much noise.
Price
Some mini trampolines may require you to spend extra money to get the handle along. If you'll manage without a handle, it's an unnecessary expense.
Mini-trampolines are available in a wide price range, and therefore it is important to make a considered decision based on reviews from other users, the features that you are looking for, and the overall quality of the rebounder. 
You may also like Best Exercises for Elderly
Best Mini Trampoline and Rebounders for Seniors
#1 EnterSports 40″ Foldable Mini Trampoline Rebounder 
This product is made of heavy-duty polypropylene material; the frame cover is padded and Spring free, providing a safe jump pad surface.
This fitness trampoline is not only for adults' exercise but also for kids' fun playing. The unique design makes it folded to 1/4 size, and you can store it to your closet easily. 
It has a max weight capacity of about 330 pounds, with non-slip support legs and an elastic protective padding cover. There are adjustable and padded handrails on the mini-trampoline for a secure grip
It helps improve your flexibility, can reduce muscle pain and prevent injury by loosening up tight muscles and joints. 
Pros
Strong and durable
Safe for use of elderly: a padded frame and strong, polypropylene-based, jump surface,
Folds easily to 1/4th of its overall size

Nonslip support legs

Adjustable and padded handrails
Cons
Stability bars may lose their stability over time.

It does not come with a warranty.
You may also like Best Exercise Equipment for Seniors
#2 Beiens 40″ Mini Trampoline and Rebounder
Beiens portable mini trampoline is a perfect choice for teenagers, adults, and seniors. A spread of activities and intensity levels are often added to extend your strength training sessions and obtain the utmost benefits from your exercise routine. This trampoline features durable construction and may support up to 250 pounds. 
This rebounder's anti-slip, sweat-resistant foam-covered adjustable handrails provide increased balance, flexibility, and coordination. They also provide padding in case of accidents. Kids can use the handlebar for a secure grip to regulate their bounce. 
The frame cover of this rebounder is additionally padded that gives a safer jumping surface. The trampoline trainer uses your weight and inertia to enable a single cardiovascular workout without subjecting it to high-impact exercise strain. 
Also, it trains a good range of muscle groups, helps build muscle mass and strengthen the shoulder, hip, and leg muscles. Handlebars are often detached. 
The trampoline comes with an in-depth assembly handbook, with specific assembly steps and all parts in pictorial form, please read it carefully before Installation. Bungee and frame cover/mat is already pre-assembled, you'll set it up in minutes. 
This mini trampoline is often folded twice, saving you much space for storing and straightforward to hold. It's designed to suit small areas within the gym or reception, and its convenient size makes it portable.
Pros
Safe for kids as well as seniors.

It has a secure and adjustable handlebar for support.

Foldable mat.

Easy to assemble.

Very portable.
Cons
The weight limit is meager.

The springs may break at heavier loads.

The stitching of the mat is unreliable.
Here we have a video below that shows how to install Beiens Mini Trampoline.
#3 SereneLife Foldable Trampoline
Serenelife round jump mat is made of industrial quality polypropylene to make sure sustained bouncing and volute spring for top elasticity. Fully assembled, this rebounder's dimensions are 40″ x 35 x 46". 
The padded handlebar is adjustable, starting from 35" to 46" high from the ground. The handlebar is useful to get a secure grip and to regulate your bounce. The frame cover of this rebounder is additionally padded that gives a safe surface for jumping. 
Serenelife trampoline is both portable and foldable. Easy folding and designed to suit small spaces within the gym or reception. Its convenient size allows you to carry it from one spot to another with no hassle. 
This rebounder is an ultimate sport and workout trainer to enhance your strength and stamina. This heavy-duty trampoline features durable construction and may support up to 220 lbs.  
Pros
Highly flexible Sports Trampoline

Jumping Mat has PP Securing with a Coil Spring

Sturdy steel powder-coated frame.

Padded PVC cover gives a safe surface to jump for users.
Cons
The legs of the handlebar may break off due to overuse.

This product has no warranty.

Contacting the supplier might be difficult.
You may also like Best Pilates Spine Corrector
#4 CLORIS Foldable Portable Trampoline and Rebounder
This 40″ exercise trampoline is of good-quality pp fabric, three-level adjustable handlebar, and anti-slip soft rubber feet. 
The rebounder's strong elasticity is durable, and does not hurt the feet even after prolonged usage. This trampoline is easy to install; the two-fold design is easy to store in the box bag and stow away or carry it to any place you want to go. 
This rebounder is truly for the young at heart. Want to go back to your childhood? With this rebounder, you can do that any time of the day! It comes with the highest quality, 7 cm thick layer of high-density memory foam. Foam covered handrails of this rebounder allow for increased balance, flexibility, and coordination. 
This mini trampoline's frame is built with stainless steel. The tightly coiled rust-resistant springs provide plenty of bounce for anyone in the family.
Pros
Adjustable Foam Handle.

Efficient Indoor / Outdoor Exercise possible.

Equipped with Knee Protect Pads.

It has upgraded high-quality Spring.

It is equipped with an anti-slip cap that absorbs vibration.
Cons
Shipping weight is quite substantial.

This model is more expensive compared to others.

The spring wrap is known to become less secure with time.
#5 SereneLife Foldable Trampoline SLELT403
Serenelife trampoline is easy to fold and designed to fit small spaces in the gym or at home. The padded handlebar can be adjusted, ranging from 35" to 46" high to change the user's height. 
You can use the handlebar of this rebounder for a secure grip to control your bounce. 
This adult trampoline has an anti-pinch patent and features waterproof and weather-resistant construction for indoor and outdoor use. It provides an excellent low-impact aerobic workout. 
Pros
It is a high elastic trampoline. 

It has a steel rust-proof frame.

The PVC covers are padded which will provide a safe jump surface.

Ideal for losing weight.
Cons
It does not come with a warranty.

Mat is a bit unreliable.

Straps on the trampoline may start fraying with time.

This product is extremely fragile.
You may also like Best Stunt Stand for Cheerleading
Conclusion
We hope that the information that we have given in this article would help you make an informed selection of the best mini trampoline for seniors. Choose a rebounder that has safety features like Anti-slip feet for legs, a safety pad for the springs or bungee cords, and a handlebar for balance.
Be clear before purchasing if you'll use it indoors or outdoors. If yes, then try to get a folding model that will even fit into your car trunk. Even for indoor use, the folding type is often a blessing if you don't have much space.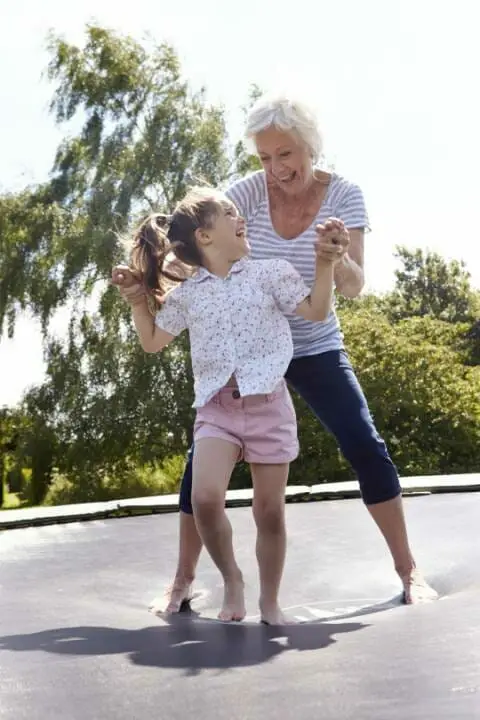 Make sure that the fabric must be durable if you want to employ it outdoors. Consider the weight of the item, too, if you would like to travel with it. Material properties also are essential.
A rugged mat and durable, heavy-duty frame and legs will provide it more strength and stability while delivering a good workout. Optimize your selection for the best mini trampoline for seniors with the budget you'll afford.
In this article, we have reviewed the best mini trampoline for seniors. In our opinion and research, the CLORIS Mini Trampoline is the best among all those that we have considered. It has everything you need in a mini trampoline, such as a secure and robust grip, heavy-duty construction, and durability, all at a great price. 
If you are looking for a value for money option, you can also consider the SereneLife Portable & Foldable Trampoline - 40" in-Home Mini Rebounder with Adjustable Handrail, Fitness Body Exercise, Springfree Safe for Kids - SLELT403, which offers great value and features at a very reasonable price point.
While we make every effort to provide updated and correct information, the advice given in this article and website should not be construed as "medical advice". Please consult with your physician or medical practitioner before using any mini-trampoline. Each individual may have his or her unique issues and your medical practitioner is the best person to decide the best mini trampoline for your seniors.
References:
[1] https://www.germanjournalsportsmedicine.com/fileadmin/content/archiv2018/Heft_2/Originalia_Nitzsche_Effect_Training_Mini-Trampolines_2018-2.pdf