Gardening is one of the most popular hobbies for older folks. It helps to make and keep people inspired, motivated, and feel rewarded being able to connect with nature and nurture and grow things from scratch.
One of the most fundamental tools for a gardener is a water hose. However, gardening can require one to spend a lot of time lugging around all sorts of heavy things, so why not minimize weight wherever we can?
A regular hose can perhaps be the heaviest gardening tool to lug around, so it would be really beneficial to find as lightweight and well-built a garden hose as possible to make watering tasks a bit less cumbersome particularly for seniors with naturally less strength.
If you have done any gardening or you have helped by watering plants, you would know how garden hoses, especially the longer ones, can become quite heavy, quite quickly. They can be extremely hard to carry around for the elderly.
Gardening hoses can become heavy duty and difficult to carry real quick, so let's keep gardening fun and make watering easier by looking into some lighter weight garden hoses (that don't skimp on build quality)!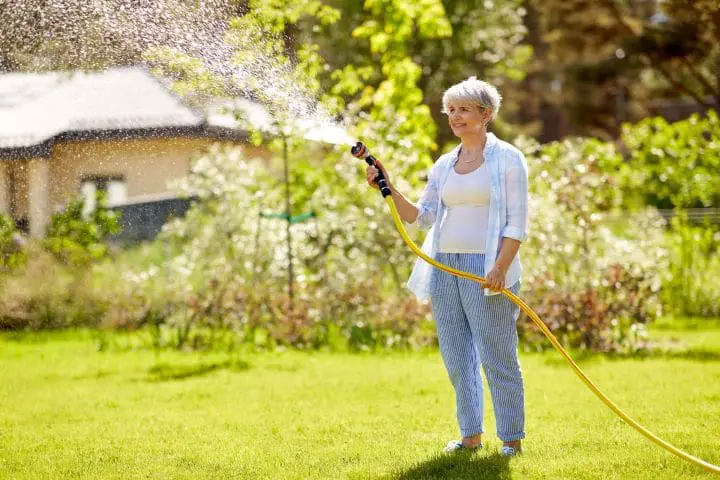 In this article, we discuss what to look for in a good garden hose and we review some of the best lightweight garden hoses for the elderly. Take a glance at the table below of our top picks, and read further for in-depth reviews.
Why do the Elderly Often Take to Gardening?
Many elderly folks like to enjoy gardening because after retirement, people tend to have more of the time and patience that gardening requires, as well as general know-how when working with natural organisms. Thus, gardening happens to be  one of the most popular leisure activities among seniors.
Gardening is a fun and fulfilling activity in itself, and yet it's also a great exercise, for both the body and mind. It is a constructive way for enjoying the outdoors as it not only provides yummy fruits and vegetables, but also allows one to develop new skills and connect with nature better.
You may also like Best Pruners for Arthritis
Factors to Consider When Buying a Garden Hose
Perhaps our key consideration when finding a garden hose for an elder to use is that it is lightweight, and yet there are other factors that we should keep in mind as well to make sure we're buying one that suits our usage best:
Weight: Every hose in our list is no more than 50% the weight of a

traditional

, with the heaviest at just 1.81 kg. This is light for a hose, but you must still be careful not to drag your hose over plants

in your

, as a hose filled with water would still weigh enough to damage your plants.
Length: Only buy the length of hose that you require. Buying extra length will provide no benefits and will increase the weight of the hose unnecessarily. You will also find that longer hoses take a longer time to drain out before you can coil them up after use. Measure the longest distance in your garden from your source of water and buy a hose that is not much longer than that length.

Note that almost every

in our selection is a

, capable of reaching a maximum length of 50 feet with

pressure, and shortening to a very manageable ~17 feet for storage.

Material: This is a tricky decision. While rubber made hoses last longer, they are heavier and more expensive. Rubber hoses also have a lower tendency to form kinks and impede water flow. Alternatively, you may find hoses made of vinyl which may not last that long but are lighter and less expensive and again, are more prone to formation of kinks. In my opinion, it is best to buy a good quality vinyl hose that lasts for a moderate time-period and is light.
Strength and Flexibility: Strength is measured by pressure of water (in pounds per square inch or PSI) that the hose can withstand, and this will be available in the specifications of the product. The more readily flexible a hose is, the less chance for it to kink and reduce water flow.
Durability and Cost: These are typically proportional factors (increase in one increases the other), so you can usually be assured that a pricier hose will be built better and last longer.
Type of Nozzle: Hoses come with nozzle and spray water in all sorts of patterns. Select a that best suits your needs.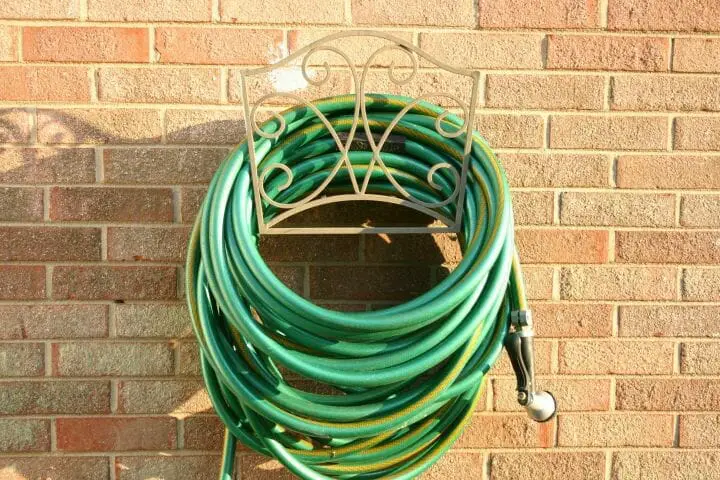 You may also like Best Gardening Tools for Seniors
The Best Recommended Garden Hoses for Elderly
#1 – Flexi Hose – Our Top Choice
Our top pick happens to one of the best rated, "Amazon's Choice" approved hoses. This certifies that the product is one of the best reviewed and most popular choices, and experiences one of the lowest return rates on Amazon. The Flexi Hose stands above the rest in our list because it's a great balance of all the features we want in a lightweight garden hose.
At just 1.27 kg, this hose is much lighter than a traditional vinyl hose. It is constructed of 2 layers, with the inner tube being latex and the outer layer being polyester. The solid brass fittings at the two ends and the rubber seal towards the water source end prevent water leaks and help to maintain water pressure.
The hose has a switch on/switch off control just below the nozzle and this is a easy switch for elders to use, so that there's no need to walk all the way back to the main water source to turn off the water while wasting water along the way.
Though it has a maximum length of 50 feet with water pressure, you won't have to roll all of that length up for storage. As you'll see with nearly every lightweight hose in our list, this retractable hose is super convenient to manage and store away after use, as it shrivels and shrinks after the water source is turned off, shortening to just 17 feet in length after your gardening work is done.
The pressure washing configuration of the hose nozzle makes this suitable for activities like car or bike washing or washing your driveway, and makes it a truly multi-purpose product, thereby helping to justify its price.
Pros
Brass connectors at the two ends are leak-proof and never allows water pressure to weaken.
Comes with 8 pattern rotating nozzle with rubber-coated trigger for convenience of use. The nozzle lets you spray water in mist mode as well as pressure washing mode.
Available in 3 lengths of 50, 75, and 100 feet.
Lightweight and weighs only 1.27 kg.
Can be shrunk to one-third of its fully expanded size once water is turned off, making it easy to store.
Minimal chance of kinking in the middle.
Cons
The expand and contract function may not last for the full life of the hose.
Cannot withstand water temperatures above 45 degrees Celsius as inner layer is of latex. However, as you'll see later, this is still on par or more capable than certain other hoses on our list.
The outer polyester layer of the hose has to potential to be damaged if you are dragging the hose over rocky surfaces.
You may also like Best Lawn Mower for Seniors
#2 –
Flexzilla Garden Hose 5/8 in. x 50 ft, Heavy Duty, Lightweight, Drinking Water Safe, ZillaGreen – HFZG550YW-E
Our second choice is a robust and strong lightweight garden hose. If you've had problems with hoses springing leaks or loose connections this is the hose for you.  It is also very easy to connect and disconnect if your hands are weak or arthritic.
Flexzilla Garden Hose 5/8 in. x 50 ft, Heavy Duty, Lightweight, Drinking Water Safe, ZillaGreen – HFZG550YW-E
EXTREMELY FLEXIBLE – All weather flexibility
EXTREMELY DURABLE – Abrasion resistant outer cover and crush resistant anodized aircraft aluminum fittings
HYBRID POLYMER – Won't kink under pressure, coils easily and lays flat with zero memory
LIGHTWEIGHT – Lighter than traditional garden hoses making Flexzilla easier to carry and maneuver around the yard
LEAK FREE CONNECTIONS AND DRINKING WATER SAFE – A durable O-ring provides long lasting leak free connections and feature an inner tube material that is drinking water safe
You may also like Best Lightweight Cookware for the Elderly
#3 – Zero-G 4001-50 Garden Hose
The Zero-G 4001-50 is also an "Amazon's Choice" approved hose, but it's quite a bit pricier than the Flexi Hose. In this particular case, a higher price tag comes with quality. This non-retractable, non-expandable hose can withstand water pressure up to 600 PSI, which is by far the highest pressure-withstanding ability of any hose in our selection. You will rarely ever experience water pressure nearing this PSI, but it's good to be assured of durability and capability of handling a high flow rate.
Its couplings at both ends are crush-proof up to 900 lbs and provide a leak-proof watering or washing experience. It also has a high-density fiber jacket that protects the hose from damage when dragged across rough surfaces.
The hose is compatible with most hose reels. However, it does not come with a nozzle, which is a bit disappointing considering the price. You will need to purchase a nozzle separately.
The product does not kink or constrain water flow even when it is stretched around tight corners, which allows for a consistent flow of water.
These are very easy to coil even when you are not using a hose reel. In case you have a larger garden and require more than 50 feet of hose, you may want to purchase two of these and a connector so that you have the option of connecting for a total length of 100 feet or disconnecting the two hoses for different jobs.
Pros
Durable product with high water pressure withstanding ability of 600 PSI, by far the highest PSI in our selection.
High-density fiber jacket to prevent damage on rough ground.
Lead free construction, so it is safe for drinking water.
Good quality and durable couplings reduce chances of leaks.
Compatible with most hose reels.
Cons
The heaviest hose on our list at 1.81 kg. Note that this is still roughly half the weight of a traditional vinyl hose

or

.

Low maximum feed water temperature of 80 degree Fahrenheit (or 27 degree Celsius).
Does not come with a nozzle. You will have to purchase a nozzle separately.
You may also like Best Lightweight Coffee Mugs for Elderly
#4 – GrowGreen 2019 Garden Hose
A great garden hose should be able to cover a large area and yet remain compact and lightweight. The GrowGreen expandable garden hose falls into the category and serves its purpose very well. Like the range of lightweight hoses in our selection, the GrowGreen can expand up to 3 times its size when there is the standard water pressure in it, from 17 feet to 50 feet. With its ability to shrink, you need not worry about storage space as it is compact and fits in a small space easily.
No products found.
The hose comes with a spray nozzle with eight spray patterns. The strong construction material and brass connectors ensure that the hose is durable and has a secure fit, and does split open from high water pressure while in use.
With this hose, you can forget about the ruptures and leaks once and for all. The water pressure that this hose can handle is up to 145 PSI making it a fairly high pressure-resistant hose. The durability of the product is such that it can last for years. 
Pros
Brass connectors ensure a secure fit for the parts of the hose.

It is high water pressure-resistant up to 145 PSI, ensuring that the hose does not get damaged from high water pressure.

Eight patterned nozzle ensures ease of use and reachability.

The compact nature of the hose allows you to store it easily. It can expand up to 3 times its original size while in use and retracts back when finished.
Cons
A few users have found that their unit begins to leak water at the nozzle coupling after some use. Be sure to check your hose for leaks within the return policy timeframe of 30 days.

After prolonged use, the hose retracts unevenly at places.
No products found.
You may also like Best Lightweight Portable Chair for Seniors
#5 – Kareeme Garden Hose
The Kareeme expandable garden hose is the final expanding hose in our list and has a four-layer leak-proof design to prevent water leakage. The inner 3 layer latex core prevents the hose from developing leaks and the outer layer is made of polyester to provide a convenient kink-free and tangle-free garden watering experience.
Once again, this hose stretches 3 times its starting size (from 17 feet to 50 feet) when water runs through it. The Kareeme hose is lightweight at just 1.11 kg, and is the lightest of the lightweight hoses in our selection! Despite its light weight, it can withstand a pressure of 175 PSI.
Comes with three extra rubber washers and a hanging bracket, but does not come with a nozzle. A nozzle will need to be purchased separately.
Pros
The valve at the watering end of the hose can be used to turn off water and saves water as well as trips back to the water source.
Can withstand water pressure up to 175 PSI.
Available in sizes of 25, 50, 75, and 100 feet.
Compatible with a range of spray nozzles.
The lightest hose in our selection at just 1.11 kg.
Cons
Does not come with a nozzle, which has to be bought separately. One of only two hoses in our selection without a nozzle included (other being the Zero-G).
The hose cannot be used with water with temperatures greater than 45 degree Celsius.
If the water pressure is less than 40–80 PSI, it may not expand to its full length.
While contracting after water is turned off, the hose may require a bit of help from you to fully contract to it shrunken length.
You may also like What is the Lightest Weight Rollator Walker
Frequently Asked Questions
Q. How can I care for my garden hose and keep it in great condition?
Following these best practices to help you care for and maximize the life of your garden hose:
After you are done using your hose, turn off the water source and let as much water drain out of the pipe as possible. Not turning off water source can burst your hose as the nozzle will cut off water supply and keep the water pressurized in the hose.
Avoid moving the water filled hose by the nozzle. The hose along with water is quite heavy and the nozzle may come loose over time.
When storing away for the winter, ensure that you store your hose in an indoor space (such as a garden shed) with all the water drained out and the hose coiled in a comfortably large radius (not too tight, otherwise kinks will develop).
Try not to leave your hose outdoors in the harsh sun for too long, as it can dry and may develop cracks which can result in leaks in the long run.
Q. How do I keep my garden hose from developing kinks?
The expandable hoses in our lightweight selection are far less likely to develop kinks thanks to their shriveling and expanding nature and the typical latex and polyester build composition, but may still develop kinks on rare occasion. To prevent kinks, try to keep your hose straightened when not in use, and keep the hose wound in a larger diameter when storing so that it does not fold into itself.
Q. What are some benefits of gardening?
Physical exercise: Gardening certainly counts as physical exercise and keeps your joints and muscles in good working condition. Gardening activities require you to frequently bend, pick up, and lift tools (garden hoses can be quite heavy), and so is a great way to keep activity and keep the body moving for people of all ages!
Keeps you learning: Gardening gives you the opportunity to learn new skills and keep your mind active. A sedentary lifestyle in older age tends to affect your cognitive abilities alongside your physical abilities. Gardening keeps you motivated and inspired and offers you new lessons to learn all the time.
Fresh vegetables & fruits: Gardening also allows you to produce your own fresh fruits and vegetables in your own backyard! Not only does this save you trips to the grocery store, but it also tends to be healthier to eat freshly grown produce (where you have control over pesticide use and genetic modification) than ones bought from the market. You will enjoy the fruits of your labor, literally!
Here is a video that illustrates some of the health benefits of gardening:
Q. Aside from my garden hose, what are some other essential gardening tools that I should find if I'm just getting started?
Cutting tools like pruning shears and loppers are essential. Digging tools like a garden fork, hand trowel, spade, rake, and hoe are important too. Make sure you have a suitable nozzle or watering wand for your hose. You may like to use a watering can for gentler watering tasks, or a pressure washer for tougher tasks too. You'll also want gardening gloves of course, a kneeling pad to kneel down comfortably, and perhaps a wheelbarrow to help cart objects.
You may also like Best Garden Kneelers with Handles
Parting Words – A Top Priority Garden Tool
We believe that if there's one key gardening tool to buy carefully, it's the garden hose. With most traditional garden hoses being so heavy alongside other common issues like kinking and difficulty storing, a specialty lightweight garden hose is an easy and smart investment for your gardening hobbies.
Advances in materials technology have drastically improved garden hoses the last decade. The hoses we have gathered in our selection here are all within half the weight of a conventional hose, are resistant to kinking, shorten at the end of use to a very manageable length, and are built with durable materials.
In our opinion, the Flexi Hose comes with all of the essential features we want to see in a great lightweight garden hose and is approved as an Amazon's Choice product. It also happens to be one of the best value of money options available.
If you're willing to a handle a still-lightweight hose that is a bit heavier but quite a bit more durable, you may want to consider the Zero-G 4001-50, as it can withstand pressures of up to 600 PSI. However, you'll need to part ways with a bit more cash and still purchase a nozzle separately.