Scoliosis is an abnormal curvature of the spine that can severely affect your lifestyle by limiting your daily activities like walking, running, lifting weights, and exercising.
Those individuals suffering from a more advanced case of scoliosis may be bound to a wheelchair.
However, even if your case is mild scoliosis, your physical abilities may not be at their full potential.
While walking or even brisk walking is fine, your backbone may undergo some compression during long-distance jogging, running, or jumping, which is not advisable if you are a scoliosis patient as more heavy activities may aggravate your scoliosis. It is highly recommended that you consult your physician before engaging in these more physical activities on your feet.
If determined by your physician that you may engage in walking or running activities, now comes the importance of finding suitable footwear to support and aid your condition.
In this article, we will discuss scoliosis, its effect on lifestyle, and review some of the best shoes for scoliosis-affected individuals. The table below gives a quick snapshot of our top selections, and read on for our more detailed reviews.
What is Scoliosis?
Scoliosis is an abnormal curvature of the spine, in which the spine can take the shape of a 'C' or 'S'. Scoliosis can develop in children in their growth phase, while adults may suffer from the condition in their later life as a result of leg length discrepancy, muscular dystrophy, cerebral palsy, osteoporosis, or mistreated physical trauma.
Anywhere between 2 to 3 percent of the population of the United States suffers from scoliosis. Scoliosis can develop quite early in one's childhood (as early as infancy), but for the most part, it is seen developing around 10-15 years of age. According to another study by NIH, 68% of people above the age of 70.5 years may have a form of scoliosis. Therefore, it is quite a common condition among seniors.
Here we have a video that demonstrates some exercises that you can do to help with scoliosis.
Why Does Scoliosis Occur in the Elderly?
Typically, scoliosis occurs or aggravates in the elderly due to three reasons. The first reason is the clearer case in which the individual was diagnosed with scoliosis as a child, and the condition has continued to exist after skeletal maturity. There are two other causes for how scoliosis appears in old age:
Degeneration of the disks or compression of the discs of the spine alters the curvature of the spine. This is often caused by loss of calcium in adults leading to reduced bone tissue.
Result of an accident, physical trauma, or severe injury, which is also known as traumatic scoliosis.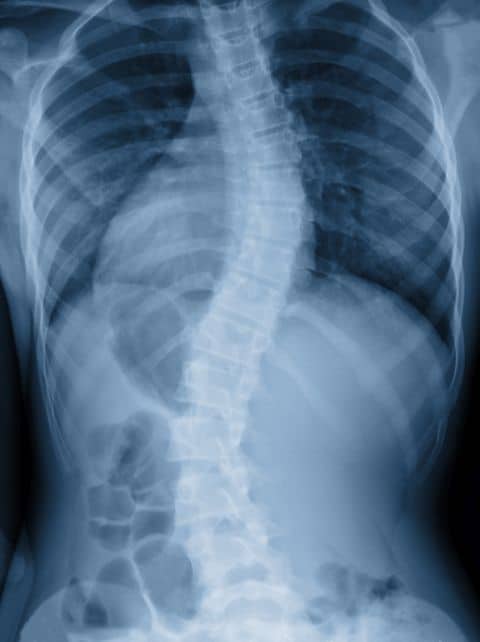 You may also like Best Shoes for Hip Pain
What Footwear Can You Wear with Scoliosis?
If you are suffering from scoliosis, you should ideally avoid sneakers or shoes that have a high heel lift or those which are absolutely flat. You should ideally be wearing an athletic shoe with ample cushioning, good arch support, and with a slight heel, probably at an inch and half and slightly raised than the forefoot.
Here are some features to look for when shopping for sneakers for scoliosis:
Fit: With scoliosis, you should wear as comfortable shoes as possible, and this starts with your sneaker size. It is advisable that you wear half a size larger than your normal wear so that your forefoot and toes do not scrunch up at the front. Many sneakers from popular brands come in a wider fit, so if you find your feet could use more breathing room, give the wider fit a try.
Stability and Arch Support: Your sneakers should have lace holes that cover as much of the midfoot as possible to ensure a snug fit. It should also have good firm arch support, which will help to avoid extra weight being transferred to the toes or your feet's outer curve. If you still find that there is too much pressure on your toes or feet's outer curvature when walking, consider looking into special shoe inserts with firm arch support that can replace the shoe's original insole.
Low Heel: It is more comfortable to wear slightly raised sneakers if you have scoliosis. The heels should be at a tad higher level than the forefoot part of the sneakers, and not much higher than that.
Grip: Reduce risk of slipping, falling, and potentially exacerbating existing injuries by choosing a shoe with a rubber outsole for both durability and a strong grip on the ground. All of the shoes featured on our list have a solid rubber outsole.
You may also like Best Shoes for Spinal Stenosis
Best Sneakers for Scoliosis for Women
Ladies first! We will take a look at some of the best sneakers women can wear; if you're suffering from scoliosis, these will be perfect for you. They are arranged in the order that we like and recommend them. Further down, we will take you through some great sneakers for men suffering from scoliosis.
#1 – ASICS Women's Gel-Venture 5 Shoe – B
est Shoes for Scoliosis
ASICS Women's Gel-Venture 5 Shoe is our top choice for women's sneakers for scoliosis.
The shoe is made of 100 percent synthetic mesh fabric for easy ventilation and long-wear comfort. The Gel cushioning system provides really supportive soles that effectively absorb shocks to your body when taking steps, making for a comfortable walking experience.
Even more, this sneaker comes in wide fit versions, and the foam sock liner is removable and can be replaced with orthotic insoles, allowing for customization of cushioning, arch support, and heel support for those who need the adjustment.
Pros
Comfortable rubber outsole with outdoor traction and g

ood arch support.

Can accommodate orthotics or inserts.

Good support and padding for the Achilles' tendon.

Breathable fabric, comfortable to wear for long use.

Thick heels of carbon rubber for durability and good shock absorption.

Available in 10 different colors and designs.

Sneaker sizes come in wide fit versions.
Cons
Sole is rubber but may still be prone to slipping on wet and slippery floors.
Some users have found the cushion feeling to be lacking, so consider purchasing softer, thicker insoles if needed.
What Makes the ASICS Women's Gel-Venture 5 Shoe the B
est Shoes for Scoliosis
Excellent grip on all sorts of ground surfaces with a sturdy and durable rubber outsole. The outsole has lugs, making the shoes suitable for both pavement and trails.
A reliable and comfortable GEL cushioning system that is sure to easy ground impact for those living with scoliosis. Gel cushioning materials will not flatten out over time, ensuring many miles can be covered in these durable shoes.
Great fit is ensured with availability of both regular and wide widths, as well as a breathable upper and a secure lacing system that Asics is known for.
You may also like Shoes for Elderly with Balance Problems
#2 – Ryka Women's Sky Walk Walking Shoes –
Best Walking Shoes for Scoliosis
These shoes are made of mesh fabric with leather overlays for support to the shoe frame. The shoes have high lace holes for lacing up to ankle level and have deep grooves or treads for a better grip on any surface. They are a great value for your money option as they offer many of the features of the best shoes on our list while remaining lightweight and relatively inexpensive.
Pros
Memory foam insole helps to adjust to your weight and walking profile.
EVA midsole provides ample cushioning support.
Very lightweight at just 7.9 ounces.

Deep lacing options provided with lace holes extending high, reaching the ankles.

Mesh fabric makes the sneaker well ventilated for warmer weather.

Reinforced double stitching for added durability.

Rubber outsole for durability and good grip on ground.

Available in 12 colors and designs.

Is good value for your money.
Cons
The wider version available for each foot size is wide at the ball of the foot but tapering near the toes, which makes the toe area smaller for some foot sizes and shapes. Ensure that you keep a size that suits you, and if smaller, consider going up half a size.

May be prone to quality control in which the memory foam insole is cut short and does not cover the entire inner platform of the shoe. When shopping, make sure your shoes are free of defects and exchange if necessary.
What Makes the Ryka Women's Sky Walk Walking Shoes the
Best Walking Shoes for Scoliosis
These shoes by Ryka have a lower stack height than the Asics, making them stable to walk on. However, memory foam and molded EVA still ensure plenty of impact protection from the ground for those with scoliosis.
Less rubber traction than the Asics due to lack of lugs, but still plenty of outsole rubber covering the entire bottom surface of the molded EVA, lending to a durable outsole that will last plenty of mileage.
A more affordable option on our list at more than half the price of the Asics, allowing those with scoliosis to have a comfortable shoe on a budget.
You may also like Best Shoes for Venous Insufficiency
#3 – Gravity Women's G-Defy – B
est Sneakers for Scoliosis
These sneakers are made of mesh fabric with leather overlays and use patented Versoshock technology, which does a solid job of absorbing the shocks that are generated ground up while walking and running. The shoes also come with removable insoles for users to replace with orthotic supports.
What's great about these shoes for those with scoliosis is they feature an extra roomy toe box to help ensure properly dissipated pressure on the feet and a better overall posture when walking. They even come in wide and extra wide fit options for a more customized fit if needed.
Pros
Extra roomy toe box for more dissipated pressure and toe wiggle room.
Option for wide and extra wide forefoot size for each shoe size to offer better fit customization.
Option for high lacing with lace holes extending up to ankles.
Mesh fabric offers a breathable experience during longer usage.
Comfortable cushioning on ankles, heels, and Achilles' tendon.

Available in 8 vibrant color schemes and designs.
Cons
On the expensive side.
Lacking in good arch support. Those with higher arched feet or those prone to midfoot pain may like to look at other options with sturdier arch support.
A fairly heavy shoe.
What Makes the Gravity Women's G-Defy the B
est Sneakers for Scoliosis
This offering by Gravity is one of the most accommodating choices on our list, due to its availability in wide and extra wide sizes, as well as a roomier toebox than most others. As a result, those with a wider midfoot and forefoot can be assured that they can take comfortable steps with plenty of space for the toes to splay. Comfortable feet make for a comfortable back.
Thanks to the lacing system, users can be assured that they experience less heel slippage and a more secure midfoot fit. The last thing a person with scoliosis will want is a rolled ankle due to a shoe that does not fit securely.
Midsole utilizes Versoshock technology that provides comparable impact protection to most EVA foams and other midsole materials.
You may also like Best Posterior Walker or Gait Trainer
#4 – New Balance Women's 928 V3 Walking Shoe
These sneakers are made of leather and textile and are available for a range of customized foot shapes, from narrow to ultra-wide. The sole is made of rubber with an outer layer of carbon rubber for durability.
The sneaker comes with a polyurethane insole which is removable to allow for better fitting and comfort customization.
Pros
Reinforced double and triple layer stitching at high-stress areas for durability.

Good arch support and ample cushioning on the heel and the Achilles' tendon.

Durable sole with a reinforced layer of carbon rubber.

Comes in the most width options of any women's shoe on our list – ample options for each foot size include narrow, wide, extra-wide, and ultra-wide.

Rubber sole grips ground well, preventing slips.
Cons
Being a smooth leather and textile sneaker, these have very minimal ventilation, so your feet may suffer from perspiration from longer use.

Narrow treads on the sole may affect grip on slippery surfaces.

One of the heavier shoes on our list at 11 ounces.
You may also like Best Pilates Spine Corrector
Best Sneakers for Scoliosis for Men
Men who have come this far looking for a good pair of sneakers for scoliosis will be pleased that we have some great options for you. Without further ado, let us dive into our list.
#1 – Under Armour Men's Charged Running Shoe –
Best Running Shoes for Scoliosis
Under Armour Men's Charged Running Shoe has our top spot for men's sneakers for scoliosis.
These running shoes are made of polyester and elastane, with leather overlays on the collar, lace holes, and the front of the shoe for greater durability and longevity. The shoe has rubber soles for good shock absorption, and an extra-wide 4E sizing is available to runners with wider feet.
Pros
Breathable textile shoe upper for long comfortable periods of use.
Good, Under Armour Charged foam cushioning on sole and forefoot, as well as collar of the shoe for better absorption of shocks.
Comfortable and suitable for heavier users.
Leather overlays on the rims and midfoot for greater durability and stability.
Extra lace holes help you to tie and secure the midfoot for a better running experience.
Available in 15 colors, lighter as well as some bright and vibrant colors.
Cons
All colors come with white outer soles, which may become dirty on outdoor use. May require regular cleaning to maintain color.
Relatively affordable for a large brand like Under Armour, but is less expensive with fewer premium materials than Under Armour's more premium range of sneakers.
What Makes the Under Armour Men's Charged Running Shoe the
Best Running Shoes for Scoliosis
These running shoes by Under Armour boast of running features in a number of ways. A lightweight upper and a sculpted and lightweight midsole create for an overall light shoe suitable for quicker runs or long-distance mileage.
A wider midsole makes for plenty of lateral stability, allowing for users to make turns confidently without rolling of ankles.
On top of the Charged cushioning, an EVA insole adds a bit of extra comfort when stepping into the shoe and with each impact with the ground.
Plenty of color options and sizes (including wide sizing), all at an affordable price from a leading manufacturer.
You may also like Can Plantar Fasciitis Cause Hip Pain
#2 – Nike Men's Lunar Fingertrap Cross-trainer –
Best Trainers for Back Pain
Another great option for men from another popular and reliable brand. These Nike sneakers are made of a blend of textile and synthetic mesh to provide good ventilation for your feet. They have a dynamic fit technology that includes intertwined bands below the lacing that ensure a more snug fit. Additionally, a multidirectional pattern on the rubber outsole allows for more stability when changing directions while moving.
Pros
Solid rubber sole with multidirectional patterning for good grip even on slippery surfaces.

The mesh and gaps in the intertwine make for a breathable shoe style.

The intertwined bands in the middle of the shoe at the laces help in a gripping fit for the midfoot, thereby providing all-round support for your feet.
Good firm arch support, so potentially no need for orthotics.
Good cushioning on the heel and ankles offer a comfortable wear.
Cons
Nike sneakers in general tend to run more narrow, so consider trying half a size up, especially if you have wider feet. You will want to ensure you have enough room in your midfoot and toe box for a comfortable and stable fit.
What Makes the Nike Men's Lunar Fingertrap Cross-trainer the
Best Trainers for Back Pain
The sneaker-making might of Nike is unquestionable, and the Lunar Fingertrap Cross-trainer proves the company can make shoes suitable for those with back conditions too.
Dynamic-fit technology via a special synthetic leather weave in the midfoot makes for a comfortable upper fit for just about any foot. Do note, however, that you will need to check that the sole provides enough room for your feet to spread out as Nike shoes tend to run a bit narrow compared to other sneaker manufacturers.
Patented Nike Lunarlon midsole foam is plenty cushy and comfortable, giving way at pressure points but also providing enough support for those who need it.
A multi-directional outsole pattern allows for the shoe to flex when taking steps or exercising.
#3 – Vionic Men's Walker
These final sneakers to make our list are made of real leather or suede and come in 7 different color schemes and designs. It uses an Active Motion System (AMS) technology, which provides good support to the heel and arch of the foot and helps with foot pain.
The sneakers have garnered a seal of acceptance from the American Podiatric Medical Association (APMA).
Pros
Upper is constructed of 100 percent leather or suede.
EVA footbed provides cushioning on collar, heels, and back of the feet.
Good support for the arch of the foot.
Durable rubber sole with carbon rubber outer layer.
Available for wider foot shapes for each foot size for a customized fit.
Cons
Thin treads on the sole may not grip well on wet and slippery surfaces.
The outsole has been found to separate from the leather upper for heavier users after a few months.
You may want to order a larger size for a comfortable fit, as they can potentially run a bit small.
You may also like How to Get Elderly Walking Again
Frequently Asked Questions
[sc_fs_multi_faq headline-0="h3″ question-0="Which features of shoes for scoliosis matter the most for reducing or eliminating scoliosis pain?" answer-0="Proper fit and adequate comfort and support and among the most important elements to keep in mind when shopping for a pair of shoes for one who has scoliosis. Ensure that the shoes fit snug enough so that the feet do not shift inside them, while also leaving enough room in the toe box so that the toes can stretch. Ensure that there is adequate lacing to secure the midfoot, and the insole and midsole offer good arch support that suits the height of your foot arch. Finally, a shoe with a rubber outsole will allow for better grip and help prevent slipping. " image-0="" headline-1="h3″ question-1="Which brands are the best for reducing scoliosis pain?" answer-1="Many brands offer sneaker models that have many of the features we recommend in a pair of sneakers for scoliosis. More popular mainstream brands like Nike, New Balance, or Under Armour, or review-backed reliable brands that specialize in orthopedic shoes are good bets." image-1="" headline-2="h3″ question-2="Should I wear shoes with softer or firmer soles if I have scoliosis?" answer-2="Pick a shoe that has a firm enough arch support and also the overall stability you require in the forefoot and heel so that you do not risk rolling your ankles. Beyond that, ensure the insole and midsole are soft enough that your feet can endure walking for extended periods with minimal fatigue. Most third-party manufactured insoles will tend to be thicker and softer than the original insole that comes with shoes, and will likely serve as good insoles for scoliosis. " image-2="" headline-3="h3″ question-3="What about scoliosis and high heels? Can people with scoliosis wear heels?" answer-3="Heels create risk for instability or poorer posture for those with scoliosis or back pain. As a result, we do not recommend wearing heels for most individuals with these conditions. Instead, we recommend a heel height that is just slightly higher than the forefoot. " image-3="" count="4″ html="true" css_class=""]
You may also like Best Shoe for Heavy Runners
Parting Words: Posture and Stability Start at the Feet
Shoe technology has taken great leaps in the last couple of decades, creating more options than ever to give our aged feet a more comfortable walking experience. If you are suffering from scoliosis pain, spine curvature, neck pain, bad pronation, or bad posture in general, now is a good time to take advantage of new shoe technologies and invest in a reliable pair of orthopedic shoes, as they will certainly make for more comfortable and stable walks and will help you avoid aggravating your condition.
In fact, you may be well advised to consider wearing a pair of sneakers for walking around within your home as well, as flip-flops and some indoor slippers are entirely flat and will not help your condition. We recommend avoiding any flat footwear and make a choice to pamper your feet with more cushioned and supported footwear, as our feet are an often neglected part of the body that is prone to wear and pain that can create consequences for other parts of the body if not addressed.
Let's do a recap of our top picks for the best sneakers for scoliosis:
B
est Shoes for Scoliosis:

ASICS Women's Gel-Venture 5 Shoe

In our opinion, the ASICS Women's Gel-Venture 5 Running Shoe, Silver Grey/Turquoise/Lime Punch, 6 M US is our very top choice for best shoes for scoliosis, as it checks off the boxes that make for a good scoliosis shoe. It features a reliable grip on all sorts of surfaces with its rubber lugs, provides plenty of durable cushioning with its Gel technology, and Asics has ensured you'll find a suitable fit.
Best Walking Shoes for Scoliosis:

Ryka Women's Sky Walk Walking Shoes

Next, we put some emphasis on walking. The Ryka Women's Sky Walking Shoe, Black/Pink, 5 are great for just that, with a comfortable EVA midsole and memory foam insole, as well as still solid rubber traction. All of this comes at one of the more affordable prices on our list.
B
est Sneakers for Scoliosis:

Gravity Women's G-Defy

Those with scoliosis and wider feet will want to consider this one. The comes in both wide and extra-wide sizes, so those with more substantial feet will likely be able to find a sizing that suits them. On top of that, Versoshock technology in the midsole claims comfort with every step.
Best Running Shoes for Scoliosis:

Under Armour Men's Charged Running Shoe

Here, we get into the sportier category of shoes. The Under Armour Men's Charged Assert 8 , Black (001)/White , 7 will be one running shoe to look into if you would like to run with scoliosis. Under Armour constantly works on more comfortable midsole technologies, and their Charged cushioning in this shoe is a comfy step in the right direction.
Best Trainers for Back Pain:

Nike Men's Lunar Fingertrap Cross-trainer

Perhaps the biggest brand name on this list makes the cut with their Nike Men's Lunar Fingertrap Cross Trainer, Anthracite/Black, 6.0 Regular US a fancy looking shoe that is more than just looks. The unique weave in the midfoot actually helps to secure the midfoot cage in a flexible manner. Beyond that, these Nike shoes have a wider sole to allow for lateral movements if using these shoes for stability or training.

We hope this article was helpful for you if you are walking with scoliosis. You might also like to read about other excellent running shoes in our more generalized round-up review of the Best Running Shoes for Seniors.