In this article, we evaluate some of the top cervical neck traction devices available on the market and select the best ones for you to consider buying. If you are in a hurry, the table below gives a quick snapshot or you can scroll down for detailed reviews.
Features
Headrest is lined with contouring memory foam.
Device has a pump in place for inflating/deflating the brace
It has a free eye mask to help you relax.
Metal bar to be inserted in the doorway/wall is adjustable in length from 24 inches to 39 inches
Pros
Comfortable to use, fits well on your head and neck
Velcro fasteners face downward so that when blown up they don't get in the way
Can be installed in multiple ways
The product is a lot easier to assemble and install than others
Cons
Despite the carry bag, it is a heavy device to carry around
The brace pads push up on the chin, which can cause pain in the jaw and face.
Pricier than other options
Chin strap can be too long for some people. It is fairly long even for normal neck sizes.
Have you ever had consistent pain in the neck, or felt tightness in the neck muscles?
The modern-day work environment includes having to work several hours a day hunched over a laptop or electronic device for most of us. This is causing serious issues with our neck and back, which were not designed for this kind of bad posture.
The human neck is a complex mesh of nerves, tendons, muscles, and bones that have evolved to be able to rotate up to almost 180 degrees.
This is possible due to the presence of a complex structure of 7 cervical bones connected by intervertebral discs which give the neck the ability to rotate on its axis.
Unfortunately, poor posture and bad habits cause damage to these discs, thus compressing the distance between bones, pinching the nerves in the neck, and reducing blood flow to and from the neck. This is one of the main reasons behind neck pains.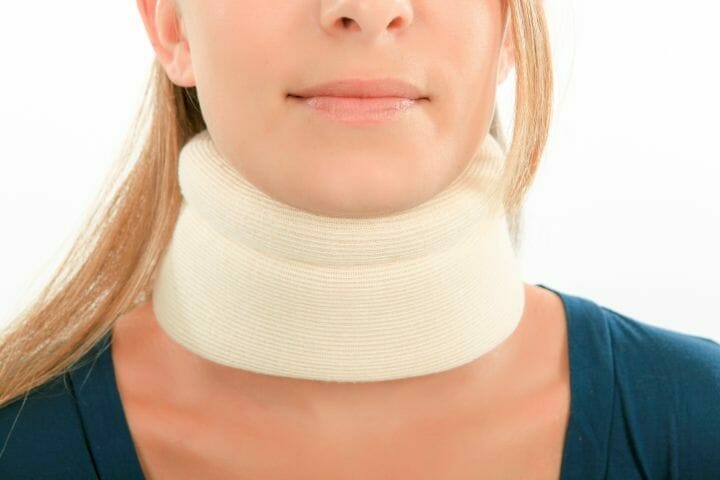 What is Cervical Neck Traction?
Cervical neck traction is a therapy that gently stretches the neck to increase the distance between cervical discs, which helps to alleviate neck pain and other associated problems.
Some problems for which cervical traction might be recommended are:
Herniated or bulging discs in the neck
Neck strains
Cervical muscle spasms
Compressed Vertebrae
Dowager's Hump (upper back hump)
Muscle Tightness
Osteoarthritis
Physical and Mental Stress/Anxiety
Poor Posture
Poor Sleep
There are 4 major types of cervical traction devices:
Inflatable air neck traction devices
Over the door traction devices
Neck posture pumps
Neck traction hammocks
Here we have a video that shows how to use cervical traction device correctly.
Inflatable Neck Traction Devices
Inflatable neck traction devices consist of an inflatable neck brace, which can be inflated to the desired size by using a hand pumping device attached to the brace. This device is worn around the neck and as it gets inflated, it straightens the neck and helps reduce the stress on the cervical disks, which in turn reduces the pain.
These devices are easy to use, highly portable, and can be used both sitting and lying down.
Below are our top picks for inflatable neck traction devices, based on user ratings and comments.
#1 Branfit Cervical Neck Device
The Branfit neck traction device is a pocket-friendly, lightweight product which comes in an all-suede facade and works well to increase neck traction and reduce neck pain. The product has been known to be effective for neck pain, radiculopathy, pinched nerves and other cervical disc-related problems.
It has a specially designed non-itchy material and an extra-large velcro strap that fits larger sizes. The traction provided is strong enough for more severe cases as well. Customer service on the product is extremely good, with easy refunds in case of dissatisfaction and customized thank you note.
The device comes with clear instructions on usage (10-15 minutes for the first two weeks, thereafter as per pain level). Apart from treating neck pain, the manufacturer claims that it can also be used for back and shoulder support, and for posture correction.
Pros
Great customer service
Inexpensive
Durable – high quality of materials used
Lightweight, easy to carry around
Cons
Some customers complained of the device hurting their jaw
Despite the claim of fitting all sizes, it does not fit people with large necks
#2 inflatable Neck Traction Device By FORENT
The Inflatable neck traction device by Florent comes with a soft velvet exterior made from high-quality medical-grade material. This is again a fairly inexpensive option and comes with a great kicker – a lifetime warranty for the product.
Like other inflatable neck traction devices, it is easy to use, portable and when used on a daily basis does lead to relief from neck pain, pinched nerves, and other cervical-related problems. While correcting neck posture, this device also focuses on improving the jaws.
Pros
Easy to adjust and inflate
Soft velvet material
Easily portable
Cons
Some cases of a strong chemical smell emanating from the pump have been reported
At times, the device may leak air causing the product to become useless
Doesn't accommodate larger neck sizes
#3 K'smarts Neck Traction Device
The K'smarts neck traction device comes with several good features: extra long straps, soft velvet outer covering, high-quality inflation pump and an extra air control valve.
The device comes in a nice packaging with a detailed user manual and a protective travel bag, in which the device can be safely and easily carried to any location.
K'smarts also provide a 100% lifetime guaranteed refund policy.
Pros
Great service, easy replacements
Easy to carry around in its pouch, portable
Soft velvet exterior for extra comfort
Cons
Sometimes, the product is shipped without the pump
On the expensive side as compared to peers
#4 MEDIZED Cervical Neck Traction Device
The MEDIZED neck traction device is again a soft, velvet-covered neck brace with a pump to inflate the device.
Like others on this list, this device has a pump in place for inflating/deflating the brace. It is lightweight, good for travel, and very easy on the pocket. It has a no-itch design and is comfortable to use
Pros
Velcro fasteners face downward so that when blown up they don't get in the way
Durable and high-quality material
Inexpensive
Cons
The brace pads push up on the chin, which can cause pain in the jaw and face.
You may also like Best Pilates Spine Corrector
Over the Door Cervical Traction Devices
Over-the-door cervical traction devices work by tying a harness to your head and chin while sitting down and stringing the other end over a door through pulleys. The other end is connected to weights or a sandbag/water bag which applies force on your neck, thereby releasing pressure on the cervical discs.
The products mentioned below are the only ones that met our criteria for user rating.
#5 Drive Medical Overdoor Traction Set
The drive medical overdoor traction set has a heavy-duty head halter, self-attaching closures, all connected to a 12-inch steady bar and the kit also has the required rope and a water holding bag. It is a complete kit for over door cervical traction.
At a measurement of 15 inches (length) X 7 inch (width) X 3.25 inch (height), this device is fairly compact and can be used comfortably on almost any door. The attached water bag is useful for measuring the exact amount of weight that needs to be used in order to get the right traction for pulling up the neck above the shoulders.
The strap is machine washable for long term usage. The device comes at a very wallet-friendly price and is useful to alleviate cervical related problems without having to spend a bomb on visits to the therapist or chiropractors.
Pros
The device is very reasonably priced, considering the complex parts involved, and the time and money it saves
It is fairly easy to use, once the initial weight adjustment is completed for the first time
Cons
The velcro strips to connect the back of the harness to the front (under chin) are small
#6 Soulern Doorway Cervical Traction Set
While not exactly an over-the-door traction device, this device falls under the same category. The Soulern doorway cervical traction set is an overhead traction device, wherein a bar is affixed by its two corners to a wall/doorway and the traction device is set up on the bar, instead of through a pulley with a weight attached to the other end. The weight of the body is pulled down by gravity while the device holds the neck in place.
The device itself is sturdy, built out of heavy-duty steel. The metal bar to be inserted in the doorway/wall is adjustable in length from 24 inches to 39 inches. The chin cover has comfortable padding and is sewn into a medical-grade strap.
The traction device is great for stretching your neck to relax your neck muscles, improve blood flow and align the spine properly.
Pros
The product is a lot easier to assemble and install than others
Provides good traction without having to measure water for the right pressure amount every time
The materials used in its manufacturing are sturdy, the product is durable
Cons
The rubber end which holds the bar tightly in the wall is known to become lost at times. This can cause injury if the bar falls down
The chin strap can be too long for some people. It is fairly long even for normal neck sizes.
#7 Vinmax Over The Door Cervical Traction Set
The Vinimax over the door cervical traction set is a cross between an over the door product and a hanging bar product. While the device is affixed to a door frame it doesn't have a heavy rod that needs to be installed, rather the metal traction frame affixes itself to the door and the traction cable runs down to a traction belt hook (like a hanger) and connects to the traction belt.
This gives the device the best of both worlds – it does not have the heavy metal bar which can accidentally fall down and hurt the patients, and at the same time, the device is able to harness the gravitational pull to improve neck posture without having to mess around with water bags/sandbags.
At 2.3 pounds it is quite lightweight and inexpensive as compared to other products in this type of cervical traction devices. It is easy to set up, easy to use and comes in adjustable sizes to fit all kinds of neck/head shapes and sizes.
Pros
Cost-effective product
Does not involve pulleys and heavy metal bars
Provides good traction
Lightweight product, easy to carry around.
Cons
All instructions are provided in Chinese. This makes it very difficult to install the product on time.
The cord connecting the brace to the door mount is weak.
Cannot close the door after installing this device, since the device is not flat at the top
Not enough clearance for taller people
You may also like Best Posterior Walker or Gait Trainer
Posture Pumps
Posture pumps do not require any external forces such as water bags or gravitational pull. Instead, they use hand pumps and uniquely angled air cells to generate the necessary push to re-align the cervical discs.
The neck posture pump settles around the head, is secured around the base of the skull and a strap on the forehead. By making adjustments to various setting options, one can specify the amount of pressure that needs to be applied to expand the neck.
Posture pumps are typically heavier, much more expensive, and provide much stronger traction than over the door and inflatable neck traction devices. Many a time these devices are recommended by therapists and doctors for pain relief.
If you do suffer from cervical spine-related issues and are planning to buy a posture pump, be sure to check with your medical practitioner first.
Below are our top picks for Posture Pumps, based on user perception and comments.
#8 ComfortTrac Deluxe Home Cervical Traction Kit 2.0
The ComforTrac Deluxe is a comfortable, easy-to-use cervical traction device that can generate up to 50 pounds of force through its quick-release pump to the neck cradle.
The headrest is lined with contouring memory foam. Customizable neck wedges provide further comfort to the head. The angle of inclination is also adjustable by 10,15 and 20 degrees.
The ComfortTrac Deluxe provides instant relief from cervical spine compression and is also useful for cervicalgia, herniated/bulging discs, radiculopathy and other neck problems.
The device comes in a custom lightweight case in which you can carry it around, increasing its portability.
However, if you are planning to buy one, do note that it is not inexpensive like other devices on this list. Posture pumps require significant investment and should only be considered after trying out other options, or else on the recommendation of your therapist.
Easy to use
Comfortable to use, fits well on your head and neck
Comes with a nice carry bag for portability
Excellent customer service
Cons
It is a fairly expensive device
Despite the carry bag, it is a heavy device to carry around
Few cases of velcro strap coming loose
#9 Allsett Posture Neck Relief Cervical Spine Hydrator Pump
The Allsett Cervical Spine Hydrator Pump is a neck exerciser which lifts, stretches, decompresses, hydrates, & shapes the neck. It helps reduce neck pain and problems cause by compression of cervical discs.
The device has a unique mechanism to send angled air cells in specific directions which forces the cervical spine to correct its shape. This makes it very effective in cases of pinched nerves.
It also has a dual inflation mechanism that separates the neck joints, while applying reversing pressure to the upper back humps.
The pump can be used to relieve back pain and stiffness while giving the right posture and shape to the abdominal muscles and strengthening the lower back.
Pros
It is very cost-effective, as compared to similar products in the market
The special airflow mechanism makes the product good for nerve pinches.
Cons
The device needs to be worked up slowly with sessions of smaller duration and then increasing session length gradually
The device does not have a safety valve for over inflation
There are no storage bags/containers provided to carry them around with you
#10 Posture Pump Cervical Disc Hydrator (Model 1100-S)
The Posture Pump Disc Hydrator is probably the most popular item in this category of cervical traction devices.
Its neck & back disc hydrator gently shape and decompress the cervical spine & below it. It is handcrafted from high-quality material and lasts a longer time than other such devices. It also has the facility to control the amount of air pressure that you want to receive on your neck, which can be controlled by the hand pump.
The device is compatible with almost all height, weight, and neck sizes. The high-quality material ensures there is no deflation, the device does not "pop".
This product uses the authentic Expanding Ellipsoidal Decompression (EED) technique that was invented by Posture Pump.
Pros
Very durable. Lasts a long time
High-quality materials have been employed to build it. The device does not deflate easily
At 2.1 pounds, it is fairly light and easy to carry
Cons
Expensive as compared to other products available
The velcro strap is of poor quality
You may also like Best Anti Fatigue Mat for Standing Desk
Neck Hammock
The Neck Hammock is a simple device that, as the name suggests, acts as a hammock for the neck. It provides relief by pulling away from the head from the shoulders, letting your neck muscles relax.
While it is important to use the neck hammock properly – the right height on which to hang and the quality of the material to be used need to be just right, it is still one of the most that can provide instant relief, there is nothing to beat a neck hammock.
Below we have mentioned some of the top picks for neck hammocks.
#11 Portable Neck Head Hammock Cervical Traction Device
This portable traction device is made of cotton cloth + knitted fabric on the outside and memory foam on the inside, thus giving a comfortable resting place for the neck. The package includes a carry bag as well as an eye mask, making it a complete relaxation and neck massage kit, which can be installed and used anywhere and anytime.
The hammock is machine washable, and very easy to install (you can just hang it onto a doorknob).
Pros
Easy to install, comfortable to use
Comes with an eye mask and pouch
Easy to wash
Cost effective
Cons
The traction provided is limited. It does not work on severe neck problems.
#12 The Neck Hammock Portable Cervical Traction Device
This portable neck hammock can be used in three ways:
It can be affixed to the door jamb
The longer strap could be looped around the doorknob.
The shorter strap can be put around a railing
It is fairly comfortable and easy to use with high-end, durable memory rebound foam. This one also has a free eye mask to help you relax, esp in long flights or marathon sessions on the laptop.
It comes with detailed instructions on how to install and use, including how many minutes to be used each time, and at what height to lie down to make it most effective.
Pros
Easy to use
High-quality material
Detailed instructions
Can be installed in multiple ways
Cons
Pricier than other options
You may also like Best Exercise Balls To Sit On At Work
Conclusion
The right cervical traction device can do wonders for a person who has been afflicted with the constant issue of neck pain.
While there are literally thousands of products available that offer support for cervical discomfort, there are only a few that are known to produce good results. Secondly, it is important to take the advice of a medical practitioner or a therapist in order to determine the cause and extent of the problem and which traction device might be best to use.
Within the variety of options available, there are low-cost products such as neck hammocks going up to high-end products like posture pumps. So there is a range of budgetary considerations to also be thought of.
Within those constraints and with the right advice behind you, we have shortlisted the best products that could help you fight your cervical problems.