There are some items in a room that it's obvious they need to be modified to be ADA compliant, but other parts of a room can be confusing as to whether it meets the requirements as it is or if it needs to be changed.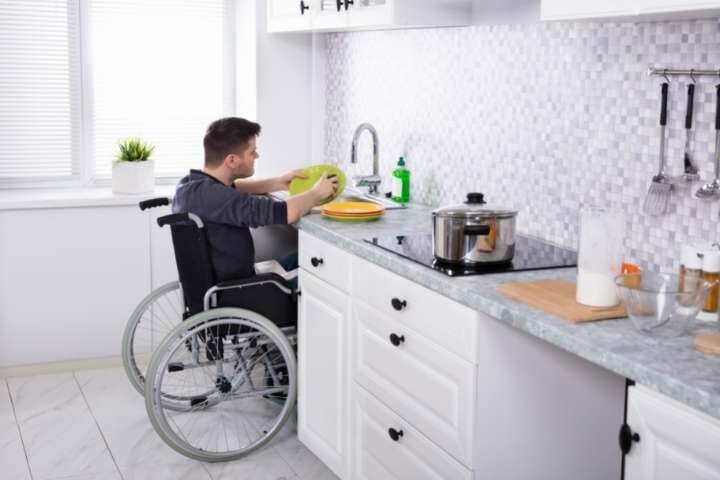 One of these confusing items is the sink. Whether it's in the bathroom, the kitchen or another room entirely ADA compliant sinks can be confusing to ensure requirements are met. 
If you're renovating a space and want to make sure you are within the ADA regulations, here's what you need to know about sinks. 
What Is A Wheelchair Accessible Sink?
These are sinks that have been designed to accommodate people with disabilities or have issues with mobility. They must meet the minimum standards for height, clearance and depth as outlined in the ADA guidelines. 
There are many designs, though, that go above and beyond the minimum standards described and make it even easier for those with a disability to use them. This includes making the sinks easier and more comfortable during use.
Some of these new designs might include adjustable heights for both wheelchair users and their caregivers, safety rails or grab bars to hang onto for those who may have difficulty standing along with surfaces that are very easy to clean. 
You might like to read: What Are ADA Requirements For Kitchens?
Where Are Wheelchair Accessible Sinks Located?
In order for any building to meet ADA compliance, they must follow all the guidelines for all parts of the building – including the public bathrooms. 
Many businesses and commercial buildings will choose to install sinks that go beyond the minimum ADA standards. Also, some buildings or businesses may be exempt from having to have to an ADA compliant bathroom however they will still choose to install a bathroom that meets all of these regulations. 
This will give guests and customers coming into their business a better experience and more comfortable using their facilities – especially if they have difficulties with mobility. 
Types Of Ada Compliant Sinks
There are a few different styles of sinks that meet the ADA regulations, and any can be used in a bathroom.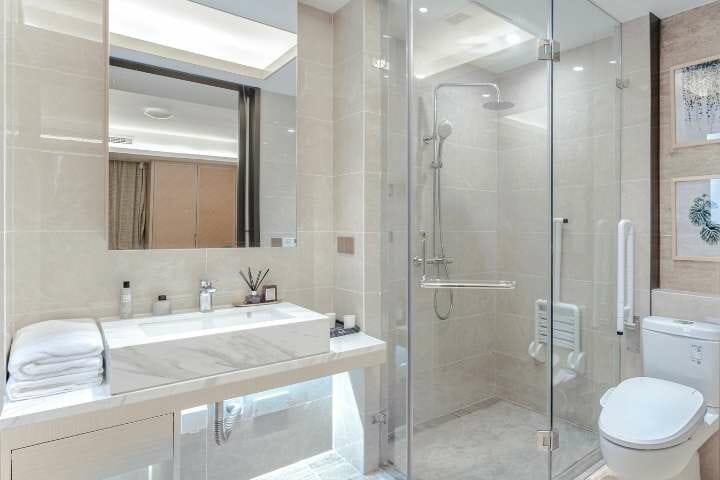 Wall-Mounted Sink
These are sturdy sinks that can be directly mounted to the wall of a bathroom, according to ADA height regulations. These kinds of sinks are typically found in public bathrooms that see a low volume of guests with a disability. 
You might like to read: What Is An ADA Shower?
Height-Adjustable Sinks 
This is a sink that is attached to a track that is mounted to a wall, and it can move vertically as well as laterally (in most cases, although some may just be vertically adjustable). 
These sinks are usually found in bathrooms in hospitals and care facilities because they accommodate a wide variety of users that have different needs. 
Vanity Sinks 
These would be designer sinks that also happen to meet ADA regulations, so you don't have to feel like you're stuck choosing between the look you want and its function. 
These types of sinks are usually wall mounted, however you can get them adjustable in some cases depending on the model you choose. These types of sinks are common in ADA compliant hotel rooms and private residences where the look and design of the bathroom is important. 
Undermount Sinks
These are far less common to find an undermount sink that is ADA compliant because these sinks need to allow for knee room with a wheelchair to be able to roll under the sink. 
Typically these sinks will be found in spaces where storage is at a premium, but it's important that when they are being installed the regulations for feet and knee room are still taken into consideration. 
ADA Guidelines For A Sink
According to the most recent guidelines with the ADA, here's what the requirements are for sinks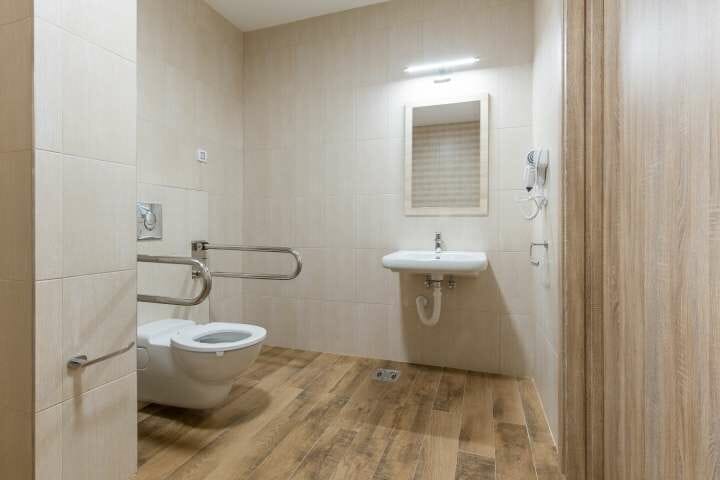 30" x 48" access to the sink, without a cabinet door swinging into the space. This measurement point starts where a person has a 9" vertical access for their feet, and 27" vertical access for their knees. 
A circle of at least 60" round from the side wall and 56" from the rear wall must be available in the space to allow for a wheelchair to maneuver around. 
Sinks cannot be mounted higher than 34" from the floor, including the 27" needed for kneed space. 
They should be 30" wide and somewhere between 11" and 25" deep. 
You might like to read: What Is ADA Compliant Dishwasher
Operating The Sink
In order to be ADA compliant, the faucets should be operated by levers rather than knobs. 
Sometimes, for people with physical disabilities turning knobs to get water running can be difficult whereas using a lever is easier to operate for everyone. 
In some cases, there have been touchless sensor operations installed for faucets so that the water will turn on when it senses that someone is close to it. If you are not going to use the touchless sensors, that's ok.
The requirements for traditional faucet controls are that they can be operated with one hand and users must use less than 5 pounds of force to turn it on. 
Which Products To Choose?
The requirements for an ADA compliant sink are pretty straight forward, but there are many companies who make products that would work to make a space ADA compliant. 
Sometimes, figuring out what the right products are can be difficult especially when it's something like a sink. 
If you're wondering what makes a great ADA product (sink, faucet and so on) here are a few things to consider. 
Faucets 
Since faucets cannot have knobs for turning the water on when they are ADA compliant, there are a couple other options. Typically, lever, paddle or infrared operating controls are chosen for ease of use. 
The lever-style controls are really useful to have when a only one hand is able to turn on the water. However, using infrared controls or other sensor-type technology are pretty universal and it offers touch-free options for activating the water. 
It's important to choose operating controls that are going to be durable and easy to use, without operation being too complicated. 
You might like to read: What Is an ADA Toilet?
Mirrors
Every sink isn't complete without a mirror over it, right? Well, ADA guidelines didn't forget about the mirrors. 
The regulations state the mirrors must be mounted with the bottom of the mirror surface no higher than 40" off the ground, and the top edge no higher than 74" high. If you have a full-length mirror in the bathroom it will fulfill the requirements for the ADA guidelines if you can't mount a mirror within the first set of rules. 
Wall Mounted Dispensers 
When it comes to wall mounted items – like soap dispensers, paper towels and feminine hygiene products – they have to be mounted in an area without any obstacles preventing them from reaching the dispensers. 
Items like trash cans are often placed right under paper towel dispensers because it makes sense that people are going to throw them away right after they dry their hands. 
For people in a wheelchair, though, this can make it very difficult to reach the paper towel. In these cases, many bathrooms will have a recessed trashcan so that it's flush with the wall and is not an obstacle for anyone in a wheelchair.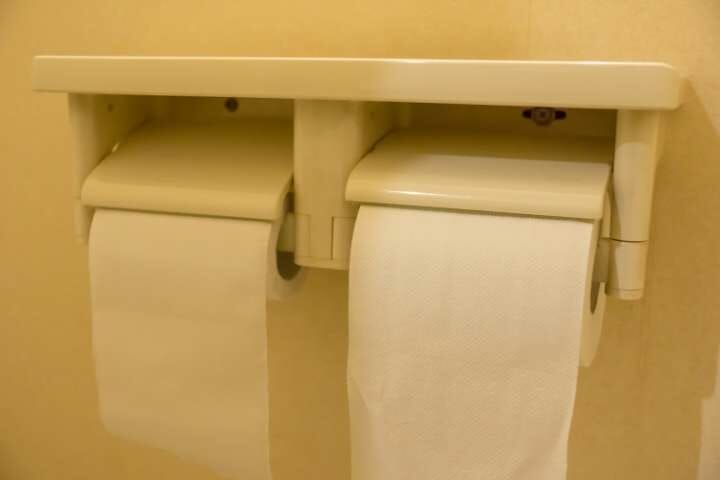 Another option many public bathrooms will have are wall-mounted hand driers because it eliminates the waste from paper towels. If that is an option for you, you will want to make sure you get a hand drier than is no more than 4" from the wall when it's installed as that is the ADA guideline for protrusion. 
You might like to read: 6 Best Electric Wheelchairs in Canada
Feminine Hygiene Dispensers
There is one company, Bobrick, that offers the only fully ADA compliant feminine product machine that is on the market right now. 
This dispenser is able to be operated without any kind of twisting of the wrist or tight grasping, and it is not more than 4" from the wall when it's installed. 
Final Thoughts
When it comes to renovating a bathroom, installing features that are ADA compliant will make the bathroom safer for everyone to use and allow guests with disabilities to be able to use the bathrooms without issues. 
The ADA guidelines are a minimum set of standards that businesses or buildings must meet in order to have an ADA compliant bathroom. Many modern and new establishments will actually go above and beyond these guidelines to ensure their guests have a much better experience than the bare minimum. 
These improvements could include height adjustable sinks or even grab bars around the sink to give some extra stability for anyone with mobility issues. 
When deciding on which features to install in your business' bathroom you will need to consider who is going to use the bathroom and what their needs might be. 
If you know there is going to be a low volume of guests who are disabled then installing a vanity ADA compliant sink might not be the best investment and you may rather spend your money on other things. 
If you have questions about what is right for you and your business, you can reach out to the ADA and discuss with a representative as to what you may want to do during your renovation. They can give you pointers and suggestions before the renovation is done to make sure you make the most of your space and budget.