Your kitchen is, probably, the most used room in your home. It's where everyone gathers to enjoy a meal and catch up on their days. Family moments are built in kitchens, cooking together and sitting down to eat. 
For people who have a disability, using an able-bodied kitchen can be overwhelming and actually quite dangerous for trying to cook. 

There are many accommodations that can be made so that a kitchen becomes accessible and meets the needs of the person who lives there. There are specific requirements for a kitchen to be completely ADA compliant, however modifications can be made for each person as they need them instead of making adjustments that will not benefit the person living there. 
What makes a kitchen ADA compliant?
There are so many innovative products and design ideas that make it easier for those with a disability to use their kitchen in the same way able-bodied people can. 
For example, there are power door openers for cupboards, larger light switches are can be reached from someone in a wheelchair or even stoves with easy to turn knobs so that the oven can be operated easily and safely. 
You might like to read: Kitchen Modifications for the Elderly and the Disabled
Designing your accessible kitchen
If you are hiring a contractor or kitchen designer to ensure your kitchen is accessible for you, there may be very specific things you want to see or have in your new space. 
There are a few questions that you should be able to answer when working with a designer, so you get the most out of your new kitchen
What do you want (in terms of features or products) to see in your new kitchen? 
Is there anything about the layout that needs to change so that it works better for you?
How should cabinets, shelves or drawers be configured so that they can be used by the person in the house with a disability but so they are also useable by everyone else in the house, too. 
Do any of the electrical outlets need to be reconfigured, or moved lower on the wall, so that they are more accessible and easier to get to? 
ADA cabinets
There are certain measurements that cabinets must meet in order to be considered ADA compliant. 
The guidelines ensure that there is enough room between two sets of cabinets that a wheelchair can get through them and turn around so they don't get stuck in the kitchen. 
Additionally, they also show how you can create a space from a wheelchair to fit under the counter so that someone in a wheelchair can get right close to the counter and help prepare food or start cooking. 
These requirements, and guidelines even, are great because they provide a new perspective on the things that are obstacles to those in a wheelchair, or other a physical disability, but may not have been thought of when it comes designing a kitchen. 
Will it be obvious that I have ADA accessible cabinets in my kitchen?
One of the best things about recent technology and developments in kitchen design is that it's almost impossible to tell when a cabinet is accessible or has been modified. 

The outside of the cabinets look like any other cabinet someone would have. You can choose your colour or finish, that you want to have. Additionally, drawer pulls and handles will be the same as others that are not modified – unless specific hardware is needed to make it functional for the people in the home. 
All of this means you can still have the kitchen of your dreams without compromising on style. Shaker style? Woodgrain finish? Whatever design you can dream up, it's very likely that it can be made into an accessible kitchen. 
You might like to read: What Is ADA Compliant Dishwasher
Measurements for an ADA compliant kitchen
Just because you use specific materials for your kitchen that are ADA compliant it doesn't make your kitchen completely compliant. 

There are measurements that must be met in order for a kitchen to be compliant. For example, cabinets need to be an overall height of 32 ½" in order for them to be considered compliant. Further, the toe kick needs to be at least 9" deep for where the cabinet hangs over as this will accommodate wheelchairs and other mobility assistive devices. 
Further, the kitchen needs to be somewhere between 40" and 60" wide to give enough space for a wheelchair to turn around and move freely within the kitchen. 
Now the kitchen can be wider than this, of course, but it cannot be narrower as people with wheelchairs or other mobility aids would not be able to freely move around and use the kitchen as they need to. 
The sink height must be between 28" and 34" high, including accounting for the height of the cabinet itself and the countertop. 
When it comes to kitchen cabinets, in order for them to be ADA compliant 50% of the shelving must be accessible. This means that people who are disabled can reach all of the items (like cookware and dishes) that they will need on their own, without risk of injury. 
The countertop, to be ADA compliant, needs to measure 28" – 36" high from the finished floor up. On top of that, the counter must be at least 36" long to have a parallel approach (if needed) or 30" long for a forward approach. 
Finally, the cabinets must sit on top of the flooring. In most kitchens, the flooring will meet up with the bottom of the cabinets. However, in compliant kitchens if they do this then it would reduce the toe kick to under 9". For this reason, the cabinets must sit on top of the floor. 
You might like to read: What is an ADA Compliant Refrigerator?
So, what exactly should be in an ADA compliant kitchen?
There are many detailed guidelines for designing an accessible kitchen, however there are a few principle guidelines that should be considered for the design of the kitchen. 
Make sure there are not any obstacles or obstructions that would impede someone with a physical disability from using the kitchen as it's designed to be used. 
All appliances must be front-operated, but they also must have adequate space for disabled persons to be able to use them and access them from the side. 
Countertop spaces (and other workspaces) must be an adequate height to accommodate the needs of the person who disabled. Additionally, if it is meat to accommodate someone in a wheelchair then there should be open space under it in order for the person in the wheelchair to be able to properly use the workspace.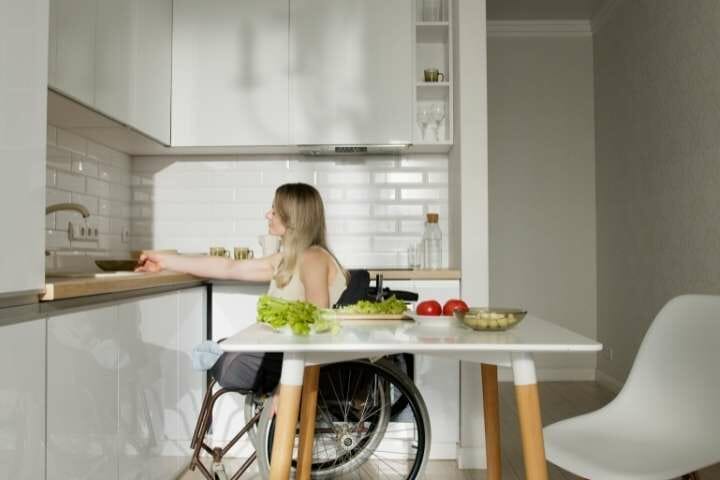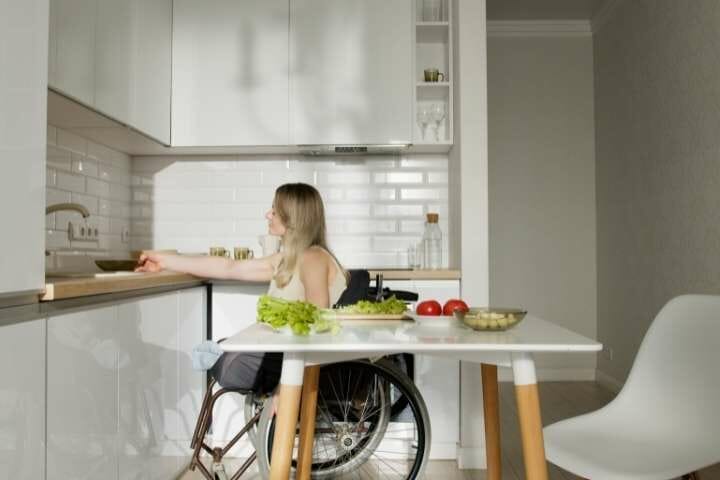 You might like to read: Is the Landlord or Tenant Responsible for ADA Compliance in Commercial Buildings?
Designing your own kitchen vs. using a professional service
You know how you use your kitchen the best, there's no question there. However, there could be a lot of options available to you that you are not aware of for making things more accessible to you. 
When it comes to designing a kitchen, professionals do this all the time. They know the ins and outs of all the possibilities and may be able to think of a way that makes your current kitchen more functional than it is now and a different use of space. 
You may pay a small design fee, although many kitchen cabinet companies will include this in the price of purchasing their cabinets so you won't have to pay extra for the design portion when you're working with them. 
Are there any rebates available for people who need accessible kitchens?
Depending on where you live, and what type of insurance you may have, there could be some rebate programs for helping you pay for the modifications to your kitchen. 
If you're considering this option, it would be best to do some research first and see what's available to you before you make the changes. If you're counting on them for helping to pay for your new kitchen and they don't come through it could hurt you financially. 

Additionally, you may need pre-approval for insurance to cover these modifications to begin with. 
You might like to read: 7 Best Reacher Grabber Tools for the Elderly
In summary 
ADA requirements for a kitchen have some very detailed measurements, and using ADA approved materials does not mean someone has an ADA compliant kitchen. 
In order for it be considered that, the measurements all need to meet these requirements not just a few of them. 
Further, you must have ADA compliant appliances that are accessible to those in a wheelchair and who have mobility issues. 
If you're considering renovating your kitchen and want to make sure that you meet the requirements so that your kitchen is compliant then you may want to look into hiring a designer to give you some ideas on what you could do with the space. 
There are also lists of appliances available that meet ADA requirements too, so you would be able to merge them into your design ideas and make sure everything fits together the way you want it to.
It may take a little more time than you're thinking it will, but doing the research now to make sure your whole ADA compliant kitchen will come together the way you want it to will pay off in the long run for how you use the space.