The world is such a large place, and there really is so much to see, experience and take in.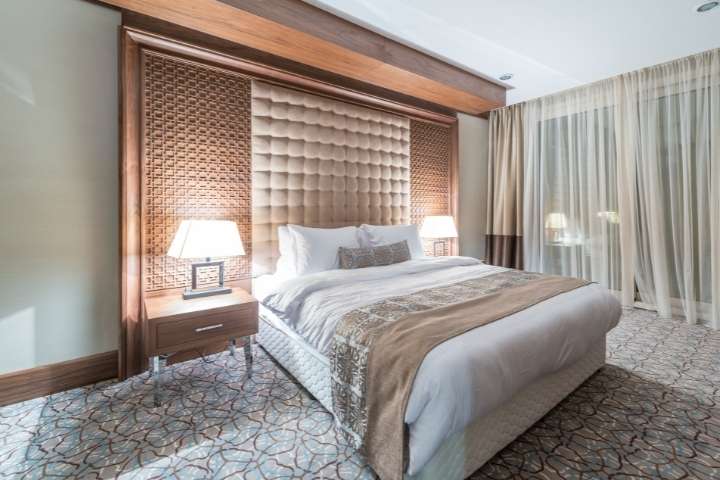 Sometimes, people with disabilities are discouraged from traveling because they feel as though it would just be too much of an inconvenience going in and out of hotel rooms, cars and even airplanes. 
The Americans with Disabilities Act has implemented regulations and rules for hotels across the country so that guests with disabilities are still able to use their hotel rooms and experience various cities across the country. 
Many people may not be totally sure as to what an ADA hotel room actually is, and what sets it apart from a regular hotel room. 
If you have a disability and are looking to travel, here is what you can expect from an ADA compliant hotel room and the rules around them. 
What is featured in an accessible room?
As with accessible apartments and homes, those who book an ADA accessible hotel room will notice that features like the peep hole and thermostat are lowered so that they can use them accurately from being in a wheelchair. 
Additionally, there will be amenities like flashing fire alarms for those who may be hearing impaired, lowered towel bars and clothing rods, and even roll in showers for those who need them. 
There will also usually be grab bars located frequently throughout the room so that if someone has a physical disability they can support themselves moving around the room and don't fall and hurt themselves. 
Further, anyone who books an accessible hotel room will notice that they are usually much bigger than a standard hotel room but have less items in them. 
This is to allow for wheelchairs to move around in the room without bumping into furniture or getting stuck, and not being able to turn around. 

The rooms are designed so that those who need an accessible room while still maintaining their sense of autonomy and independence. 
You might like to read: A Complete Guide to Make a Wheelchair Accessible Home and Business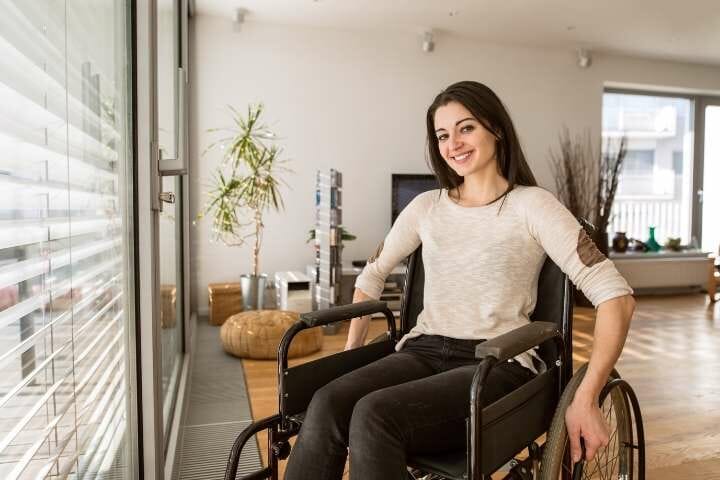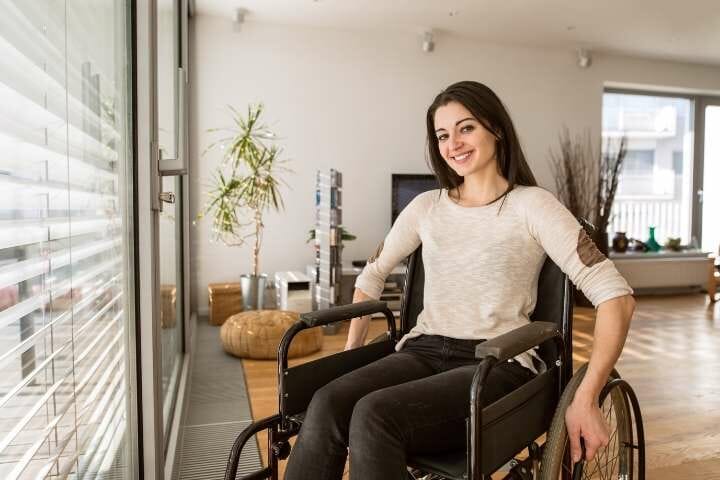 What are the regulations for ADA hotel rooms?
There are a few regulations hotels must follow in order for their specific rooms to be considered ADA compliant, including 
Ensuring people with disabilities are able to book accessible rooms in the same way as able-bodied persons can (IE online, over the phone, etc) 
Describing the physical features of the room with enough detail so that each guest can review and determine if the room meets their needs and they will be able to use it while they're staying in the hotel. 
Holding onto, or blocking off room reservations, for these ADA accessible rooms so that guests with disabilities can book them and not be put into a standard room where they wouldn't be able to navigate appropriately. Hotels can release these room for reservations by able-bodied guests if all the other rooms in the hotel are booked. 
Removing ADA accessible rooms from booking availability as soon as they have been reserved. It is absolutely prohibited to overbook accessible rooms. 
Guaranteeing that the guest who booked the ADA room gets the exact room they booked as they may have specific needs for number of beds, roll in showers, flashing fire alarms for hearing impaired guests and so on. 
Are accessible rooms available on third party booking sites? 
Many times people travelling will look on third party websites to compare hotel prices in the same city, especially if it's a bigger city that is considered a tourist destination. 
The ADA has extended the ability to book accessible rooms to third party websites like Expedia and Priceline, however some of the rules that were listed above as regulations for offering and booking accessible rooms are not required by third party websites. This means that there could be some discrepancy between booking with a third party and through the hotel directly. 
Third party websites are supposed to post accessible room availability as they receive it from their hotel partners. There is a catch though in that it's up to the hotel itself to actually confirm that the room is booked and guarantee the reservation. 
With this in mind, many people who have a disability have indicated that their experience in booking with a third-party website has not be as great as dealing with the hotel directly. 
When you need an accessible room, saving a few dollars on the booking may not be worth the headache and hassle you could experience when you get to the hotel. 
For this reason, you may want to research various hotels in the city or area you're going to visit through these third-party websites. When you find one you like and is close to where you want to be, you may want to contact that hotel directly for booking an accessible room.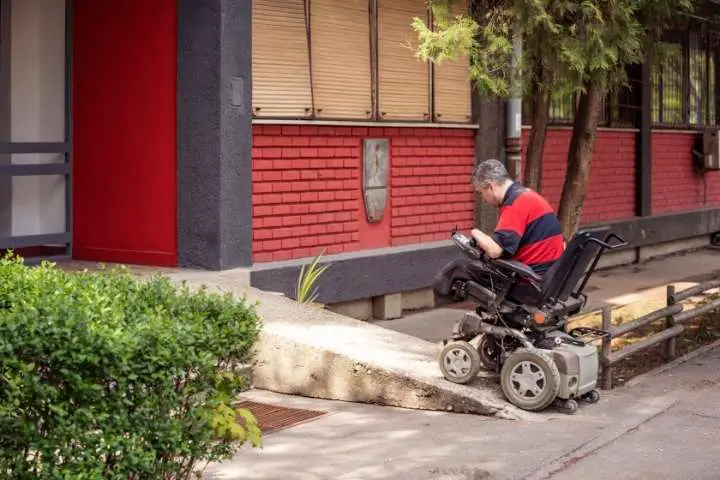 You might like to read: What Is an ADA Toilet?
Can you get an accessible hotel suite?
Most of the rooms available for those who need an accessible accommodations are shown to be closer to traditional hotel rooms than suites, so many people would ask if there are suites available that are accessible.
The good news is that they do exist. The bad news is that most hotels don't have accessible suites. Many hotels, if they have them, won't list them as an option when you're looking at available rooms online. This means you will need to call the hotel directly to ask them about it. 
What happens if the hotel cannot give me the accessible room I booked?
If you confirmed reservation for an accessible room with a specific hotel but when you get there, they do not honor your reservation what do you do?
If this happens to you, the hotel should move you (at their own cost) to another hotel in the area that can properly accommodate your needs for an accessible room. 
An accessible room reservation is made to meet your specific needs (roll in shower, grab bars, bed sizes and even flashing alarms) and you made that reservation for a reason. 
If the hotel does not give you exactly what you reserved, you should speak up and let them know. Do not settle for anything less than what you reserved. You took the time to book ahead what you need and confirm the reservation so the hotel needs to honor the booking. 
Do ADA accessible rooms cost more money?
It's against the law for a hotel to charge more for a room just because it is an accessible room. 
ADA adaptations are not a reason for a hotel to charge more for a room. So provided two rooms are the same size and have other comparable similarities, there should be no discernable price difference between the two just because one is accessible. 
Can anyone book an ADA accessible hotel room?
In theory, yes – anyone can contact the hotel and ask to book an accessible room. They do not ask for any kind of proof that you have a disability. 
So, just because anyone can book an accessible room it doesn't mean that they should do this. 
If all the other rooms are booked, the hotel may be showing that they don't have any rooms available even if the accessible rooms are not booked. 

Some people know this and so they will call ahead to book an accessible room when they know the rest of the rooms are booked. Accessible rooms are often on the first floor, and close to exits for safety reasons. This can be desirable to travelers and so they will book when they don't have a disability. 
While there's nothing stopping just anyone from booking an accessible room, it's quite unethical to do so when you don't have a genuine disability and have the need for this kind of room. 
You might like to read: Best Wheelchair Accessible Bathroom Sink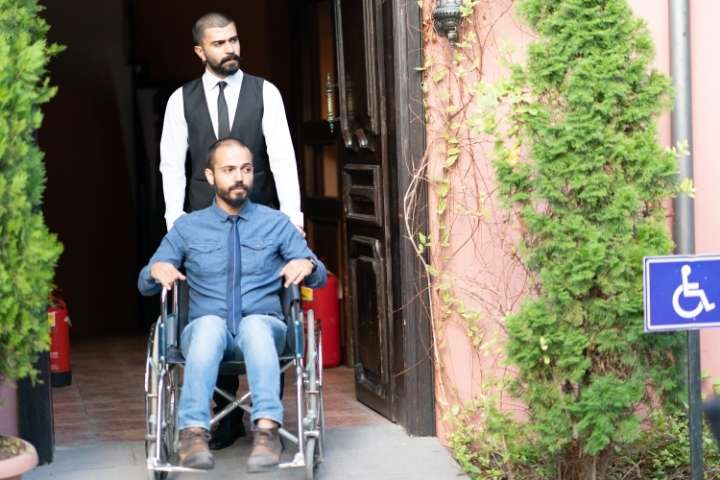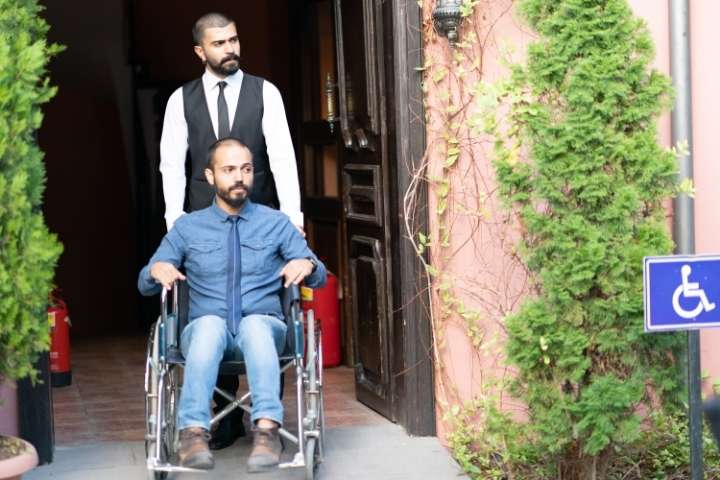 Do all hotels need to offer ADA accessible rooms?
There are laws in place that establishments that offer seating or hospitality to their guests must be able to provide amenities that are accessible to those who disabilities. 

The number of rooms does have to meet a percentage of total rooms threshold, however hotels may decide on their own to go above and beyond with a few more accessible rooms. 
Rooms that are accessible can be rented out to guests that don't need it, in the event that all other rooms are booked. However, it doesn't go the other way and guests who do have a disability have booked that room for a reason and will need the amenities it offers. 
You might like to read: Best Luggage For Seniors
Final thoughts 
It can be a little more work to research all the hotels in the city you're visiting when you need an accessible hotel room, but taking some extra time can pay off when you get to the hotel and you will have the accessible room you wanted. 
There are rules and regulations around what a hotel can charge for an accessible room and what they need to offer to those who need accessibility, so it's important to pay attention to those rules and make sure the hotel is following the laws. 
When you have an accessible room that meets all your needs, you will be free to enjoy your vacation!