There are many appliances that can make our life easier, and free up some time for us to do the things we really want in a day – like spend time with our families.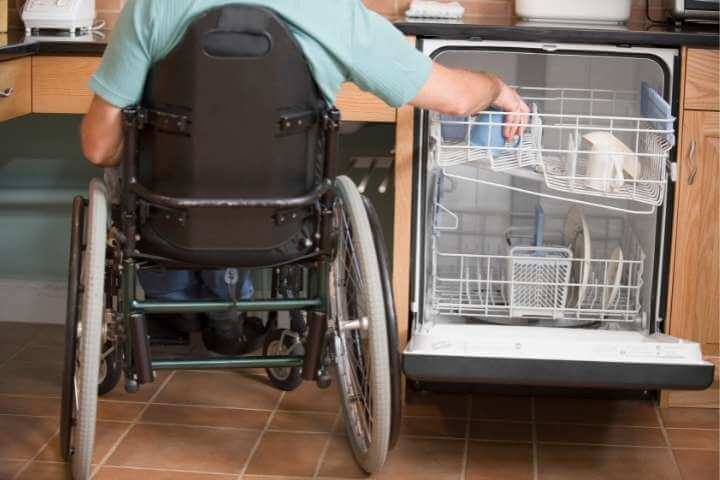 A dishwasher is one of these appliances that really frees up our time and makes our lives just a little bit easier. 
For people who have a disability, not having a dishwasher can be even harder when they can't get to the sink to wash dishes or properly put them out to dry. 
Not all dishwashers are the same, though, and some of them are manufactured so that those who need accessible appliances can still use them. 
These dishwashers are what's known as ADA compliant, meaning their specifications and measurements meet the guidelines the ADA has set forth and the appliance is fit for those with disabilities to be able to use. 
The ADA doesn't make it mandatory for private homes to be compliant, however choosing appliances that are accessible and remove barriers for those who are disabled to be able to use them. 
So, What Makes A Dishwasher ADA Compliant?
The main factors that make a dishwasher ADA compliant are the height of the unit and the controls to make it run.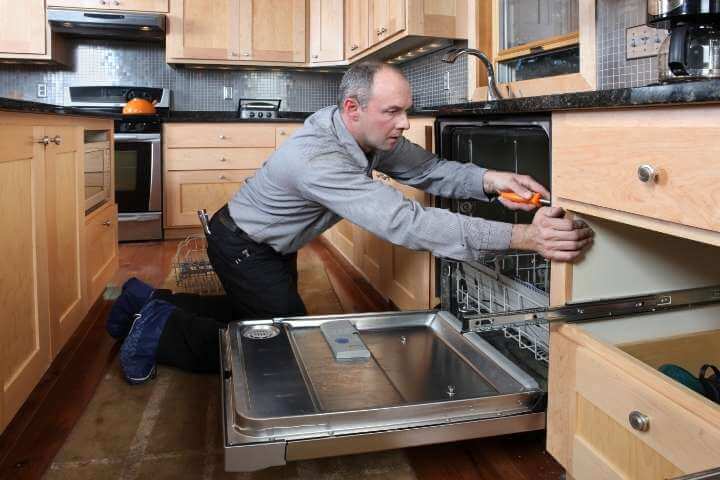 You might like to read: Life as a Paraplegic: How to Adapt Your Daily Routine
Most dishwashers are a standard height of 33" – 34", but an ADA compliant dishwasher will only be 32" in height. This is so that someone who is in a wheelchair can more easily access the unit so that they can fully load it and operate it without assistance. 
Additionally, the design of the dishwasher is done with those in mind who have a disability so that they can operate the controls without any issues or help from a family member. 
In order to be ADA compliant, the controls of the dishwasher must be able to be reached and operated with one hand. The rack space for loading dishes into the unit must also be able to be reached with one hand from the front of the machine, as someone in a wheelchair would be doing. 
On top of these measurements, many modern dishwashers will have additional features that, while not necessary for ADA compliancy, make them much more attractive to have in a home. 
These are features like 
Low level of noise while operating 
Adjustable rack space to fit any size dishes you may have 
Large loading capacity to fit more into one load 
Cutlery baskets to keep your forks, knives and spoons organized 
There may be different features by different brands, and there could be some features that appeal to you based on your specific needs. You may have to do some research into what specific needs you and your family have to determine which brand would suit you best. 
The Best ADA Compliant Dishwashers
While most dishwashers probably won't outright say that they are ADA compliant, there are some that meet the requirements more than others. They also, in most cases, have better features than other dishwashers to make them better for those who need accessible appliances.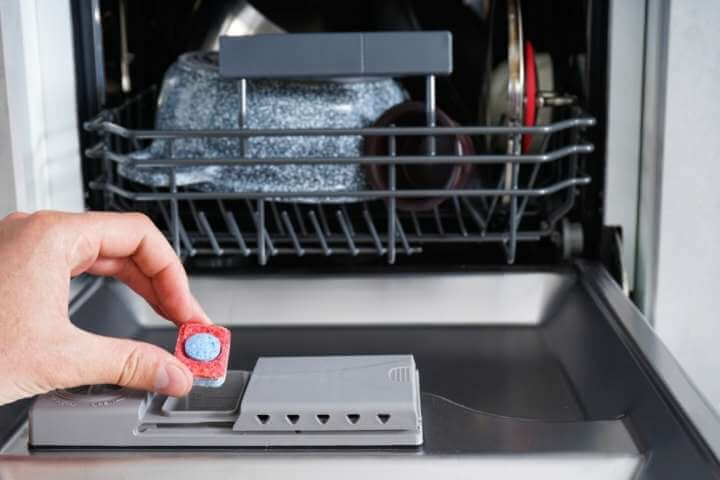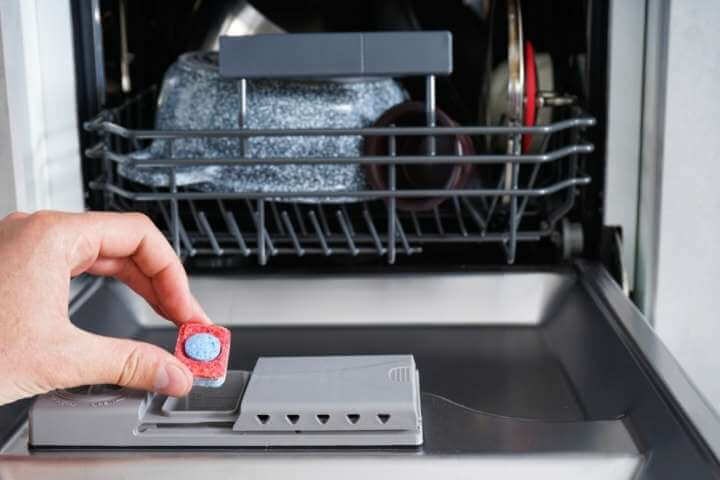 You might like to read: Americans With Disability Act – A Brief Guide For Caregivers
Bosch
This brand is one of the very best around when it comes to getting a dishwasher. The 800 series, and newer, are all ADA compliant so you don't have to worry about measuring at the store because you know they're already meeting what you need. 
These dishwashers feature integrated controls very simple, and quiet, operating mechanisms for lower sound while it's being run. 
Additionally, they have extra-large racks – so you can fit almost any dish, pot or pan in there – and most of them have 6 different washing cycles so you can choose to run a quick load or put it on to one of those heavy-duty washes. 
What's more is that all Bosch dishwashers have a built-in water softener so you don't have to worry about hard water spots on your dishes when it's done washing. 
Further, it's so quiet that it actually shines a red light on the floor to let you know that the unit is still running and when it's done. 
The stainless steel design is very modern, but it will go very well with any kind of décor you may have in your house so you don't have to worry about redecorating or having it stand out when you purchase it if you aren't quite doing a complete renovation. 
Miele 
This is another brand of dishwasher that is pretty well known for its quality and functionality. 
Many people would consider this brand to be one of the very best ADA compliant dishwashers on the market right now. 
The flexible interior makes it easy to adjust the racks so you can wash almost anything you want, and make a change when you need to. The interior is stainless steel which makes for better drying in addition to giving the unit a longer life expectancy. 
On top of that, the front is made panel ready so it can be customized to match your kitchen décor if you don't want the front of the dishwasher to show as stainless steel. 
The experience of having a Miele dishwasher in your home is unlike almost anything else. People report loving their Miele dishwasher for it's quiet running and long life expectancy, in addition to how easy it is to use. 
You might like to read: Guide to Helping Seniors with Technology
GE
This brand has always been a household name in terms of appliances, and they do not disappoint when it comes to ADA compliant dishwashers. 
This brand is a little less expensive than others, so if budget is an issue GE may be more affordable to upgrade your dishwasher than a Bosch or Miele. 
It features fully integrated controls, 7 wash cycles and flexible racks so you can make it fit whatever you need to for your family. 
The manufacturer also offers a virtual tour on their website so you can take a look at all the details of their dishwashers before going into a store. This way you can decide if this is the right brand, or have an idea what you're looking for before you go and see them. 
These dishwashers come in different finishes, so if stainless steel isn't quite what you want then you can easily find what it is you do want and what matches with your kitchen décor. 
Does the cleaning performance change with an ADA compliant dishwasher?
If a dishwasher doesn't do what it's supposed to do then what's the point of having one, right?
It can look nice and have controls in the right spot but if it doesn't clean your dishes then is it really worthwhile to have it? 

The good news is that whether a dishwasher is ADA compliant or not, the mechanics are the same and it's going to clean your dishes the same.

What makes a difference in how it cleans or how it works is the brand, so if you like a certain brand for how it cleans or the way it works then chances are sticking with that brand will give you're the same experience. 
If you want better cleaning performance, look for dishwashers that have a higher number of spraying nozzles and high-pressure capability. The good news is that modern dishwashers are very capable of completely cleaning all the dishes you have – even ones that have tough, stuck on food and debris. 
If you're researching dishwashers, look for reviews that mention poor cleaning performance. These reviews are likely going to be the most honest because they're coming from people who have actually purchased these dishwashers and use them on a daily basis in their homes. 
Drying Abilities
Most modern dishwashers have fantastic drying abilities so that you are not pulling wet dishes out of your dishwasher and water doesn't just sit in it, causing mold. 
Dishwashers that have a stainless steel interior have the best drying abilities. Many dishwashers now also have a feature where the door will auto release when it's done washing to allow for better ventilation and quicker drying time. 
You might like to read: How to Choose a Wheelchair for the Elderly
Final Thoughts
Buying an ADA compliant dishwasher will not change the functionality of a dishwasher in your home – it will still wash and dry like any other dishwasher.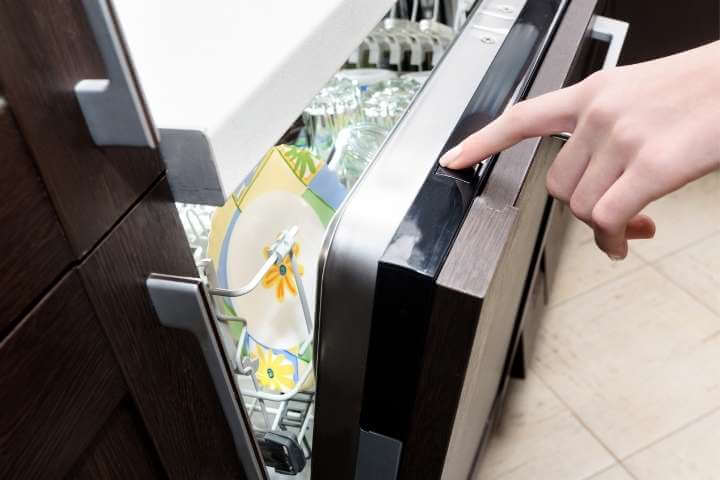 The controls will be easier to use and reach, and it will be lower to the ground than a traditional dishwasher would be. Additionally, someone who uses a wheelchair will be able to reach the back of the dishwasher while loading it so that they can do this without assistance. 
Being able to help with tasks around the house, unassisted, can be a major boost to the confidence of someone in a wheelchair. Usually, they would need some help in reaching things or putting things away. 
With loading and unloading the dishwasher it gives a sense of independence, plus it means that dishes can be placed all the way to the back and there isn't unused space left in every load ran. 
If you have questions about the right dishwasher for you, take a look at your local home improvement store. Most of them carry Bosch, Miele and GE so you're able to compare models right there in the store.