In this article, we have reviewed best lawn mower for seniors. If you are in a hurry, the table below gives a quick snapshot or you can scroll down for the detailed reviews.
During their senior years, the elderly seem to have more free time with themselves and most of them prefer to spend most of this leisure time in natural surroundings. Most of the seniors take immense pride in having a beautiful garden.
However, seniors tend to have lesser endurance at that age and face more mobility issues. Physical tasks like cutting small grass that used to be easier for them become harder for them. There are some lawn mowers available in the market that can address these concerns. These lawnmowers are light in weight and easy to use. Some of these even feature a compact design that can help the seniors in storing it in smaller spaces.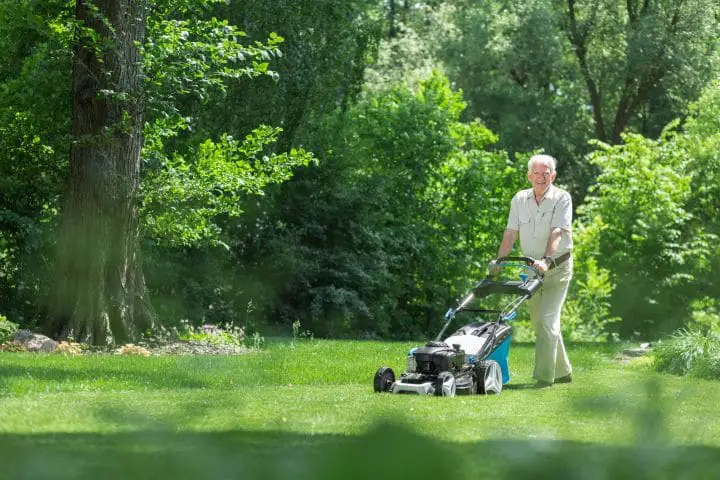 What Should You Consider When Planning to Purchase a Lawnmower Especially for the Elderly?
No matter which style of mower you prefer, the act of mowing the lawn is a physically tedious exercise. If not chosen well, mowing the lawn can often lead to a variety of physical ailments, many of which are avoidable.
The key factors that you should keep in mind while buying a lawnmower for the elderly are outlined below.
Types of Lawn Mower: For seniors who do not face mobility issues and are on a budget, they can consider buying a manual lawnmower. However, if they suffer from weak muscles or some other form of the disease, an electric lawn mower would be a good choice. If the size of the lawn is pretty large, the riding lawn mower would be considered a good choice.
Grass catcher bag: Ensure that the lawnmower that you are buying has a grass catcher that is easy to put on and take off.
Weight: Weight is an essential feature to be considered when purchasing lawn mowers for the elderly. The manual versions tend to be a little heavy. You may consider the lightweight electric versions of lawnmowers that can be easily stored and maneuvered. In case the elderly have limited strength, lawnmowers with a self-propelled feature would be a better choice.
Corded or Cordless: When you are planning to purchase an electric lawn mower for the seniors, you should consider whether you prefer a corded or a cordless version. While the corded one may trip the user down if not careful, the cordless lawn mower would need to be charged every few hours.
Noise: The best kind of lawnmowers have fewer vibrations as compared to other electric mowers in the market. They are quiet and can prevent instances of hearing loss.
Handle: You should prefer a lawnmower that has an adjustable and foldable handle. the well-balanced handle should ideally have a soft padded grip and would thus be comfortable for the elderly to hold.
We are showcasing some of the best lawn mowers available in the market for the convenience and comfort of the elderly in your house.
You may also like Awesome Benefits of Occupational Therapy for the Elderly
#1 
Snapper XD 82V MAX Cordless Electric 21″ Push Lawn Mower
The Snapper XD MAX Cordless Electric 21″ Push Lawn mower has a run time of up to 90 minutes. It is powered by 2 Briggs and Stratton 82V MAX 2.0 Lithium Ion batteries. The kit includes the 2 lithium ion batteries and 1 rapid charger.
It also features a 21-inch steel mowing deck along with a 3-in-1 design used to mulch, bag and side-discharge the grass clippings with considerable ease. While you are mowing your lawn for maximum efficiency, the intelligent load-sensing technology allows it to reach optimum power levels.
The 90-pound lawnmower can start with a push-button and possesses a single lever. With a rear-wheel size of 10 inches, this walk-behind mower has a height adjustment facility for single lever making it easy when used as you can opt for seven height adjustments. Its vertical storage capabilities can save up to 70 % of the storage space.
The large 1.7-inch bushel bagger is used to collect clippings with considerable ease. With each full charge taking about 60 minutes, the lawnmower can work up to 45 minutes.
Being cordless, it avoids problems of tripping over for the seniors. For seniors who have comparatively lesser strength, the self-propelled function comes as a saviour. The lawnmower is smart as the load sensing technology can automatically adapt to the power. This makes it easier for the elderly to cut the grass by just changing the direction of the handles of the mower.
Pros
The self-propelled function saves a lot of energy and effort for the elderly.
The Lithium-ion batteries are included.
Quiet and convenient owing to its cordless nature
Cons
A bit expensive as compared to the other options available in the market
#2 
Greenworks 24V 13″ Lawn Mower
The battery capacity of lithium-ion is 24V which will give high power to the Greenworks lawnmower  and run-time as compared to other lawnmowers. After charging it has zero loss of memory thus giving the power that is fade-free.
A battery of 4 Ahwhen you fully charge provides a run time of 35 minutes. Do note that the time it will run may vary on the basis of the grass condition as well as the technique used by the operator. The battery prevents memory loss reduced charging problems that are often faced with lesser battery systems.
The initial purchase includes a compatible smart charger that keeps the charger from accidentally overcharging the battery thereby avoiding chances of damaging the battery or shortening the lifespan.
The 13-inch rust-resistant lightweight deck is designed to maneuver easily and the 2-in-1 feature offers mulching and rear bagging abilities. The 2400 mAh USB power port in the battery is multipurpose and can be sued to charge portable electronic devices like phones, tablets, etc.
The 23.9-pound lawnmower has multiple height settings that allow you to cut the grass to the ideal height as per the prevailing conditions. It comes with a 3-year tool/battery warranty to protect your initial investment.
Pros
The USB port in the battery can be used to charge your portable devices
The 3-year tool/battery warranty protects your initial investment
Includes mulcher or bagger
The smart charger and battery reduce instances of problems from overcharging or memory loss
Cons
The chute from the mulcher can sometimes clog up when cutting very thick and moist grass and would need an extra minute or two of cleaning up the residue material before putting the lawnmower away
The metal of the blades is a little thin making it difficult to sharpen with a mill file or angle grinder
You may also like Benefits of Gardening for Seniors
#3 
BLACK+DECKER BEMW482ES Electric Lawn Mower
The Black and Decker BEMW482ES Electric Lawn Mower is specially designed to maneuver easily through tight spots and handle multiple obstacles in the yard. The winged blade provides a 30 percent clipping collection rate which is quite impressive when compared to other products in the market.
The corded mower can easily handle tall and tough grass. It has a push-button start that allows a quick start on the job. The operator can mow a height from 1 to 3 inches using one of the six height adjustments in the lawnmower.
Mowing through thick grass is easier because of the rugged tread on wheels. The unique handle has two buttons on top for movement to the left and right making the handling far superior to other mowers. The mower comes with a two-year limited warranty and weighs a mere 42 pounds.
The bag on the back of the mower can be removed easily and allows you to dump the clippings as and when it gets full. The small size of this mower makes it easy to store in your garage or shed.
Pros
Easy push-button start
Responsive steering handle and excellent maneuvering capability
One lever height adjustment
Cons
Not ideal for slopes
Seniors need to be careful not to trip with the cords
Not a very huge cutting path
No option available for mulching
#4 
WORX WG779 40V Power Share 4.0 Ah 14″ Lawn Mower
The WORX WG779 Lawn Mower uses a pair of 20V Worx batteries which are interchangeable and can be replaced with other 20V Worx batteries from different devices or power tools. the lawnmower is designed with a port charger. This ensures that the user can simply plug the port in a regular socket in the wall instead of making out the batteries every time they are to be charged.
The mower features a 14-inch mower deck with padded handles meant for extra comfort. The Intellicut system offers battery power on demand while the easy switch controls add their own comfortable touch to the mower. The mower has a 2-in-1 mulching attachment as well as a 2-in-1 bagging attachment
The mower is durable and lightweight. It is rated to mow an area up to 5,500 square feet just on one charge. In order to extend your mowing time, you can use extra batteries.
It also has a single lever switch that allows for the adjustment between three different settings of height- 2 inches, 3 inches, and 3.5 inches. This makes it easy to change the height of the mower deck. One push or pull of the lever sets all the wheels sparing you the hassle of adjusting the height of each wheel at a time.
Pros
Nimble and lightweight
Charging port with smart charging
3 different height settings with easy adjustment
Interchangeable batteries
Cons
Only goes down a cutting height of 2-inches
Requires manual push which might be difficult for some seniors
Bagger can sometimes be difficult to clean thoroughly
You may also like Best Hiking Sticks for Seniors
#5 
Sun Joe ION16LMCT 40-Volt 4.0-Amp 16-Inch Brushless Cordless Lawn Mower
The Sun Joe ION16LMCT Lawn Mower is a tough and capable machine with a virtually silent running 600W brushless motor that is powered by 40V lithium-ion battery. This guarantees that the machine will not clump up and stall especially when the mower hits a thick grass patch or stutter in an awkward fashion with a huge load of clippings in the bag.
The rechargeable lithium-ion battery offers only 40 minutes of mowing time, but with the power, you can clean up a lawn close to one-third of an acre. The mower weighs in at just 33 pounds and features a 16-inch composite deck.
The push-button starter is super responsive and can fire up the mower on the first try itself. The mower is environmentally impactful with absolutely zero toxic emissions and no trace of air pollution. However, it only offers one means of dispensing the clippings – a bag. There is no mulching and no side discharge. The bagging is not that efficient requiring the user to empty shards of grass quite often.
Pros
Superb cutting and perfect for small yards
Extremely quiet and powerful
It comes with a 2-year warranty
Cons
Clipping disposal is limited to bagging making it less efficient
The bag available is on the smaller side and seems insufficient. Can be a hassle for some seniors.
#6 
Greenworks G-MAX Lawn Mower 
– MO48B2210 model
The Greenworks G-Max Pull Mower weighs 54.9 pounds and comes with two 24V 4Ah batteries and a dual-port charger. The battery life is up to 200 charge cycles and gives more power and run-time. Once the charging completes, there is no memory loss as the power is fade-free.
Its 2-in-1 feature offers rear bagging and mulching abilities for multiple usages. The whole unit is made of plastic that is durable and allows the machine to be light in weight and very easy to maneuver.
The height adjustment is a single lever and has 5 positions to offer cutting height ranging from 1-1/4 inches to 3-3/8 inches. The machine comes with 3 yeat tool/battery warranty to protect your initial investment.
The 2 batteries can be charged in just 2 hours offering a runtime of up to 45 minutes. The machine is environmentally friendly also it has zero toxic emissions.
Pros
Light in weight and quite easy to maneuver
5 position height adjustment offers efficient cut
Comes with a dual-port charger with power on the go
Cons
Since the lawnmower is corded, the seniors need to be careful while working around it
There is no switch to control the smart cut feature as it is automatic
You may also like Best Outdoor Chair for Elderly
Conclusion
Living independently is of prime importance to the elderly. Simple equipment like these can assist them in doing daily tasks on the lawn much easier.
The key to choosing the right lawnmower is to consider your specific requirements and decide from there. Improvements in the technology of lawnmowers have made mowing lawns easier on the body than it had been ever before. By using lawnmowers that work with your body instead of working against it, yard work can become rewarding by turning out to be an even healthier aerobic activity without all the strain.
For more gardening tools, you should read lightweight garden hose for the elderly, best garden kneelers with handles, and best pruners for arthritis.