We have reviewed the best cold laser therapy machines. If you are in a hurry, the table below gives a quick snapshot of the top 6
Cold laser therapy is a low-intensity laser-based procedure that is used to alleviate body pain.
It is a non-invasive and non-medicinal option of getting relief from pain. Cold laser therapy machines use laser treatment of low-intensity and minimal thermal energy. for healing wounds and injuries.
The light emitted through the device can penetrate as deep as 5 cm into the skin. It is then absorbed efficiently by the cells of the body, which results in improved metabolism of cells, thereby helping to enhance the recovery time of damaged cells. 
Cold laser therapy machines do not use high-intensity lasers and are therefore safe to use for home purposes. There are several cold laser therapy devices available in the market today. In this article, we will go through these devices and suggest the best ones for your use.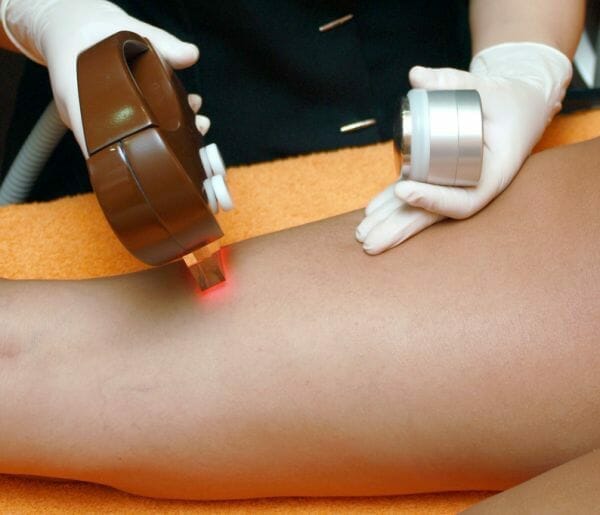 How does Cold Laser Therapy work?
Cold laser therapy machine devices don't use typical laser lights. Low-intensity lights are used, which ensure that there are no side-effects. Usually, a patient will have to take therapy treatment at least 2-4 times a week.
Doing this for 1-2 weeks will help to ease mild pains. Of course, the time took also depends on the severity of the pain and the regularity of treatment.
Different frequencies of low wavelength light are directly applied to the area which is experiencing the pain. The light gets into the body tissues and creates a reaction to which damaged cells respond, thus helping them regenerate. Superficial tissues are treated with wavelengths between 600 and 700 nanometres. For deeper penetration, wavelengths between 780 and 950nm are used. 
The best part about cold laser therapy is that it doesn't have any long-term side effects. The only possible impact that it can happen is damage to the eyes from the lasers, however most home-use devices use very mild lasers which cannot possibly cause harm to the eyes. These devices require a series of treatments so that the user can obtain maximum benefit. Different machines use distinct wavelengths to boost the healing process. The device can act as a catalyst that results in rapid healing.  
Before buying a cold laser therapy machine, you should consider the below factors.  
Here we have a video with more info about what is cold laser therapy.
What should you look for before buying a cold laser therapy machine?
Cold laser therapy is still a mystery, despite several research reports having been done on it. Many patients claim that it works, but most users do not understand the process through which healing happens. Hence, users may find it daunting to choose the best cold laser therapy machines, especially for home use. It is important to take into cognizance the features mentioned below, before deciding on the right machine for your purpose:
Laser Power
We are all aware that laser rays can be damaging for our eyes. Lasers are incorporated in cold laser therapy machines as well. Hence, when you are buying a laser machine for domestic use, you should pay attention to the intensity of the laser it has. You should not buy a laser machine in class 4, since it can damage our eyes. Choosing a class 1 laser machine for domestic use is safe. 
Price Range
You should consider the budget of a laser therapy machine when you are planning to buy one. Higher intensity laser machines are typically more expensive. These devices will require much lower time to complete the therapy. However, if an individual is suffering from severe pain, shorter therapy time will not prove to be useful. It may be better to consider a device that has lower power, since it will have a more practical application for more chronic pain, and you can apply the therapy during your relaxation time as well. 
FDA Approval
Several medical devices can receive FDA approval, and this includes cold laser machines as well. When the FDA approves a medical device, it means that the device offers benefits that can successfully outweigh the risks associated with it. Those devices undergo several rigorous testing processes to ensure that they are entirely safe to use. Picking an FDA approved device means that the user does not have to compromise on safety. Make sure that the cold laser therapy machine that you are considering for personal use is FDA approved.
Pulsing Options
All therapeutic modes use the conventional concept of Pulsing which provides different types of treatment effects. Experts recommend lower pulse frequencies for treating acute pain and injuries. To treat subacute injuries, you can use machines of higher frequencies. And, if a person is looking for a cold laser machine to treat chronic conditions, then a device with continuous pulsing mode should be chosen. Make sure to choose the machine that has the right pulsing mode for your specific injury/pain point.
In the next section, we have explored some of the best cold laser therapy machines for domestic use that are available on Amazon. We have shortlisted these devices for you based on the criteria stated above, as well as user ratings and comments as well as our internal panel of doctors.
You may also like Does A TENS Machine Help In Plantar Fasciitis And Your Best Options
Best Cold Laser Therapy Machines
#1 Proaller Cold Laser Red Light Therapy Device 
This machine has a low-level laser power that is used to provide therapy for individuals. It is useful in easing pains and aches. There are two laser pointers provided in this device – 650nm and 808nm. The pointer that has more power is believed to penetrate more severe muscle pains.
The device comes with a 5-hour rechargeable battery and is ergonomically designed to be held easily in your hand while performing the therapy You can use this machine to treat several conditions that include knee pain, arthritis, shoulder pain, muscle spasms, etc. 
Pros
Portable, since it is very light in weight.  

Easy to use with simple functionalities

It has a rechargeable battery with a 5 hour backup

Ergonomically designed for handheld use

Twin laser heads for shallow as well as deep pains
Cons
A few users complained that the device did not give very good output
You may also like Is A TENS Machine Helpful For Migraine And Your Best Options
#2 Tendlite Joint Pain Home Therapy
This laser therapy device is suitable for domestic use. The device uses direct light therapy that soothes pain. It has a single 600nm head, which can be used mostly for shallow pains. Typical applications of this machine are : relief from minor joint and muscle pains, relaxation of muscle tissues, relieving stiffness, and enhancing blood circulation. 
Pros
FDA cleared device, recommended by doctors  

Easy to use functionality

600nm medical grade laser light for shallow pains

60-day full-refund guarantee
Cons
The machine has a 1-minute timer, which can be quite difficult to use esp. If you have to use it for 30 minute periods or more.
You may also like How To Use A TENS Machine For Back Pain
#3 Multiple Radiance Medical Solo TQ Portable Laser Therapy Machine
This device is an FDA approved non-invasive option that is very effective in relieving pain. The device has 3 inbuilt laser programs, meant for different types of therapy. You can perform deep, medium, and shallow therapy all with a single device using this Cold laser therapy machine. It is light, portable, and has an 18-hour battery backup, best in class. 
The machine is essentially professional-grade, meant more for medical practitioners who may want to use it for their patients rather than beginners. It comes in a protective case which can be used to carry the device around
Pros
The battery life of this machine is 18 long hours

There are 3 pre-programmed laser programs meant for deep, medium and shallow pain

Professional grade machine, very high-quality output

Easy to carry box available with the machine
Cons
This is extremely expensive. As an individual user, we do not recommend buying this machine unless using it for multiple members of the family or else it is meant for a patient with chronic pain that may last for a long time
You may also like Can a TENS Machine Be Used For Sciatica and Your Best Options
#4 YJT Muscle Pain Reliever
Muscle pain is a common thing among all age groups. The YJT Muscle pain reliever is a great device that you can carry around anywhere you like. It does not take much space and is a handy device for the household. If you are looking for something that relieves your pain and does not require much operational hassle, this device is the perfect one for you. Not just your muscle pain, the pain reliever works well on joint pains as well. 
The device uses cold laser therapy to enhance blood circulation, healing pains in the deeper layers of the skin. Its lithium-ion batteries with 2600mAh power can last you four days if fully recharged. The infrared light of 808nm helps to go deeper into the tissues and recover muscle and joint pain. On the other hand, the 650nm infrared lights get absorbed by the skin tissues to improve collagen production and skin health.
Pros
The life of the lithium-ion battery is quite good. You need to recharge it only for 2 hours, and the battery will last you for four days,

Using the device is very easy. You will be glad to know that you will not see multiple buttons confuse you. Only two buttons will do the needful.

The LCD screen is clear and illuminated for better visibility of the battery life and time.

It is small and weighs only 1.79 pounds that makes it very convenient for you to carry around.
Cons
You need to use the pain reliever for at least 30 minutes every day and wait for a few days before you can see improvement in the pain.

The price spent on the product is a little on the higher side. However, if you are willing to invest, it can be a good pain reliever for the household.
You may also like TENS Machine – All You Need To Know
#5. RedTonic Red Light Device
RedTonic is known for its natural pain relief ability. It uses the tri-spectrum technology having 630, 660, and 850mm wavelengths. It is one of the rare devices that use this technology. It is a safe and effective device that you can carry around anywhere as its dimensions are perfect to fit in a small space.
The high-powered rechargeable battery ensures that you do not lose the progress of healing. The premium kit contains all that you might require for cold laser therapy.
Pros
It uses proprietary tri-spectrum technology for cold laser therapy.

If you often suffer from pains in your muscles and joints, you might want to carry the pain relief device with you wherever you go. This device comes in a convenient package.

It has two powerful rechargeable lithium-ion batteries that ensure that your device lasts for a long time.

While using such laser devices, you must be careful about your eyes. The manufacturer has provided protective eyewear along with the package that ensures the safety of your eye.

The product comes with a 2-year warranty. If you have any justified issues with the product, the manufacturer also provides the option of 60-day money back.

If you are looking for a device that is value-for-the-money, this RedTonic device is the best one for you. It comes with good features at a very affordable price.

It is a popular FDA-approved laser therapy device available.
Cons
Even though the product is known for fast relief of pain, the therapy suggests that you use the device for 5 minutes 1 to 3 times daily to see the benefits. Failing to do so might not show the results.

You must wear protective eyewear at all times while using the device, or it will damage your eye.
#6 LaserTRX Laser Therapy
Last but not the least, the Laser TRX synchronizes three different wavelengths for a quantum healing effect, which does not require too much power. It has a rechargeable Li-Ion battery which can last for up to 2 hours. The device has a 180-day money-back guarantee that gives the buyer complete peace of mind. It is compact, and very easy to use with a user-friendly interface.
No products found.
Pros
Synchronizes 3 wavelengths for quantum healing effects

Rechargeable 2-hour battery

180-day money-back guarantee
Cons
The device does not give immediate results, you will have to wait for some time for results to appear
No products found.
You may also like Best Laser Hair Growth Devices
Conclusion
There are several alternatives for cold laser therapy machines on the market. If you frequently experience muscle and joint pain, then choose one of the available options that use a higher frequency to ease your pain.
For milder aches and pains, you can use a lower frequency option. It's also wise to consider machines that are lightweight and portable so that you can carry them around with you anywhere.
Secondly, choose a rechargeable device with a good power backup, so that you can apply the therapy multiple times during the day without having to charge it again and again. Lastly, make sure that the device which you use is FDA approved so that you are assured of quality.
In our opinion, the "Multiple Radiance Medical Solo TQ Portable Laser Therapy Machine" is the most complete choice for all kinds of pain when it comes to cold laser therapy.
If you are looking for a value for money option, you can consider the "Proaller Cold Laser Red Light Therapy Device", which offers good pain relief at a very decent price point.
While we make every effort to provide updated and correct information the advice given in this article and website should not be construed as medical advice. Please consult with your physician or medical practitioner before using any pain-relieving mechanism such as cold laser therapy.
Each individual may have his or her unique issues and your medical practitioner is the best person to decide which pain relief mechanism is the best to use in your particular case.