Over the last many decades, the number of knee replacement surgeries performed successfully worldwide has increased manifold.
With debilitating diseases affecting all age groups, these surgeries are now performed across different age groups. This article will give you a good idea about the right age for getting the surgery done.
Which Average Age Group Qualifies for This Surgery?
There is a common misnomer that only people above 60 years or so should undergo knee replacement surgery.
The National Centre for Health Statistics (US) has documented that around 38% of the patients undergoing knee replacement surgeries are under the age of 65 years. This shows the high acceptability of the procedure even in the younger age groups.
The American Joint Replacement Registry (AJRR) published in May 2020 reported that more than 1.7 million patients had undergone knee and hip replacement surgeries till then.
It states that in America by 2018, as per data given by 200 doctors, the average age of these patients was 67 for total knee replacement, 64 for partial knee replacements, and 66 for revision surgeries.
In most of the national registries such as the National Centre for Health Statistics (US) and Canadian Joint Replacement Registry (CJRR), the mean age of patients undergoing knee surgeries is in their mid-60s, but there are increasing numbers of patients who are younger and older than 60 years.
While the older age group is getting the surgery done majorly for degenerative osteoarthritis (degeneration of joint cartilage), the younger age group is doing so mainly because of juvenile arthritis (joint inflammation in children).
From the above, it can be concluded that the average age group for the surgery is 65 years. That said, there is no single age for getting the surgery done.
There are other factors involved as well, such as the stage of the disease and the condition of the patient, which hold more importance.
You may also like our article on chairs to sit on after knee replacement surgery
Is There a Minimum Age Limit for Undergoing Knee Replacement?
At one time, when knee replacement surgery was considered only for aged patients, it is now being increasingly performed on the younger population as well.
The youngest patient in the world to ever undergo total knee replacement surgery was Ekta Rajput, 25 years, India. She was unable to bend her right knee due to a fused joint (ankylosis).
The surgery was a complete success with good healing and no complications. She soon got back to her normal routine which shows the success of this surgery in young patients.
According to the paper Total Knee Replacement in Young Patients by Laskin, Richard S. MD there has been a major shift in the age of knee replacement patients.
In the 1970s, the average age of the patients was in the 8th decade which has now shifted to the 5th and early 6th decade due to advanced knee diseases and an active lifestyle.
This shows that the younger age groups are good potential candidates for knee replacement surgeries.
You may also like Best Knee Pillows After Knee Replacement
Is There an Upper Age Limit to Undergo Knee Replacement Surgery?
Studies support knee replacement surgeries in patients even older than 90 years, keeping in mind their prior medical history to avoid complications later.
With a higher life expectancy of people, more and more senior people are getting the surgery done. In studies conducted on the extremely aged group, there were no major surgery-related complications recorded. This supports the surgery in patients of this age bracket.
Thus, total knee replacement surgeries in people over 90 years of age are reliable, have good pain relief, and are safe, giving the geriatric patient a good quality of life and ample range of movement post-surgery.
You may also like Skiing After Knee Replacement – Precautions and Tips
Is There an Ideal Age for the Surgery?
The age of the patient alone is not a deciding factor. The decision of surgery will also depend on the combination of many factors such as degree of pain, the severity of a disability, knee deformity, and assessment from x-rays.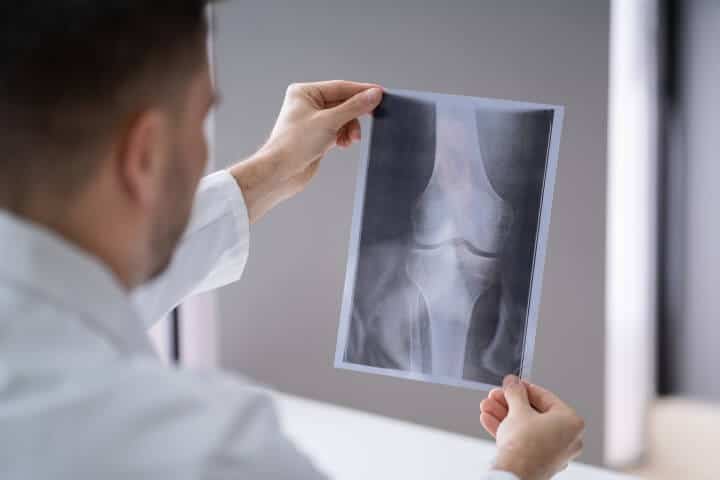 While some patients force their way into getting surgery too soon, others keep delaying it. Getting surgery too soon may warrant the need to perform surgery again later if it progresses.
Delaying the surgery will harm the condition in many ways. Firstly, the disease would have progressed by then and the surgery would become tougher.
Secondly, the range of movement of the joint may be lesser when surgery is delayed than if it would have happened sooner.
You may also like How Much Does a Knee Replacement Weigh
Summary
It can be safely concluded that the apt age for knee replacement surgery is still a debatable topic. The decision for surgery is dependent on multiple factors, including age, as explained above.
The number of surgeries being performed on patients both less than 55 years (younger) and more than 80 years (geriatric) has exponentially increased.
The final word is that while age is a crucial factor in knee surgery, each patient's condition is evaluated individually by the orthopedic surgeon before taking a final call to perform the knee replacement surgery.
For more readings, we have written articles about post-surgery care to gradually help you go back in your daily task like running, sleeping, and driving independently.