We have reviewed the best electric wheelchair attachment motors or bikes. If you are in a hurry, the table below gives a quick snapshot of the top 6.
Wheelchair attachment motor
Distance Capacity per charge
15 miles with the 500W option
Special Feature
Dual disc powerful brakes
Large 12" wheels for stability
According to a government study in 2015, there were 2.7 million active wheelchair users in America[1].
Manual wheelchair users have to depend on other people for movement, but with an electric motor attachment, they can drive themselves quickly. 
If you are looking for this kind of a device, we have put together some of the best electric wheelchair attachment motor/bikes. Our top choice is explained below:
Our Top Choice – Rio Mobility Motor Attachment For Wheelchairs
The Firefly Electric Attachable Handcycle for Wheelchair is our top choice for the Best Electric Wheelchair Attachment Motor/Bike.
This is a very simple and easy to use device, which makes moving around for the wheelchair-bound easy. The handcycle can be attached to your wheelchair in a matter of seconds. It has a lithium metal battery, which has a lasting charge for long distances. It is fast, maneuverable, and very light (only 32 pounds). Some more features:
It fits perfectly with most models of wheelchairs and can be attached and detached in seconds, with the use of even a single hand.

It has a fast-charging ability and good mileage per charge.

It is lightweight and compact for transport. It is so compact that it can even be taken as airline cabin baggage.

It has a 280 pounds weight capacity, which makes it suitable for most average sized wheelchair users

It works extremely smoothly even on rough surfaces
Best Electric Wheelchair Attachment Motor/Bike
#1 Rio Mobility Motor Attachment For Wheelchairs
The Rio Mobility electric motor is an exceptional attachment for a wheelchair. It is an electric motor which converts the wheelchair into a bike. This makes the wheelchair user more independent and self-sufficient. The elderly find it very easy to operate and handle.
The motor is highly maneuverable, making it easier for the user to control the wheelchair. Moreover, the electric motor's top speed is not very high, which ensures the driver and the pedestrians are safe. The dimensions of the engine are 40″ long, 18″ wide, and 8″ tall.
Pros
The electric motor is attachable to almost all types of wheelchairs in the market, provided that they have a broad front.

The installation process of the wheelchair motor is straightforward and simple. 

The electric motor is waterproof, which makes it ideal for use in all types of weather.

The motor runs on lithium-ion batteries, which gives a good mileage per charging and reduces the motor's charging time.

The electric motor is pretty lightweight and easy to attach, with its weight equal to 32 pounds.

It handles beautifully even on rough surfaces.
Cons
While the attachment in itself is quite petite, some users may still find it difficult to fit in small spaces such as bathrooms

It cannot be used on folding wheelchairs that have swing-away front ends

The motor is not strong enough to climb steep inclines, and it is not recommended to use it if you live in a hilly area.
The video below shows how to install and use Firefly Electric Attachable Handcycle.
#2 Risunmotor Electric Handcycle Motor Attachable Wheelchair
The Risunmotor electric motor is the perfect wheelchair attachment for people who don't want to depend on others to take them from one place to another in the wheelchair. The user can drive themselves to places they want to go with this motor.  
The motor for wheelchairs has an aluminum alloy frame, which makes it durable and reliable. The motor is lightweight, weighing just 30.86 pounds, which also makes the motor quite portable.
Pros
The motor is available in two different models, one with 250 W power and another with 500W power.

It also has a wide 16″ wheel, which makes the handling and the mobility of the steering easy, even on rough surfaces.

The electric motor has powerful dual disc brakes and an additional handbrake for better safety.

The handcycle also has a horn and LED front lights for better convenience while driving the wheelchair. 

It has a top speed of 15.5 mph when used with a 500W motor, and a backward speed of 3.75 mph.

The handlebar dimensions are 27.5″ long, 14.9″ wide, and 9″ long.
Cons
A few users felt that even at the highest speed, the motor is a bit slow

This model is slightly larger in size as compared to other handcycles on this lineup. If you are looking to go into narrow spaces, this might not be a good option for you.
You might be interested in reading: Best Wheelchair Cushions for Elderly
#3 HalloMotor Handcycle Electric Motor Wheelchair Attachment
The HalloMotor wheelchair attachment is a solid heavy-duty electric motor. The process of installation of the motor is really simple and hassle-free. The electric motor gives the user freedom of movement and independence from others for daily chores.
No products found.
The electric motor is very safe as it has a dual disc braking system with hand brakes, which allows the users to apply the brake powerfully when they need it. The electric motor is compatible with most of the wheelchairs available in the market.
Pros
Its handlebar has a 5″ LCD, which shows the current speed of the wheelchair as well as the battery left in the motor.

The throttles have a very ergonomic half-twist throttle design, making acceleration easy and causing less fatigue to hands and wrists.

The top speed of the motor is 7.5 mph moving forward and is 3.7 mph moving backward.

The weight of the attachable motor is approximately around 30 pounds making it a lightweight attachment.

It is a 36V and 250W powerful motor.
Cons
It takes 4 hours to charge it completely. 

Not compatible with all wheelchair models.

The installation guide that comes with it is not very useful. One may require help to assemble it.
No products found.
#4 CNEBIKES Electric Motor Wheelchair Attachment
The wheelchair motor is a boon for people who are limited to a wheelchair but still want to feel the freedom of movement and be self-dependent. It is effortless to attach this motor to the wheelchair, taking less than 2 minutes. The wheelchair motor handcycle is also suitable to run on all types of terrain.
It has a large 12″ wide wheel with all-terrain treading. This allows the wheel to go over curbs, holes, and debris smoothly.
Pros
The electric motor has a drive range limit of 18.6 miles per charge, with a top speed of 15 miles per hour.

It has a potent motor with 36 V and 350 W power, sufficient for a wheelchair.

The motor handcycle battery is removable, which is easy to charge as the whole handcycle does not need to be charged, just the battery.

It also has dual disc powerful brakes.

There is an LED front headlight with an attached horn, both of which can be very useful.
Cons
The electric motor, with a weight of 37.5 pounds, is a bit heavier than traditional electric motors. This can be inconvenient for the elderly to pick and attach to the wheelchair.

The package does not contain installation instructions.
You might be interested in reading: How to Clean a Power Wheelchair?
#5 Electric Wheelchair Handcycle Attachment
This attachment is an ergonomically designed motor handcycle that has a lot of features to aid the elderly and disabled in mobility. The braking system in the motor has both, front brakes and rear brakes. 
The handcycle attachment is a heavy-duty motor for wheelchairs, with a maximum load capacity of 220 pounds. This makes it ideal for plus-sized older adults as well. The motor's frame is made out of solid aluminum alloy, which makes it tough and durable. The handcycle also has a clear LCD, which displays the speed and charge remaining in the battery.
Pros
The top speed of the motor is 7.5 mph moving forward and is 3.7 mph moving backward.

The frame of the motor weighs 46 pounds. 

The distance capacity of the motor per charge is 21. 7 miles.

36 V, 250 Watt powerful motor with original double footpads, which maximizes the user's stability and balance.

Large 12″ wheels provide stability and comfort while traveling.
Cons
The package does not contain an instruction manual.

The assembling process can be complicated and one may require help.
#6 YWX Electric Wheelchair Motor Handcycle
The YWX Electric Wheelchair motor handcycle has a special two-side connection design, which ensures double safety and protection. The dual connection is simple to establish and is suitable for non-folding wheelchairs and sports wheelchairs.  
No products found.
The motor handcycle can easily connect to wheelchairs having a thickness between 20-25 mm. The motor handcycle makes traveling easy and increases the user's mobility while providing the utmost comfort. The elderly find it easy to maneuver, whether forward or backward, as the motor has a tight turning radius.
Pros
It has 6″ drive wheels, which are suitable to run on all types of surfaces and terrains.

It has a powerful and durable motor equal to 36 V and 300 W power and a lithium-ion battery, which has a sound output.

Its maximum speed is 9.3 miles per hour.

The driving capacity of the motor handcycle ranges from 9.3-15.5 miles per charge.

The motor's weight is significantly less in comparison to other motors as it is just 17.7 pounds.

The handle of the motor can fold along with adjustable height suitable for people of different sizes.
Cons
The front wheel is significantly smaller as compared to other models on this lineup. This makes it a bit unsuitable for rougher terrain, which may have bumps.

Compatible with most of the wheelchairs but not all types.
No products found.
You might be interested in reading: Best Temporary Wheelchair Ramps
#7 36V350W Attachable Electric Handcycle by Treebikemotor
The Attachable Electric Handcycle by Treebikemotor puts an end to you pushing around yourself or being pushed around by someone in a wheelchair. Now you can ride your wheelchair with ease using this electric handcycle. This electric device is known for its great performance and easy-to-use nature. 
The best thing I like about this attachment is the installation process. The installation is simple and can be done by you while you are seated in the wheelchair. All you need to do is, connect the attachable handcycle to your wheelchair near the footrest and use the motor functions to ride on.
No products found.
The motor of the handcycle can run at 25 Km/hr on all kinds of terrain. It comes with an LCD screen that displays all the relevant and necessary information for your on-the-go glance. The information on the LCD includes the speed, time, battery power, gear, and mileage. 
The battery that comes with this device is powerful and can run for 30 Km after each complete charge. The stainless steel frame makes sure that it is effective enough for your purpose and goes well with your sturdy wheelchair frame. It is a very durable product, to begin with.
Pros
The first concern about such products that people like you and I have is the installation process. Do not worry; the installation process is pretty simple, and you can do it by yourself within minutes. 

The gear system ensures an optimal speed and performance by this product. 

It can be used effectively by both left and right-hand users.
Cons
It does not come with any reverse gear options making you take u-turns each time.

You need to ensure that your wheelchair is sturdy enough to be carried around challenging terrain. Otherwise, the purpose of the product is almost useless. 
No products found.
What should you look for before buying an electric wheelchair attachment? 
Compatibility
It goes without saying that whatever attachment motor you choose must be compatible with the wheelchair model that you have. Otherwise, it can be the best one in the market, but it still will be useless for you! You should always check about compatibility with your specific wheelchair model before purchasing an attachment motor.
Easy to Install
The handcycle should be easy to install as the user can find it difficult to assemble complicated devices. It should come with an instruction manual which depicts step by step instructions for the installation process. All parts need to be connected properly. Otherwise, it could lead to an accident while driving, which can be particularly difficult for a wheelchair user.
Long Battery Life
The battery life of an electric motor handcycle should be long enough to last a whole day so that the user can perform his or her daily chores efficiently and effectively without getting stranded midway. Apart from that, the drivable distance per charge should also be high. A removable battery is really popular among new models as it makes the charging process easy and simple.
Shorter Charging Time
Shorter charging time is a very important feature. If a motor has a long charging time, it can cause the user to get stranded while waiting for the device to charge. A fast-charging motor appeals to all its users. Ideally, a motor that is charged for 3 to 4 hours should last a whole day's moderate use.
Clear Display
The ideal motor handcycle has a clear, wide, and bright LCD that monitors the running condition. It also displays the distance covered, the wheelchair's speed, gear position, and the amount of battery charge left in the motor. A wide display is preferred as it is easy to read and comprehend, even for those with poor eyesight.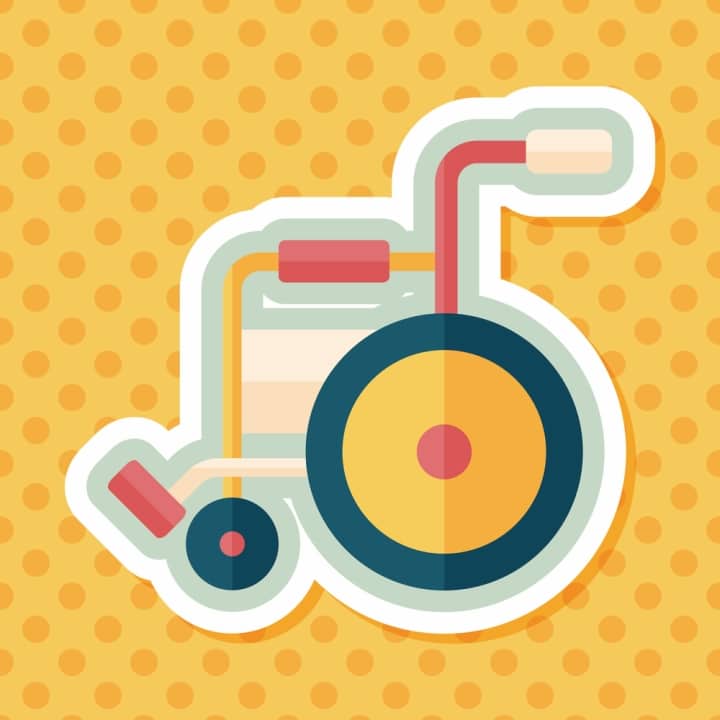 Powerful Motor
The motor of the handcycle should be powerful and durable. It should have a high load capacity, which should not compromise the speed of the motor. Generally speaking, a motor in the range of 250-350 watts power is ideal for the wheelchairs. 
Other Fixtures
Everyone likes a little bit extra! Features such as LED light and disc brakes are welcome additions, especially if you are traveling at night or in rougher terrains.
You might be interested in reading: Best Wheelchair for Scoliosis
Frequently Asked Questions
Q: Can you fix a motor onto a wheelchair?
Yes, a motor can be fixed onto a wheelchair, making it more mobile and easy to use. There are handcycles with motors attached to them. They can be attached to the wheelchairs easily to make them like a bike. This helps the elderly to move on their own.
Q: Is putting a motor in a wheelchair safe?
Yes, it's completely safe as the wheelchairs' motors are not that powerful and have low maximum speeds. Low speed and less power ensure the safety of the driver. Some of the handcycles also have LED lights for better vision and horn for better awareness.
Q: Do electric wheelchairs have brakes?
Yes, an electric wheelchair does have brakes and that too powerful brakes. Many models have a dual-disc braking system, ensuring safety and gives the user quick and dual braking power.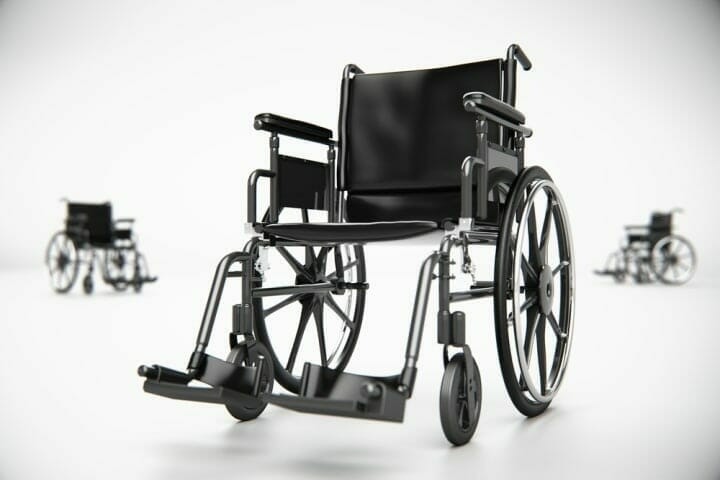 You might be interested in reading: Best Wheelchairs for Stroke Patients
Conclusion
Sometimes a wheelchair and its user needs that little extra power. This is where a wheelchair electric bike attachment comes into the picture.  It is a great piece of equipment.
They attach to the front of the wheelchair easily and then lift the caster wheels, putting all the weight on the front wheel. The motor is then able to power the wheelchair to any place the user wants to go, just like a bike or a scooter.
In this article, we have selected the Best Electric Wheelchair Attachment Motor/Bike based on the features mentioned in our buyer's guide and the ratings and comments mentioned by actual users on Amazon. 
In our opinion, the Firefly Electric Attachable Handcycle for Wheelchair  is the best choice among the various options that we have considered because it is rich in features.
If you are looking for a value for money option, you can also consider the 16inch 36V 250W 350W 500W DIY Electric Handcycle Wheelchair Attachment Handbike Conversion Kit with 8.8AH or 10.4AH or 11.6AH Battery (+10.4AH Battery, 250W), which offers great value and features at a very reasonable price point. 
If you are looking for smart and stylish wheelchair accessories, look no further! We have the complete coverage, right here:
References: