We have reviewed the best electric skateboards for heavy riders. If you are in a hurry, the table below gives a quick snapshot. Or you can scroll down for detailed product reviews.
An electric skateboard is a personal mobility device that is perfect to cover short distances – too long for walking and too short for driving down.
One of the best utilities of it is to travel around large campuses like that of your college, your office, or your housing compounds.
Ideal for low-traffic areas, these devices can quickly transport you a mile without tiring your legs and with significantly less environmental impact and carbon footprint. This article will discuss electric skateboards and review some of the best electric skateboards for heavy riders.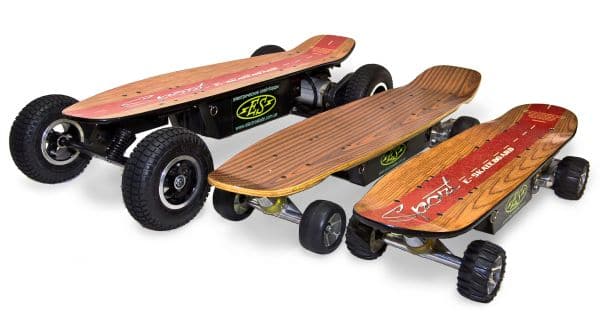 Electric Skateboards for Heavy Riders
Electric skateboards are totally similar to human-propelled skateboards. However, instead of you using your legs to propel the skateboard forward, you would have an electric motor under the skateboard which will drive the device forward.
A majority of the electric skateboards available out there, however, have a maximum weight carrying capacity of 100 kilograms or 220 lbs and lower.
If you are a bariatric user and come too close to this weight cap or exceed it, you would require a lot more work to find the most suitable electric skateboard for yourself, which is why we have collated a few of them for you that you may find useful.
You may also like Best Exercise Equipment for Seniors
Do Electric Skateboards Have Brakes?
Unlike manually propelled skateboards, electric skateboards have brakes on them, which can be controlled by a handheld remote control. The remote control basically controls all the movements of your skateboard, right across starting, accelerating, and braking, which makes it a very convenient device to ride and maneuver.
Safety Gear
In terms of safety, the main difference between a manual skateboard and an electric skateboard is the fact that you are mandatorily required to wear a helmet if you are using an electric skateboard.
Although not mandatory, we recommend you also wear other safety equipment like knee pads, elbow pads and wrist guards to minimize the impact and injury due to a fall – at least in the initial period of using an electric skateboard.
Here we have a fun tutorial video on how to ride an electric skateboard.
What to Look for in an Electric Skateboard for the Heavy Riders?
Weight limit and weight of skateboard: The weight limit is the most crucial factor to look for when you are planning to buy a skateboard for the heavy riders. Most skateboards, meant for heavy users, will support up to 250 lbs and more. It is best to be aware of your weight (plus items which you anticipate carrying along with you) and the maximum that your skateboard can support. The weight of the skateboard is vital as there will be times when you will have to carry it around with you – at places where cannot ride it
Power: The power of your skateboard motors decides how fast you will be able to travel and how uphill a terrain you will be able to climb on it. Motor power is a direct function of the cost
Battery life: Depending on your usage of the skateboard, battery life is crucial as it will limit how far you will be able to venture out from your home. Most skateboards can travel over 15 miles on full charge and should be enough for all your short travel needs
Budget: Skateboards come in a wide range of prices – starting from a couple of hundred dollars to well over a grand! While better features come at a cost, you must ensure to get all your features with good quality of device for the best price
Below, we have reviewed some of the best electric skateboards for heavy riders, all of which allow at least a maximum weight carrying capacity of 250 lbs.
You may also like Best Exercises for Elderly
#1 Skatebolt Electric Longboard
The Skatebolt Electric Longboard is a heavy-duty skateboard made of 8-layered maple, with maximum weight carrying capability of 280 lbs or 127 kilograms. The skateboard comes with a powerful battery of 7,500 mAh capacity which, when fully charged, will offer a maximum distance coverage of 22 miles or 35 kilometres.
The skateboard has powerful dual hub motors which help it to attain maximum speeds up to 24 – 27 miles per hour and can carry you uphill up to a slope of 25 degrees. The device has 4 speed and braking modes and comes with an ergonomically designed remote control which makes it very easy to control the device.
The remote is USB chargeable, has an LED screen for convenient tracking of battery status and speed modes. The skateboard can move backward as well which can be controlled through the remote. The braking system is regenerative and employs technology which helps the battery get charged during braking, thereby increasing battery performance.
Pros
Long battery life and maximum distance coverage of 22 miles
Wider wheels and deck provide more stability
Red taillights provide better safety for rides in low light
4 speed control – acceleration and braking through handheld remote
LED screen display for battery status and speed mode
Smooth and convenient ride – turns are easy
Cons
Depending upon how experienced a board rider you are, the brake may seem a bit sensitive to you to begin with
The board may feel heavy to carry along
You may also like Best Bike For A 60 Year Old Woman
#2 Boosted Mini X Electric Skateboard for the Heavy Riders
The boosted mini X skateboard is an attractive looking device with a deck that is built on a strong and lightweight poplar core with an outer covering of fiber glass. The motor of the board is rated at 1000 Watts which allows it to pick up speeds of up to 20 miles per hour and go uphill for up to 20 degrees in inclination.
The wheels are 80 mm in width and provide a stable and convenient riding experience. The maximum coverage of full charge is close to 14 miles and the battery takes about 2 hours to charge fully. The board is 30 inches in length, shorter than other similar products, but is wider at 11 inches, which gives more space to riders and helps heavier riders to be at ease.
The skateboard can support a maximum weight load of 250 lbs and weighs about 17 lbs. The device is remote controlled and the remote is intuitively designed for better convenience in ride control – it does not take you much time to get used to the controls.
Pros
Wider deck that is suitable for heavier users
Regenerative brakes help in maxing out battery performance
Convenient and ergonomically designed easy to operate remote control
Good customer support
Cons
On the expensive side – considering lower distance coverage & top speed
No shock absorbing mechanism – you will feel the bumps of the road
You may also like Best Power Wheelchairs for Outdoor Use
#3 UrbanPro Electric Skateboard
The UrbanPro electric skateboard for the heavy riders is capable carry a maximum weight of up to 265 lbs or about 120 kilograms. The device is sturdy with an 11-layer maple deck and a fiberglass matte layer on top for an anti-skid property that helps you to maintain balance more easily on the skateboard.
The device has 3-speed modes with a top speed of 20 miles per hour and can be easily controlled with the remote, including backward movement.
The board is powered by a 400 W brush less motor which enables it to comfortably scale inclines of up to 20 degrees. The battery takes about 3 hours to charge fully and the device can cover a maximum distance of up to 10 miles on one full charge.
At 17 lbs, or just under 8 kgs, this is one of the lightest electric skateboards around. The larger polyurethane wheels provide more grip on the road. However, the wheels could have been wider which would have increased the stability of the device.
Pros
Easy to use the remote control
Durable and sturdy with an 11-layer maple build
Longer than most boards at about 35 inches or almost 3 feet offers more space to heavier users
Option for cruise control
Good value for money
Cons
Battery takes slightly longer to charge fully and shorter distance coverage on full charge
You may also like Best Bicycle For 50-Year-Old Man
#4 Alouette Electric Skateboard
The Alouette electric skateboard is a range of brightly colored skateboards that are suitable for users weighing up to a maximum of 265 lbs. You can use the board to travel distances of up to 12 miles on one full charge of the 5000 mAh battery and can attain top speeds of up to 16 miles per hour.
Motor strength is sufficient to allow the skateboard to climb inclines of up to 15 degrees, which is sufficient to ride on bridges. The device comes with a remote control that provides convenient control with one switch cruise control, forward / backward movements and an LCD screen that summarizes performance metrics.
The front of the deck has an opening carved out in the design which will help you to conveniently carry it along with you.
The motor is attached to only one wheel, hence, the brakes may not take effect instantly. It is recommended that you practice the controls on the skateboard in a safe place before going into real traffic.
Pros
One switch access to cruise control
Longer distance coverage on one full charge
Wider deck for greater stability
Convenient handle – designed for easy carry along
Cost effective option for an electric skateboard
Cons
The motor is attached to only one wheel and braking may not be instant
#5 Azbo Electric Skateboard
The Azbo electric skateboard is a durable device made of 8-layer maple wood with an outer matted layer – suitable for heavy users weighing up to 265 lbs.
The dimensions of the board are a bit smaller when compared to similar devices, with this being 8 inches wide and 4 inches high. The length is, however, sufficient at almost 3 ft.
The 70 mm wheels have shock-absorbing mechanism which makes your ride comfortable on bumpier roads and uneven terrain. The device is powered by an 800 W dual hub motor which allows it to attain high speeds up to 17 miles per hour and go up 20-degree slope.
The battery charges fully in 2 hours and can run up to 9 miles on one full charge.
Pros
Easy to use remote control to control your ride
Convenient carrying handle carved onto one side of the deck
Anti-skid and waterproof deck
Wheels can be easily changed, without changing the motor – useful as wheels may wear out sooner, if you are riding on uneven terrain a lot
Cons
The remote control may look cheap – does not have cruise control option
Lower distance coverage on one full charge
You may also like Best Road Bike For Older Riders
Conclusion
Electric skateboards are great devices to own – they not only help you reach nearby places much faster, you will also conserve your energy while reaching your destination. Not to mention that you will do your bit in contributing to create a cleaner environment.
For more adventurous and fun activities, read best sea scooter for snorkeling.
References
Image source – https://commons.wikimedia.org/wiki/File:Electric_skateboard(800,600,400watt).jpg