Whether we mean to or not, learning is just something we do for our entire lives – we really never stop learning. In our working years, many of us would have to keep up with processes and policies as they changed in the industry we worked in. We may have needed to take some professional development courses or keep professional designations in our chosen careers.
No matter what, we always continued to learn and grow our skill sets. However, when retirement comes the need to really learn new things diminishes so we don't always think about ways to keep our minds active and continue to learn new things.
Lifelong learning is a great way to keep our minds active into our senior years, and it can also help keep us occupied when we no longer have to go to work.
Whether it's in a formal classroom setting or just learning something from a friend or family member, encouraging our loved ones to keep their minds active through learning is a great idea.
When you're retired you may think you don't need to keep learning or you just want to relax and enjoy your retirement years, but there are many benefits to lifelong learning for everyone.
It Keeps You Healthier, and Active
Learning new skills or concepts is a great way to keep the mind sharp during our senior years. Continued learning helps with memory function, and ensuring our brain cells are properly communicating with each other.
If you think of your brain as a muscle in the sense that it needs to be exercised regularly to perform at its best then the need to lifelong learning makes much more sense.
You might also like How Long Will One Million Dollars Last You In Retirement?
Reduce the Risk of Forms of Dementia
When our brains are used regularly – like other muscles in our body – they stay in shape, which is exactly what we want. When you engage in activities like learning a new language or mastering a certain kind of cooking style are cognitively stimulating.
The more cognitive stimulation we get, especially during our senior years, we have a better chance of reducing our risk of Alzheimer's and forms of dementia.
Improve Your Ability To Handle Challenges
Studies have shown that reading for a little bit each day (about 30 minutes) can lead to a decrease in muscle tension and blood pressure.
What this translates to in your daily life is that it gives you the ability to approach challenges and problems with much less stress, and a lower stress level means you can probably cope with changes to your life and other issues much better.
Get an Emotional Boost
Learning something new is actually a great way to give yourself a boost of self-esteem. When you learn a new skill or concept, you will feel stronger, smarter, more confident in your abilities and likely be quite proud of yourself.
New life skills can also give you a sense of independence, which could be lacking because you're struggling with retirement and feeling uncertain about where you are in life.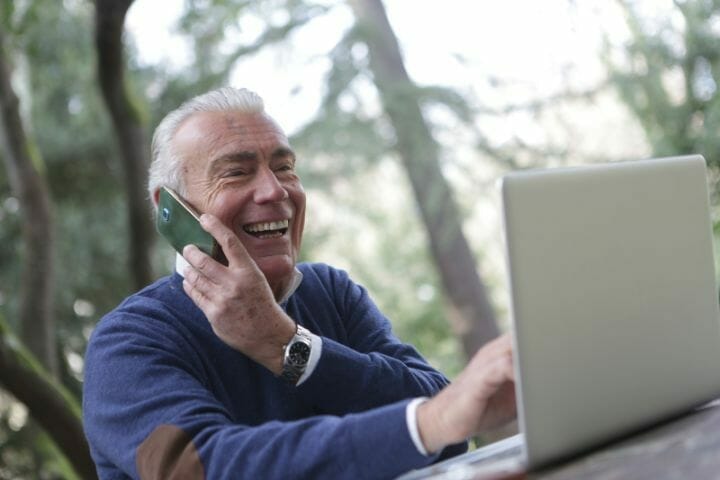 Learning new things in your later years can also help with keeping your memory in tack, and even boost your memory function. This is helpful when it's stereotypical of seniors to start having issues with memories as they age.
You might also like Where Can Seniors Volunteer?
Make Some New Friends
During the time of COVID-19, in-person learning and classes were pretty minimal to keep everyone safe. However prior to this, (and hopefully we'll get back there one day) when classes or courses were offered at centres and educational institutions, pursuing passions and interests in person could help seniors meet people who have similar interests.
For example, if you always wanted to learn a new language you will need to practice speaking it. Perhaps there is someone close by to you that speaks this new language as their first language and can help you gain confidence in speaking it.
Taking these courses will likely help you open doors to meeting new people and making friends. Perhaps you will even carry these friendships past the time of the course running.
On top of this, it will probably give you a chance to get out of the house and stop you from feeling isolated from friends and family – especially if they live far away.
Socializing is an important part of our retired years and can help prevent things like depression, which can keep seniors healthy for longer. Isolation from friends and family can cause depression which can exacerbate other medical conditions and make them so much worse for seniors.
Staying Fulfilled
Many people who are retired will report feeling a little lost and like they don't know quite what to do with their time now that they aren't going to work every day. This can mean people are left feeling unfilled when they don't have their career to work towards, and they have raised their families.
By participating in activities and social events, seniors will have something to look forward to and bring enjoyment to their lives.
Keeping your schedule full and being involved often gives a sense of purpose, and that's important in all of our lives – regardless of age.
You might also like Your Post-Retirement Housing Options: 2021 Guide
A Positive Way To Use Your Time
Many people say they never took these extra courses because they just didn't have time during their working years. Now, though, being retired you will have all this extra time that you might find yourself wondering how you're going to use it.
When you are trying to raise kids and move ahead in your career, you probably feel like you barely have time to make dinner let alone pursue an interest course.
Most people have a list of things they want to do in their retirement years, but when you have free days you might run through that list pretty quickly.
Adding in courses about things you find interesting is a great way to use your retired days and keep you occupied. Plus, digging into a topic you've always found interesting or mastering a skill you've always wanted to try will definitely boost your self-esteem and make you feel great!
How To Start Looking Into Learning Opportunities
When you're a senior and looking for ways to continue with your learning, or just looking to see what options are out there, it can be overwhelming and you may not be sure where exactly to start.
Local Senior Centres
Your town or city likely has a senior centre where they coordinate activities and events for seniors in the area.
These kinds of centres usually offer a large variety of classes: arts and languages, cooking and fitness even. You are very likely to find something that interests you and you can talk to your friends about enrolling in the same courses.
The cost to do activities at centres is also likely going to be less than some of the more formal educational institutions, in some cases they may offer the courses for free.
Local Universities and Colleges
There are some post-secondary institutions that have course offerings specifically designed for seniors, including one-day courses, lectures and even full-blown courses that count towards university degrees.
These courses give everyone the opportunity to learn something new, and keep their options – and minds – open. Taking one course could introduce you to something you didn't expect and show you additional courses you can take to pursue your interests.
You might also like Benefits of Volunteering After Retirement
Community Centres
While community centres do not cater to seniors, they still do offer courses and activities that you can participate in. They may have classes for seniors only or day activities for seniors, but enrolling in courses you may be participating with people of all ages.
The fees for this kind of learning will also be pretty budget friendly too, so you can easily learn a new skill without spending too much if you are on a budget.
Cooking Schools
Many of the bigger cities have places you can go and learn how to cook in a certain style or certain kinds of dishes. They often cater to different levels of abilities in cooking, so if you don't have a lot of experience or really just want to start at a beginner class then you will definitely find something for you.
Some classes will be one day or one evening events, whereas other may have multiple weeks where you learn a new dish every week. This is also a great opportunity for you to spend time with your friends if a group of you want to sign up for these classes.
Or, if you are going alone you will probably quite easily make new friends – and you know you already have at least one of the same interests that you can pursue together.
Wrap Up
Keeping up with lifelong learning can be challenging – especially if you don't know where to start. With a little research and patience, you can definitely find an area that interests you and gives you the opportunity to expand your passions.
You can either talk to your friends and see if there is a common interest all of you want to explore, and then enroll in a class from there. Additionally, you may decide to just sign up by yourself and see if you meet friends there so you know you have common interests from the get go.
No matter what your passions are, take some time to explore them now that you have free time in your life! 
A great alternative is to take an online course for seniors to learn, earn, and stay engaged!