This guide provides a list of things to take care before moving your parent to a nursing home. Do not take the leap without reading this article first!
As your parent's age, they may suffer from many chronic illnesses or mental disorders. A time may come when it becomes hard for you to provide the constant medical attention they need. That may be the right time for you to start thinking of moving your senior parents to a good nursing home. About 1.5mn older adults live in nursing homes in the US
Moving to a nursing home is a hard decision for you and your elderly parents. You may initially feel guilty and worried about moving your parents to the care of someone else. Your parents are attached to the home and other family members, so they might be scared of staying in new surroundings.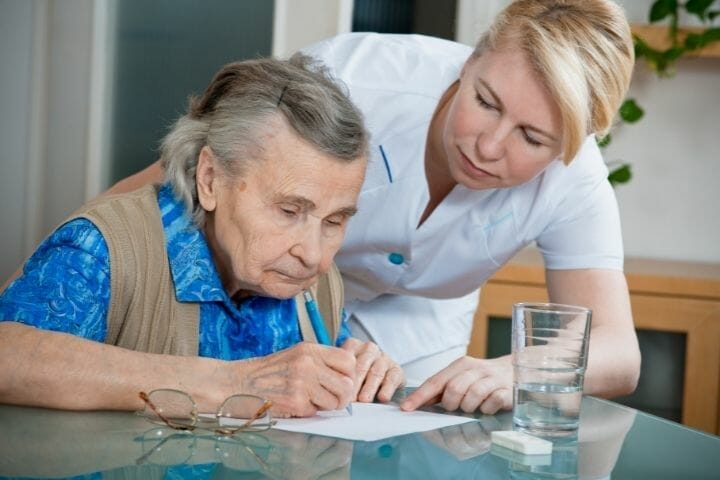 But experts say that seniors usually take six months to adjust in a nursing home. The first six months is called the adaptation phase, and within this phase, a new resident will struggle to respond to new rules and regulations and learn to live with new people in a nursing home.
These figures are just averages, however. Your parents may take less than six months to adjust to a nursing home, provided you take care of things to make their move easy and comfortable.
This article discusses the top seven things to take care of before moving your parent to a nursing home. Read on to get a list of ideas before making the big move.
How Is a Nursing Home Different From a Retirement Home or Assisted Living?
Nursing homes are residential care facilities for older adults who do not require hospitalization but require more care than they get at their homes.
A Nursing home can provide your elderly parents with the highest level of medical care, which you may not find in other elderly homes. A licensed physician and nurses are always there on the premises to supervise your elderly parents.
But remember, nursing homes are not a hospital. So you will not find a laboratory or in house pharmacies here. But, yes, medical professionals are always there to check the blood pressure, heart rate, weight and other common things of your elderly parents.
The nursing home staff will always assist your parents in daily activities like bathing, feeding, dressing, and others. They even manage the medication of your elderly parents. Additionally, your parents can interact with other residents of a nursing home. In this way, they can increase their social interaction, which benefits their physical and mental health.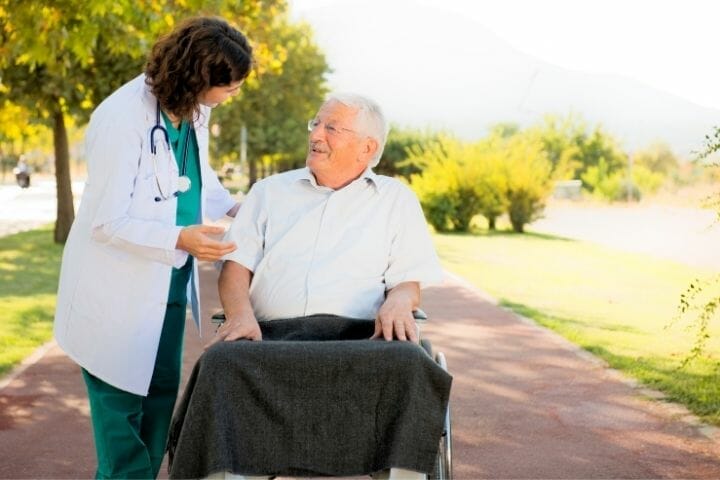 How Should I Choose A Nursing Home For My Parents?
The doctor will suggest some good nursing homes. You can go to those nursing homes and enquire about their facilities and then decide the one that suits the needs and wants of your parents.
Again, you can visit the medicare.gov website to know different nursing homes covered under Medicare. You can also visit various nursing homes with your other family members and enquire about their facilities.
You can stay for at least one to two hours in one nursing home and talk with the staff regarding the care provided to the residents. Try to focus on the common area and see whether they have adequate lights or not.
Simultaneously focus on the residents who stay in the nursing home. For instance, are the residents happy or not, or are they getting proper meals appropriately?
I am listing a few other things you need to look for in a nursing home facility.
Does the nursing home appear clean?
What kind of meals are generally provided to the residents? Are the meals nutritious?
What type of events and activities are there for your elderly parents?
If your elderly parents have any mental disorder, how do staff handle behavior problems like wandering?
What Information Should I Gather Before Moving My Parents To Nursing Home?
You need to visit the nursing home to see whether that is a good fit for your elderly parents. If possible, visit the room in which your parents are going to move so that you will have an idea about the available space.
There must be enough space in the room to maneuver a wheelchair or other mobility devices so that the caregiver can safely transfer and care for your elderly parents.
You can ask questions about the items and services included in the monthly fee. I am listing below a few questions that will clarify what things need to be purchased and what should be left at home.
Will there be cable in my parent's room and is it included in the monthly cost?
Will the nursing home provide items like a TV and wall clock to your old parents?
Can my parents keep a small refrigerator in their room?
Does personal laundry services add to the monthly cost?
Are phone services provided?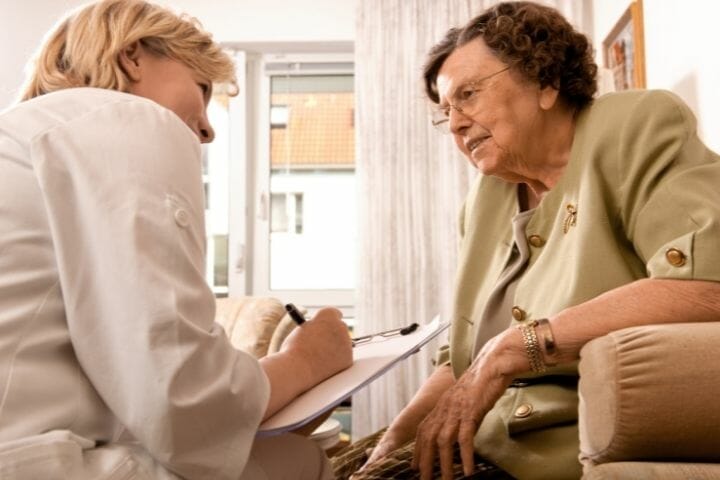 Nursing Home Packing List
#1. Clothing And Accessories
Your parents should bring the clothing and should be easily getting on and off.
The clothing should withstand lots of washing and drying.
The temperature inside the facility is usually regulated at a level that is perfect for your elderly parents. However, your old parents may feel cold. So, it's better to choose clothes with versatile layers.
Try to make sure that your elderly parents have warm and comfortable sweatshirts, vests, and jackets to wear with every outfit.
The number of outfits your elderly parents will bring to the nursing home depends on the laundry services.
Don't forget to pack accessories along with the clothes. You should encourage your elderly parents to wear accessories even in a nursing home. For instance, if your mother loves to wear glittery beads or colorful scarves, then pack some of them along with clothes. But don't pack any valuable accessories or sharp points and edges.
Ladies feel comfortable with purses and men with wallets. So, you can allow your elderly parents to bring their favorite purse or wallet along with clothes.
#2. Personal Care Products
Your elderly parents may have their favorite soap, lotion, shampoo and toothpaste. Ensure that they have all their favorite brands while moving to a nursing home. Some personal items are available at the nursing facility, but they may cost your elderly parents extra.
Although your elderly parents may be bathed or brushed by someone else, their favorite brands can make them more comfortable. You can keep some backup products in their drawer or closet to avoid running out at the last minute.
#3. Linens And Bed Clothes
Basic linen, bedding and towel are provided in most nursing facilities.
Your elderly parents may love to have soft, warm blankets on their beds for warmth and comfort. You can pack one of their favorite blankets while moving to a nursing home.
You can also pack a small blanket to use while sitting in the wheelchair. But make sure the blankets you pack are machine washable and take a fair amount for laundering.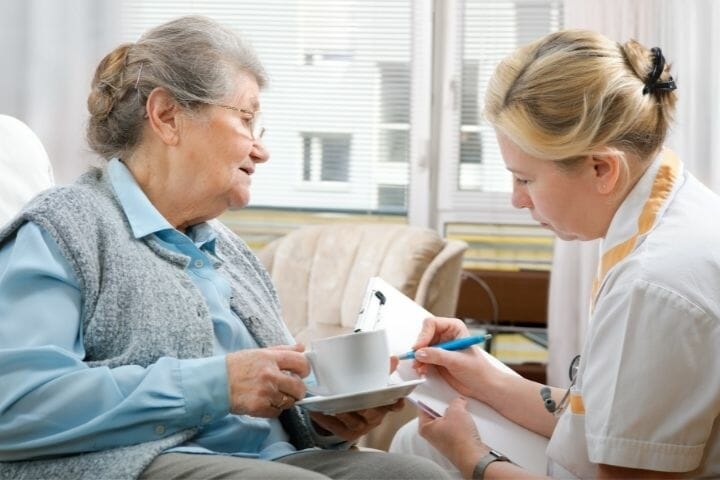 #4. Electrical Items And Technology
If there is no television in the room, then you can purchase a small TV and a DVD player for them. But don't forget to pack spare batteries and the TV and DVD player labeling.
Ask the nursing home about the extension cord. Some nursing homes do not allow them as they fear having trips and falls, whereas others allow for a limited time during the year.
Many nursing homes allow their residents to use smartphones, tablets and laptops. If wifi is available at the nursing facility where your elderly parents will move, then make sure you know the password and the fees associated with it.
Advise your parents not to log in to internet banking or any other personal information sites if you feel that the wifi is not secure.
Try to write the name of your elderly parents on each electrical item that they are going to carry while moving to a nursing home.
#5. Favorite Things
You can display family pictures as a collage on the wall of their room.
A CD player loaded with the favorite music of your elderly parents can be a great addition to their life.
You can pack some of their treasured items like their favorite snacks, scented lotions, favorite books or a stuffed animal.
You can hang some favorite posters on the walls of your parents. If nails are not allowed, then poster tack can be helpful.
Some items are commonly not allowed in a nursing home. The items are mainly electric blankets or fragile objects like glass.
#6. Hobbies
Days in the nursing home can be long for your elderly parents when they are unfamiliar with the new surroundings. However, engaging in a hobby can be the best way to overcome the fear of losing independence.
Many nursing home facilities have a library where your elderly parents can spend their time reading books. But if it is not there, you can pack a few books and other accessories.
If your elderly parents are puzzle masters, you can pack large books with crossword puzzles or sudoku. You can even pack decks of cards or small board games to pass their time.
If your elderly parents love to write letters or stories, then make sure you pack all the necessary items like a pen, notepad and various other things.
#7. Miscellaneous Items
You can pack an attractive calendar marked with birthdays of the family members and holidays along with other items.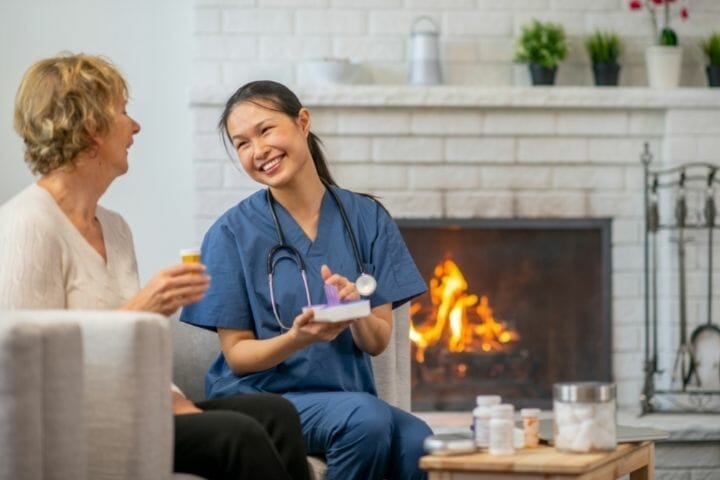 How To Move My Parents To A Nursing Home?
Deciding to move elderly parents to a nursing home is a big deal. It's something you may have never anticipated in your life, and you may wish that this stage would never have come in your life.
A point comes when you have to admit that you can no longer give the best care to your elderly parents, which they deserve. However, I am discussing below a few approaches which will aid both you and your elderly parents make the transition smoother.
#1. Work With A Counselor
If you find moving your elderly parents to a nursing home challenging, then take the help of a counselor. The counselor will work with you and your elderly parents to make the transition easier.
#2. Choose A Good Nursing Home
There are plenty of nursing homes available. But, always choose a nursing home that will suit the needs of your elderly parents. You can visit the place and see where your parents will be staying.
Try to choose the place that allows your elderly parents to bring their things and mementoes, which will create a homely atmosphere. It will help your parents feel more comfortable after such a significant change in their lives.
#3. Plan Ahead
Try to discuss with your family members about your parents' move to a nursing home before the situation becomes worse.
If they don't have any mental disorders, you can involve your parents in the discussion. Planning will enable you to choose a good nursing home for your parents.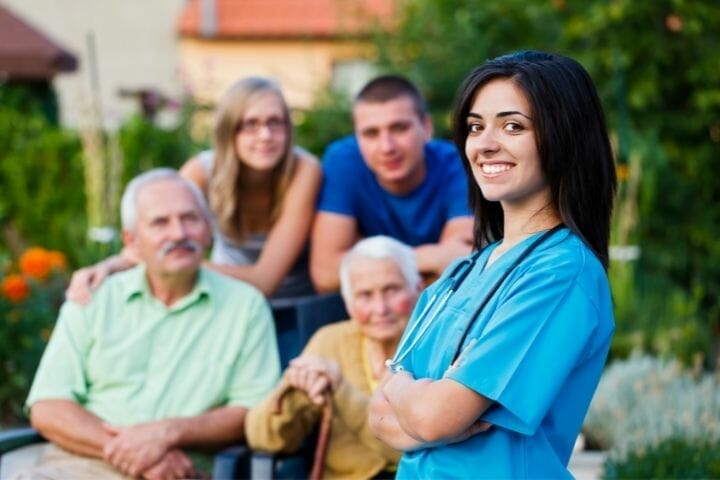 #4. Takes Some Time To Adapt Changes
The entire process of moving your elderly parents to a nursing home can emotionally drain both parties. The move can make your elderly parents angry and upset, while you may feel guilt for moving your parents to a nursing home. However, it takes some time to adjust.
I am listing a few ways to counter the negative energy between you and your parents.
Always hear the complaints of your parents but don't argue. Arguing can make the situation worse.
You need to understand that your parents need you to listen to their worries without judgment.
You need to realize that your old parents need your support.
#5. Have Regular Visits
You can have a regular visit to decrease the stress of your elderly parents. Nursing homes usually conduct activities like bingo and multiple arts and crafts for your elderly parents. So make sure you understand the schedule of your parents before you arrive.
#6. Alternatives
While moving your elderly parents to a nursing home, you both have to realize that it's possible to see each other as before physically.
If regular visits are not possible for you because of a busy schedule or if you stay in another town, you can call your parents or send an email. I am sure these small things will bring a smile to your elderly parents.
How Can My Elderly Parents Pay For Nursing Home?
Long Term Care Insurance: Long term care insurance may help your elderly parents pay the nursing home bills.
Medicaid: Medicaid pays the nursing home bills if your elderly parents have limited income sources.
Veteran Benefits: If your elderly parents are veterans, then they can get benefits from the Aid and Attendance program to cover the cost of nursing home bills.
Wrap Up
When the time comes to move your elderly parents to a nursing home, you may have a lot of intense emotions like fear, doubt, excitement, and guilt. Similarly, your parents will be highly emotional while leaving their house and personal belongings with whom they have been attached for so many years.
They may feel scared or get angry and confused and silently treat you. All these things are normal and will take time. However, choosing a good nursing home, packing essential items for your elderly parents, and regular visits may reduce stress on both parties.
I hope the article has given you useful information. Please don't forget to share the article with someone searching for this information. If you have queries about moving your elderly family members to nursing homes, you can ask us in the comment sections.