Here are some quick and easy healthy meals to prepare for seniors!
Food is the source of all our energy as well as nutrition that helps keep our body healthy, immune to disease, and active. Eating healthy is especially important for seniors to get the necessary nutrients and minimize the risk of chronic diseases. 
Older adults can ensure a good diet by using healthy meal recipes. However, many of them don't know about easy nutrient-dense meals, which may cause them nutritional frailty or other illness. 
Interestingly, polls suggest that 3 out of 4 Americans think that they eat healthy, whereas the overwhelming evidence points to the contrary. 4 out of 5 Americans don't eat enough fruits and vegetables, and 2 out of 5 are obese! So clearly, there's a lot of confusion out there about what's healthy and what's not!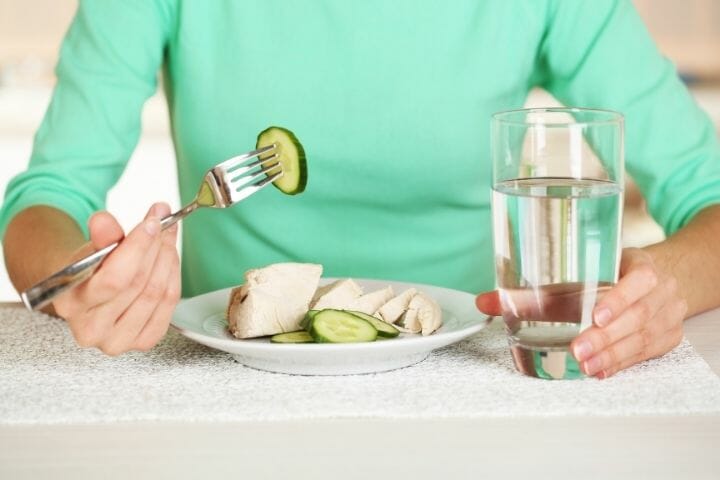 Another problem that older adults face is that they might have conditions such as hand tremors, Parkinson's, Arthritis, etc., that affect their cooking abilities; without any assistance, making a healthy meal is difficult. Easily accessible foods such as canned or processed foods become a staple diet for such people.
But this is clearly not healthy because processed foods are high in salt, sugar, and preservatives, which are harmful to your health. In this article, Respect Caregivers editorial team has put together some quick healthy meal ideas that contain necessary nutrients for the diet of older adults. 
You might like to read: Healthy Holiday Eating Tips for Seniors (with Infographic)
Healthy Meals to Cook for Seniors: Breakfast
For breakfast, seniors can make different kinds of juice packed with nutrients and other quick meals. Experts say older adults should consume foods with a good source of protein in the morning. Some meal to prepare for breakfast includes:
Pumpkin oatmeal: you should try a tasty warm bowl of oatmeal during a chilly winter morning. You can prepare pumpkin oatmeal that contains extra vitamins and minerals. It includes vitamin A and C and good dietary fiber.
Banana spice smoothie: Seniors should start their day by drinking healthy and delicious drinks. You can make a banana smoothie with spices and kefir, and it is suitable for digestion and lower inflammation. Kefir is also rich in vitamin B12 that most seniors need in their diet.
Warm oatmeal and berries: You can make them by adding fresh berries to them. You should cook oats on low heat for some time, then add berries on top of warm oatmeal.
Whole-grain pancakes or waffles: You should choose a brand of whole-grain pancakes or waffles that contains chia seed as it is rich in proteins and fatty acids. You can also add other nutritious dry fruits like almonds and walnuts. 
Hard-boiled egg: Boiling an egg is easy. You can use other side dishes such as a slice of wheat toast or fresh fruit when you boil an egg.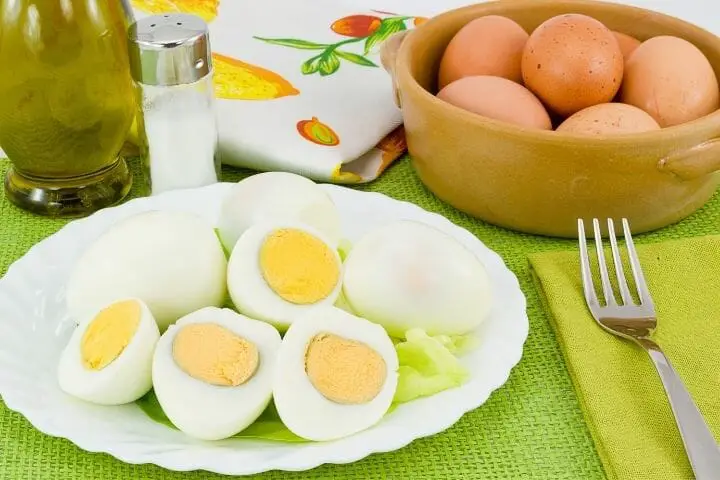 Poached egg: Seniors should make this poached egg without any difficulty. You can prepare it by placing an egg on top of steamed asparagus and whole-wheat toast. Seniors should add a little bit of butter to the egg.
Power toast: Making a toast is easier for seniors. You can make one power toast by spreading almond butter or peanut butter on whole-wheat toast and get a good amount of fat or protein.  
Yogurt parfait: You should add yogurt to your diet. You have to mix yogurt, fruit, and nuts together. Older adults will receive a good amount of vitamin C, healthy fat, and carbohydrates.
Carrot ginger juice: You can boost your immunity with this carrot ginger juice; try adding it to your breakfast. You may not like its name, but you may become a fan of both ginger and carrots after drinking it. 
Beet-carrot-apple juice: this is another healthy drink for seniors, beet-carrot-apple juice. You can prepare this combination of liquids with ease. Seniors can get many health benefits from this rich and sweet juice combo.  
Fruit salad: Making fruit salad is easy. You can make fruit using your favorite fruit and enjoy eating it. You should prepare a fruit salad with the addition of honey; you can also use the included fruits kiwis, berries, and mango to make it unique. 
Green juice: you should definitely make this green juice using fresh vegetables. Vegetables are rich in many vitamins and dietary fiber. You can use green veggies like kale, celery, and cucumber. 
You might like to read: 6 Reasons Why You Should Consume Fiber Daily (with infographic)
Healthy Meals to Cook for Seniors: Lunch
For lunch, seniors should prepare meals that need no assistance and fulfill their nutrients for the day. You should use more colorful vegetables and leafy green in your meal. Some meals idea for lunch includes:
Eggs and red potatoes: You can cook it quickly; first, you have to melt a pat of butter in a bowl while chopping up potatoes and adding it to the bowl. Cover it and cook potatoes on medium heat, then pour some scrambled eggs over it. You can sprinkle seasoning like pepper over it. This lunch meal is a rich source of potassium, iron, and protein.
Quinoa salad: You have to sauté pre-chopped vegetables, including onion, mushroom, and red pepper, and stir-fry it. You have to add cooked quinoa with pecans or nuts to stir-fried vegetables, and quinoa salad is prepared.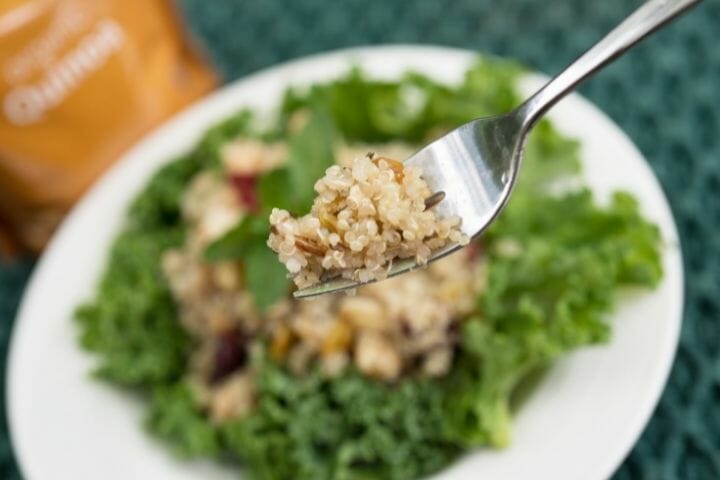 Quinoa black bean burrito bowls: You can make this easy meal to complete your goals and work. It's packed with energy and is super simple to prepare. You can use spices and fresh vegetables like legumes to make it more nutrient-dense. 
Lemon herb cauliflower bean dip: Seniors should use this delicious and rich meal as it contains many diverse mixed spices that pose health benefits. The herbs help lower inflammation, and cauliflower is a good source of Vitamin C that improves immunity boost.
Creamy vegetable soup: You can make a healthy vegetable soup using ingredients including milk to make it creamy. You can get many nutrients from milk and vegetables like vitamin B12. 
Salmon wrap: You can quickly make it by placing Alaskan salmon on a whole grain wrap. The boneless and skinless salmon is high in protein. You can also add chopped tomatoes, avocado, and yogurt and wrap it. 
Loaded mash potato cakes: You can make another healthy dish with potatoes for lunch. The loaded mashed potato contains the flavor of cheese and extra spices.
Southwest omelet: to prepare a southwest omelet, you have to beat two eggs, then add its mixture to the frypan with one tablespoon of olive oil. You can use natural salsa, pepper jack cheese, or chili sauce for your omelet.  
Healthy spinach and Mushroom Omelet: You should make this wholesome and hearty lunch for seniors. It includes healthy veggies with the benefits of an omelet. This dish provides vitamins A and B6, extra vitamin B12, magnesium, and potassium. 
Cottage fries: you can make fries using parboiled potatoes and slice them while heating extra virgin olive oil in a pan on a medium heat setting. Cook the potatoes and add grated sharp cheddar cheese or some vegetables over it.
Fried rice using mostly veggies: Older adults should try fried rice. However, it is a traditional dish in Asia. You can prepare delicious fried rice using vegetables as it packs lots of nutrients like protein, fiber, and iron.
Basil tomato mozzarella salad: Seniors can make this easy Mediterranean salad and enjoy its nutritional value. Fresh tomatoes are an excellent source of vitamin C, and mozzarella has delightful textures and adds flavor. You can use quinoa as it is packed with many nutrients. 
You might like to read: How to Increase Energy Levels Among the Elderly
Healthy Meals to Cook for Seniors: Dinner
You should prepare fantastic meals for nights with additional health benefits. Some meal prep idea includes: 
One-pot garlic pasta: You can prepare this excellent healthy meal for dinner with simple steps. You should prepare whole grain pasta that has more health benefits. Garlic is amazing for immunity boost and digestion.
Stuffed green peppers: Seniors should try this dish. Prepare stuffed green peppers. And enjoy its deliciousness and nutrient value of vitamin B12, minerals, and protein. You can serve this dish with a smoothie or fruit salad.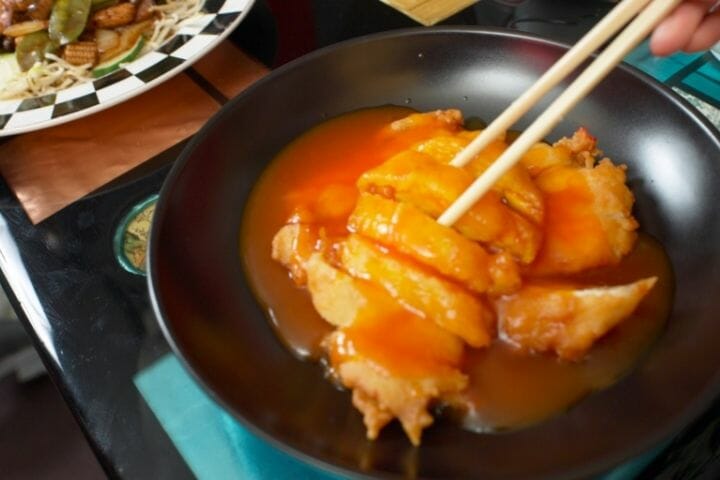 Easy chicken enchilada casserole: You can make this vibrant and cheesy chicken enchilada casserole for dinner as it is a great help to seniors with chewing difficulties. 
Grilled or baked Alaskan salmon: You can cook salmon with sweet onion, tomatoes, fresh basil, and chopped garlic. You can enjoy the flaky fish along with its nutrients.
Beans and rice: To prepare it, heat the pinto, black, or white beans and serve it with oats, brown rice, or barley. 
Lamb and potatoes: It is a delightful yet excellent nutrient-packed dinner for seniors. You can easily prepare it by making small lamb meatballs and adding them to the sliced cooked red potatoes. You can also use different herbs for a rich flavor.
Liver and fennel: To make it, place liver slices in a pan and cook it with olive oil. Add chopped fennel, cabbage, and ted onion over it.
Shrimp and pasta: Seniors should make this as whole grain pasta is more nutritious, and shrimp are also packed with proteins and other minerals. To make shrimp and pasta, heat a pat of butter with one tablespoon of olive oil in a pan. Add a handful of shrimp with chopped herbs into the pan. After cooking, add it to the pasta.
You might like to read: How to Read Food Labels Without Getting Confused
Healthy Meals to Cook for Seniors: Mid meal Snacks
Seniors can eat many nutritious snacks between the gaps in their meals. Also, seniors should drink plenty of water throughout the day. Some healthy snack includes:
Yogurt
Fruits 
Frozen fruit smoothie
Baby carrots and hummus
Banana cocoa yogurt pops
Celery with natural peanut butter
Bean dip
Dark chocolate with almonds
Cottage cheese
Chili popcorn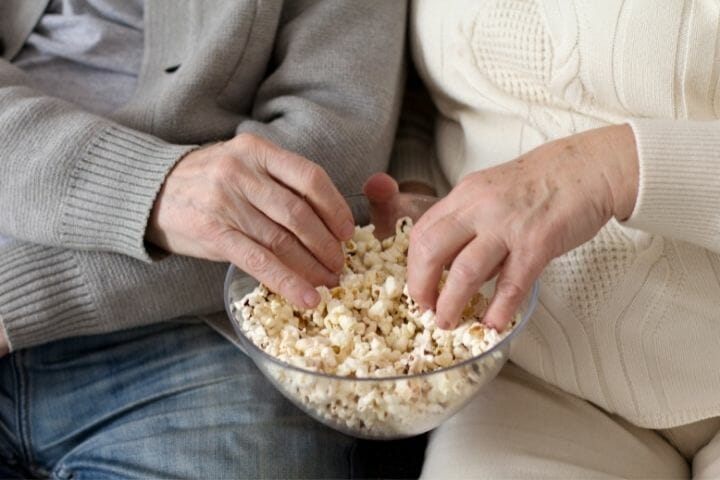 Wrap Up
Preparing delicious and nutritious meals is a significant achievement for a senior. You should quickly prepare something different but easy for various meals that completes your daily nutrient intakes. 
Many foods available for breakfast, lunch, dinner, and snacks are nutrient-packed. However, avoid grapes as they may interact with many medications seniors may take. Try to prepare and enjoy them one by one. 
We hope you enjoyed the dishes and ideas for healthy meals. If you have some more of your own, please write to us in the comments section, and we will try to include them in the article for everyone to read.
If you loved the ideas, please share the page on social media and in your groups!
You might also be interested to read: