Knee replacement surgery, also known as Arthroplasty, is recommended when knees suffer structural damage. This damage occurs due to wear and tear, osteoarthritis, or rheumatoid arthritis.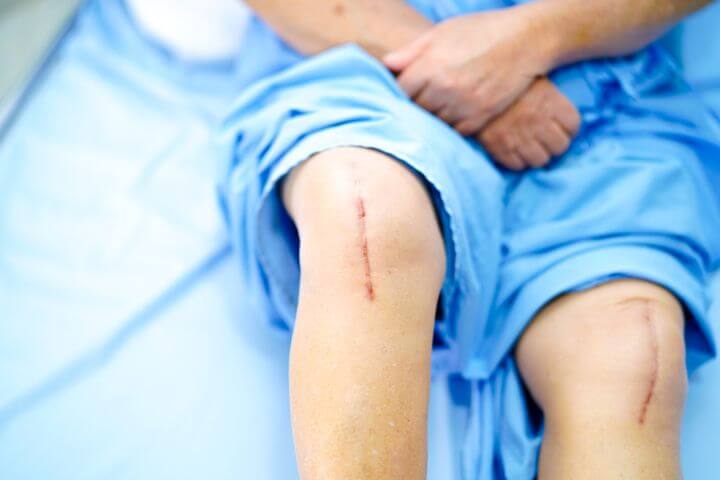 People requiring knee replacement usually have trouble walking, climbing stairs, getting in and out of sitting posture. It makes it quite unbearable to perform even their routine tasks. Thus, surgery becomes the only solution.
Today, knee replacement surgery is a common procedure, with more than 300,000 knee replacement procedures performed in the US every year. However, it is an expensive procedure that can make a big dent in your pocket. Thus, many people from the West consider various medical tourism options with India being one of them.
The average cost of a knee replacement surgery in India is in-between USD 4,000 to 6,000 for one knee. On the other hand, it costs a whopping USD 30,000 in the US. Affordable living, a rich pool of medically qualified doctors, and a low cost of surgeries make India a preferred choice.
Let us find out more about the costs and what makes India a favored destination for knee replacement surgeries.
You may also like our article on chairs to use post knee replacement surgery
Why Is Knee Surgery Cheaper in India?
The main reason for people to come to India for their knee replacement surgery is the cost-benefit. It is about 35% cheaper than in the US.
India is an affordable destination because the valuation of the Indian currency is much lower than the US dollar, pound, and euro.
The cost of implants is lesser as the Indian government has set a bandwidth on the medical equipment costs. It has put a cap on the cost of knee implants.
The cost of living is much lower in India as compared to western countries. It makes medical tourism cheaper in India.
Benefits of Doing Knee Replacement Surgery in India
The healthcare sector in India is booming. Multiple reputed hospitals and world-renowned doctors are undertaking complicated knee replacement surgeries with excellent success rates.
Some of the well-known hospitals doing knee-related surgeries are Fortis Healthcare (Gurugram), Artemis (Gurugram), Medanta the Medicity, (Gurugram), Manipal Hospital (Bangalore), and Apollo (Mumbai).
Some of the many benefits of doing this surgery in India are as follows:
1. Cost
People flock to India to undertake this surgery mainly due to the cost factor. Knee surgeries In India amount to about US$ 4,000- 6,000 for one knee vs. US$ 30,000 in the US.
The average cost of two knee replacements in India is between US$ 6,500-9,000. The same surgery would amount to US$ 55,000 in the US. So you save about 35% in terms of cost in India.
The government of India has placed a ceiling on knee implant prices. It makes it all the more affordable for both Indians and foreigners.
These costs may vary a little depending on pre-op procedures such as (CT-scan, x-rays), prostheses. The surgery cost, post-surgery care (follow-up consultations, physiotherapy), other costs (brace, crutches, etc.), and hospital stay also influence the overall costs.
2. Advanced Medical Procedures
India has all the advanced machines and implants needed for knee replacement surgeries. It offers the best surgery procedures, including the following:
Minimally invasive procedures – A shorter incision is made to view and access the knee. It reduces postoperative pain and hastens recovery.
Arthroscopic procedures- The surgeon uses a camera to look within the knee joint rather than opening it completely.
Navigational surgery – An infrared-based tool is used to help with real-time visual information. This information is about the implant positioning, bone cuts, and the alignment of the limb.
Da Vinci robotic surgery- A robotic surgical arm is used to perform certain parts of the surgery. It puts minimal trauma on the bone and the tissue and more accurate results.
3. State-of-the-Art Hospitals
India has specialized hospitals for knee replacement surgeries with world-class facilities. All of these hospitals are NABH and JCI accredited, giving them a stamp of approval. They have private rooms in different categories for the patients with good food and hygiene.
4. Highly Skilled Medical Team
India offers highly qualified knee surgeons with ample experience in the field.
The reputed doctors are typically qualified in MS in Orthopedic, MCH in Joint replacement (Master of Chirurgiae), DNB/FRCS/MRCS ( Diplomate of National Board/Fellowship of the Royal College of Surgeons from International Colleges and Hospitals/Membership of the Royal Colleges of Surgeons of Great Britain and Ireland).
They have also done many International Fellowships and Training Programs. They also have extensive clinical experience.
Besides knee surgeons, the medical teams in top hospitals also have specialized lab technicians and physiotherapists. They guide you through post-operative care, which is critical in the recovery process.
You might also like Best Ice Machine for Knee Replacement
Factors That Affect the Cost of Knee Replacement Surgery Within India
The overall cost of knee replacement surgery is dependent on many factors. The complexity of the surgery, the type of surgery opted for, and the post-surgery care. All these factors affect the costs involved. Several other contributing factors that alter the knee replacement surgery costs are:
1. Geographical Location and Type of Hospital
There are varying classes of private hospitals in India where the price of staying changes with the place.
The most-facilitated and high-end hospitals in a metro will be much more expensive than the ones in tier 2 cities. The costs will also increase if the hospital offers more than just surgery, such as physiotherapy, lab tests, and more.
2. Type of Accommodation
In Indian private hospitals, prices vary based on the type of room you wish to book. There are usually three categories of a room – standard, deluxe, and super-deluxe. The prices are quoted as per these rooms, the highest being for a super-deluxe room.
3. Fees
In a knee replacement surgery, there is usually a team of doctors involved. This team includes surgeons, anesthetists, physiotherapists, and dieticians. They perform the surgery and offer post-operative care.
The overall fee would include the cost of surgery, medications, consultations, post-operative care, lodging, and the doctors' fee. The doctor's fee would vary based on their overall qualifications and experience. It would also depend upon the type of hospital and the city it is located in.
4. Type of Implant
Artificial knee implants are made of different combinations of materials. The various options available could be metal on plastic, ceramics on plastic, ceramic on ceramic, and metal on metal.
Whatever the material, they are all durable, allow some flexibility, and are biocompatible. It means that they do not corrode, react, or cause any harm to the tissues. Depending on what implant you use, the price of knee replacement surgery will vary.
In addition, the prices will also depend on the implant brand. If it is an American brand( Zimmer, Biomet), it costs approximately USD 720. The Indian (Siora Surgicals Pvt. Ltd, Meril – US FDA approved) products cost around $370.
5. Type of Surgery
The surgery cost depends on whether it is a total knee replacement or partial knee replacement. The cost of the surgery also varies if it is for a single knee or both knees.
You might also like Work Restrictions After Total Knee Replacement
Conclusion
Knee replacement surgery is an expensive process costing about US$ 30,000 for one knee surgery in the US. The overall cost of this surgery is one-fourth the price in India vs. the West.
The main reasons being a weaker Indian Rupee, a government ceiling over the cost of medical equipment, and a lower cost of living. So if finances are a challenge, it is a great idea to explore India – the medical mecca for knee replacement surgeries.
Healing before you are able to go back to driving, skiing, hiking, running, traveling, etc. can seem to be a long journey. Below is the list we covered for post-surgery care that might help you along the way.