Can estheticians do Botox, or is it a medical doctor's job? After all, Estheticians attend cosmetology school and attend training in skin treatment and hair removal. Injecting Botox, should be in their purview, or is it a purely medical treatment? Let's find out. 
Do you know that even though Botox has been around for less than 20 years, it has become one of the most popular cosmetic procedures in the US? More than a million US citizens are getting it done every year. 
People have no idea that only a licensed medical professional is legally allowed to do this job, and technically, Estheticians are not approved in the field. 
So, should you let an esthetician administer or inject Botox into your skin is the question, and this little article has all the answers. So, go ahead and read on!
Why Is Botox So Popular?
Botox is an FDA-approved non-surgical treatment for people who want to prevent wrinkles from forming. It uses a sterile needle to inject Botox in small quantities into the skin of the concerned person and improves the aesthetics of the face. 
The injected product blocks the signals of nerve cells which completely halts the facial movement and stops wrinkles from forming. Generally, Botox treatment is given to the wrinkles present on the forehead, cheeks, mouth, eyes, etc. It is also injected to enhance lips and eyebrow arches in some cases. 
Even though Botox has become a popular cosmetic procedure nowadays, in the medical world, Botox is essentially used to treat conditions like excessive sweating, muscular disorders, bowel disorders, and migraines. 
You might also like to read: Best Nail Clippers for the Elderly
Can Estheticians Do Botox?
In general no, but it depends on state to state.
The practice of medicine is regulated state-to-state in the US. Thus, whether an Esthetician is eligible to inject Botox into your skin depends on where you live in the country. 
Plus, to be good at injecting Botox, one needs proper medical training and a deep understanding of facial anatomy. One out of every five Botox consumers is not satisfied with the result and starts looking for a new professional to do the job. 
Keeping up with the paradigm, most states in the US only allow a licensed or registered medical professional to inject Botox. Usually, estheticians are not medically licensed to do this job, but they can assist the medical professional who does the treatment. 
Many private spas and related services allow non-medical professionals to administer Botox to their customers. So, it is suggested to get a referral of the person who is about to inject Botox into your skin. 
Talk to them about their patients, call their contacts, connect to them directly and listen to what they say about the professional. If everything seems well, go ahead with the process, but in no case should you allow someone without a medical license to fill your skin with Botox. 
You might also like to read: Best Laser Hair Growth Devices
If Not Estheticians, Who Can Inject Botox?
There are specific qualifications that you need to be able to inject Botox into another person. These qualifications include:
For basic upper face procedures with Botulinum toxin, you need to have a level 6 qualification. At level 6, there is nothing else that you can do apart from this. 
If you want to be qualified to properly use Botox on any body part, you need a minimum of level 7 qualification.
It would help if you had specific qualifications to inject Botox because it is more medical treatment than a cosmetic procedure. Thus, it can only be administered by a registered medical practitioner, such as a dermatologist, nurse, physician's assistant, plastic surgeon, etc.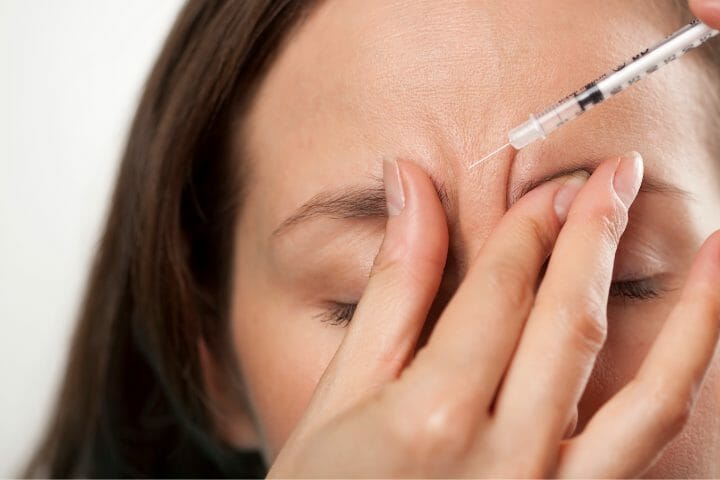 Can a medical assistant do Botox?
In some states such as California, even medical assistants are not qualified to give botox.
In the US, Botox can only be administered by licensed medical professionals, medical doctors, registered nurses, plastic surgeons, dentists, physician's assistants, etc. 
In some states, even assistants and nurses are strictly forbidden from injecting Botox, no matter how qualified. For instance, nurses and assistants can legally inject Botox into a patient's skin in Florida. 
Still, the case is not the same in California, where medical assistants cannot inject the same without a physician's guidance, approval, and in their presence. 
Even medical professionals need a Botox certification to proceed with the injection. In other words, licensed professionals need to go through hands-on training and cosmetic procedures to administer Botox to the patients since the treatment often has a high chance of going wrong. 
You might also like to read: Best Eyeliner For Seniors
Can a phlebotomist give Botox injections?
No, that's not what phlebotomists are qualified to do.
The general duties of a phlebotomist include:
Drawing blood from tests
Responding to codes 
Running outpatient lab after hours or when needed
Receiving blood into the lab 
Work as minor assistants at the lab, such as running flu tests, etc. 
As you can see, a typical phlebotomist isn't even allowed to vaccinate the patients let alone inject Botox into their skin. In other words, a phlebotomist isn't or shouldn't be allowed to give Botox injections, even under the guidance of a medical professional.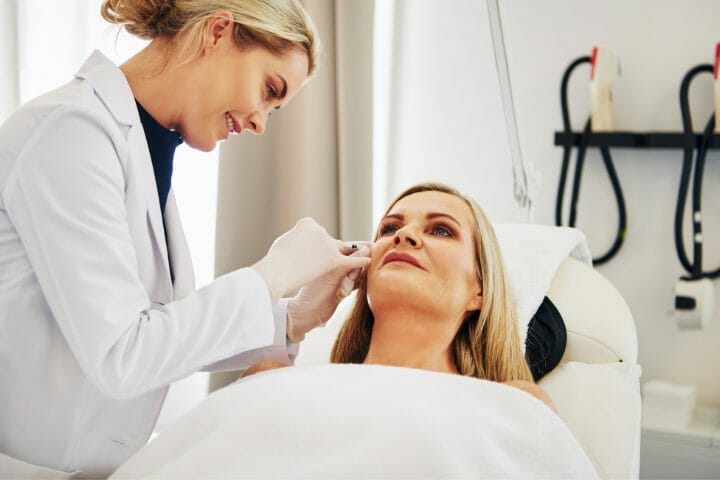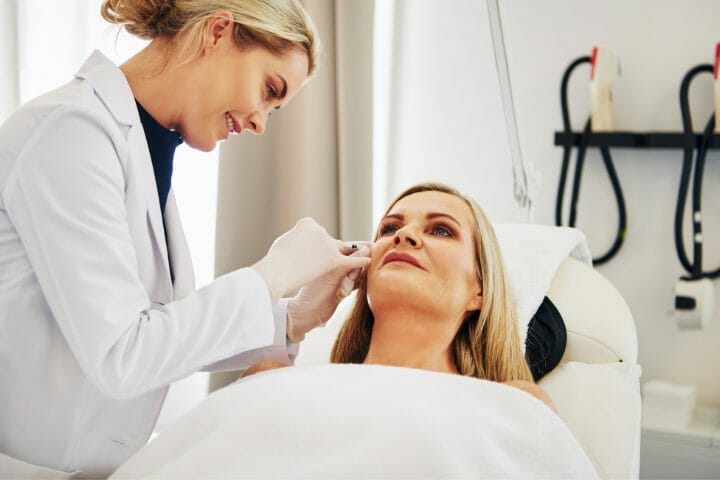 Can a cosmetologist do Botox?
No, it is not legal for a cosmetologist to give Botox injections to people. 
Botox injection or administration is a medical treatment, not a cosmetic procedure. So, it is done only by a licensed medical professional or a practitioner working directly under a doctor's supervision. 
You might also like to read: How to Cover Dark Circles under Eyes on Mature Skin
Frequently Asked Questions
#1. Who can give Botox injections?
A licensed medical professional can give Botox injections, and no one else. Thus, a medical doctor (dermatologist), plastic surgeon, registered nurse, or physician's assistant (in some states) can legally give Botox injections. 
#2. Can medical Estheticians do Botox?
Whether a medical Esthetician can administer Botox depends on the state you are living in. However, getting your Botox injection from an Esthetician is not recommended since they are technically not medical doctors. Only licensed medical professionals can legally inject the product into the patient's skin. 
#3. Who can inject Botox in California?
The only people who can inject Botox in California are those with a medical license, and these professionals include dermatologists, nurses, physician assistants, plastic surgeons, etc. Any person who is not a registered medical professional cannot inject Botox into people's skin, and if they do, it is indeed illegal. 
A Few Final Words 
It is essential to learn about the rules and laws related to the administration of Botox, for it can make or completely break your facial aesthetics. Many people get it done at a private spa or care center, which is not a good practice. 
Many such spas allow cosmetologists or unlicensed professionals to do the work. So, it is essential to do your research, talk to people who went through the procedure successfully, and find a practitioner with a good experience and record in the field before you get it done. 
Thank you for reading, we hope we have covered all aspects of your question – if not, do write to us and we will respond back with answers.