It can be a misconception that sandals are not appropriate for elderly folks to wear, because they leave the feet more open and exposed than other types of footwear. However, it is possible to find sandals that are safe and comfortable for seniors to wear, as long as one takes into consideration a host of factors that improve the usability and safety of sandals for older individuals.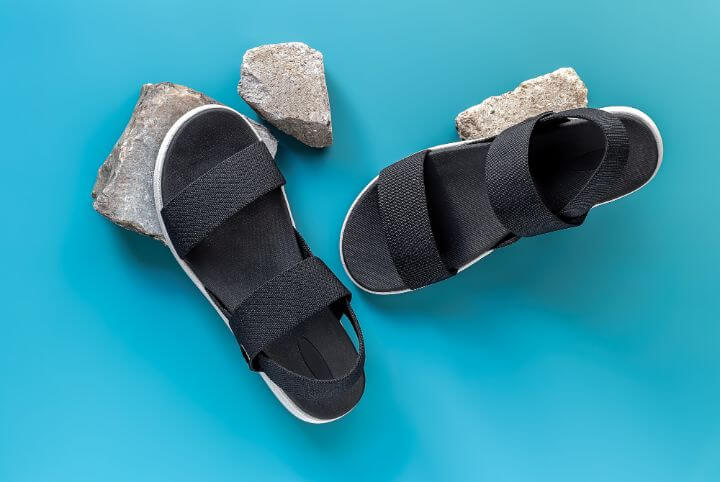 In this article, we look at what constitutes a good sandal for a senior and then go on to discuss the best sandals for seniors that are available in the market. After going through this article, you can come to understand that seniors don't have to miss out on the fun and breathability of sandals after all.
The table below gives a quick snapshot of our top picks of best sandals for seniors. Scroll down for our in-depth reviews and discussions.
Selecting the Right Sandal for Seniors: A Buying Guide
Safe Walking
Flip flops, slipper sandals, and open heel sandals are a quick no-no when looking to buy a sandal for seniors since they do not provide any support for the ankle and can easily slip right off. This is why they are very unsafe to wear.
Look for sandals that have a velcro strap, zippers, elastic ties, or are slip-on, which can ease the task of putting them on. You can increase the size of the sandal's mouth with these types of fasteners, which can be useful if you are susceptible to swollen feet.
Stable and Supportive
Fall risk is one of the biggest criteria that one should consider when buying a sandal for a senior. You should look for a sandal that really supports the foot and stabilizes it all the time.
For example, try sandals that have several straps around the foot, perhaps at the toe, ankle, and top of the foot. This helps to securely hold the foot in place, while also making it easy to customize the size of the sandal as per your requirement.
Another feature to consider is the heel cup. You should ideally look for a heel cup that immerses your heel, with your heel sinking into instead of standing on top of it. This makes the heel "dig-in" and therefore be more safely held in position.
Anti-Slip Soles
As the name suggests, anti-slip soles have treads in them that grip tightly to the walking surface, making it difficult to lose control and fall in slippery or wet conditions.
However, make sure not to buy ones where the treads are too deep. It is possible to get small stones or pebbles stuck in deep treads which can cause your loved one to destabilize and fall.
For indoors usage, prefer shallow treads made of rubber, which have much better traction with harder surfaces like floors and hardwood.
You may also like Best Shoes for Aging Feet
Avoid Heels
Some ladies may like to have heels on their footwear, but heels can be a dangerous element to have on your shoe or sandal if you are a senior.
Heels put pressure on the wearer's ankle, heel, and toes that which are supporting the weight of the body. These areas are sensitive to pressure and can easily get damaged. It is therefore much safer to wear flats.
Specialized Soles for Comfort
These days, a lot of sandals come with specialized soles that maximize comfort, such as those made from memory foam or gel. There are soles that are especially recommended for conditions such as plantar fasciitis. If your loved one is facing a situation where their heel or sole hurts often and needs comfort and support, consider buying a product with specialized soles such as those mentioned above.
Breathable Material
Make sure that the material of the sandal is breathable and is lined with soft material. Even though your entire foot is not covered, the parts of your skin that are in direct contact with the sandal are prone to facing friction and therefore the possibility of rashes and pressure sores. It is important to have a sandal made from breathable material and a soft inner lining, which will make sure that the friction between your foot and the sandal is minimized.
You may also like Best Shoe for Heavy Runners
Best Recommended Sandals for Elderly Women
#1 – Propet Women's W0089 Pedic Walker Sandal
Propet's is one of the most highly regarded footwear makers for seniors in the industry. The Pedic Walker is a best-selling shoe for its features, comfort, protection, and stability.
This is a certified diabetic-friendly product, with the medicare diabetic shoe code on it. The insole is very comfortable, secure, and cushioned to absorb shocks and keep your ankles free from injury.
The 100% genuine leather lining feels extremely comfortable on the foot and makes the external look elegant. The sandal has a removable cushioned footbed, which provides extra comfort to the heel and base of the foot. The closed heel design, along with dual hook and loop straps make the sandal fit very snugly on the foot, providing great support. The sandal has a textured sole for better grip on the road.
Pros
Medicare-certified diabetic-friendly product
Supportive insole
100% genuine leather lining for comfort
Removable cushioned footbed
Cons
Some users have complained that the straps are too short and make the sandal uncomfortable, especially with swollen feet.
You may also like Best Non Slip Shower Shoes
#2 – Clarks Women's Saylie Spin Sandal
Clark's Saylie Spin Sandals are a perfect blend of comfort, support and style. The sandal is extremely stable with 3 loops and hooks straps which hold the foot perfectly in place, preventing foot slippage. The straps are also great for adjusting the size of the sandal to your foot.
The shock absorption on this sandal is excellent. The proprietary Ortholite footbed with cushion soft technology makes the bottom of your foot insulated from the shocks of walking on the road.
The sandal has a great sporty look and is available in 4 different colours: Black, navy, olive and white. The exterior is made of suede and textile.
Pros
Stable and comfortable
3 loop and hook strap make the sandal fit snuggly on the foot
Great shock absorption
Cons
The sandals can get warm during summer.
#3 – Gold Pigeon Shoes Signature Sandal
These are uniquely designed and beautiful sandals that provide a different look as well as great support for elderly women.
No products found.
The cushioning on these sandals is very good. The ergonomic sole, combined with contoured bedding for arch support keeps the sole of your foot comfortable in all situations.
This sandal has an easy lock magnetic closure, which is great for those who have low hand dexterity and find it difficult to close the straps every time.
There are 3 adjustable straps that provide great stability to the sandal and also make the sandal easily customizable to every foot.
The sandal is waterproof and machine washable. Its textured footbed provides extra grip when the ground is wet.
The Gold Pigeon Signature Sandals are available in 25 different colours and styles to match your personal preferences.
Pros
Great cushioning on the feet
Magnetic closure for people with low hand dexterity
3 strap for extra stability
Waterproof and machine washable
The textured footbed and rubber sole provide good traction while walking.
Available in 25 different colours and styles
Cons
A few customers have complained that the sandal is a bit wide.
No products found.
You may also like Best Shoe for Foot Drop
Best Sandals for Elderly Men
#1 – Rockport Darwyn Quarter Strap Sandal
The Rockport Darwyn sandal is made by one of the most well-known brands in the footwear industry. The design of this sandal is very stable. The adjustable straps on the sandal hold the ankle and heel in place at all times while walking.
The sole of the sandal is extremely comfortable. It is made from memory foam and a fusion footbed provides extra cushioning to the foot.
The sandal has a roomy, relaxed, and wide fit. Velcro closures make this a perfect sandal for those with poor hand dexterity or those struggling with arthritis.
The 100% leather finish makes the sandal look extremely elegant.
Pros
Stable design
Comfortable memory foam soles
Roomy, relaxed fit
Velcro closures
Cons
Can be noisy when walking on certain types of flooring, due to its firm

.
You may also like Best Shoe Horn for Elderly
#2 – Nunn Bush Men's Rio Grande Closed Toe Fisherman Sandal
The Rio Grande Closed-Toe Fisherman is another great sandal with a classic style, comfortable interior, and perfect fitting.
The sandal has a sporty closed-toe design which can be worn with almost any kind of clothing and in almost every situation.
The memory foam inner lining and athletic mesh are extremely comfortable and provide great support to the ankles, toes and arch.
The hook and loop velcro straps are great for personalizing your fit as well as for people who find traditional closures a bit difficult to manage.
Pros
Sporty closed toe design
Extremely comfortable memory foam footbed
Very stable
Easy to put on
Cons
The straps are too short according to a few customers.
#3 – Dr Scholl's Shoes Men's Hayden Fisherman Sandal
Last but not the least, the Dr Scholl's Hayden Fisherman sandal is a comfortable option and provides a great fit to the user.
The sandal is gentle on the feet. It has a special micro-suede lining under the feet and neoprene lining along the sides that make this sandal comfortable on the skin.
The sandal is very stable with velcro straps that keep the ankles secure in place.
The leather finish of the sandal makes it a stylish looking product that can be worn with most combinations of clothes.
Pros
Comfortable, micro-suede lining under feet and neoprene lining along the sides
Stable, velcro straps
Stylish leather finish
Cons
The grip on the road could be better according to some customers.
You may also like Best Shoes for Venous Insufficiency
Frequently Asked Questions
Q. What are some of the most common foot problems experienced by seniors?
Foot conditions may be more common in seniors due to reduced bone density, reduced strength, related conditions that can also affect the feet, or just accumulation of impact to the feet that can lead to foot conditions over an extended time.
Some of the more common foot conditions in elderly folks include bunions, corns, calluses, hammertoes, ingrown toenails, diabetic foot conditions, poor circulation, and heel pain. Some of these foot conditions can be treated with visits to a podiatrist, though many could benefit from the use of comfortable and supportive footwear.
Q. What are the best sandal brands?
Some of the most well known footwear brands that make sandals include Rockport, Dr. Scholl's, and Clark's. Some notable brands not featured in this article include Birkenstock, Sorel, Oofos, and a large range of luxury brands.
Many brands that produce sandals also produce other types of footwear, so you may be interested to take a look at other form factors as well. Also recommended is to take a look at the offerings from sportwear companies like Adidas, Nike, Under Armour, and Hoka, which may release sandals occasionally and whose footwear generally focus on comfort and support for outdoor activities.
Q. Can orthotic insoles be used with sandals?
Yes, it is possible to insert custom orthotic insoles into sandals, but only orthotic sandals that have a removable insole. Unfortunately, most sandals do not feature a removable insole and are integrated with the outsole, whereas the insoles of most closed shoes can be replaced.
Q. If sandals don't work for me, are there other types of footwear I can wear in warmer months?
Certainly! While sandals can allow for the most airflow to keep the feet cool and comfortable in hotter weather, somebody looking for more support for their feet or the comfortability of a closed shoe can opt for a running shoe, athletic shoe, or another comfortable shoe variation with a breathable mesh upper. These shoes are typically light and comfortable (often with an EVA midsole or similar material), and their uppers have holes in them to allow for more breathability.
Other warmer month shoes include boat shoes, breathable clogs, or other variations of walking shoe or orthopedic shoe that are more breathable and preferably with an orthotic insole for comfort and support.
Parting Words – Fun in the Sun in Style and Comfort
Contrary to the belief of some, sandals are not just for younger people. Sandals can be enjoyed by seniors too if safe and comfortable ones are worn.
Sandals for seniors should be a combination of comfort, support and style. It is important to have the right stability, along with a multiple strap design which makes the sandal adjustable to most people's feet.
The Propet Women's W0089 Pedic Walker Sandal is our favorite sandal for senior women, with its very classy yet modern design, genuine leather materials, and supportive insole.
Our favorite sandal for senior men is the Rockport Darwyn Quarter Strap Sandal for its roomy yet secure fit, velcro fastenings, and durable outsole.
The products we have discussed are the best-rated products based on the criteria that we laid out in our buying guide. As usually, for specific advice on the right footwear to support you (especially if you have any foot-related condition) do reach out to a specialist medical practitioner.