Makeup can do a lot for people. And for older people, the right makeup can make you look even more beautiful and graceful.
When it comes to makeup, getting your eyes right is probably the single most important thing. Most people look into your eyes first. You got them right, you are halfway home.
Whether you are going for a full face make-up or that quick dash for an everyday outing, one of the first questions you need an answer to is, "What is the best eyeliner color for my eyes?"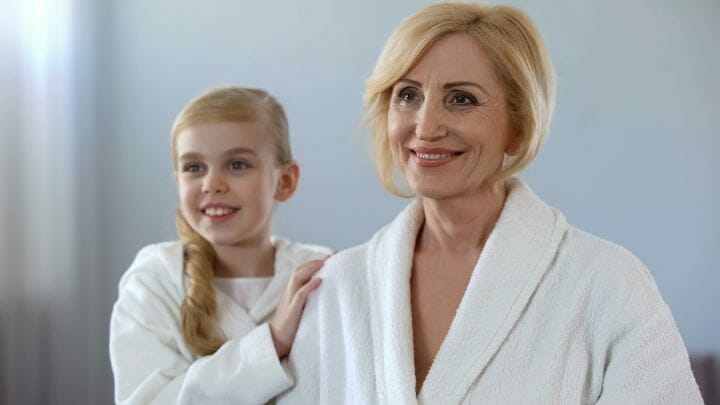 People of any age have to experiment with which color suits their eyes best. But it can be harder for older people to apply eyeliner, especially if they wear glasses, have shaky hands or have wrinkly or hooded eyelids
Nonetheless, with some simple rules of thumb, we will make the eyeliner color search easier for you. In this we share simple tips on what color, eyeliner tool, and look suits older eyes the best.
Of course, everyone has preferences on what color looks better on them – as this advice can be taken with a grain of salt. But for those who want makeup industry advice from professionals, keep reading on. 
So, what's the best eyeliner color for older eyes?
The short answer is, that the best eyeliner color for older eyes is brown for fair skin and black for medium to black skin.
Having said that, all beauty advice comes with a caveat. And this one is no exception.
The long answer to the question of best eyeliner color for older eyes is (like the long answer to any beauty question), "it depends".
So let us peel the onion a little more.
Expert Advice 
A celebrity makeup artist Ariane Poole has many eyeliner tips for older people. 
For black skin tones, black eyeliner will make them pop. But for fair skin tones, with greyish hair, it may be too bright to wear dark eyeliner.
A better alternative is to wear a brown or light brown eyeliner especially for those with lighter hair.
If the older person is going out on a date or evening outing, it's perfectly fine to wear black eyeliner once in a while, as heavy eyeliner can be too dramatic on a daily basis when you are just dressing casually.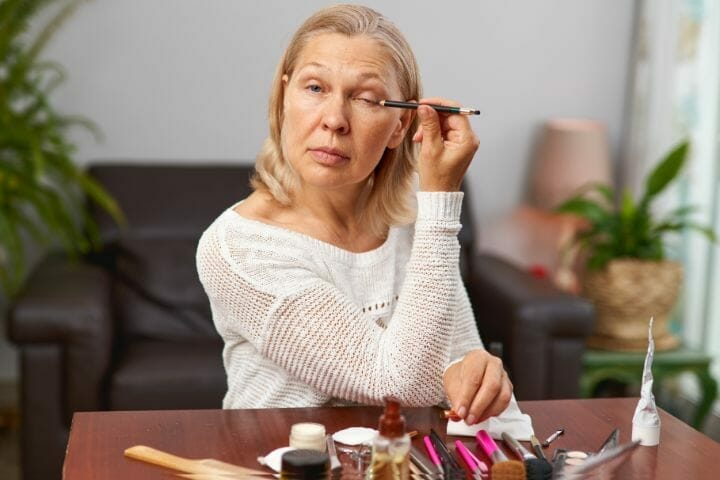 So, does eyeliner make the eyes appear larger than they actually are? Does color even matter in the appearance of the eyes?
A study showed that eye makeup including eyeliner makes the eyes pop. For older people, this is helpful if the skin has curved downward making the eyes appear smaller.
There's a lot of different ways you measure eyeliner and mascara. In this experiment, they used a staircase method. The results concluded that mascara and eyeliner make eyes appear larger, but you don't need the additional
effect. Based on the technique, the illusion of eye size will be increased.  Therefore, it is better to use black or brown on elder eyes. 
Black Eyeliner Benefits 
Dramatic look! Black eyeliner can be widely used for smaller eyes to bring the utmost definition. Black is a very popular eyeliner that more suited for darker skin. However, date nights are expected to be fancier and therefore can involve the use of heavier eyeliner.
Bigger eyes. Black eyeliner is a popular color among any aged person to make their eyes look bigger. Since the elderly may have hooded eyes, (droopy skin above the eyelid) the black line will stand out and bring attention to the eyelids, creating a wider allusion. 
Disadvantages 
Black eyeliner can be hard to get off, especially if it's waterproof. May need to rub the eye more with makeup remover that can cause styes or chalazion if not washed off properly. 
Liquid eyeliner is more prone to stick on the eyelid in one place. It would be a nuisance to the elderly who may have other health issues that don't want to deal with another one that may lead to surgery. 
You may also like TENS Machine For The Face And Skin
Brown Eyeliner Benefits 
Natural Look. Research shows that women pursuing makeup as their career preferred using brown eye makeup for an everyday look. This is because brown what color which was perceived as the most natural were brown eyeliner and eye shadow.
Balanced. This color suits lighter skin and haired people. Too dark of eyeliner on fair-skinned elderly will be noticeable and less natural-looking. Brown looks real and slightly enhances the eyes.
Disadvantages 
It may not make brown eyes pop as black eyeliner would. Eyeliner in general poses eye infection potential as it is, so wearing one that makes a difference is vital in deciding what color to wear. 
Brown only looks good on lighter eyes, and brown can sometimes smudge during the day especially if it's a pencil. 
You may also like How to Paint Nails With Shaky Hands
Best Types of Eyeliner 
Liquid liner
This eyeliner is for more skilled makeup applicators with steady hands. As some elders may have shakier hands, it's perfectly fine to use a pencil instead. Liquid is very appealing to brighten the eyes, however can be best used for a cat-eye look if suitable.
Pencil 
One of the easiest applications for eyeliner on older eyes is using a pencil. The recommendation from the makeup artist Poole is to use a charcoal gray pencil. This works on any hair color as it's not too dark to contrast the entire look.
Felt-tip pen 
A felt-tip pen may not be as sturdy at first to apply. Start with a pencil for calmer strokes with less worry you'll make a mistake, as it's easier to clean up. However, if you want more definition, this liner is your best bet.
Waterproof 
A waterproof liner is perfect for older eyes to stay on all day to keep the eyes to look defined. Especially great for those with glasses, as they can sometimes hide your eyes. Wearing a brown or black liner can bring more attention to your eyes and better yet, stay on longer.
The only downside is washing it off. A good waterproof makeup remover is from Amazon and is Amazon's choice. Just use cotton pads and saturate the product in it and wipe.
You may also like Best Cream for Old Stretch Marks
Eyeliner Color Suggestions 
Brown: Black eyeliner
Black eyeliner looks best on brown or dark brown eyes. Black can be worn every day as it's not too dark and compliments dark brown eyes to stand out.
Green: Brown eyeliner
Brown eyeliner is ideal for green eyes, as it gives a natural, earthy toned look. When the liner is flicked on the corners (cat-eye style) it gives off a very classy appearance that can be worn every day.
Blue: Brown eyeliner
Brown will make the eyes enhance a bit more, where black will make them pop dramatically. It's best for light blue eyes to wear a brown as it's one shade darker than their eye color. 
Style of Eyeliner 
Cat-eye 
Flick upwards at the ends of the eyes. This is usually referred to as the cat-eye look, to create a lifted eye look for a more youthful appearance. However, this can be difficult with wrinkles in the end corners of the eyes, so an outline may be more ideal for those without eye wrinkles.
It's best to use a liquid liner to draw the flick at the end for a precise line. Then, you can easily fill the rest with a pencil or pen – whichever is easiest. Hooded eyes may need more definition as liner is ideal to use.
Outline 
Simply outline the top of the eye and stop at the end of the eyelashes. This will make the eyes have more definition.
You can use an angled brush with powder, pencil, or a pen tip to draw. It will uplift your eyes since older eyes tend to go curve down naturally. 
A stroke on both sides is done by drawing a line along the curve of the eyelids. A pencil is easiest to draw as you can trace your eye with little lines until your reach the end of the eye to prevent a crooked line. 
You may also like Best Jeans for 60 Year Old Woman
Eyeliner Application Tips
You can use a pencil eyeliner on the inner lower eyelid or on the upper eyelid (or both for an ultimate dramatic look. However, using a pencil liner on the bottom eyelid may make the eyes look smaller.
Tracing your inner corner shaped like a sideways "v†can add extra definition. 
Adding a white eyeshadow in the corners can bring attention to the eyes overall by acting as a light source where the light would hit. You can also blend it under the lash line eyeliner to make the eyes appear longer and wider.
Tracing a pencil eyeliner on the bottom lid or directly tracing underneath the lash line makes the eyes pop a lot more.
Simply brush an angled eyeshadow brush into brown or black powder and gently sweep under the eye. If you're worried it'll smudge throughout the day, use a makeup setting spray to have to stay in place. 
Amazon carries a setting spray with a perfect matte finish for makeup to stay on all day and not crease in the corners. 
You may also like Best Lotion for Elderly Skin
Conclusion
The color of eyeliner is best to wear in coherence to your skin tone or hair color. As mentioned above, charcoal pencil is great for lighter skin, and black is great for medium to black skin. Lighter hair like grey may benefit from a brown instead of black to lessen the dramatic look. 
Wearing eyeliner can dramatically change the appearance of the size of elderly eyes. 
As people age, the skin naturally wrinkles or sweeps downwards with hooded eyes as a common factor. This can be helped by using the outline method to bring more attention to the eyes.
Since older people may have wrinkles in the creases of their eyes it might be difficult to use the cat eye method. However, just a small, dark, liquid liner tick at the end of the lash line can make a huge difference.
For more makeup tutorial, read How to Cover Dark Circles under Eyes on Mature Skin, and How to Apply Undereye Concealer to Mature Skin.