Are you wondering what to wear after a single mastectomy? Here are some clothing options that will offer you the needed comfort and support after the surgery.
Over 100,000 American women undergo mastectomy surgery every year to prevent breast cancer risk or treat breast cancer.  
Every woman reacts differently to mastectomy, depending on whether you delay or immediately go for breast reconstruction. As you get used to the changes in your appearance, the surgery site will take considerable time to achieve complete healing.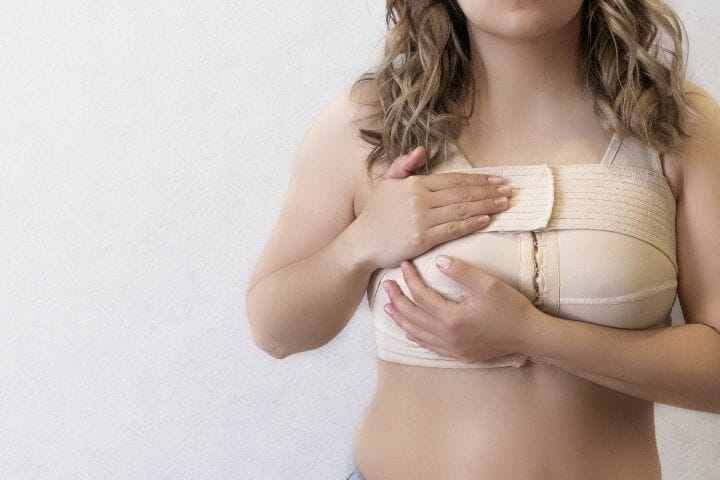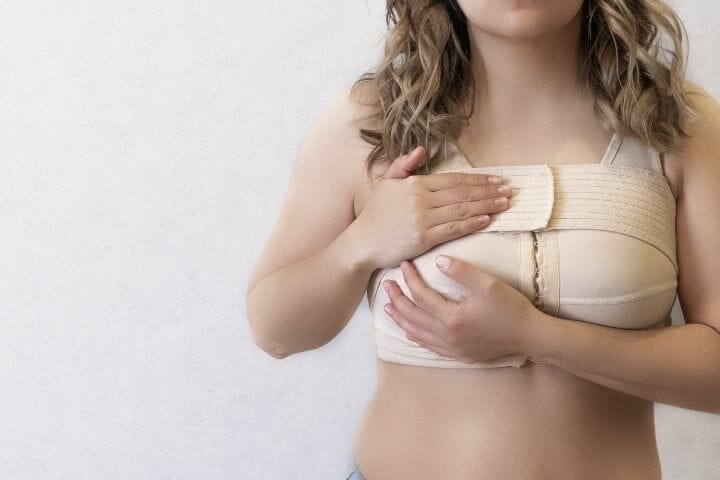 Life as you know it now, especially the getting dressed part, would no longer be the same after getting a single mastectomy. There can be considerable confusion on the type of prosthesis or bra that you should wear after a single mastectomy. Thus, we bring you this comprehensive guide to clothes after mastectomy. 
Things You Should Keep in Mind While Choosing Garments after Mastectomy
As you adjust to a restricted motion range, reduced strength in your arms after the surgery, you must focus on a strict self-care routine and take adequate rest. 
However, this self-care should also reflect in your wardrobe choices. You need to find clothes that provide much-needed comfort to post-surgery tenderness and surgical drains.
Front Closures
Being able to put on your clothes after surgery without any form of additional aid can boost your confidence significantly. 
Thus, choose garments that have buttons or zippers in the front. This will ensure you do not need to lift your arm to put the clothing over your head. Also, look for bras that fasten in the front and offer good back support from brands specializing in garments for women who have had any type of breast surgery and mastectomy.
Protecting your Drains
Surgical drains play an essential role in recovery by draining the excess fluids from your body, whose accumulation can lead to swelling.
 A mastectomy belt, fanny pack, or pink pockets can help secure the surgical drains in place and stop them from getting tugged/pulled at. Wearing an oversized sweater, loose jacket, or camisole with pockets inside can effectively conceal the drains.
New Bras
Immediately after surgery, as you deal with the bandages and swelling, a bra that fits well even on the last and loosest hook will be your best friend. Gradually, as the swelling recedes, you can move onto tighter fits. 
You should ditch underwired bras altogether and go for flexible bras with fiber fills and pockets to store the drains. Bras that enable you to customize the padding can also prove to be very helpful.
The doctor will recommend consistently maintaining a specific compression level with a wide compression bra on the chest incision. Always consult your surgeon to get this bra fitted at a comfortable tightness to avoid breathing difficulties. 
After the mastectomy, hot flushes can be a common healing symptom, and bras made of cotton will provide cool relief.
On the other end of the spectrum, many women have complained of unbearable cold sensations after their mastectomy due to the implants present. You can keep an app-controlled and rechargeable warming wearable inside your bra to get rid of the cold.
In the first year after the mastectomy, here are some of the characteristics that your bra must have: 
Fuller cups
Adjustable straps
Minimal adornment 
Soft seams on both the front and sides
Cup separation
Wide and stretchy understand
cup separation 
In the first few months after the surgery, you may need to go on a trial and error run with a diverse variety of bra types and styles before you find the correct fit. 
Do not rush in getting back to your old bras after getting the breast drains removed if the soreness or sensitivity still persists mildly. There is no shame in continuing to use the surgical bra or camisole if that makes you feel better.
Making Creative Choices
Wrap dresses/tops, flowy tunics, and strapless pieces will come in handy when you are looking to be stylish as you find easy solutions. 
A little embellishment can go a long way in getting rid of the self-consciousness about your chest. Blouses with ruffles, bold prints, pleats, and sheer fabrics can easily add some movement and volume to your outfit.
This will also be the perfect time to experiment with scarves and hats, as washing the hair after surgery is full of hassles.
Check the Fabrics
After a single mastectomy, your skin will feel more sensitive around the ribcage and armpits. During this time, you must turn to soft natural fabrics like cotton, modal, and jersey that allow for extra breathing room. 
Tops with dropped sleeves can be a blessing since they prevent friction against the scar tissue.
Comfy Pants
Wearing tight leggings and yoga pants as you deal with all the initial pain and upper body weakness will be no less than a nightmare. Opt for loose-fitting pants like joggers or pajama bottoms with drawstrings and an elastic band to avoid this hassle.
Supportive Footwear
No matter how comfortable sneakers or tennis shoes can be, it's better to stay away from them after surgery as you will struggle to reach down and tie the laces.
Flip flops are the next thing that comes to your mind as you are unaware of the severe foot and back issues they can trigger by providing zero support.
Opt for slip-on footwear like loafers or ballerina flats with adequate heel and arch support. The shoes you wear must have non-skid bottoms to avoid any tripping accidents as well.
A recovery robe and soft blanket are what you will cling to for months after the surgery for comfort. 
Wrap Up
What matters the most at the end of the day is that you listen to your body and your doctor while making decisions concerning the clothes you put on. No one knows your needs better than your body.
Getting in touch with the people who have lived through the same experience as you can be an eye-opener. 
You can even consider visiting a mastectomy boutique for additional advice. It's important to remember that recovery clothing can be as fashionable and creative as you want.
If you liked the tips shared here, write to us and show us your support in the comments section and social media.