Seniors have earned fame in many fields because of their dedication and hard work. In this article, let's find out about many Seniors at the Oscar awards.
Many seniors retire in their old age and become confined to the four walls of their house. They think there is an end to their career and start focusing on their health or family. 
But some exceptional seniors have worked hard even after the age of 70 and won the most prestigious award in the Film industry, i.e., Oscar, which is awarded by the Academy of motion pictures arts and science.
You will not believe that some senior adults start their careers after others retire! For instance, if I talk about Dorothy Steel, she started her acting career at the age of 88. 
Dorothy played the role of a tribal elder in the film Black Panther, produced by Marvel Studios at the age of 90 years. The movie received 7 Oscar nominations but won for best costume design, original score, and production design. It turned out to be a fan favorite and a darling of the critics, and Dorothy's appearance was much appreciated as well.
Unfortunately, Dorothy Steel is no more, but she proved that age is just a number and you can achieve success in your career even after retirement.
This article discusses more seniors at the Oscar who have put in a lot of hard work after 60 years. So, continue reading to know more about these exceptional actors.
List Of Remarkable Seniors At The Oscar
#1. Anthony Hopkins: Won Oscar At 83 Years
Sir Anthony Hopkins is an actor, producer, and film director. He has won many accolades, including two Oscars for best actor.
He was born on 31st December 1937 in Wales to parents who were of half English and half Welsh descent. He decided to study at the College of Music and Drama under the influence of Richard Burton and finally graduated in the year 1957. 
He moved to London in 1965 and joined the National Theatre. He was invited by Laurence Oliver, who saw the talent in Hopkins. He made his first movie, A Flea In Her Ear, in 1967, and from that year, he enjoyed a successful career in his film journey.
He won the first Oscar award for his role portraying Hannibal Lecter in the Jonathan Demme Thriller The Silence of the Lambs in 1991. 
He then received the second Oscar at 83 years of age for his performance as Anthony in Florian Zeller's Drama The Father in 2020. But he didn't appear on the stage to receive the award. Joaquin Phoenix received the Oscar on behalf of Anthony Hopkins in 2020. 
However, he posted an Instagram video the following day thanking the entire Academy and paid tribute to the late Chadwick Boseman, who died because of cancer the previous year.
The victory makes Hopkins the oldest actor to win an Oscar after the late Christopher Plummer, who was 82 years while winning the Oscar award for Beginners in 2011.
#2. Christopher Plummer: Won Oscar At 82 Years
Christopher Plummer is the oldest actor to win an Oscar and a Hollywood icon. The actor was born on 13th December 1929 in Toronto. He was the only child of John Plummer, who used to sell stocks and securities, whereas his mother, Isabella Abbott, was working as a Secretary at McGill University.
His parents separated soon after his birth, and his mother brought him up in the Abbott family. Christopher Plummer can speak both English and French fluently, but he has never attended University, which he regretted most in his life. He loved to participate in theater at an early stage and used to act while studying in the High school of Montreal.
The film career of Plummer began in 1958 when Sidney Lumet (renowned American film director ) cast him in Stagestruck. Later, he delivered outstanding performances in Murder by Decree(1979), chilling Villian in The silent partner(1978), and others.
He was first nominated for an Oscar in 2010 for portraying Leo Tolstoy In the movie The Last Station. But he did not win at that time. Later he was again nominated for an Oscar for his performance in the comedy-drama film Beginners in 2011. 
He was announced as the winner at the 84th Academy Awards. Plummer was 82 years old when he finally won the Oscar award and proved that age does not hinder success.
The third time he was nominated for best supporting actor for the Oscar for the movie All the Money in the World, but unfortunately, he did not win the award.
#3. Jessica Tandy: Won The Oscar At 80.
Jessica Tandy was a British actress born on 7th June 1909 in Hackney, London, to Harry Tandy and Jessie Helen Horspool. Unfortunately, she lost her father at the age of 12. So she was brought up by her mother. 
Tandy made her professional debut for the first time on the stage in London in 1927. She appeared in films in Britain, but later she moved to the United States after her marriage to British actor Jack Hawkins failed. 
She married Hume Cronyn in 1942 and became a citizen of America. Jessica made her American film debut in The Seventh Cross(1944). Her role in The Desert Fox: The Story of Romel (1951), The Light In The Forest (1958), The Birds (1963) was just outstanding.
She won many prestigious awards for her contribution to the film industry. Her colorful appearance in Driving Miss Daisy(1989) earned her an Oscar at the age of 80. Driving Miss Daisy tells about an older woman (Tandy) living in Atlanta, determined to maintain her independence.
But when she crashes her car, her son Boolie arranges a driver for her, Hoke Colburn. The relationship between the old lady and the driver gets off to a rocky start, but later they find value in their friendship.
Unfortunately, in the year 1990, she was diagnosed with ovarian cancer. She was also suffering from glaucoma. Despite her chronic illness, she continued her work. Finally, she expired on the 11th of September 1994.
You may also want to read – Inspirational women over 60
#4. George Burns: Won An Oscar At The Age Of 80
George Burns was an American comedian, singer, actor, and published author. He was born in 1896 and was a pet named Nattie by his family. He had a large family, and Burns had 11 siblings. Unfortunately, he was an orphan at the age of 7 and worked outside for his family's financial support.
He started smoking cigars at the age of 14, which became a lifelong habit of his. George Buns first appeared in 1932 in The Big Broadcast, an American comedy film directed by Norman Taurog. He continued as a star in various films throughout the 1930s. Later Burns and her wife Allen started appearing as comic relief for a radio show. 
Later in 1950, Allen developed heart problems and finally retired from the show in 1958. Burns began to appear as a solo performer in the radio show. But his comic style was not liked by many people. So the show was canceled for low ratings.
George made a comeback in the comedy film The Sunshine Boys, directed by Herbert Ross. The story tells us about two elderly comics, i.e., AI Lewis(George Burns) and Willy Clark(Walter Matthau), who decided to revive their act after several years. 
The break-up was because Lewis intended to retire and Clark's desire to continue performing. The performance of George was outstanding in the film for which he won the Academy award(1976) at the age of 80.
#5. John Gielgud: Won Oscar At 77 Years
John Gielgud was a renowned English Actor and Theater Director. He spent almost eight decades performing on stage and in various movies. He received an Oscar nomination for his excellent performance as King Louis VII in Becket(1964) but did not receive the award.
After several years, i.e., in 1981, John performed an outstanding role as Hudson in the British comedy film Arthur for which he got an Oscar at the age of 77.
Steve Gordon directed the film Arthur. The story tells us about Arthur, who perpetually drinks and is completely rudderless. He is at the risk of losing a $750 million inheritance if he does not marry Susan. But he did not like Susan at all. 
When Arthur was going on a shopping trip with his valet Hobson(John Gielgud), he saw Linda Marolla and fell in love with her. Despite his attraction towards the poor girl, his family pressured him to marry Susan. 
But at the end of the story, Arthur does not accept the dinner of her grandmother Martha which means he refused $750 million for the sake of love.
#6. Don Ameche: Won Oscar At 77 Years
Don Ameche was a renowned American actor, comedian, and vaudevillian. He became a radio star in the early 1930s after playing in various college shows, including stock and vaudeville. It led Don Ameche to work in multiple movies. 
In the 1950s, he started working on Broadway and in Television and was the host of NBC's International show time for four years, i.e., from 1961 to 1965. Later he returned to the films and started with the role of villain in Trading Places(1983).
Don Ameche got the first Academy Award for the best supporting role in the film Cocoon(1985) at 77. The story tells us about 20 Aliens from the planet Antareans who were left behind after Atlantis sank. 
The Aliens were kept alive in a large rock-like structure called Cocoons at the bottom of the ocean. Later a group of Anatreans disguised as human beings returned to save these Aliens.
The Anatreans rent a house with a swimming pool and charge the water so that the Aliens in the Cocoons can survive and go home safely. But later, residents Ben, Arthur(Don Amache), and Joe discovered the truth of these Anatreans.
#7. Peggy Ashcroft: Won Oscar At 77 Years
Ashcroft was born into a middle-class family and determined to be an actress from her childhood. Peggy spent her career in the live theater till the 1980s, and after that, she moved on to films. 
She won the 1985 Oscar for best supporting actress in A Passage To India(1984). Peggy portrayed Mrs. Moore in the movie. 
The film tells us about a group of people focussing on a man accused of raping a lady named Adela. Moore plays the role of a woman from England who visits the fictional location with Adela.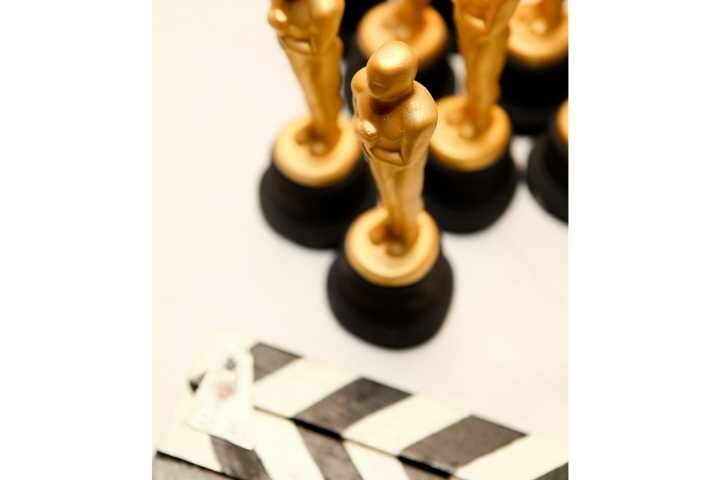 #8. Henry Fonda: Won Oscar At 76 Years
Henry Fonda was an American film and stage actor. He won the Academy Award for best actor for the movie on Golden Pond(1981). 
The Golden Pond movie received ten nominations at the 54th Academy Awards and won three, i.e., best actor(Henry Fonda), best actress(Hepburn), and best-adapted screenplay. 
Unfortunately, Fonda was ill and could not attend the ceremony. He expired from heart disease a few months later.
Katharine Hepburn: Won Oscar At 74 Years
Katharine Hepburn was an American actress in various films, stage, and Television. She received the Academy awards for best actress four times in her lifetime. Hepburn's first Oscar came in 1933 for performing an outstanding role in Morning Glory. 
The story tells us about a small-town girl Eva Lovelace(Hepburn), who dreams of becoming an actress and the struggles she has to overcome to achieve her dream.
Katharine won the next Oscar award for best actress at 34 for performing in Guess Who's Coming For Dinner(1967). The story depicts interracial marriage, which was historically illegal in most United States.
In the following year, Hepburn got the Oscar award for best actress for performing in The Lion in Winter(1968). In 1981, Hepburn nabbed her final Oscar award for performing in On Golden Pond at 74.
#10.Josephine Hull: Won Oscar At 74 Years.
Josephine Hull was a famous American stage and film actress. She won the Academy Award for best-supporting actress in Harvey's movie (1950). 
The story centers on a man whose best friend is a pooka, an invisible rabbit who is 1.92m tall. The name of the pooka is Harvey in the movie.
#11.John Houseman: Won Oscar In 71 years
Houseman was born in 1902 in Romania and was brought up and completed his education in England. He moved to America and established himself in New York City. His first job in the theater was as Director of Opera Four Saints in Three Acts in 1934. In the same year, he organized Negro Theater project with Welles.
Later in 1937, he and Welles formed Mercury Theater, which had gained success in Television and radio. In 1940 he moved to Hollywood and produced various feature films like Letter From An Unknown Woman(1948), Julius Caesar, and others.
John Houseman received the Academy Award for his role as Professor Kingsfield in The Paper Chase (1973). At that time, his age was 71 years and 391 days. He holds the record of oldest Oscar winner for two years, i.e., from 1974 to 1976.
The Paper Chase story tells us about James Hart, a first-year student in Havard law school, and his relationship with professor Kingsfield (Houseman), who is a bit eccentric and demanding. Hart had a terrible day in the first class of professor Kingsfield. 
He assumed the professor would discuss the outline of the course, but unfortunately, the professor chose him to answer a question about a posted assignment. Hart has to work hard to overcome the inauspicious beginning. 
Later he develops a relationship with the daughter of the professor. The film was so successful that it turned into a television series that lasted for almost three years.
Seniors At The Oscar 2014
The 2014 Oscars were unique in having two older actors win the award simultaneously.
#1. Bruce Dern: Nominated For Oscar At 74 Years
Bruce Dern was born on 4th June 1936. He is a renowned American actor and a recipient of many accolades. He was nominated for the Academy Award for best supporting actor for Coming Home (1978) and the Academy Award for best actor in film Nebraska(2013).
#2.Judi Dench: Nominated For Oscar At 80 Years
Judi Dench was born on 9th December 1934 and is regarded as one of the best actresses in the British industry. She started her professional debut in 1957 with the Old VIC company. 
She has won the Academy Award for best-supporting actress Queen Elizabeth 1 in Shakespeare In Love(1998). 
Later she was nominated for an Oscar in various films like Mrs. Brown(1997), Chocolat(2000), Iris(2001), Mrs. Henderson Presents(2005), Notes On The Scandal(2006), and Philomena(2013).
Wrap Up
I have listed the names of a few people who have achieved huge success in their old age. They have proven that age is just a number. Their constant hard work and determination have made them achieve the most prestigious award in the film industry.
I hope the article has given you valuable information and please don't forget to share any suggestions for this article. I will be happy to read your suggestions.