Older adults often go hungry due to a combination of disease, apathy, immobility, and lack of income. Let's understand Senior Nutrition Statistics to get the full grasp of this problem
Did you know that around 7.3 million seniors are food insecure[1]? These are primarily people who live in southwestern states or have some disability and are below 70 years of age.
1 out of 6 people in the US faces hunger issues and cannot have a proper nutritional diet[2]. This is mainly because they don't have access to healthy food choices or don't know where their food is coming from.
As we grow old, our bodies also change. This means older people will have different nutritional needs than children and young adults, and the intake of certain nutrients becomes essential as we age. 
Millions of older adults in America go hungry and are more among minority older adults.
In this article, we will explore some latest statistical data about food hunger and nutritional needs among older adults.
Key Facts: US.
In 2018, around 7.3 million seniors in America were food insecure. This represented 10% of people above 60[1].
SNAP is a food-safety program that helps low-income seniors to benefit from food insecurity. This program has rapidly increased in the past years, but only 48% of seniors are enrolled. This means 3 out of 5 people qualified to receive SNAP are not enrolled in the program[1].
 Nearly 5 million people above the age of 60 can enroll in the SNAP program and have a healthy life. On average, older adults can receive $120 monthly and achieve food insecurity[1]. 
Older people with disabilities or living in southwestern states face food security at significant risk. In 2018, the states with the highest food insecurity rate were Alabama, Louisiana, Mississippi, Nevada, New Mexico, Texas, Kansas and West Virginia[4].
Food insecurity was greater among racial and ethnic minorities aged 60 to 69 years.
Seniors with disabilities are 2.5 times more prone to food insecurity than those without disabilities [4].
Seniors' health and nutrition are affected due to hunger issues. This puts them at a greater risk of severe health conditions such as asthma, depression and diabetes.
Senior Food Insecurities
Food hunger among people is one of the most significant issues and will persist as a problem in the future. This is because a large number of seniors are expected to live longer. 
Due to the 2007 economic recession, many people lost millions of dollars in the stock market. This means their wealth, including their retirement funds, insurance payments, and pensions, had fallen suddenly.
In 2014, as per the NFESH report, 16% of older adults faced hunger issues. This means they were likely to face food insecurity. Around 55,000,000 older adults are expected to be in the US by 2020[5].
From 2007 to 2014, there has been an increase in hunger among older people. This was likely due to the economic recession at the beginning of 2007. Around 80,000,000 older adults are expected to take 20% of the total population by 2050[5].
As per some findings, approximately 5.2 million older adults in America faced food insecurity in 2019[6].
Looking at the state-level rates, 2.9% of the population was food insecure in Minnesota and 13.5% in the Columbia district[6].
In some metropolitan areas, the food insecurity rates ranged from 2.3% in Minneapolis to 13.7% in the Memphis region[6].
For seniors aged between 50 to 59 years, it was estimated that one out of 22 adults in this age category were food insecure. And looking at the state level, it ranged from 3.5% in Colorado to 16.9% in Oklahoma City[6].
In 2019, 5.2 million older adults in the US faced food insecurity. With the current pandemic, older adults have been facing many challenges and finding it challenging to place food on the table[8].
Seniors with food insecurity often have to make choices like paying for grocery or medical bills[8].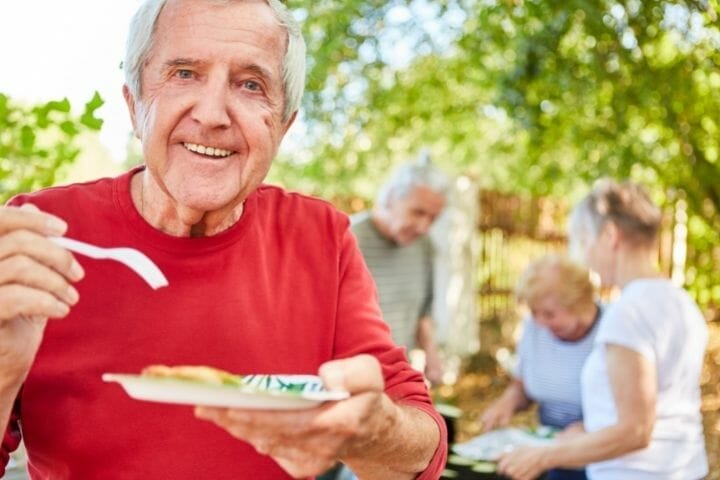 Challenges That Leads To Food Insecurity Among Older Adults
There are many reasons why people do not get proper food and maintain a healthy diet. Let us look at some of them.
Living Alone. Nearly half of the older adults who face food insecurity live alone. People with disabilities find it difficult to get food from the grocery or cook it for themselves. This further leads to depression and dementia[5].
Age. Older adults below 70 are more likely to experience food insecurity than people above 70 years of age[5].
Education. People with high school degrees or no degree are more likely to face food insecurity than people with college degrees. There are some decreases in food insecurity for people with a college degree. This is further tied to high-income jobs, saving more money as you get older[5].
Investing In SNAP Is A Good Idea
SNAP improves nutritional outcomes and lowers people's total healthcare and medical costs. In 2017, around 42 million people of low-income groups in the US could afford a healthy diet due to SNAP[7].
This program has benefited people with low-income families and seniors with disabilities living with a fixed income. Almost 70% of the people enrolled in the SNAP program were families with children and older people with disabilities[7].
On average, SNAP provided $1.40 per person for one meal in 2017. It still benefits the health and well-being of low-income people in the US, thus lifting them out of poverty and benefiting them from food insecurity[7].
SNAP has helped people in reducing their total healthcare costs. On average, adults with low-income groups who enrolled with SNAP incur $1400 or 25% less in healthcare costs in a year than people who do not enroll in SNAP[7].
The average SNAP benefit is $104 a month for a single senior household. For two seniors, the average benefit is approximately $357 a month. Seniors eligible for the program can receive $15 monthly if they enroll in the program[3].
Wrap Up
Food insecurity among seniors in America is still a challenge. Even after a significant recession in 2009, one out of 14 people is facing food insecurity. With the facts and information presented above, people can look at ways to reduce food hunger and move closer to ending food insecurity among seniors.
References