Greying hair and hair loss cannot hide your true self! All you need is a good hair cut to look fabulous. Here's how to cut elderly men's hair, and some ideas on what kinds of haircuts look good on older men.
Men usually have short hair compared to women. As we all know, aging is irreversible. Though it is inevitable, if you accept it, then there is nothing more beautiful than aging gracefully with time.
With increasing age, your body and facial hair will start becoming grey, and after a certain age, most men begin to lose hair. Those hair do not grow back. Thinning hair, greying, and appearance of bald spots here and there are not the things to be afraid or ashamed of. 
With a good haircut, you can change your whole appearance. You need to consider all the signs of aging before getting a haircut. Finding the right way to cut the hair of an older man and even finding the ideal haircut for men of this age can be a daunting task for many. But don't worry, we are here to help.
If you are curious to know how to cut elderly men's hair with perfection and some of the best haircuts for older men, then scroll down and find out. In this article, we are going to discuss all these in detail.
How to Cut Senior Men's Hair With Perfection?
Trimming and cutting men's hair is comparatively easier than women's hair. But you do need to be attentive and take proper care. You can use either cutting scissors or a trimmer along with electric clippers.
You can also use both of them at your convenience. You need to make sure whether the person getting a haircut wants to keep his hair short or long, along with the style he is looking to get.
But most importantly, you need to trust your intuition, and you need to be confident as the person getting a haircut can be unsure about the haircut. In this section, we will describe the whole process of how to cut elderly men's hair step by step.
Preparation Before Cutting
Ask the man how he likes to get his haircut
You need to ask the person how he is planning to style his hair after the cut. Consultation is the key. Ask all the necessary questions before starting the haircut. By doing this, you will avoid any misunderstanding.
Break Down
Divide the hair on a man's head into seven parts. They are – The top, Left side, Right side, Back, Left sideburn area, Right sideburn area, and finally, the fringes. Ask the man in the chair which portions to cut and where not to.
Choose the Perfect Haircut
Depending on the amount of hair on his head, you need to decide the ideal haircut for the person by talking to that person. Go with a conservative haircut if the man is dealing with hair thinning, and you can try something dramatic if the man has a head full of hair.
Set-Up
You need to make sure that your client feels comfortable while sitting on the chair. Cover his body with a cape or a towel to make the cleaning much easier. Do not forget to fix the towel or cape with a clip or a pin.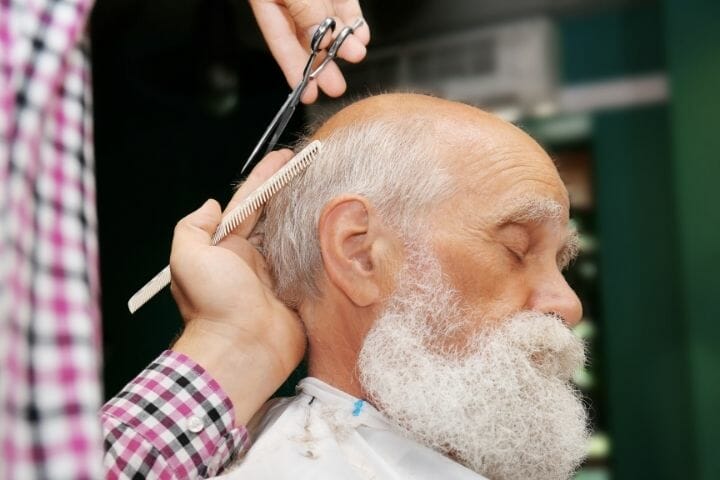 Use Proper Technique
Using the wrong technique can mess up the whole thing. If you are using scissors, you need to dampen the hair first, but if you choose to go with electric clippers along with trimmers, then there is no need to wet the hair, you can simply do it with dry hair.
Detangling the Hair
Running a brush through the hair will help you detangle the hair, and also, you can style the hair according to the hairstyle that you are looking to give the person sitting on the chair.
Keep Communicating
While cutting the hair, keep asking your clients questions regarding the haircut. The feedback that you will get from your client will help you understand whether he likes it or not.
You might also like to read: Best Supplements Over 40 Years Old – 25 Supplements That You Should Add To Your Diet
Trimming Using Clippers
Decide the Clipper Attachment
First, you need to decide on the proper clipper attachment. If your client is asking you to maintain the length of the hair, then you need to trim using 5 or 6 numbered clips.
Attach 3 or 4 numbered clips for a more classic-looking cut, and finally, for a buzz cut or any other cut where very little hair remains on the head, you need to use two numbered clips.
Have a Firm Hold
You should hold the clip firmly, but your client should not get uncomfortable with your firm grip.
Start Clipping From the Base
The first question that might come to your mind is where to begin. The answer is you need to start from the base of the neck. Don't hurry. Work slowly and carefully, especially when clipping around the ears, as the skin begins getting loose with increasing age.
Then line up the back, and once you are done with the back of the head, turn your attention towards the sides of the head. Lining up the hair on both sides is necessary for any haircut.
Trimming The Top and Bangs
Most older men have low hair growth or no hair in the middle of the head. But your client may have hair on top and even bangs. You can try men's long hairstyles over 50 years old for them.
Add the Finishing Touch With Blending
You need to blend the hair on the sides and the back with the hair follicles in the middle. This will be your finishing touch, ensuring the perfection of your haircut. 
Some of the Best Haircuts for Elderly Men
Nowadays, even young men also develop grey hair. Any older man can rock grey hairs irrespective of their age. They need to believe in themselves and carry the hairstyle with confidence. In this section, we will talk about some of the cool hairstyles that look perfect on an older man. So, without any further delay, let's get straight into it.
1. George Clooney Styled Hair
George Clooney is like fine wine. The older he gets, the more handsome he becomes. This man is the epitome of elegance for men of every age. He can carry any style with elegance. George Clooney carries mainly the salt and pepper hairstyle. 
Like salt and pepper, with increasing age, some of the hairs turn grey while some remain black. Accepting the greying is the key here. Comb the hair back and blend the hairline with the beard line.
If the beard and hair both have this salt and pepper styled contrast, it will take the sex appeal of the older man to another level.
2. Wise Men Look
As we discussed earlier, grey hair is a sign of wisdom. If you want to reflect your years of experience through your appearance, you have to try this men's long hairstyle over 50 years old.
If you are wondering how to create the perfectly wise man look just by getting a haircut, well, by doing very little, to be honest. You need to create a combination of a few styles, such as sideburns, a beard, and a mustache.
Keeping the hair short will create a sophisticated look that is always good for almost every occasion. 
3. Slick Back Hipster Hairstyle
Reaching the 60s doesn't mean that you can't be a hipster anymore. You can still party, and you don't want to look dull. You should try this men's long hairstyle over 50 years old.
How much to trim the hair on both sides solely depends on you, but you need to ensure one thing the hair in the middle of your head remains long. You can bring the inner rockstar out with this look. One final thing is that you need to let your beard grow to complete the look.
4. Side Part
Parting never goes out of fashion. Parting your hairs on the sides will make an older man look younger than his age. Regardless of his age and facial shape, any older man can pull this hairstyle well.
Tapering needs to be done on both sides, and you can also choose to go with a low fade on the sides and the back after consulting with the person getting a haircut. If the person can grow a beard, then this man's long hairstyle over 50 years old will look sharper.
5. Short Hair with Long Beard
Men of any age can rock a beard, and men above 50 are no different. Let the beard grow and cut the hair short to create contrast. This dramatically long beard will look extremely good with this uniformly distributed short hair.
You might also like to read: The 10 Best Muscle Building Supplements For Over 40 Individuals & How Much You Need To Take
A Few Final Words
There are endless options to choose from. You can try any one of the men's long hairstyles over 50 years old that we have discussed here, or you can decide on your own.
The best thing about all the styles that we have discussed here is that they can create a rejuvenating effect that can turn back the clock. Once you decide on the ideal hairstyle, cut the hair by following the steps mentioned in the above article.
Thank you for reading, we hope you enjoyed the content and would apply these ideas to yourself and your loved ones! Do let us know if we did a good job through the comments below.