Try these heart healthy breakfast options first thing in the morning, and soon, your body will thank you!
We all know that breakfast is the most important meal of the day, and if it is essential, it should be healthy. By healthy, we mean good for the heart and body. 
For a healthy heart, you can consider having protein, fiber, and healthy fats found in whole grains, fresh fruits, vegetables, seeds, nuts, etc.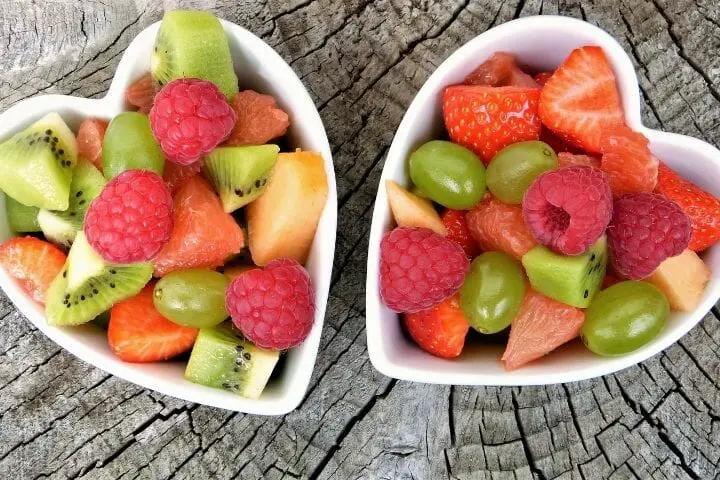 However, we understand that regularly having the 'heart-healthy breakfast' can be tedious. Thus, we have decided to help you try different breakfast options that are good for the health of your heart – check them out for us?
What Is a Heart-Healthy Diet?
Before we move on to learn about the heart-healthy breakfast option, let's get clear on the topic of the cardiac diet, also known as heart-healthy diet. As the name suggests, the cardiac diet is specially prepared to keep the heart and, thus, the entire body fit. 
The main ingredients of this diet include vegetables, whole grains, and oily fish. This diet also excludes the consumption of processed food high in salt and sugar. 
As per a 2019 review, the Dietary Approaches to Stop Hypertension (DASH), Mediterranean, and vegetarian diets have the most evidence for cardiovascular disease prevention.
You might like to read: Quick and Easy Healthy Meals to Prepare for Seniors
The basic principles of cardiac diet 
The whole point of recommending a hearty diet to people is to help them consume anti-inflammatory food that leaves no scope of inviting any disease in their bodies. Perhaps, this is why learning about the basic principles of a cardiac diet is important, so you know strictly what to look for in a healthy breakfast meal. 
As per research, the following are the basic principles of a cardiac diet – 
Limit red and processed meat 
Limit total fat dairy products 
Add nuts, seeds, legumes, and similar ingredients to the diet 
Limit alcohol intake and added sugar 
Add a lot of green and leafy vegetables to your diet
Include healthy fats such as olive oil and avocados 
Add a few portions of oily fish at least once a week 
Eat whole food 
Avoid processed and junk food
What happens if you do not have breakfast?
Rahaf Al Bochi, RDN, CDCES, an Atlanta-based spokesperson for the Academy of Nutrition and Dietetics and the owner of Olive Tree Nutrition emphasizes the benefits of breakfast and explains how important it is for a person with diabetes, especially since it helps to keep your blood sugar in check for the rest of the day.
Thus, skipping breakfast can prove to be a downward spiral for your body and brain. Studies have shown that skipping breakfast regularly can lead to the following scenarios – 
Overweight/obesity 
Irregular routine 
Irregular exercise days
Increased smoking and usage of tobacco 
Added sugar and increased calories in the meals 
High risk of having type 2 diabetes, heart disease, and high cholesterol 
Lack of recommended nutrient intake 
You might like to read: How to Manage Sodium in your Diet for a Healthy Heart
Hearty, Healthy Breakfast Options for You
Start your day with hearty, healthy morning meals, and be ready to stay energetic and full of life until sleep time. We have prepared some great breakfast meals for you to keep your heart healthy and body happy. Check them out, and do let us know how you like them. 
Instant oatmeal 
Rolled or steel-cut oats are rich in fiber known as beta-glucan, which reduces cholesterol levels and impresses a feeling of being stomach-full in a healthy way. Oatmeal also releases peptide YY, which is a hormone that prevents overeating. 
Additionally, oats are also rich in various nutrients, including iron, Vitamin B, zinc, magnesium, selenium, manganese, and more. Apart from this, oats also carry at least 10 grams of protein per cup, and when served with milk, it only enhances the protein value of the meal. You can also use up bananas, strawberries, and other fruits as toppings on the oatmeal. 
The best part of this recipe is that you can add it to a mug and be on your way to work or college without having to spend time eating it in your room.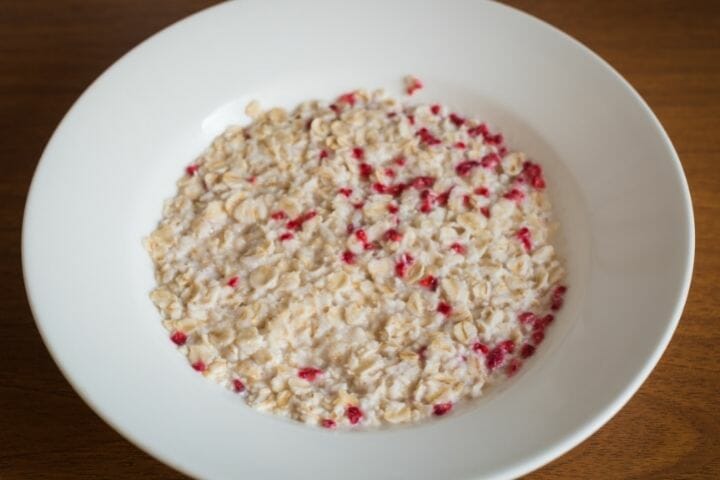 Quick Eggs 
The simplest and quickest way to have a hearty, healthy breakfast is to get some eggs on your morning plate. As most of us know, eggs are a great source of protein, which helps keep your stomach full for a while, thus assuring fewer chances of overeating. 
According to a study, people who had egg and toast in breakfast were less hungry than those given bran cereal. It was also assured that the group with eggs had a higher protein intake of 25 grams, which was significantly more than the 11 grams of the other group. 
There is a collective belief that eggs raise cholesterol levels in people, which has been proven incorrect by studies. Certain studies have also shown that eggs keep you protected against heart disease. 
Whole grain/avocado toast 
If you have a busy morning regularly, the best hearty breakfast for you is avocado toast or whole-grain toast. The ingredients of this toast are highly rich in fiber and complex carbs, which are known for controlling the blood sugar level. 
To enhance the taste and nutritious value of the meal, you can add many other ingredients to the toast, including fried eggs, tomatoes, sliced turkey, chicken, beans, legumes, tuna, honey, figs, avocado, peanut butter, banana, egg salad, cottage cheese, bananas, strawberries, etc. 
Nuts 
No matter what kind of nuts you choose to have for breakfast, they are always healthy and hearty for your body. We mean that nuts are exceptionally rich in magnesium, potassium, antioxidants, and monounsaturated fat (which is considered very beneficial for the heart). 
Taking nuts in your breakfast keeps you charged throughout the day. However, they are also linked to a healthy heart and brain in studies, which have shown that having walnuts once or more in a week and tree nuts as well as peanuts two or more times in a week reduces the risk of heart disease by 13 to 19%. 
They are also rich in protein, good fat, and fiber content which promotes stomach fullness and thus, lessens the chances of overeating, which is one of the causes of unhealthy heart and body. 
You might like to read: Impact Of Too Much Sugar On The Heart
Cantaloupe Bowls 
All you have to do is cut a cantaloupe in half, make the halves sit flat by cutting ½ inch off the bottom, scoop the seeds out, and stir it with plain yogurt and vanilla extracts to avoid adding sugar or syrup. It is recommended to add low-fat plain yogurt if you want to extract maximum benefits from this morning meal. 
It is suitable for the heart because it contains beta carotene. This nutrient is excellent in lowering LDL 'bad' cholesterol and inflammation, both responsible for cardiovascular problems. It is also known to improve blood pressure and blood level of the body. 
Blueberry Yogurt Bowl 
Greek yogurt is known for its richness in proteins, and blueberries have nutrients called polyphenols that are pretty good for the brain and blood vessels, and thus, it helps maintain the blood pressure of the body. 
Additionally, Greek yogurt is known for various nutrients required to keep one's heart-healthy and, therefore, happy, such as calcium, vitamin B12, potassium, and phosphorus. 
You can add walnuts (omega-3 fats, highly healthy to the heart), granola, vanilla extracts ( to avoid sugar), cinnamon, etc., to yogurt and blueberries and have a hearty meal in every sense of the ingredients. 
Salmon 
Most of us know that salmon is an excellent source of omega-3 fatty, perfect for your heart. However, many people don't consider salmon a breakfast meal simply because they wouldn't consider having it alone. 
So, you can throw in some creamy avocado layers, use rye bread as the base, and have salmon as the first meal of the day.
Here's a little recipe for those who would love to have salmon as breakfast to keep their heart safe – Mash ½ avocado and mix it with one tablespoon of lemon juice. 
Now, spread avocado in a layer over the rye bread and top it with at least 2 ounces of smoked salmon. You can add salt and black pepper as per your liking, and voila, your breakfast is done and ready!
Chia Pudding 
Chia seeds are a great source of fiber. According to this study, one ounce of chia provides for at least 10 grams of fiber. Now isn't that impressive? 
The thread of chia seeds is also highly soluble, which means that it keeps the stomach full for a long time, avoiding the need for eating throughout the day. The soluble nature of the seeds' fiber also stabilizes and maintains blood sugar levels in the body and thus, supports the health of your heart. 
If you do not like eating chia seeds alone, you can add some protein powder and coconut or almond milk and combine all the ingredients in a bowl. 
If you feel the need, you can use blueberries or strawberries along with vanilla extracts or stevia to avoid adding sugar. Mix everything for a minute and get ready to have a super-healthy breakfast that we like to call chia pudding. 
A Bowl of Fruits 
If none of the above suggestions work for you, then the aptest and recommended thing you can do to have a hearty, healthy breakfast is to throw all the fruits in a bowl and eat them. 
Most fruits are rich in fiber and a variety of minerals and vitamins. For example, strawberries, guava, acerola, cherries, kiwi, oranges, lychee, etc., are high in Vitamin C, a good antioxidant. Banana, cantaloupe, mango, and oranges are rich in potassium. 
In this way, every fruit has one or more nutrients good for your heart. Having a bowl of fruits at least twice or thrice a week in breakfast reduces the chances of cardiovascular diseases, depression, anxiety, reverses aging, and improves gut health. 
It is recommended to have fruits in their raw form and not drink their juice since they lack fiber. However, you can pair your fruit bowl with Greek yogurt, cheese, eggs, and other healthy fruit options. 
Skillet Granola 
This is one of the easiest and quickest breakfast meals one can have to keep their heart happy, healthy, and full of life. 
All you have to do is prepare lip-smacking toasty granola in a skillet on medium heat with canola oil, rolled oats, pumpkin seeds, dried apricots or cherries, a pinch of salt, and pepper (as per your liking), etc., and voila – you are done for the breakfast! 
Most of the ingredients added to the skillet are full of fiber and nutrients that keep your heart healthy and safe. 
Some hearty breakfast hacks for you 
If you think that you would still require some motivation and creative methods to get out of bed and prepare a hearty, healthy meal for you in the morning, well, try the following hacks. 
Pack homemade smoothies in a thermos – Blend your favorite fruits that are exclusively good for your heart with low-fat milk, yogurt, nut butter, fresh herbs, seeds, etc., and keep it in a thermos. When you wake up, all you have to do is pour it into a cup, and you are good to go.
Keep hard-boiled eggs in the kitchen – When you keep already boiled eggs in the kitchen or refrigerator, you will be motivated to get up in the morning, peel them, and eat them up with a glass of juice, green tea, avocado toast, etc. 
Fill the jars with plain yogurt – During weekends, you can fill mason jars with plain, low-fat yogurt, rolled oats, frozen fruit, nuts, seeds, etc., to use throughout the week as your first meal of the day. 
Wrapping Up
A significant part of being physically, emotionally, and mentally healthy is to have simple daily habits that contribute to building you up. It can seem challenging at first, but the minute you start to feel better and look better, the good hormones will flow, and you will want to better yourself more and more. 
Thus, if you're going to better yourself, start by having a good and hearty breakfast, and soon, you will notice massively positive changes in your mind and body. 
We hope this information and the breakfast options that we suggested will help you maintain a healthy heart. If you liked these ideas, you might want to share them with others who are looking for similar information.
If you have some more suggestions and ideas for recipes that benefit the heart, please add them in the comments section and we will try and include the best ones in the main article body for the benefit of all of our readers.