As one becomes older, the body is no longer strong enough to endure a regular massage. A geriatric massage can help you get pain relief without putting your joints and skin in harm's way.
A Geriatric massage is a kind of massage for the elderly. This kind of massage takes into consideration a person's age, overall health, medical conditions, and medication consumption prior to the actual procedure. 
Geriatric massage therapy is a recent advancement in massage therapy, which is growing and becoming more specialized. This massage is customized for the elderly. The typical session lasts an hour, but it may last as little as 30 minutes or as long as a full day.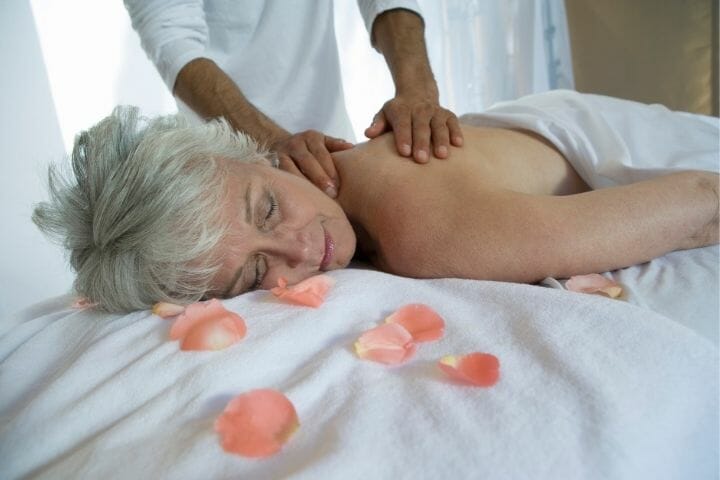 To begin, the senior massage therapist will ask the patient to stretch their arms, legs, and feet passively. The therapist then uses mild massage strokes to various body parts, being careful not to press too hard. The therapist may often focus on enhancing cardiovascular health and circulation.
In this article, we'll discuss the benefits of geriatric massage for you or a loved one. There are also suggestions for locating a senior massage practitioner in your region.
What Type of Massage does an Old Patient Require?
A geriatric massage is intended for those nearing the end of their lives. When getting a massage, older adults have certain requirements. 
A therapist will consider the aging process and the client's current health situation while customizing a massage. Remember that there is no one approach for geriatric massage. 
Everyone has their own set of health problems and fitness levels, and the massage therapist will decide the best method to help the person based on those problems.
How Does Geriatric Massage Differ From Conventional Massage?
While working with older clients, a massage therapist would consider various factors to ensure that their experience is safe and beneficial.
A massage therapist will first analyze your overall health before providing a geriatric massage. This method may include observing your movements and asking questions about your health and exercise level.
Be aware that the aging body's systems also change with age. For example, due to diseases such as arthritis, your joints may work differently. Your muscles and bones may be more delicate, and your body may be more sensitive to pressure. Therefore, a regular massage may be harmful to you.
Senior massage is based on adapting basic massage techniques to meet the needs of the elderly due to age-related diseases. Traditional massage techniques have been modified to fit the needs of the elderly by including the following changes:
Hand motions that be smoother and gentler
Sessions that are shorter in duration
Involuntary movement of the leg, foot, and shoulder joints
Massage the feet and hands gently to ease stiff or inflamed joints
In rare circumstances, use more vigorous movements.
Benefits of Geriatric Massage For Elderly Patients
Geriatric massage may benefit you or a loved one for several reasons. Many older adults are losing out on the advantages of regular, positive physical contact with others. 
A massage therapist may assist you, or a loved one satisfy this need in your life by using the therapeutic touch. Some additional benefits of geriatric massage include:
A decrease in the effects of stress
A more upbeat attitude of mind
Discomfort management
An increase in blood flow
A more relaxing night's sleep
Physical Health Advantages
Geriatric massage therapy provides several benefits for the aged. When it comes to immediate advantages, reducing physical stiffness and inflammation is most noticeable. In addition, this massage, like all other massages, promotes blood circulation and posture. 
Because of the many health benefits, geriatric massage once a week is excellent preventive therapy. In addition, massage therapy may benefit people suffering from age-related ailments such as arthritis, diabetes, and Parkinson's disease by boosting lymphatic fluid circulation.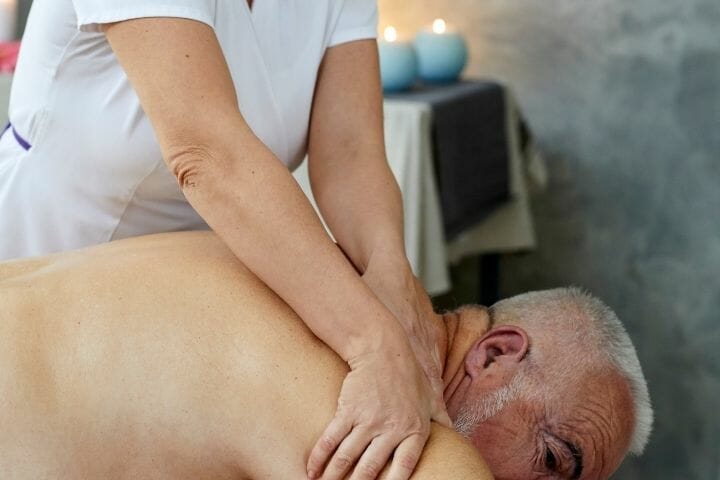 Conditions that affect blood flow, such as heart disease and diabetes, are more common in the elderly. Massage for the elderly has been demonstrated to enhance blood flow to the extremities, lowering the severity of the side effects of various disorders. 
In addition, massage therapy may restore some of the mobility lost as a result of arthritis or Parkinson's disease. The following are some more physical benefits of a geriatric massage:
Stress reduction and relaxation
Improved recuperation time
Reduced pain.
Sleep length and quality have both improved
Geriatric massage has been demonstrated to be beneficial to mental health.
Massage therapy may be quite effective when it comes to the aches and pains of becoming older. Because of the enormous increase in senior baby boomers, many massage therapists specialize in approaches that help the elderly establish a balance between their brains and their bodies. This kind of treatment for the elderly is referred to as senior massage or geriatric massage.
Technique-wise, elder massage isn't all that unlike massage for other people. However, a person's aging body requires more careful loving care, considered while using the tactics. 
It's crucial to note that older citizens have distinct massage requirements than persons in their 30s or 40s. When a senior is getting a massage, their position on the massage table is given a lot of care, and they are seldom asked to move.
Mental Health Advantages of a Geriatric Massage
A well-executed massage may be both relaxing and peaceful, and it can be an excellent way to conclude a long day. You may think that you're less stressed than younger individuals since you're older, but this isn't true. 
Seniors face various mental and emotional challenges, including isolation, loneliness, and depression. In addition, their bodies may suffer due to a lifetime of stress and weariness.
The gentle touch of a senior massage therapist may provide older patients with a great deal of relaxation, relieve stress, and raise their self-esteem.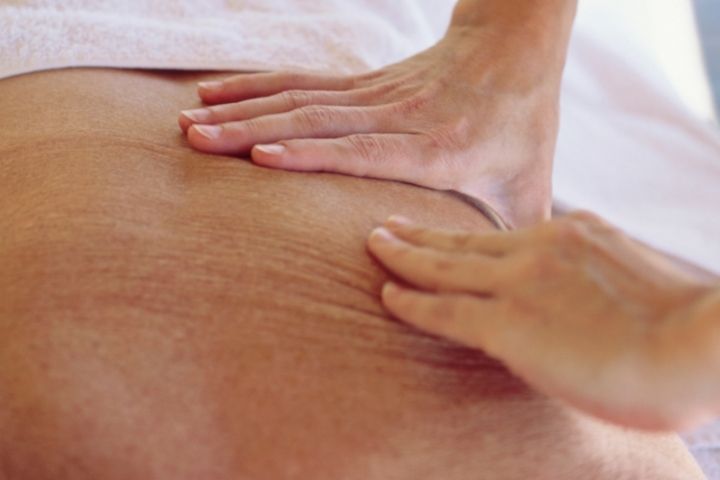 A study of 12 elderly persons in long-term care receiving massages in the hands and feet showed that the massage techniques produced pleasant feelings and relaxation in elderly adults.
Massage treatment may aid seniors with emotional illnesses since it enables them to socialize with others. Many elderly persons have feelings of loneliness, restlessness, and worthlessness, which may be addressed by engaging in social activities. 
In addition, a strong emotional and physical bond between a massage therapist and their patient may benefit the elderly. Participants in this kind of physical training benefit physically, emotionally, and intellectually, helping them face the sunset of their lives with confidence and honor.
Does It Work? Scientific Evidence
Numerous research has been conducted to investigate the health benefits of geriatric massage. Consider the following findings:
A meta-analysis of 14 studies, including massage treatment for senior residents, was published in the International Journal of Older People Nursing. According to the study's results, individuals in residential care may receive health benefits from massage treatment, and it should be added to their regular care as a complementary form of therapy.
Another study was done in Japan that included 36 participants in long-term care facilities. 15-minute hand massages were a major success with the group. These massages help increase the average skin temperature of the recipients.
A six-week massage session lowered stress and aggressive behavior in patients with dementia in a clinical study.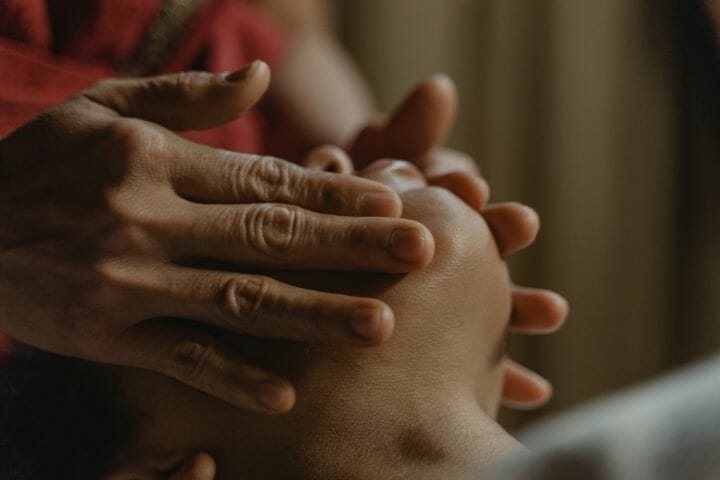 What You Need To Discuss With Your Therapist Before a Geriatric Massage
The Duration for Massage
Massage treatment for an older client usually lasts between 30 minutes and an hour. When a client's mobility is limited, the massage therapist must make modifications to lengthen the session. A customer in a wheelchair, for example, may have their massage done in their chair by the therapist.
Patients who cannot move or utilize their hands completely may need a lengthier massage session with their senior massage therapist. Massage of the hands or feet may improve an aged person's sense of self-awareness, feelings, and blood flow in specific settings.
Geriatric massage provides several benefits. Massage has been shown to enhance blood flow, reduce muscular stiffness, and reduce joint inflammation in the elderly. This therapy also treats various age-related disorders, such as muscular stiffness, arthritis, skin discoloration, bone and muscle loss, bursitis, asthma, and emphysema.
Physical conditions
Inform your massage therapist of any medical conditions you may have before your treatment. This group may include chronic ailments such as arthritis, cancer, circulatory problems, diabetes, gastrointestinal difficulties, or heart conditions.
This is especially important if you are caring for a loved one who has dementia or Alzheimer's disease. All medical conditions should be communicated to the massage therapist before the treatment.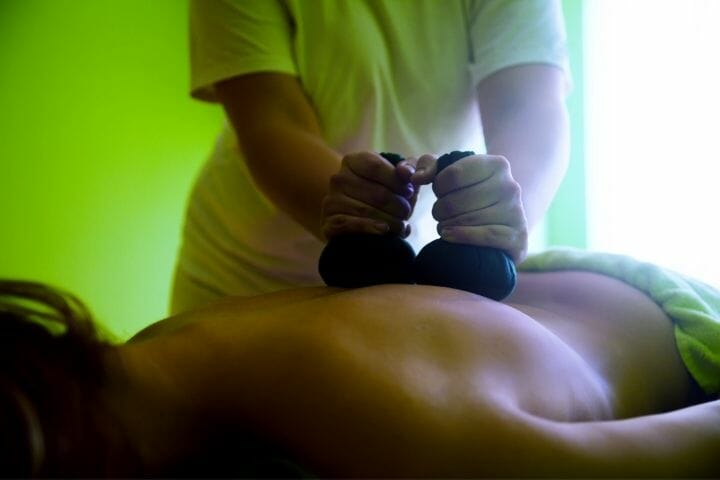 Medications
Make your massage therapist know of any medications to treat a medical issue. They may change the message depending on the effects of the medications.
Skin
As you become older, you notice a loss in the thickness and flexibility of your skin. Massage therapists know how much pressure to apply on the client's skin without causing damage. However, if you apply too much pressure, your skin may get injured or inflamed.
Threshold for Pain
As an older adult, you may experience pain differently due to diminished blood flow, a medical condition, or medication.
Before having a massage, inform your massage therapist if you have an increased sensitivity to pain or don't feel discomfort until it's fairly severe. This avoids injury or discomfort.
Temperature Sensitivity
As you become older, you may become more prone to temperature extremes. It's also conceivable that you'll struggle to maintain a steady body temperature. If you let your massage therapist know of any temperature sensitivity, they will be able to satisfy your requirements.
Tips For a Safe Geriatric Massage
Massage therapists who wish to provide a safe geriatric massage should do the following:
Massage for a shorter period
Employ a gentler touch
Ensure that the patient's posture is sensitive to their body's needs.
Provide blankets, bolsters, or cushioned cushions to make the massage more pleasurable.
Schedule the massage at a time when you will be relaxed.
How To Find a Geriatric Massage Specialist
A therapist for the elderly may be difficult to find, so how do you find one? Choosing the right therapist for a joyful and beneficial geriatric massage is important. Use the following strategies to locate a qualified geriatric massage practitioner: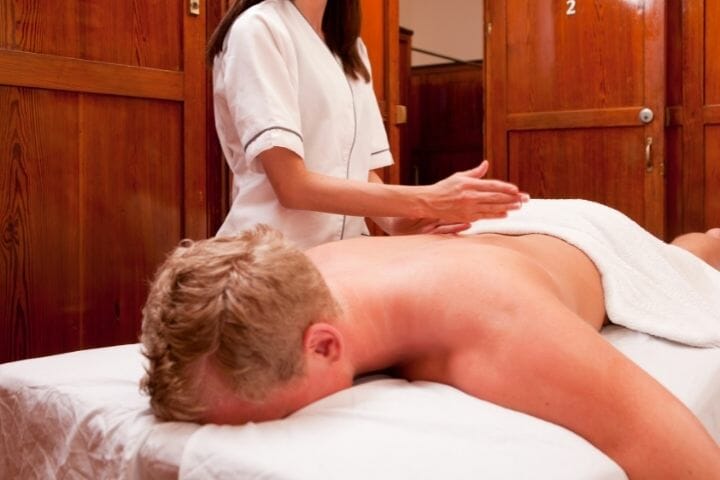 You may be referred by your doctor or a local health or community center.
Inquire about massage sessions at your long-term care facility.
Look for massage therapists in your area on the internet. Then, contact them directly to determine whether they specialize in senior care.
Massage therapists are needed to be licensed in the majority of states. Make sure the therapist is licensed and insured before getting a massage.
Is Geriatric Massage Covered by Medicare?
Massage is classified as a supplemental or alternative therapy in Medicare Parts A and B. Consequently, it is not covered by insurance and must be borne by the patient. 
Massage therapy may be covered by Medicare Part C, but you must check your plan. A one-hour geriatric massage may cost anywhere between $50 and $90, so make sure that you know your coverage before going for a session.
Precautions
Geriatric massage is typically considered safe for the vast majority of older adults, but there are a few precautions to take.
Massage should be avoided if the pain is caused by phlebitis.
Also, before obtaining a massage, clients with a blood clot or an aneurism must first obtain permission from their doctor.
Because the skin of the elderly is thinner and more prone to ripping, deep tissue massages should be avoided.
Do not smear your hands in oil if:
Sores, ulcers, or burns that are exposed
Either eczema or an unknown rash
Lymph nodes are ill and swollen
Geriatric massage should be reviewed individually to see if it is a beneficial adjunct to their treatment regimen.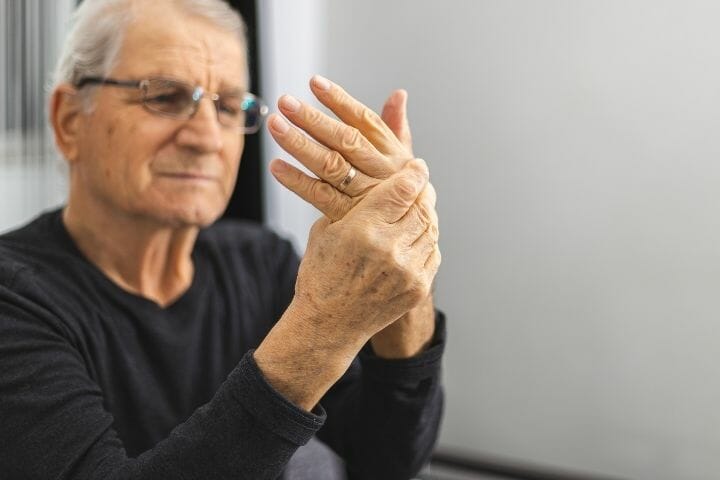 Wrap Up
A geriatric massage may help you improve your attitude, stress levels, and pain levels. As you become older, your body's needs alter, and a massage therapist will take that into account before starting your session. A massage suited to an older person's specific needs and medical history may be shorter than a standard massage. 
We hope the article gave you enough information to help you understand the benefits of a geriatric massage for your elderly parent or older adult. If you have any questions, comments, or suggestions, do put them in the comments box below, and we will try to get back to you quickly. 
If you liked the content, we would request you to share it on your social media profile and within your friend groups. Your shares and likes might be beneficial to a person who is looking for a way to reduce their pain in old age. It will also encourage us to keep producing high-quality content!