While living with asthma cannot be easy at any age, it takes an extra toll on older adults. This guide will help you understand the extra precautions you need to take.
According to the Center for Disease Control and Prevention, more than 25 million Americans are estimated to suffer from asthma regularly. While this condition is usually diagnosed in adults in their 20s, there is no hard and fast rule. Thus, it means that this unfortunate condition also affects adults beyond the age of 65.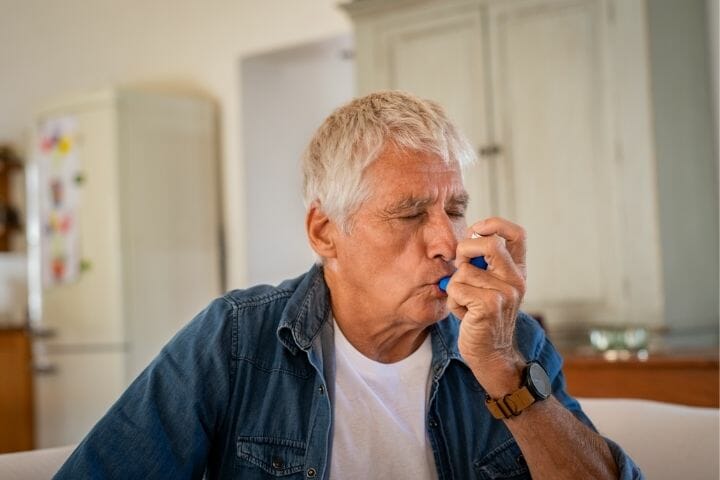 While asthma can be quite a discomfort to live with at any age, older adults suffer a lot more than younger ones for several reasons that we will discuss. We decided to curate a comprehensive guide for seniors who live with asthma and everything they can do to feel better and healthy while living with it.
What Is Asthma?
Asthma is a chronic disease of the tubes that carry air to our lungs, known as airways. The disorder causes several intermittent symptoms in the airways, including swelling, inflammation, production of a thicker than usual mucus, contraction of surrounding muscles because of the narrowing of the bronchial tubes, etc. 
Normally, these muscles are relaxed in the tubes but get triggered during an asthma episode, which causes them to become inflamed and tighten. This also causes mucus to be produced in abnormal quantities, filling the airways and making it difficult to breathe. This condition is commonly known as an asthma attack. 
What are the symptoms of asthma?
The asthma symptoms are the same in young, middle-aged, and older adults. While they can vary from person to person, some common signs can prove that one should book an appointment with their doctor and get a diagnosis. These signs include – 
Feeling short of breath
Wheezing (a whistling noise when breathing)
Problem in breathing 
Tightness in chest 
Frequent coughing, especially during the night
What is the adult-onset of asthma?
When a person is diagnosed with asthma after 20, it is referred to as the adult-onset of asthma. However, this doesn't mean one cannot have asthma before 20. People develop asthma during childhood, and it's just that usually, people get a diagnosis once they are or above 20. 
People who get the adult-onset of asthma suffer from the following issues usually-
Exposed to smoky and polluted environments 
Smoke or are addicted to tobacco
Have flu-like symptoms or viral infections/diseases 
Women going through hormonal changes 
Deal with obesity 
Developed asthma as a child and more
Suffer from heartburn or acid reflux 
Frequent laughing without cause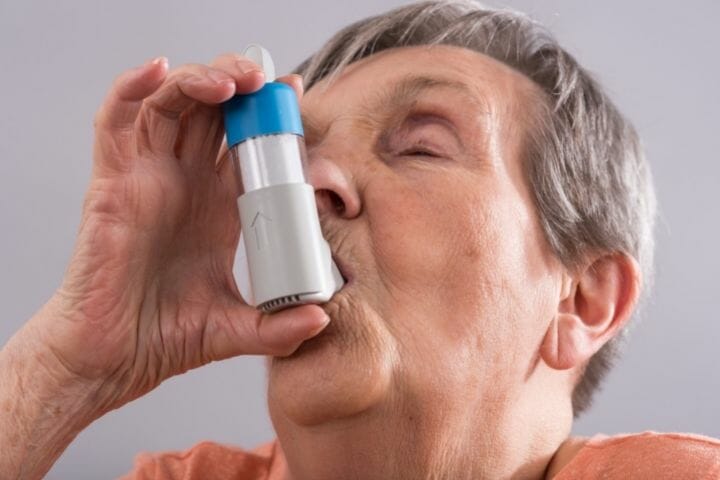 It is essential to get yourself tested even if the only symptom is constant or frequent laughing. It is too risky to leave asthma untreated, especially during old age, since the disorder can make permanent changes in your airways, known as airway remodeling. 
If you are wondering, there is quite some difference between childhood asthma and adult-onset asthma, and it is that adults have lower forced expiratory volume than children, which makes it harder to breathe for adults with an asthma attack. 
Expiratory volume is the volume of air that one can inhale and exhale with force. Apart from this, there is no specific difference in people who have asthma in childhood and adulthood. 
Asthma in Seniors
Asthma affects between 4% to 13% of older adults above 65. Even though asthma can be diagnosed at an older age, the symptoms remain the same at any age. Respiratory infection, allergens, irritants, and air pollution are the usual culprits behind older adults contracting asthma. 
Why is asthma challenging to diagnose in older adults?
Asthma can be challenging to diagnose in older adults because other conditions and disorders can mask it. Many old-age states have similar symptoms to asthma, such as bronchitis, congestive heart failure, emphysema, etc. 
Most adults with asthma show the signs of coughing, wheezing, or production of thick mucus- all these symptoms are pretty similar to chronic bronchitis and other respiratory diseases.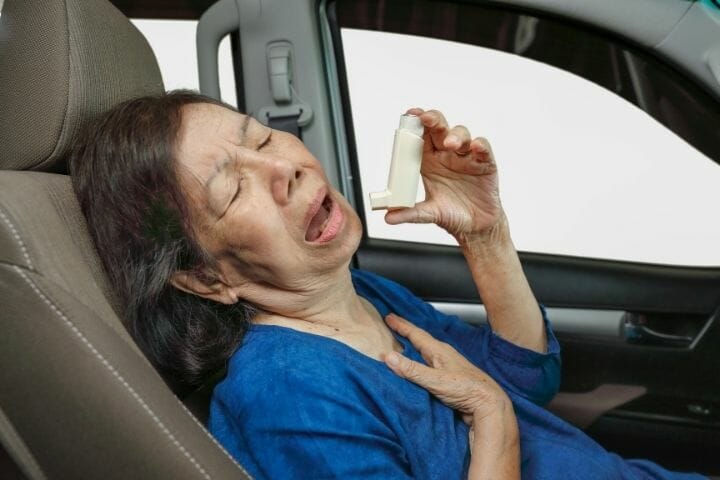 Can asthma reactivate after disappearing for many years?
People who have asthma during their 20s or 30s may have the chance of experiencing the symptoms again in their late 40s, 50s, 60s, or 70s. Many people develop sinuses in their youth, which often leads to the onset of asthma. 
Even children can get diagnosed with it, and the symptoms disappear for a few years and show up again in their 20s. So, yes, asthma does tend to disappear and reappear throughout life. However, the reactivation or reappearing of asthma can take place more commonly in the following group of people:
Those with a family history of asthma
Those who live in a polluted region or urban city 
Smoke or stay around smokers
Have a family history of allergies 
This is not to say that asthma will not appear again in those who do not belong there. Sadly, this lung disorder can catch up with anyone despite their family history or environment. 
Is Asthma in Senior Adults Treated With Special Considerations?
Yes, older adults or seniors receive special considerations when treating asthma, mainly because most of them are already on some or other medicine. Thus, their bodies are more complicated to deal with than the younger adults. 
When older people receive treatment for asthma and other medication, this also exposes them to the chance of experiencing specific side effects, which may or may not worsen their symptoms. 
So, yes, there might be changes in their treatments, depending on their body's complications. For example, most patients use an L-shaped metered dose inhaler for asthma, which requires you to push the bottom with a certain force. 
Older adults may have weaker hands and essential tremors, which means that it might be harder for them to apply the necessary force. Thus, their doctor can recommend oral medications or dry powder inhalers for them to avoid dealing with an inhaler as medication.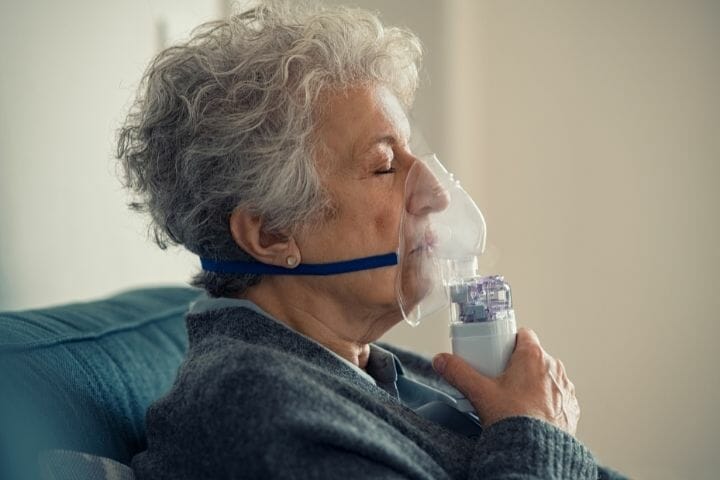 How is asthma diagnosed in older adults?
As mentioned already, diagnosing asthma in older adults can be challenging since any other illness can mask it with similar symptoms. These conditions include pneumonia, heart disease, cystic fibrosis, COPD, auto-immune diseases, chronic bronchitis, etc. 
Apart from the above illnesses, the capacity of the lungs to hold air decreases with aging, and thus, many doctors or medical professionals consider it natural to have difficulty breathing. 
Thus, the diagnosis of asthma is often ignored. Therefore, it is essential to be concerned about your systems and tell your doctor to run an asthma diagnosis on you. Now, the question is how the diagnosis in older adults is made. 
Well, the following are the main steps:
Listening to your breath, asking about symptoms, family history, and other questions.
Going for a lung test via spirometer to check your capacity to inhale, hold, and release air. 
The methacholine challenge test is what a person undertakes to check their asthma if the spirometer fails to show a precise result. In this test, you inhale methacholine aerosol mist before the spirometer checks your asthma; the methacholine narrows your airways when you have asthma. In other words, if the test is positive, it means you have asthma. 
How is asthma treated?
Unfortunately, there is no cure for asthma as of now. So, the only thing we can do is to protect ourselves from this disorder. So, suppose you are an older adult, and your tests return as positive for asthma. In that case, you are put on medication, depending on if you have mild intermittent, mild persistent, moderate, or severe asthma. 
Firstly, let's get an idea about the classification of asthma – 
Mild intermittent asthma 
Your lung function test is 80%, which means you do not need medication for long-time control. This also directs that your symptoms occur less than twice a week.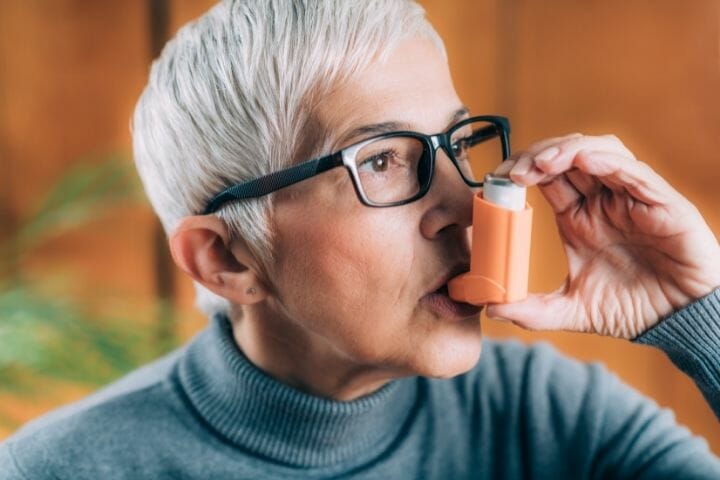 Mild persistent asthma 
Your lung function is still around 80%, with symptoms occurring three to six times per week. Medication depends on the condition of your body, depending on age, sex, etc. 
Moderate persistent asthma 
Your lung function test range is above 60%, but the symptoms usually occur daily, and nocturnal symptoms take place five or more times in a month; this is where you need medication for long-term control. 
Severe persistent asthma 
Lung function tests are below 60% of predicted values, and the occurrence of symptoms is regular, night time included. The activities of the person are limited due to the signs. You would need severe medication and lifestyle changes to deal with this condition. 
Thus, your medication depends on the intensity and persistence of asthma. Usually, there are two main types of drugs.
Anti-inflammatories (to reduce swelling and mucus from the airways) and 
Bronchodilators (to relax the tightened muscles around the airways). 
The medicines can be taken by an inhaler, nebulizer, or swallowing oral drugs, whatever suits the person. Apart from medication, one should include the following treatment goals in their lives:
Live an active life. 
We are all aware that an active physical life boosts immunity and helps you feel great about yourself. The more you move your body, the better you feel and the closer you get to defeating your asthma. 
Your movement does not have to be strenuous and challenging if you don't enjoy it. A simple walk in nature, cycling, swimming, hiking, practicing yoga, etc., can do the job. 
However, if you can, go ahead and engage yourself in at least 30 minutes workout sessions every day where you sweat out the toxins! Remember, exercise is pretty crucial for an older adult who has asthma.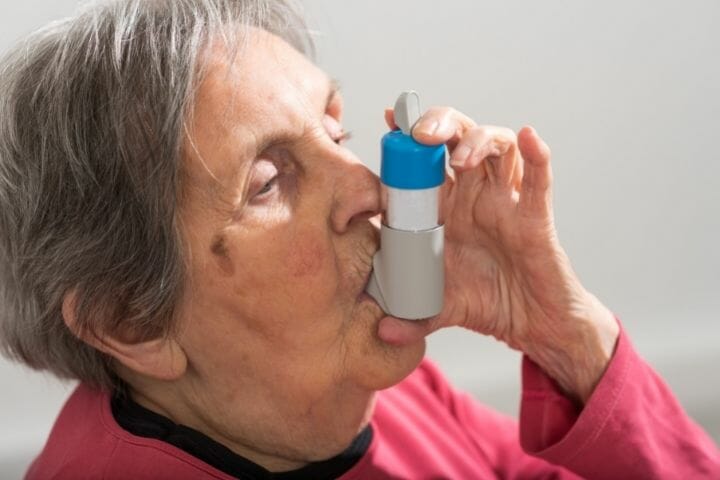 Eat a healthy diet. 
According to Dr. Mitchell Grayson, MD and the director of the division of allergy and immunology at Nationwide Children's Hospital in Columbus, Ohio, and a professor of pediatrics at Ohio State University, "What you eat won't affect your asthma."
However, having a balanced and healthy diet still affects the overall functions of your body. 
He continues, "fine-tuned machine, designed for a specific type of fuel." That fuel is a healthy, balanced diet, he adds. 
And if you take in the wrong fuel – foods high in fat and sugar – you increase your risk of health problems like high cholesterol, diabetes, and a compromised immune system, which can put you at risk for all sorts of other health problems too. 
If you have asthma, eating a healthy diet becomes especially important: It is easier to rebound from an asthma attack if you are healthy.
Minimizing the symptoms at home and work 
You can use some innovative strategies to take control of your symptoms at home or work. For example, you can identify and minimize the common triggers, such as chemical irritants, mold, dander, dust mites, cigarette smoke, pollution, etc. 
You can keep your surroundings clean and purified as much as you can. You are in a pet-free zone, mopping, vacuuming your room, using dust-mite covers on your bed sheet and pillow covers, etc., to keep yourself safe from the triggers.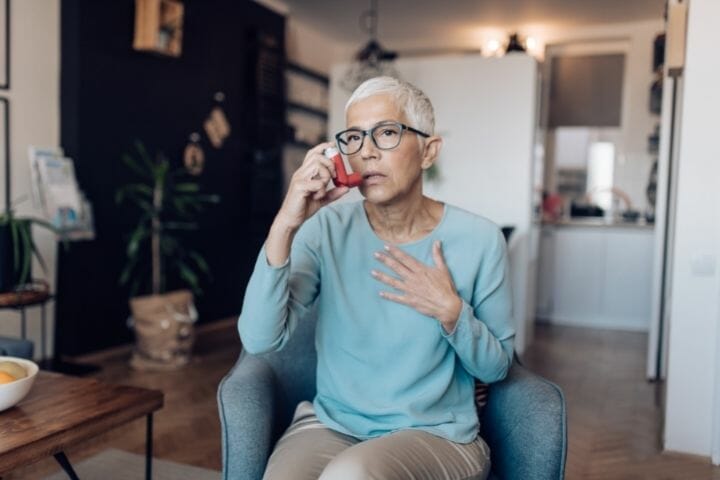 Have an asthma action plan 
For those who don't know, an asthma action plan is a written document designed and shared by your doctor to help you manage asthma at home or anywhere else. 
It has all the details about using asthma medications, instructions to follow as per the symptoms, what to do in case the symptoms worsen, appointment dates, etc. It is essential to discuss the plan with your doctor before you walk out of their office – have a complete understanding of the plan and ask any questions. 
A Good Asthma Control – What Is It?
Now that your healthcare professional has confirmed that you have asthma, the very first thing you should learn is the step to control it. A good asthma control, thus, looks like the following – 
Sleeping through the night without wheezing, coughing, or similar disturbance 
Not having difficulty in breathing on most days 
Exercising/working out without having difficulty in breathing 
No or rare tightening of chest muscles 
Not missing work and other routines 
Showing up to daily activities and running chores every day 
Having normal breathing tests 
Rarely needing to use relieving medication (less than five times a week)
Reasons you have poor asthma control.
You must also learn about bad or poor asthma control if there is reasonable asthma control. If you are showing any of the below symptoms, then you have poor asthma control 
Incorrect diagnosis
Not following the asthma action plan 
Not taking the medicines as prescribed by the healthcare professional 
Not able to use the inhaler correctly 
Have a condition that is triggering the symptoms even after taking medication 
Asthma medication is not suiting you at all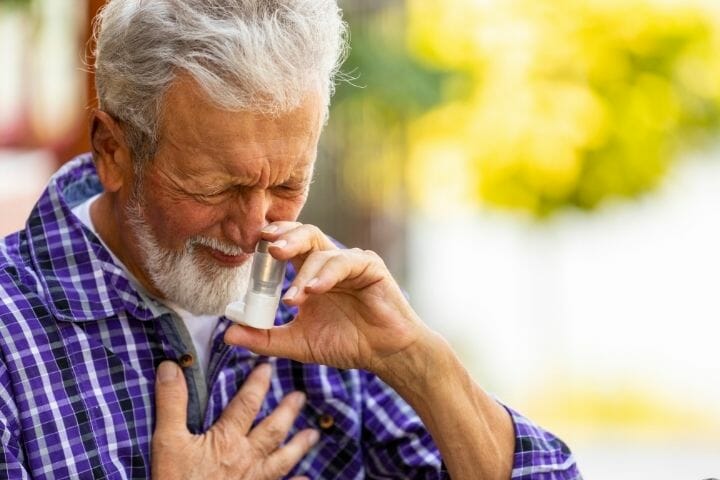 As you can see, in most cases, poor asthma control has to do with your medication or an incorrect diagnosis. 
Thus, you must connect with your healthcare professional and share your issues with them. Apart from the above pointers, you must also keep your body moving and have a balanced diet not to avoid further deterioration of the disorder. 
Does health insurance cover asthma treatment?
Most health insurance covers asthma treatment in their plan. It entirely depends on the company if it has included the same in its plan, and it would be good for you to consult your agent to learn about the same. 
For older adults, Medicare covers the cost of inhalers in Part D. It is important to have a doctor's prescription for the inhaler to avail of this coverage.
Asthma and Mental Health
It is possible that your uneven breathing patterns can affect your mental health. In the same way, your triggered anxiety and depression can lead to poor asthma control. The diagnosis of this long-term problem might take a toll on one's mental and emotional health for a while. 
However, one should pull themselves together and learn to cope with the anxiety, depression, anger, and stress since these intense emotions can also cause trouble in breathing, increase inflammation, and produce mucus.
How to manage stress during asthma 
Even though it is entirely understandable that a diagnosis of asthma can trigger one's anxiety and stress, one should figure out ways to control the same since intense emotions can completely turn the game around and cause further difficulty in breathing. 
Thus, it would help if you tried a variety of therapies and techniques to manage anxiety, anger, stress, and other strong emotions. Breathing techniques, journaling, mindfulness, meditation, yoga, medicine, etc., can help manage stress during asthma. 
Unfortunately, if you want to keep asthma in control, you will have to manage stress and similar emotions for the sake of your body.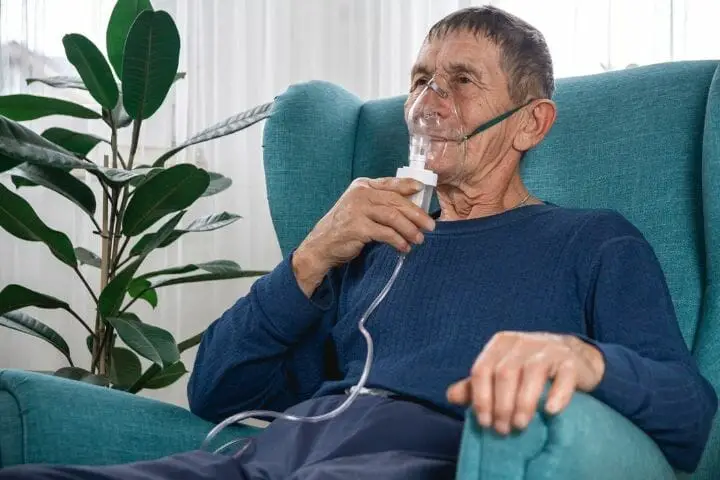 Stress can exacerbate asthma.
According to a Korean study published in the May/June issue of Allergy and Asthma Proceedings (2017), it was observed that people with asthma are twice as likely to develop depression as compared to those without asthma. 
While it is understandable to feel such strong emotions at the time of diagnosis, one must continue to fight it and keep their head in a good place so that anxiety and depression do not complicate their condition further. However, if you feel so, you must discuss the same with your doctor and get medication. 
Wrapping Up 
It would help if you understood that asthma is not life-threatening, but it does cause discomfort in one's life since they always have to worry about controlling symptoms. 
However, in the case of a senior citizen, asthma can also trigger other types of lung infections. So, it is essential to take care of their physical and mental health to keep this disorder in control and live every day and have a healthy life. 
We hope we have been able to cover all topics of interest related to living with asthma for older adults. If we have missed out something, please let us know. We would also love to hear your comments, queries, and personal experiences dealing with asthma.
If you love the content, do share it with others on social media and within your groups.