Here are some gut-wrenching elderly abuse statistics to help you understand how common it is
Abuse of elders is more common than you think. As people age and lose their ability to take care of themselves, they become dependent on others. Other than needing help for their everyday day-to-day tasks like cooking or cleaning, they sometimes also need help to manage their finances. 
Their dependence on others can sometimes lead to them facing some abuse intentionally or unintentionally. On an approximation, one in every ten people[1] over the age of 60 have experienced abuse.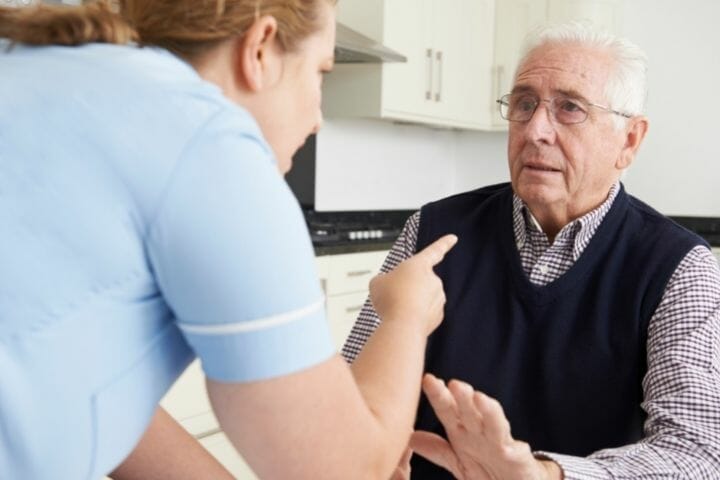 The abuse of elders can range anywhere from emotional abuse to financial abuse. Let us check some of the key facts about elderly abuse.
Key Facts Of Elder Abuse
In America, approximately one in every ten people over 60 have undergone some form of abuse[2].
Approximately 5 million elders[1] in America face some form of abuse every year. The actual data might be more shocking as it is estimated that only one in every 24[4] abuse cases is being reported.
Of all the perpetrators, almost 90%[5] are family members.
Every two out of three[6] victims of elder abuse are women.
Out of all the neglect and abuse cases in elders, 60 percent[1] are done by the family member. Spouses and children make up two-thirds of the abusers.
Elders who have dementia are at more risk. Every two out of three[5] dementia patients suffer from elder abuse.
The rate of abuse in elders has increased during this pandemic[9].
In the past year, about two in every three staff[8] of nursing homes or other care facilities reported that they had committed abuse on elders.
Elders who are abused have a 300%[11] more risk of facing untimely death than elders who are not abused. 
Neglect of an elder by a caregiver, one of the most common types of abuse in elders, has fewer reports. For about 57 cases of neglect, only one[12] is reported. 
The loss faced by victims of financial abuse, another form of elder abuse, is at least 36.5 billion dollars[1].
The number of elder abuse will increase every year with an increasing population of elders. Still, even if the proportion of elders facing abuse remains constant, the number of victims would be 320 million[14] globally by 2050.
Now, look at the different types of abuse faced by the elderly and the latest data associated with it.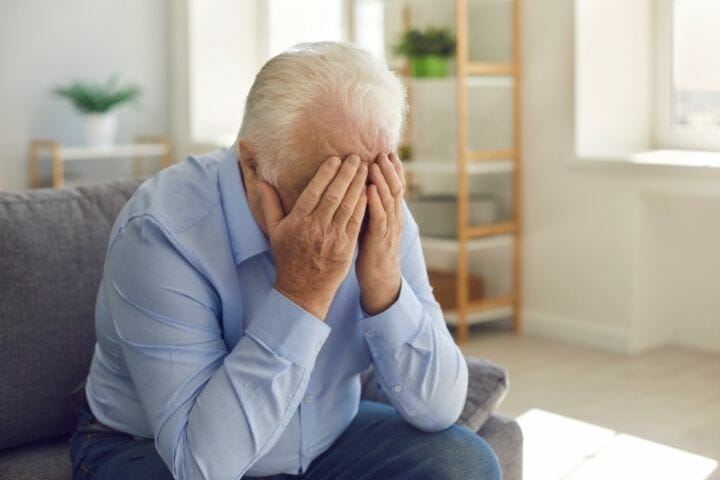 Types Of Elderly Abuse
Psychological or Emotional Abuse
An elder's psychological or emotional abuse happens when someone verbally or nonverbally inflicts pain or distress on them. Insulting, verbally assaulting, threatening, yelling, humiliating, or harassing an elderly are forms of emotional abuse. Ignoring the elderly or isolating them are a few other forms of non-verbal emotional abuse.
Denying an elder to see or talk to their family members or close friends is also a form of psychological abuse.
In a study based on self-reported elder abuse cases, 11.6%[15] of the total cases are of psychological or emotional abuse. Another similar research shows that about 4.6%[15] of the total elder abuse cases are of emotional abuse. The varying data is because of the variable definition of abuse by different institutions.
A metadata analysis shows that of all the elder abuse cases in women reported globally, about 11.8%[15] are of psychological or emotional abuse.
Of all the complaints of elderly abuse in nursing homes being reported, 19.4%[18] of the cases are psychological or emotional abuse.
In about 12 of psychological abuse happening, only one[19] is being reported.
Physical Abuse
Physical abuse of an elder is the use of physical force, either intentionally or unintentionally, which causes injuries or physical pain in an elder. Physical abuse can have many forms like beating, pushing, shoving, hitting, slapping, burning, and other ways which can inflict injuries. Any physical or chemical means to harm or confine an elder also comes under the physical abuse category.
According to research, about 2.6%[20] of the self-reported elder abuse cases are of physical abuse, and another study shows that it is 1.6%. 
About 1.9%[20] of the total elderly abuse in women reported globally is physical abuse.
Injuries in elders due to physical abuse or violence against them cost about 5.3 billion dollars[18] for medical treatment every year.
Of all the elder abuse cases reported, 27.4%[22] are of physical abuse in nursing homes.
Elders having faced physical abuse are at a 300%[24] high risk of having an untimely death.
In about twenty cases of physical abuse of elders, only one[25] is being reported.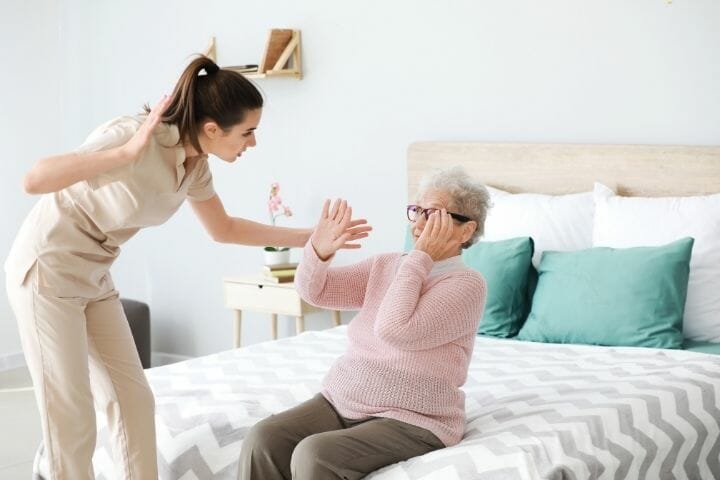 Neglect
Neglect is a type of physical abuse done by a caregiver when they don't provide the proper care by depriving an elder of the necessities like water, food, maintaining personal hygiene, shelter, comfort, medicine, and safety.
A study shows that of all the self-reported elder abuse cases, about 4.2%[20] is of neglect. Another study shows that neglect cases make up about 5.1%[26] of the total self-reported elder abuse cases.
According to metadata, of all the elder abuse cases against women that are being reported, about 11.6%[26] is of neglect.
About 15.3%[22] of the elder abuse cases in nursing homes reported are of gross neglect.
One of the most common types of issues but has the least number of reports compared to the actual cases. In about 57 cases of neglect, only one[25] is being reported.
Financial Abuse
Financial abuse of an elder would be using their property, assets, or funds illegally. Stealing or forcefully exploiting an elder's financial asset comes under financial abuse. Another form of financial abuse would be deceiving an elder to sign any document or will. Often people in the position of a caregiver to an elder like someone with guardianship of power of attorney are responsible for financial abuse.
According to a study, of all self-reported elder abuse cases, 6.8%[31] is of financial abuse. Another similar research shows that 5.2%[31] of all elder abuse cases are of financial abuse done by a family member, and some stranger does 6.2%[31]. 
About 3.8%[31] of elderly abuse cases reported in women are of financial abuse.
About 7.9%[31] of the total cases of elders abuse in nursing homes being reported are of financial abuse.
The ratio of financial abuse versus the cases being reported is very low. In about 44 cases of financial abuse, only one[36] is being reported.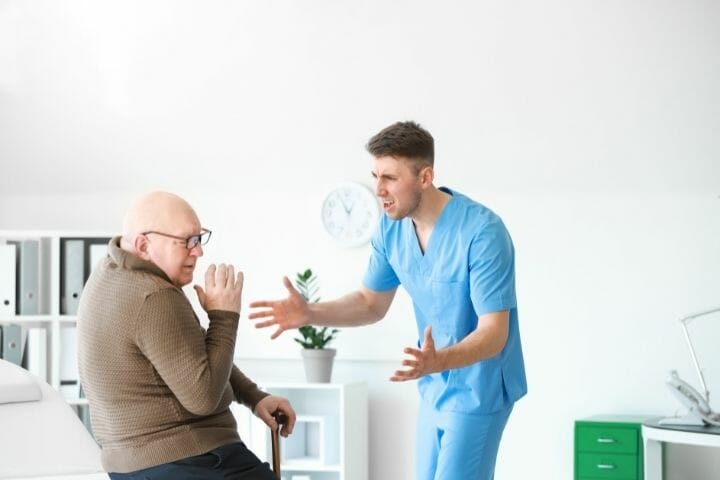 Sexual Abuse
Sexual abuse can take many forms. But with definition, it is the act of touching, assaulting, harassing an elder sexually or having forceful intercourse with them without their consent or not being able to give consent.
A study that relies on the self-reports of abuse shows that out of the total numbers of elder abuse, about 0.9%[37] of cases are sexual abuse. Another similar study conducted recently indicates that about 0.6%[37] of the total elder abuse cases are of sexual abuse.
A meta-analysis conducted globally shows that out of all the elder abuse cases on women reported, about 2.2% are of sexual abuse.
A total of 7.9%[18] of cases of the total elder abuse in nursing homes reported are of sexual abuse.
According to WHO[40] and the Department of Justice (DOJ)[41], sexual abuse is the least type of abuse reported.
Resident On Resident Abuse
This type of abuse on elders occurs inside nursing homes or care facilities for elders. Another elder living at the same facility performs sexual or physical abuse on other residents in this form of abuse.
Aside from physical abuse, this form of abuse has the greatest percentage among all the reported elder abuse cases. About 22.1%[18] of the total reported cases are of resident-on-resident abuse. Since every other organisation has a different definition for abuse and their methodology to collect the data on elder abuse is different, the stats might be variable. But that could also mean that the actual figures are far worse than what we know.
Frauds And Scams
According to Federal Trade Commission, these are the stats for frauds and scams against elders.
The most common scams that the elder have faced include lottery scams, tech support scams, online shopping, imposter business, imposter government, and romance scams. The topmost scam that elders have experienced are tech support scam. 
In romance scams, elders of age group 60-69 have lost about $6688[43] on an average, The elders having age group 70-79 lost $10000 on an average in a romance scam, and the age group 80 plus lost about $5861 on an average on lotteries and prizes.
The common type of scam that targets elders is a phone scam. According to ACA, seniors make purchases on the phone almost twice as much as other customers. The age group most affected is 70 plus.
Some Of The Lesser Known Facts About Elderly Abuse
Elders of any gender, race, or culture can be victims of elderly abuse.
Abuse of the elderly can happen regardless of the place, be it the elder's home, a nursing home, an assisted living facility, or a hospital.
Most of the time, the perpetrator of the abuse of the elderly is someone they trust, a family member, their spouse, or a known person.
Elders with severe medical conditions like some form of disability or dementia are more prone to facing abuse.
Abuse on elders impacts their lifespan, and they have a higher chance of untimely death than an elder who has not faced any abuse.
According to NCEA[44], the high number of people living in a house where an elder lives increases the chances of an elder being a victim of abuse.
Wrap Up
The abuse of the elderly is a serious issue that is often overlooked and neglected by many. The impact of abuse can be very drastic for the elderly and sometimes even result in untimely death. Researching these facts was an eye-opener for me. 
I hope reading about these facts helped you gain insight into an unnoticed social health issue that the world is suffering from.
REFERENCES:
[1] https://www.ncoa.org/article/get-the-facts-on-elder-abuse
[2] https://www.cdc.gov/violenceprevention/elderabuse/fastfact.html
[4] https://ovc.ojp.gov/sites/g/files/xyckuh226/files/media/document/2016ncvrw_6_elderabuse-508.pdf
[5] https://cdn.who.int/media/docs/default-source/ageing/ea-infographic-en-jun-18-web.pdf?sfvrsn=6dc7f167_2
[6] https://www.nursinghomeabuse.org/nursing-home-abuse/statistics/
[9] https://www.who.int/news-room/fact-sheets/detail/elder-abuse
[11] https://www.ncbi.nlm.nih.gov/pmc/articles/PMC2965589/
[12] https://www.nursinghomeabusecenter.com/elder-abuse/statistics/
[14] https://www.who.int/news-room/fact-sheets/detail/elder-abuse
[15] https://ncea.acl.gov/What-We-Do/Research/Statistics-and-Data.aspx#_ednref30
[18] https://ovc.ojp.gov/sites/g/files/xyckuh226/files/media/document/2016ncvrw_6_elderabuse-508.pdf
[19] https://www.justice.gov/file/1098056/download
[20] https://ncea.acl.gov/What-We-Do/Research/Statistics-and-Data.aspx#_ednref30
[24] https://www.ncbi.nlm.nih.gov/pmc/articles/PMC2965589/
[25] https://www.justice.gov/file/1098056/download
[31] https://ncea.acl.gov/What-We-Do/Research/Statistics-and-Data.aspx#_ednref30
[36] https://www.justice.gov/file/1098056/download
[37] https://ncea.acl.gov/What-We-Do/Research/Statistics-and-Data.aspx#_ednref30
[40] Elder abuse
[43] 5 Senior Citizen Scam Statistics You Need To Know In 2022 [Infographic] – California Mobility[44] NCEA – Research Statistics and Data