As people age, they may have mobility issues or lose strength. Let us look at the benefits of physical therapy for seniors to regain this lost strength.
As people age, they may develop mobility issues that make it difficult to move around. They may become impaired due to chronic illness or may need to recover from some injury. It becomes challenging for people to be healthy as they age.
Physical therapy is a non-drug treatment that helps people recover from injury and pain. It also helps improve muscle strength, balance, and coordination.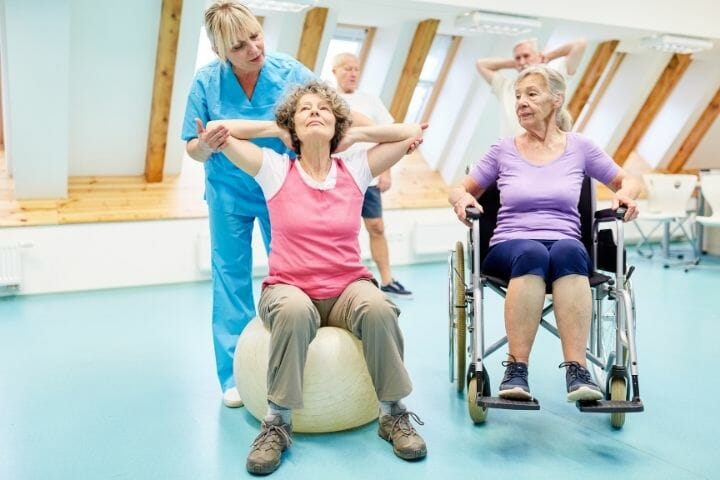 One of the leading causes of seniors going to physical therapy is falling. Strength training exercises in physical therapy help improve flexibility and core body strength, and thus visiting a physical therapist regularly helps keep older adults independent.
In this article, let us look at the benefits of physical therapy for seniors, wherein we will cover
Benefits & types of physical therapy for seniors.
Understanding insurance coverage for physical therapy.
Difference between soreness and pain
How Does Physical Therapy Benefit the Elderly?
As people age, their physical condition also changes. They may lose muscle strength and flexibility and thus find it challenging to move around or do their regular work. Physical therapy helps reduce pain and also helps reduce the symptoms of arthritis. It helps improve balance, manage pain and increase muscle strength. Let us look at the benefits of physical therapy for seniors.
Benefits Of Physical Therapy For Seniors
#1 Prevents The Risk Of Falls
Falls are the leading cause of fractures and head injuries in seniors. Seniors need to maintain good balance and strong muscles and joints to prevent falls and injuries. Physical therapy helps seniors and people with problems that can cause falls. 
Physical therapy teaches seniors to maintain stability and remain active. It teaches them balance techniques to prevent falls. It further helps rehabilitate their bodies due to some illness or injury.
#2 Treating Chronic Pain
Seniors often suffer from chronic pain related to arthritis, nerve pain, headaches, osteoporosis, and other illnesses. 
Older adults may take medications to reduce the pain, but these may have side effects like an upset stomach and risk any health problems related to diabetes and heart problems.
Physical therapy helps reduce the pain and regain muscle strength, and it further helps ease the discomfort a person may have.
#3 Recover From Injury Or Illness
When seniors lose muscle strength after a certain age, they may be more prone to injury or illness. This makes their daily tasks difficult. Physical therapy helps ease out the pain and discomfort by:
Speeding up recovery.
Reduce inflammation and swelling, if any.
It helps them heal faster.
Physical therapy helps people maintain stability, improve their mobility as well as help improve their posture.
#4 Regain Independence
Physical therapy helps people move around with ease and confidence, and it helps improve the quality of life and maintain the overall health of people. Going to a physical therapist regularly helps seniors remain fit and strong to do their daily tasks and maintain a healthy lifestyle.
#5 Reducing the Intake Of Prescribed Drugs
Physical therapy helps reduce and manage pain such as the lower back and is as effective as the prescribed drugs for the treatment. Many people go to a physical therapist to control specific health conditions related to chronic fatigue syndrome, vertigo, or carpal tunnel.
#6 Recover From Stroke
Some people may find it difficult to move and do their daily work after a stroke. A physical therapist can help strengthen the weak muscles and improve a person's balance, and it will help a person move around in bed and be more independent.
Physical Therapy And Pain Management
Physical therapy and exercises are the best way to deal with pain management in seniors. When people have chronic pain due to injury, they may use a heating pad and some medication to get relief. They may not find it good to do some exercise to relieve pain.
Physical therapy helps and is effective in treating any pain and injury, including chronic headaches, osteoarthritis, fibromyalgia, and neuropathic pain. It helps people become stronger and make them feel better.
Types Of Physical Therapy For Seniors
There are different types of physical therapy sessions for seniors. It helps people to get back to their active lifestyle soon.
Orthopedic
It is the most common type of physical therapy that helps treat a person from injuries and help them recover from surgeries. A physical therapist uses different exercises, manual therapy, and other methods to regain mobility and reduce pain in muscles, joints, and bones.
Geriatric
Many seniors go for this type of physical therapy as it emphasizes the needs of aging adults. However, the treatment depends on the needs of people. This type of therapy helps people treat chronic conditions like osteoporosis, cancer, arthritis, joint pain, and balance problems. This therapy helps people recover from overall pain and live an active lifestyle.
Neurological
This type of therapy focuses on the brain and body and varies slightly from other types of therapy. This type of therapy helps treat limbs to respond to the brain and muscles and even helps to treat paralysis. Seniors who need to recover from Parkinson's disease, Alzheimer's disease, or any brain injury go for this type of therapy.
Cardiopulmonary
When seniors suffer from heat-related injury, they usually go for a cardiopulmonary physical therapist. This therapy helps people strengthen the heart muscle and increase endurance among people, and it allows them to remain independent.
Understand Insurance Coverage For Physical Therapy
Physical therapists are professional health care providers that help people recover from chronic conditions and pain. When it comes to going to a physical therapist, the main thing that comes to mind is the cost involved. 
You may wonder how much insurance companies cover for physical therapy. Many insurance plans include Medicare, private insurers, and workers compensation that pays for physical therapy services, as per the American Physical Therapy Association (APTA). 
Your physical therapist or insurance company can tell you what kind of services are covered under the insurance and how much you need to pay. 
How Can You Get The Most From Insurance Coverage?
Let us look at a few strategies that will help you maximize your insurance plans.
Review Your Policy. Before taking up the insurance plan, read what is covered in the policy. You can ask your insurer if they pay for physical therapy services as well.
Be Active. You have all the right to manage your healthcare services. Make sure you know all the information of the policy and about what all physical therapy services are included.
Get The Right Physical Therapist. Go to the best physical therapist that will help you maximize the coverage. Many physical therapists have contacts with insurance companies and may use their expertise and authority and medical specialist on your behalf.
What To Do If You Don't Have An Insurance Plan?
If a person does not have insurance covering physical therapy, they can still get the treatment done by paying directly to the physical therapist. If they find the cost a barrier, they can talk with the physical therapist and get some modifications done in the treatment. 
Do You Know The Difference Between Soreness And Pain?
Being physically active benefits people from physical and social health and prevents much chronic heart, depression, or diabetes. But along with these benefits, some people may put a lot of stress on their lungs, heart, muscles, and bones to gain some strength.
Most athletes suffer from aches, soreness, and pain. Most physical therapists help the elderly overcome any injury and pain. 
But do you know the difference between soreness and pain? 
The critical thing when differentiating between soreness and pain is time. Soreness may last for two to three days, while pain may not disappear without treatment. 
When people have muscle soreness, they may experience a burning feeling while they exercise. Muscle pain causes sharp pain when you exercise and will be more constant than soreness.
Muscle soreness usually improves with stretching, light movement, and some rest. At the same time, you can relieve pain from heat and ice therapy, depending on the severity.
Physical Therapy Improves Mobility
As people age, they may be using wheelchairs due to some ailments and muscle weakness. But they have an opportunity to stay active and functional by doing some simple exercises.
Physical therapy helps strengthen the muscles that include leg and core muscles both. It improves mobility and balance among people, and it will help them move around and do their daily tasks independently. However, the level of therapy a person needs depends on the severity of the injury.
Is Physical Therapy Good For You?
Are you struggling with poor balance, coordination, and mobility issues? Going to a physical therapist will help people of all ages with any medical conditions or injury improve their movement and function.
A physical therapist can help seniors with the best ways to prevent injuries and let the elderly know their limits. They can help them with the best type of exercise to maintain a healthy lifestyle.