Go with kaftan cool and beachy florals 
There's a balance that needs to be struck when you are a guest at a beach wedding. The goal is to look relaxed and ready to let your hair down.
But you absolutely don't want to look like you accidentally wandered into the event from a casual day spent on the neighboring beach. And there is a youthful vibe about this sort of event that you want to feel part of at any age.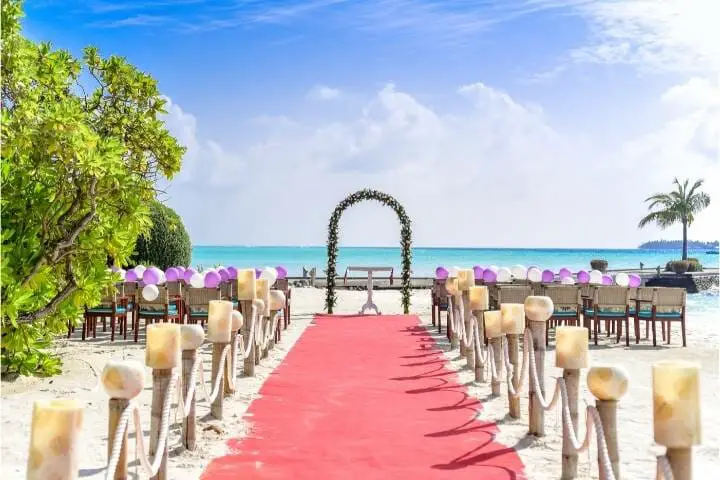 If you are in and around 60 years old ignore people who tell you to, "dress your age." 
An editor from Vogue shared that no matter what your age you want to look stylish and on trend.
Today, women over 60 might just as likely be dating, moving cities and/or launching a new business, pretty much like their 30 year old counterparts. It is vital that one wears clothes that reflect this energy.  
Two trends that are great options for a beach wedding are the modern take on the kaftan, with its quiet nod to bohemia and wanderlust. The other is a really nicely shaped floral dress, either worn long or with a fashionable midi cut. Go bright or go neutral and muted with both looks. Although do try to avoid wearing a kaftan covered in florals, that might be a touch over the top. 
When wearing a kaftan opt for a neutral palate. Melania Trump got this wrong with the Gucci kaftan she wore recently as her first post presidency outfit. She was chided in social media for lacking subtlety because of the bold purple and orange patterns.  However, in selecting a kaftan she seemed to say to the world, this is what freedom looks like and I am now living my own life. 
Dame Judy Dench wears kaftan's well. Dench wears her kaftans dark and patterned or in pastels with white slacks. These outfits give her a look of knowing worldliness and makes one believe she is the most interesting woman in the room. It also conveys her love of India and offers contours that soften and add a nice counterpoint to her rather sharp pixie haircut.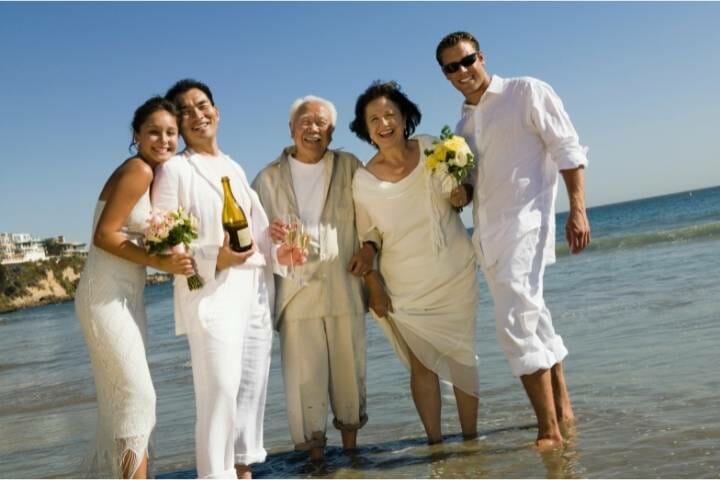 Tory Burch's Savonna kaftan inspired by Paris' flea market can be found online.  Its natural muted shade, monochrome stipes and embroidered soutache trim is stunning. Su Paris offers up a hava crepon kaftan that is simply beautiful. One tip with kaftans is to perhaps tailor the side slits for the occasion and then adjust later when you use the same outfit for relaxing days by the pool. 
One key detail that cannot be overlooked is the importance of a fabric that breathes and moves beautifully. Think silks, cottons and linen blends. These can be cinched at the waist with a light leather belt or a metallicized scarf. Carole Middleton wore this look to an event at the eponymous Goring Hotel. Part kaftan, part geometric print the two styles blended to give her youthful look.  
If you go for a kaftan there are a few things that you absolutely must get right. Don't go too voluminous. Also, opt for natural fabrics like cotton or a linen blend. Keep your make up light and your hair loose and natural.  The whole look should be shaped by long lines, a long strand for the necklace, a long scarf and a slim wicker or leather bucket bag to complete the look. 
When it comes to looking fabulous in florals, Helen Mirren has perfected the look. She tends to wear bold and lively prints with lines that are close fitting. A 50's shaped dress with a full skirt and cinched waist is ideal if you work out. Or, go for a more sweeping look with a smart tailored blazer if you want a bit more room to maneuver. Light pumps or strappy sandals in beige are a nice touch. 
Doen a label founded by two sisters in California offer floral print dresses in natural shades like sand and wheat. If you want to impress younger guests at your event go with Ganni. They have a tiered floral print dress in red and white that has a fun swing to it that will give your look an upbeat energy.
Faithfull The Brand is a label from Indonesia that have dresses with hand-dyed prints made by local artisans in Indonesia. Their Olinda dress with gently puffed sleeves is a very feminine and understated option. The sleeves put you squarely on trend.  These dresses look great with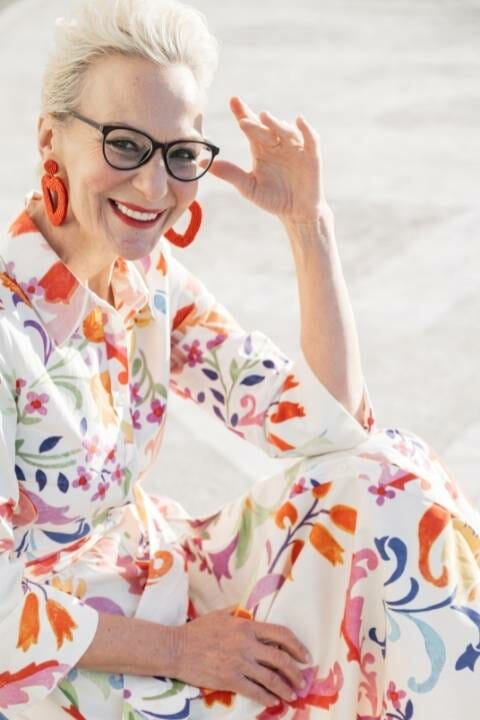 Tod's moccasins in a neutral shade, perfect for navigating the sand underfoot. 
You hold in your hands the power to make your look seem on trend and relevant or not. A single accessory can make or break the look. Here's the trick, we too often hold onto old accessories for sentimental reasons and they can date our look.  Avoid this pitfall and make your accessorizing playful with colour, layered and play with scale opting for large and small shapes and sizes.   
With the kaftan, a necklace is a key accessory worn long and keep the look informal and unfussy. The beachy vibe can be kept alive by wearing pearls, pom poms or a large pendant on a slim leather band.  Princess Caroline wore the look to dinner with Karl Lagerfeld in St Tropez and opted for layers of colorful beads. Fry Powers and Tory Burch offer nice options in this style. 
If you've gone with a floral dress a simple initial necklace looks on trend. Be inspired by Meghan Markle and go delicate and fine. Zara sells some initial necklaces this season or you can opt for a necklace by Missoma. And for inspiration on how to style the look give Loewe's Spring 2020 collections a look as well as Tory Burch's Spring Summer 2021 collections too.
Although it's tempting, do avoid wearing a shawl asl it pushes you into the granny camp which everyone wants to avoid. Instead tie our look together with a sharp tailored blazer. If you've gone with a kaftan something matched tonally with the sweep of your kaftan will work. If you've gone with the floral dress turn day to night by wearing a black tailored jacket. 
Strike just the right balance with your look. Play it safe with the main outfit and then be a bit more playful and whimsical with the accessories you choose. This will give you a really fresh and relevant vibe that will rival the most stylish 20 somethings attending the beach wedding. Finish it all off with tip from the Duchess of Sussex who says that, "confidence is a woman's best accessory."